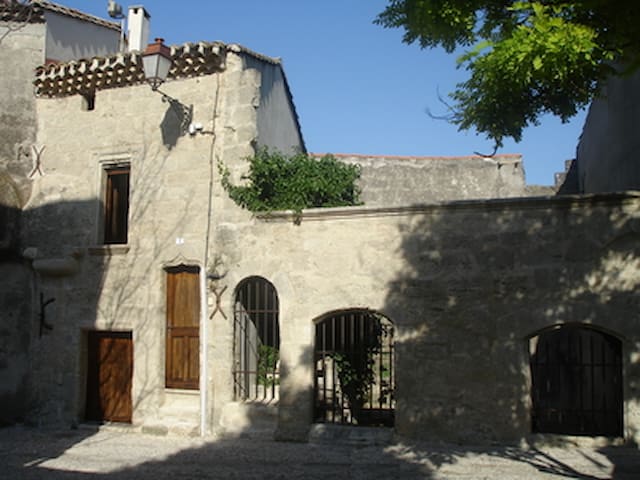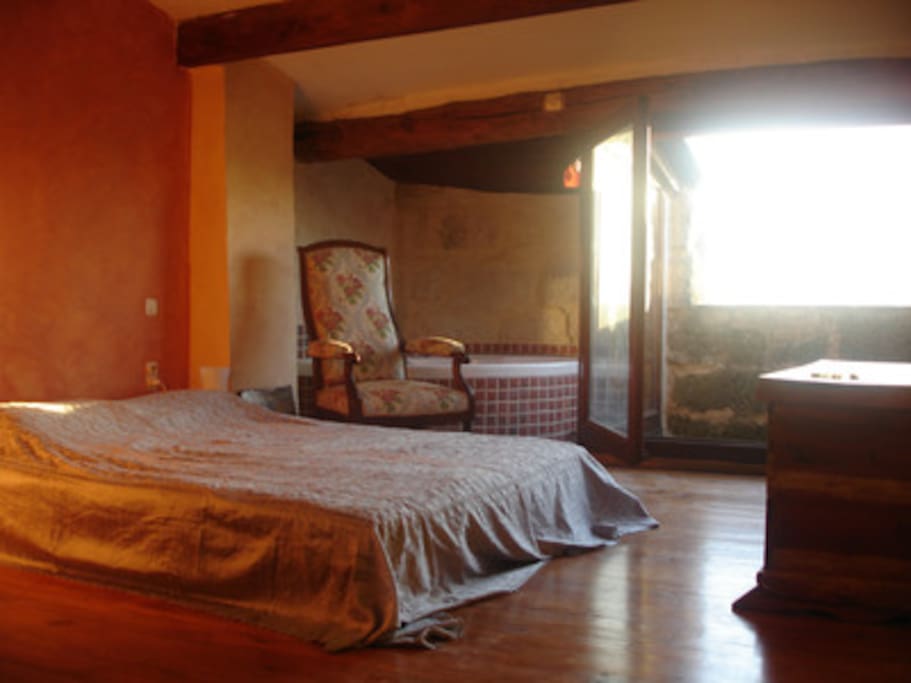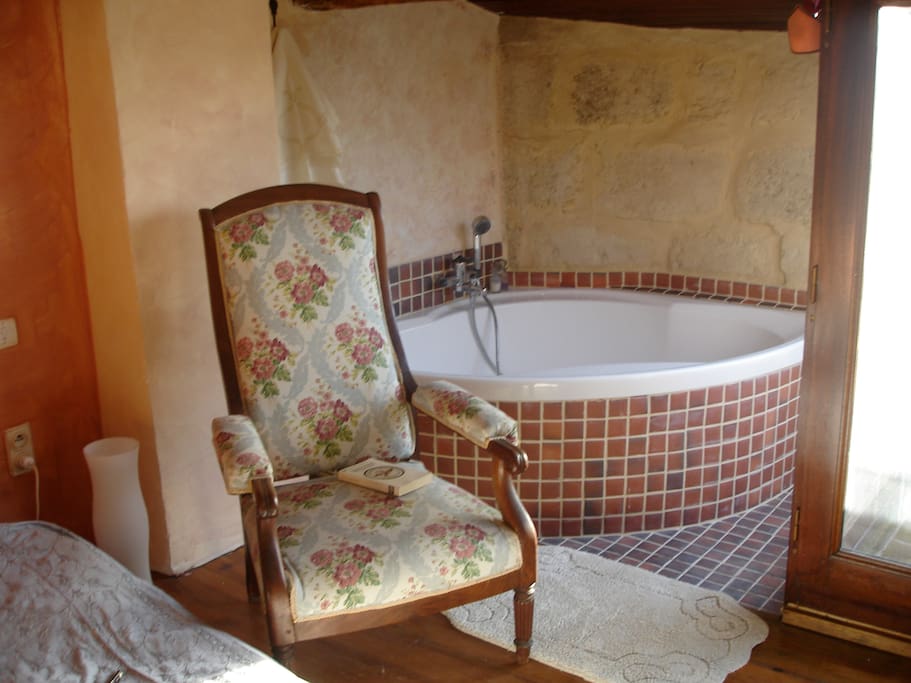 About this listing
At the heart of the village of Le Pouget, attached to the old village church (church and place protected by the Buildings of France) a charming village house of the sixteenth century, for 2 people, private courtyard, private terrace, great view.
---
Check In: Anytime after 4PM
Room type: Entire home/apt
---
---
Always communicate through Airbnb
To protect your payment, never transfer money or communicate outside of the Airbnb website or app.
Learn more
---
The space
The house is in the upper village, located in an area away from traffic but close to shops and center of village life. This recently restored house has retained its original charm: stone interior walls, terracotta and wooden floors, beamed ceilings, kitchen 'à l'ancienne', large corner bath overlooking the valley and vineyards, antique furniture, the whole giving a sense of authenticity and elegance.
Adjacent courtyard with private deck, dining table, barbecue and herb garden. Equipped and comfortable.
The house is full of character and is in an excellent position to visit the area. Lovers of vineyards and wine will enjoy tasting the rich production of award-winning wines from the Languedoc.
The house is distributed over three floors and enjoys a private courtyard completely closed. Road traffic has no access to this part of town. There are 150 mt (with stairs) or 200 meters (no stairs) to go on foot to reach the parking lot at home.
Guest access
Internet: free wifi
Ground floor:
Fully equipped kitchen under a stone arch. Fridge (with freezer compartment), combination cooker with two gas hobs and two halogen hobs. Combination oven with forced-air, microwave and grill. Kettle, toaster. Access to terrace.
Separate WC.
Garden / terrace. Ideal to relax, soak up the sun or a romantic meal. Herb garden.
1st Floor:
Dining area: Large table with six chairs. Stone sink.
Salon : Two large cast-iron arm chairs. Sofa-bed, TV screen (no tv connection). Low table, wooden chest and stove.
2nd Floor:
Bedroom : 1.5m double bed. Armchair, cupboard. Large tub in the corner, with a view.
Attached bathroom with WC.
Private terrace with a view over the village rooftops and the valley.
Interaction with guests
My interaction is via email, mobile phone and , as required. I am not present at the property when guests are staying. All the face-to-face interaction of location is taken care by my house keeper, a trusted person that has been working for me for several years now.
The neighborhood
Location
The village has a few small shops selling basic food and household items. A nice, rustic little restaurant (La Bohème) is located in the village as part of the village café, cooking delicious food at extremely attractive prices. For larger supermarket shopping there is an Hyper U and an Intermarche in the nearby town of Clermont l'Herault or Gignac (both 10 mins drive). Pouget has a Tuesday and Friday morning market for fresh fruit and veg, oysters and meat. Lots of wine estates that you can visit to sample and buy wine. (see our Vins et Domaines paper).
Clermont l'Herault and Gignac are the nearest points for banks and a selection of decent restaurants. Lots of interesting historic villages and towns dotted around and the coast has plenty of options - loud and bright, with funfairs and discos (Marseillan Plage) or Agde, or for a traditional fishing port where you can eat at the covered fish market and wander the canals, try Sete.
Bouzigues is our favorite though: a small fishing village with beautiful view on the Thau bassin and amazing seafood.
Carcassonne and the land of the Cathars is within relatively easy reach too, either by train or car and it is possible to visit Barcelona for a day trip. The place is really full of both urban and rural places of interest and you can fill your holiday with variety.
30 km from the sea, Montpellier and Sete. To discover in the area: St. Guilhem le Desert, World Heritage site. Lake Salagou, place of recreation and an important tourist site, now protected. Great to enjoy the scenery or to participate in water sports. Beziers, well known for its history, architecture, gastronomy. Sete, with its canals, port, beach and restaurants, is known as the 'Venice of Languedoc'
Choses à Voir, Choses à Faire, Choses à Déguster
Les Monuments du Pouget :
- Le Dolmen, construit il y a 4000 ans sur la colline des Crozes.
- La Tour de Pater Noster, datée du IX ème siècle après J.C.
- Le Prieuré de St Amans de Teulet, établit dès le XIè siècle par les religieux de l'abbaye d'Aniane et l'Ancien village de St Amans attaché au Pouget en 1971, dont ne subsistent que les tombes et les fondations.
- L'église St Jacques, au centre de la circulade, construite au XIIe siècle avec les pierres de la ramassière, est classée monument historique.
Enfin, dans les Faubourgs, l'Eglise St Catherine, du XIVe siècle, est un monument majestueux qui est inscrit à l'inventaire des monuments historiques.
- Le Griffe tricentenaire sur la place du village.
- Le Château de l'Estang au centre d'une grande plaine drainée par le Fossé des Yeux, sont autant de témoignages, la trace que les aïeux ont laissée.
Le barrage de la Meuse
À 7 Km de Pouget, sur Gignac, pour se baigner.
Le Lac du Salagou
A 10 Km de Pouget, magnifique lac artificiel, au cœur d'une ancienne région volcanique, il se caractérise par la couleur rouge de sa terre (les rufes), et les reflets irisés de ses eaux.
Le lac du Salagou est un paradis pour les amoureux de sports de glisse ou de baignade (l'eau peut atteindre 28° en été) mais aussi de randonnées et de VTT. La pratique de la voile est autorisée sur le lac du Salagou, contrairement à la navigation des bateaux à moteur.
Les environs du lac sont riches en beaux villages, parfois perchés à flanc de collines, comme à Liausson. Les montagnes alentour sont peuplées de sentiers de randonnées dont certains offrent une vue plongeante sur le lac. C'est au printemps, quand les genêts fleurissent, que les berges du lac sont les plus éblouissantes.
Situé au sud de Lodève et tout prés de Clermont l'Hérault, le bassin du Salagou est à la croisée de quatre régions géologiques (les Cévennes, les causses, la Montagne Noire et les garrigues languedociennes) et de trois climats (méditerranéen, océanique et montagnard).
St Guilhem le Désert
A 15 Km de Pouget. Visitez l'abbaye de Gellone (XIIe), l'église, le cloître. Découvrez les reliques de Saint-Guilhem, l'autel dédié et la vraie croix offerte par Charlemagne à Saint-Guilhem. Inscrit au Patrimoine Mondial par l'U.N.E.S.C.O., au titre des Chemins de Saint-Jacques de Compostelle en France.
Approchez Saint-Guilhem par les gorges, le pont du Diable, la grotte de Clamouse, l'éventail et les moulins de Brunan.
Découvrez le village, ses rues étroites caractéristiques, ses maisons aux façades pittoresques anciennes. Une ambiance rare.
Pézenas
A 25 Km de Pouget. Ville d'art et de Culture. Séjour de prédilection de Molière et de son illustre théâtre. Pézenas a conservé un riche patrimoine culturel.
Le cirque Dolomitique de Mourèze
Un des plus importants chaos de rochers d'Europe sculpté par le temps. Village moyenâgeux classé d'intérêt supérieur : château, Eglise XIIe s, Dolmens, Menhirs nécropole pré romaine.
La Couvertoirade
Village médiéval, reflétant la puissance militaire des Templiers et le quotidien des Hospitaliers
Située aux confins du plateau du Larzac, La Couvertoirade reflète la puissance militaire des Templiers et le quotidien des Hospitaliers par son état de conservation exceptionnel. Classé parmi les "Plus beaux villages de France", Il existe peu de sites médiévaux aussi bien conservés en France.
Le château fut édifié en 1249 par les Templiers.
Accès :
La Couvertoirade se situe dans le sud du département de l'Aveyron, à environ 40 minutes de Millau et 1 heure de Montpellier.
Rejoindre l'A75 (gratuite) direction Millau/Clermont-Ferrand. Après les tunnels de la Vierge et de l'Escalette, sortie 49 Le Caylar. Il vous reste 6 kilomètres à parcourir.
Service Tourisme de La Couvertoirade
Tél. :
Et encore, un peu plus loin, Béziers, Carcassonne, les Beaux de Provence, la Camargue, Nîmes, Barcelone…
Petits endroits qui méritent…
Crêperie Normande Le Gélase – Pézenas
2 Rue Béranger
34120 Pézenas
Tél. :
Indexé dans la rubrique "Restaurants gastronomiques" du guide de Pézenas. Les meilleures crêpes jamais goutées. Salées, sucrées, sarrasin ou froment, elles sont toutes vraiment bonnes. Le patron, Joseph, est un normand réservé qui va chercher personnellement les meilleurs cidres de sa région. A ne pas rater.
Le Pied à l'Etrier
L'étrier du Lac
34800 Clermont l'Hérault
Tél. :
En sortant de Clermont l'Hérault, sur la route vers le Lac du Salagou. Une petite route de campagne, étroite et pas asphalté. Très bonne réputation pour une cuisine savoureuse et variée.
Huilerie coopérative
Vente de produits du terroir
Route de Nebian
tél :
L'OLI D'OC vend toute l'année, l'huile d'olive élaborée sur place, au moulin, mais aussi la plupart des produits dérivés de l'huile et de l'olivier : objets en bois d'olivier, savons et savonnettes, gels douches, olives etc...On achète toujours notre huile ici et chaque fois on aime gouter toutes le differentes varietés. A ne pas rater les olives vertes, les Lucques, à savourer avec un bon verre de vin du coin.
COOPERATIVE PRODUITS BIOLOGIQUES
Produits biologiques et écologiques, infos médecines alternatives, aromathérapie, phytothérapie
Place Lieutenant Marcel Gontier (Amitié 5)
tél :
TOUR ENOGASTRONOMIQUE
Il y des producteurs très connus de la région. Et d'autres qui le sont moins…mais ils méritent une visite et une dégustation. Voir notre document « Vins et Domaines ».
Activités, Sports et Loisirs dans le village (ou très près):
Cavaliers de Trois Fontaines.
Tél : nis club.
Président : Eric AMALVY, Tél : email :
Le clos d'Alice, centre équestre.
les Cazeaux. Tél :
DANSE INDIENNE
Association Kamala : Lo Pinto Magali Cours et stages de danse indienne de style Odissi : postures sculpturales, gestuelles, frappes de pieds rythmées et expressions mimées du visage.
Los Dau Piochet club d'occitan.
Président : Jacki CADILHAC, 2 av de Pouzols
Tél :
Restaurants du Cœur.
Bénévole responsable : Mr GANDELIN vous découvrez d'autres endroits spéciaux, restaurants, bonnes choses et gens sympathiques, faites-le nous savoir. On aime faire profiter les autres des choses qui nous font plaisir…
Getting around
The house is only reachable on foot from the more recent part of the village (100-200 mt walk). There is minimal public transport to/from Le Pouget. Parking is available in and around the village, not included in the listing. A private/rented car is mostly advisable as well for moving around the region. Bikes are available for rental in the area.
Other things to note
Given the period architecture of the house, we do not recommend the house for people of reduced mobility.
Please note that the house, although beautiful in many way, is an old traditional house: there are places with low ceilings, a narrow passage with three steps down into the kitchen, stone staircases at the entrance and it does need some further renovation work. We feel that the prices stated take this into account.
The church bell tower rings every hour, but normally we do not have complaints. We believe it's part of the charm!
---
Check in is anytime after 4PM
Strictly no smoking. No animal admitted.
Pls water the plants every evening in summer/hot periods. Every 2-3 days in other periods.
Rentals in summer time (High Season) are from Saturday (16 hrs) to Saturday (10 hr)
Please note that EARLY Check In/Out (between 8am and 10am) and LATE Check In/Out (between 6pm and 8pm), when possible, carry an EXTRA COST of 20€. Availability for Check In/Out between 8pm and 8am has to be confirmed with us and will carry an EXTRA COST of 35€. This will be confirmed before your booking.
Bedsheets and towels are not included in the rental price. We can provide them for a fee of 30 €.
VERY IMPORTANT
Please read our Disclaimer of Liability. If you rent/stay in our property you will automatically accept it.
=======================================
- Disclaimer of Liability -
Please read this carefully. If you agree to rent/stay in our property you will have accepted this disclaimer.
We: the owner(s) of the property or the property manager or such a person delegated by the owner to perform such role on the property.
Guest: person(s) renting/staying in the property for any length of time.
----------------------------------------------
Liability
We shall not be responsible for losses, injuries or any damages resulting from your stay in / the rental of our property and assume no responsibility for same.
Limitation of liability
In no event will we be liable for any damages, including without limitation direct or indirect, special, incidental, or consequential damages, losses or expenses arising in connection with your stay in our property / this rental.
We cannot accept any responsibility for your personal safety during your vacation. You are reminded to exercise care as to your personal safety and the safety of your companions.
The owner or property manager do not accept liability for lost or stolen personal property of the guest from the property during the rental period.
All guests understand and agree that neither the property owner nor property manager can accept responsibility whatsoever in case of accident or illness whilst on the property.
We will not accept liability for acts of violence, nature, fire, flood, war, civil disobedience, riot, or other force majeure that may have a deleterious effect on the Guest. We cannot accept any liability for the failure of public supplies such as water, electricity or gas supplies. Nor for the consequences of the actions or omissions of persons who may supply or control main services, or any action taken in the vicinity of the property reserved, by any authority or persons over which we have no control. We cannot accept any liability for the heating system, or any household appliance breaking down. Urgent steps will be taken for a local helper to rectify any problem.
---
Strict
Cancel up to 7 days before your trip and get a 50% refund plus service fees back.
---
---
Exact location information is provided after a booking is confirmed.
Elena was great from start to finish! We were given lots of information about the house and area before we flew out, and we were met by a lovely local lady, Chantal, on our arrival at the house. Everything was well organised and incredibly easy. Elena was really prompt at replying to any questions we had and was so sweet to leave a bottle of local wine to help us settle in on our first night! The house was just as we had hoped - a charming little house with plenty of character. Le Pouget is a quiet little village in a great location to explore the surrounding area including the beautiful town of St-Guillhem-Le-Desert. We loved it.
---
We had a very special time in the exquisite and very friendly village of Le Pouget, where everyone greeted us with a friendly 'bonjour' and was patient with our stumbling French. Elena was an excellent host, answered all our emails very promptly and provided us with lots of information about the many attractions of the local area. Although we did not meet her, we had no trouble connecting up with her delightful friend, Chantal, who lives in the village and met us with the key and collected it at the end of our stay. This is not a place for the elderly or infirm, but for most people it would provide a blissful, romantic retreat. The house is situated at the top of the village and the view from upstairs is panoramic. Thoroughly enjoyed sitting out in the courtyard of an evening.
---
Spent a great 4 weeks in Elena's beautiful house. Le Pouget is everything you would expect from a mediaeval French village, set on a hill amongst glorious Herault countryside. The house and the adjoining patio garden are an oasis of tranquillity in an already tranquil place. Elena has furnished and equipped the house with everything (and more) you could need, and we would certainly recommend it to anyone as a base for exploring the area. Chantal (the housekeeper) is very friendly and was on hand as soon as we arrived (unfortunately very late due to very heavy traffic all the way down). Elena's description of the house is very accurate so there were no surprises. We had a great time - thank you Elena.
---
We enjoyed Elena's house so much! The place is charming, peaceful, and there is an amazing view from the top floor. I would definetely recommend the place. The house was clean and has everything you need. Chantal who welcomed us was very sweet, and Elena provided good information about the area. If you're in love with the South of France like I am, you will definetely love this place. It is a must to have a car though!
---
4 Place St. Jacques was a great home base for exploring the region. It's very well-equipped, very comfortable (although a cold wind finds its way in through a few medieval gaps here and there!), and quite roomy. A variety of spaces means that you can always find a place to suit your mood, and if rain keeps you from using the terrace there's plenty of room inside to put your feet up and relax. Le Pouget is a nice enough little town, but it's not likely that you'll spend a lot of time here. There's lots of great exploring in the region, though, so take full advantage of that and enjoy your retreat in this lovely home. And yes, you do get used to the church bell next door!
---
What a gorgeous and truly charming little place Elena has! We absolutely loved the quirky little cottage which was extremely well appointed and had everything you could need for a week away. Le Pouget is a sweet little village and it was a great base from which to explore the surrounding region - great scenery, food and wine! Although we did not meet Elena she was a pleasure to communicate with and very helpful. The house-keeper Chantal was lovely, and although we cannot speak French and she cannot speak English we managed just fine :) Highly recommend anyone to come and stay in Elena's lovely little cottage.
Thank you so much Julie! The house in Pouget has been our love project for many years now! We have put so much time and effort in it that it is always very rewarding when our guests truly appreciate it. It has been a pleasure "communicating"with you, you were very clear and nice (I am not an English native speaker, as you might have guessed :-)). Chantal absolutely adored you! Thanks for staying with us and have a wonderful life! elena
---
Malta

·

Joined in September 2011
We are a British - Italian couple.

We love travelling, discovering and enjoying good food and wine, being nice to people.

Couldn't live without regular sunshine and seaside "exposure", playing squash and a good library on our e-books.

Response rate:
100%
Response time:
within a few hours
Explore other options in and around Le Pouget
More places to stay in Le Pouget: