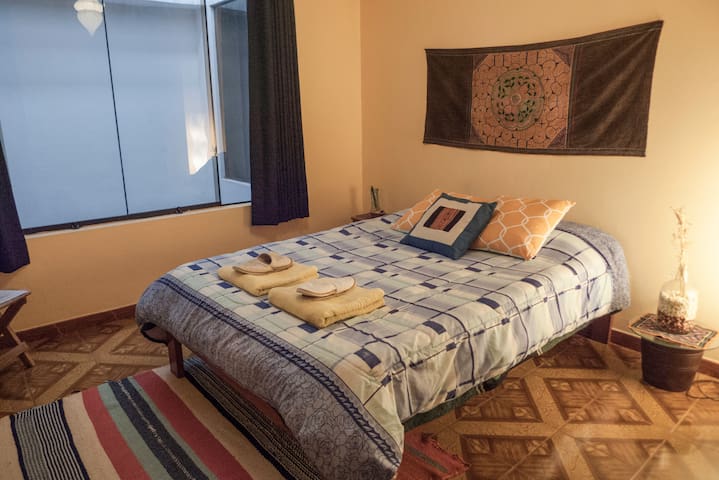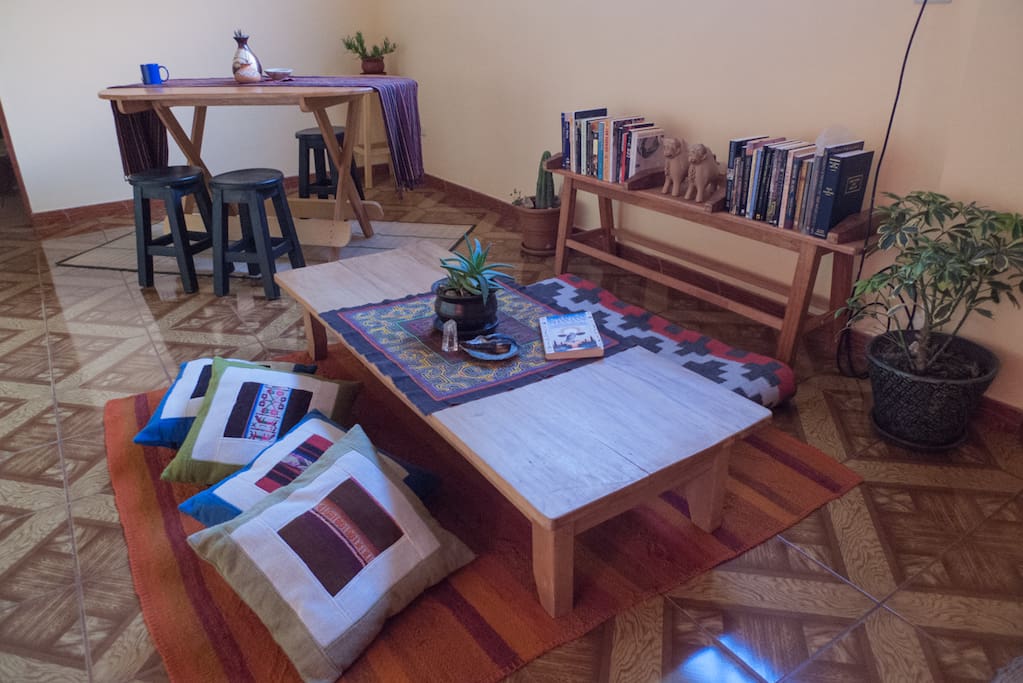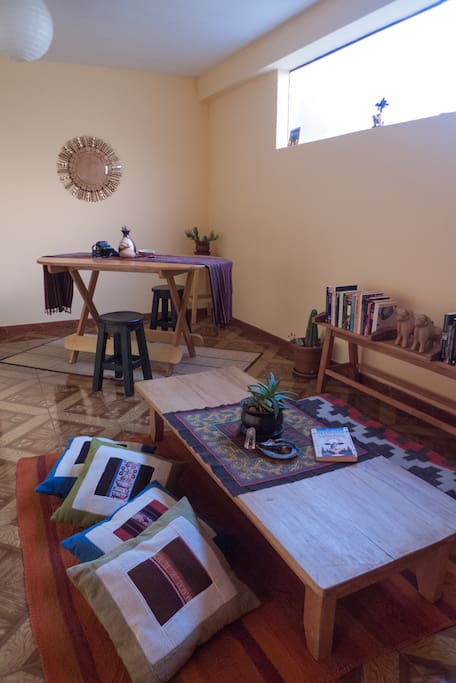 About this listing
We are centrally located in a quiet barrio that borders San Blas and is a 10 minute walk to the Plaza de Armas. We've been part of the airbnb community for years and are excited to share our home with you! We do ask that you please read our listing :)
*** We're travelling from May 13 to June 13 and are looking for sublettors for our flat during this time. If you might be interested in living in our flat for a month during this time frame, pls send me a message :) ***
The space
Please read our listing thoroughly so that you know what to expect from our accommodation :)
Cusco can be a bit of a culture shock for some, especially if you've never travelled in South America or a developing country. And so it's important to us that our guests understand what living in Cusco is like. We want to make sure all the quirky things have been noted and understood. Thank you!
BEFORE YOU BOOK:
1) Please send me a message first to ensure we can accommodate you. If possible, it would be great if you could include your expected arrival and departure times.
2) Please ensure that you have a completed profile (photo and bio). You can read about me too in my profile. This is our home and we like to know a bit about who will be staying with us :)
*****
Our spacious apartment is on the 2nd floor of a family-owned apartment building - away from the main street which can be a welcome relief from the Cusco madness. We've lived street-side before and we're very happy to be living away from the chaos.
This is our home not a hostel/hotel and we only have 1 GUEST ROOM (with a double bed). So unlike a hostel/hotel, you are our only guest :)
That said, we can convert our yoga/meditation room into another bedroom if you are 3 to 4 people travelling together. The cost is just an additional $5 per person (up to 4 people) and $5 cleaning fee for the additional room. And pls note that the bed in the 2nd room does not have a frame (see photos).
Guest access
Our place has everything you need to enjoy your stay in Cusco including:
- A good wifi connection
- A super comfy bed with plenty of warm blankets for the cold Cusco nights
- Clean linens & towels
- 24-hour water & hot shower - Our apartment has its own water tank. Not all places do (and often they don't tell you this). This means that when the city shuts off the water supply (which it does daily), we still have running water.
- Filtered drinking water & an assortment of teas & coffee for you to enjoy anytime!
- Full access to a well-equipped kitchen with everything you need (oven, blender, toaster, etc)
- Warm slippers for the cold floor
- Access to travel books and city maps
- A printer to print any documents you might need during your travels
- A cheap laundry service in our building that will wash, dry, fold & then deliver your clean clothes back to you
While we don't officially offer breakfast, it's pretty common for us to share food with our guests. Plus, there's a bakery on the ground floor of our building and San Blas Market is only 1.5 blocks away.
FULL DISCLOSURE & CUSCO QUIRKS
- We have just 1 bathroom. Hope you're ok to share with us!
- The shower requires a bit of a tutorial if you're not familiar with the electric showers that are common in Cusco. The pressure is gentle but good & it gets sufficiently hot but you have to be patient.
- The wifi is good for Cusco (we work from home and need good wifi). However the internet in Cusco does drop out from time to time.
- Buildings are not insulated. And there is no central heating. Meaning if it's cold outside, it's cold inside too. Come prepared with warm clothes.
- Our place is very quiet but you should be warned that noise echoes in this town. And people tend to make a lot of noise no matter what time of day. Dogs bark. Children cry. And Cusco loves its fiestas, fireworks and loud music.
We like to be completely upfront about our place and Cusco so you know what to expect. Cusco is an unpredictable place. It's not North America, Australia or Europe. Sometimes unexpected and inconvenient things happen that are beyond our control. These situations are temporary and may never happen while you're here. But you never know and we hope you understand :)
Interaction with guests
A bit about us - I'm Canadian and my husband Shane is Australian. We have traveled and lived all over the world and speak english fluently, spanish less fluently, and french and portuguese pretty badly (we seem to be losing these languages as our spanish improves but we can still understand). We've been in and out of Peru since 2009, and can't seem to get enough of Cusco.
We work from home which means we are usually around to answer any of your questions and share our knowledge about Cusco and the surrounding area. And we're happy to do so!
We want to make your experience at our place like staying with friends. We've long-time airbnb guests and have had great experiences in some amazing places. Now it's our turn to be great airbnb hosts!
We also offer:
- Yoga & martial arts (Jiujitsu, Systema) classes
- Hikes to ruins close by (these ones are not in the guide books …yet)
Other things to note
Once we accept your Booking Request, you'll receive a confirmation email from airbnb. Please read it and keep it with you when you travel as it contains all of our details (our address, directions, how much to pay for a taxi, our ph # and more). You can also find it in your airbnb account under Your Trips.
FREQUENTLY ASKED QUESTIONS
How far is the airport from your place? Can you help arrange transportation to and from the airport?
~ Sure I can but it will cost you A LOT more than if you just follow the directions that I've included with your airbnb booking confirmation. It's only a 10 minute drive to our place.
What's the weather like in Cusco right now? What should I bring?
~ Generally, when the sun is shining, it can be warm to hot. In the shade and at night, it's cold. Nights can get really cold, especially in the winter months (July & Aug). Layers are key. Bring warm clothes to sleep in. And a sun hat (the sun is really strong during the day). From around October to December, it starts getting warm and humid with rain every now and again. Rainy season starts around January until March.
Do you have any advice regarding the high altitude?
~ I can't give out medical advice because I'm not a doctor. I've never taken altitude medication. Some people do. I hear it makes your fingers and toes tingle. My preference is rest and lots of liquid to stay hydrated, especially coca tea. Altitude affects people differently, no matter your age or state of fitness. It's very hard to predict.
How many days should one stay in Cuzco? Do you have any suggestions for an itinerary? Is there a lot to discover apart from the must-sees? Should I book a tour?
~ It's very hard to recommend how long to stay in Cusco as there are so many ways to discover and explore the city and area. It depends on how long you have, what you are interested in doing, etc. It takes time to explore the area because so much of it requires walking and buses. But if you're on a limited schedule then 2 or 3 nights should be fine. Factor in an additional 1 or 2 nights at Aguas Calientes to visit Machu Picchu without rushing. You can do day trips to the Sacred Valley from Cusco but factor in more time if you want to include this as well. We've had guests fly through Cusco in 3 days and others who feel they haven't been here long enough after 2 weeks. A tour is a great idea if you have a limited time, are traveling by yourself, and/or don't want to do any of the planning.
Is Cusco safe? Is it safe to walk back to your place at night?
~ This is a hard one to answer as safety is relative based on where you live and what you know. Yes Cusco is safe. My opinion. My husband's opinion. And the opinion of many others (Peruvians & expats). It is one of the most touristed cities in South America, highly patrolled in the historic centre. Our street is well-lit at night and is patrolled by security. That said, where there's poverty, there's petty crime. Behave sensibly when traveling. That's the bottom line.
Are there places where I can exchange money in Cusco?
~ Yes there are. They are located on Avenida del Sol in the centre of town. However, the best thing to do is bring your ATM card and withdraw Peruvian soles from the machines when you arrive.
What is the cheapest way to get to Machu Picchu?
~ The cheapest way to get to Machu Picchu is to take a bus to Santa Maria. Then take a van to Hidroelectrico train station. Then walk along the train tracks to Aguas Calientes (or take the train). It's not as direct as taking the train from Cusco or Ollantaytambo to Aguas Calientes and it takes much longer but it's a lot cheaper. This way will cost only about 40 soles (if you walk from Hidroelectrico to Aguas Calientes) and will take about 11 hours so be prepared for a full day of travel.
What about other ruins in Cusco and the Sacred Valley? What is the best way to see them?
~ This really depends on your time, budget and how much you want to see. The best thing to do is to buy a Boleto Turistico when you arrive. 130 soles pays for entrance to a number of ruins and museums around Cusco and the Sacred Valley. However it does not include Machu Picchu. There are also partial 1-day Boletos available that are cheaper.
Can you recommend and provide costs for a good trekking company for the Inka Trail?
~ We've never done this particular trek. The internet is quite helpful for finding recommendations from people who've done it.
How far is Machu Picchu from your house?
~ Machu Picchu is in the town of Aguas Calientes which is about 4 hours away from Cusco where we live depending on how you choose to get there. Everyone has to arrive into Cusco before they head to Machu Picchu.
AND IF YOU'RE HEADING TO THE SACRED VALLEY, WE RECOMMEND STAYING WITH OUR FRIENDS!
Juan & Dew in Urubamba - https://www.airbnb.com/rooms/4303147
---
---
---
Extra people: $5 / night after the first guest
Always communicate through Airbnb
To protect your payment, never transfer money or communicate outside of the Airbnb website or app.
Learn more
---
Not safe or suitable for infants (Under 2 years)
Check in time is 9AM - 10PM
Check in: Anytime between 9 am and 9 pm
Check out: Anytime between 8 am and 12 pm
Make yourself comfortable and enjoy your stay in Cusco! We do have a few house rules. Mainly that you care for our place and things as you would your own. Also, we're pretty chill people. We're not really looking to host super crazy party folk.
Other house practices:
1) Do not put toilet paper in the toilet (or any toilet in Peru). You will block the toilet and potentially flood it. Gross!
2) Please remove your shoes at the door. And please no shoes on the rugs. There are a lot of stray dogs in Cusco that don't have owners to pick up after them ;) ...But don't worry, we have comfy slippers for you to wear in the house!
3) You're welcome to use whatever is in the apartment, but please clean up after yourself and put things back when you're finished. Dishes especially.
4) If you happen to break something, kindly replace it.
5) No smoking in the house sorry. If you smoke, please go out to the street.
*** We've recently had our first (& hopefully last) yucky experience with a guest. We actually had to ask her to leave our home she was too much to bear. You can read her very interesting review of us below! We hope that doesn't dampen your view of us :P ...However, in light of that experience, we thought we would remind people of what is normally considered unacceptable social behaviour. We always thought these things are obvious. I guess they're not obvious to everyone ;)
1) You are free to express your ideas & opinions in our house. We welcome & enjoy open & friendly dialogue. This is unless you're a bigot of any kind. In that case, please keep your opinions to yourself. And maybe you might want to consider staying somewhere else. We won't tolerate racism or other discriminatory comments about any group of people in our home. Especially when they're directed at us.
2) We absolutely want you to make yourself comfortable while you're here. Our home is your home. However we won't tolerate being insulted or disrespected in our home. Nor will we tolerate rude, inconsiderate and disruptive behaviour. We hope this isn't too much to ask. If it is, you might want to consider staying somewhere else.
---
Strict
Cancel up to 7 days before your trip and get a 50% refund plus service fees back.
---
Marianne and Shane are INCREDIBLE!!! We arrived a little earlier than expected but were instantly given a warm welcome with the local Coca Tea (very helpful if you have trouble at high altitude) and great conversation. They continually went out of their way to make us feel comfortable in their spacious and tidy home. They helped us plan out adventures around Cusco that you can't find in a guidebook. Every restaurant they recommended to us was fabulous! They continually went above and beyond as hosts: they shared hot coffee with us, gave us some aloe Vera for a bad sun burn, and provided us with insights that only locals could give. We came to their home as guests and left as friends; they will always be welcome in our home. Highly recommended, true super hosts!!!
---
Marianne and Shane are wonderful hosts, really friendly, positive people. Me and my mom had a nice time in their place, only 3 nights, still it left a mark. The flat was as described and much more, filled with good energy and interesting spirituality, it evokes dreams that make you think, question, feel. Marianne greeted us with tea, was worried we might be cold, so she gave us an extra blanket, these huge heavy blankets are so warm we didn't need an extra one :) They both look to make your stay comfortable and try to anticipate needs, like apple pie before early morning hike, yes, thank you :) I would stay in this place anytime for as long as I am welcomed, just remembering it brings a smile to my face. The bakery downstairs is handy, other small shop and fruit and vegetable market withing 100 meter, nice restaurants nearby and the center a short walk away..
---
Marianne and Shane were an amazing introduction into the world of Airbnb! Marianne was invaluable with all of the information she provided about the unit and surrounding area. The bedroom was cozy and comfortable, and unit was spacious and really exceeded our expectation. Marianne and Shane were great hosts, were fun to talk with, and provided the best advice about what to do and where to go that we could ask for. They really helped our trip to Peru become a memorable experience. I could not recommend them any more highly as hosts. Thanks guys!
---
...came as an acquaintance, left as a friend! This is how I feel about Marianne and Shane, my two super hosts in Cusco! From the moment I stepped into their house I felt welcomed and at home. Sitting in the living room, having a cup of coffee and sharing experiences about Peru and other places were the best moments I spent in Cusco. It is always such a privilege to meet like-minded people :-) All the pictures correspond 100% to how the apartment looks like. San Blas is a great neighbourhood to explore the city by foot; a couple of blocks off the Plaza de Arma San Blas overlooks the historic center and is famous for its nices cafés and restaurants. All in all a stay in San Blas with Marianne and Shane is highly recomendable! I hope to be back soon myself :-) Thanks for everything!
---
Marianne and Shane are lovely people to stay with. From the very first moment I walked in they treated me like a good friend. The house is exactly as shown in the pictures. A very comfortable, clean and quiet environment to either relax, do some work or come home to after sightseeing in Cusco. I hope to be back soon!
---
Marianne and Shane are simply amazing. My time spent at their home was so restorative and they were incredibly welcoming- from sharing meals and great conversations together as well as just getting the time to retreat and rest from the altitude. Their location is wonderful, the bed is so comfortable and they have great wifi. I look forward to staying with them again- such an incredible couple.
---
Cusco, Peru

·

Joined in August 2011
My husband Shane and I are pretty experienced travellers (38 countries and counting). He's from Australia and I'm from Canada so we move between our home countries to see our family and friends, while making long stops in between. We like to give ourselves time to explore so we usually stay for a while, sometimes for a long while (we've lived in 10 different countries). And we currently call Cusco, Peru home. Wherever we are, we try to live consciously and conscientiously, and with full respect for our environment and the people around us. We like to surround ourselves with like-minded people. It's been a blast being part of the airbnb community - as both guests and hosts! Hope to see you soon :)
Exact location information is provided after a booking is confirmed.
Explore other options in and around Cusco
More places to stay in Cusco: