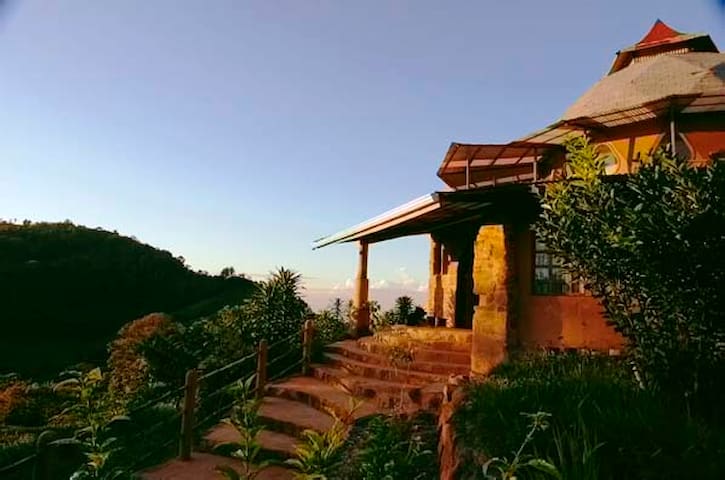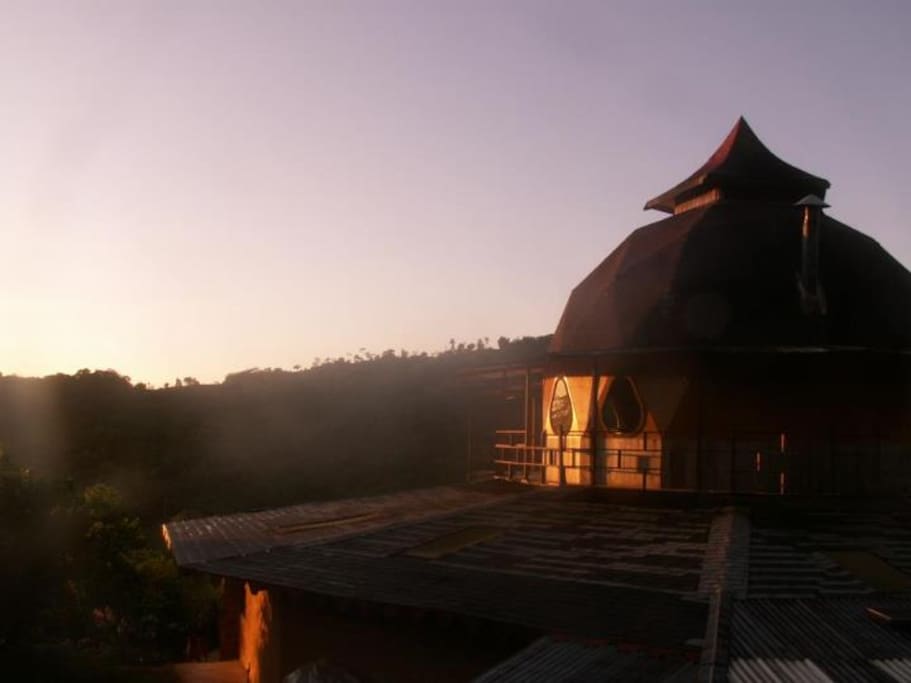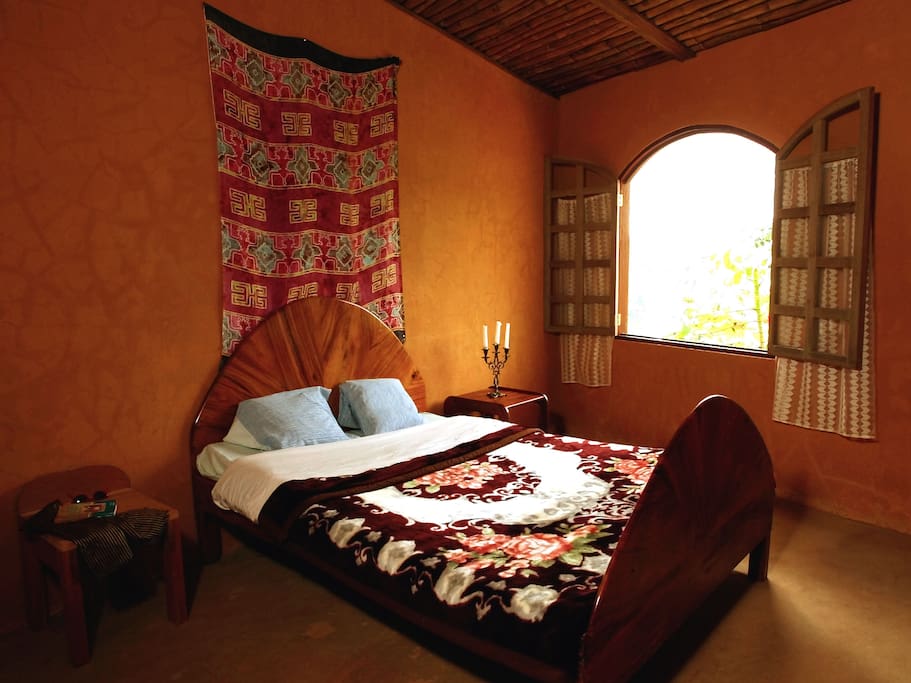 A Sustainable and Regenerative Way of Life #4
A Sustainable and Regenerative Way of Life #4
Casa Tordesillas is a mountain retreat, high up on the ridges of the Coastal Range on the Pacific south west of Costa Rica, adjacent to the biological corridor "El Paso de la Danta" (The Path of the Tapir)
Our way of life is based on organic garden, solar energies, reforestation, art&crafts, horses and holistic health practices which you can partake on.
For the more adventurous, there are nature tours through the tropical forest,
hikes to the different waterfalls and natural swimming pools
The space
Marga´s and Chema´s home is a large elegant two storied round building with a geodesic dome on top for holistic practices. Large living room with fire place. Private bathrooms in every bedroom. Dining room with forest and ocean view from 1000 m above sea level. No grid connection, solar panels, rooms with candle light. Spring water from the property.
With over 25 years experience in sustainable practices, have been able to maintain a harmonious balance between the sorounding forest and human presence. It is a large biological farm with organic garden and fruit trees. The horses are a breed cross between spanish andalusian and Costarican Paso Fino.
Caters to naturalists, artists, mystics, equestrians, holistic groups and sustainable practice seminars. Property is adjacent to Biological Corredor "El Paso de la Danta". Rural path to the beach on foot.
There are many rivers, brooks, waterfalls and natural swimming pools in the area, besides several nature trails through the forest; gives the naturalist a sample of this tropical land. In top of all this, the breath taking views over the rolling valles and down to the coast line.
One can also participate in voluntary hands on sustainable practices, which are Margas and Chemas way of life. Some of these practices are biological gardening, reforestation, different crafts and horse care.
So, what is a sustainable way of life? It is a friendly relationship with nature, where the "cost of living" is directly related to minimizing environmental impact; where a true economy is based in minimizing waste and being frugal. Recycling, craftsmanship, growing your own food and avoiding consumerism.
Breakfast and afternoon homemade pastries are included with your stay, other meals are available with an additional cost. Please let us know if you like to have this service prior to your arrival. All additional services are payed in cash, no credit cards.
There is a public bus every day (except Sundays) to a nearby village 3 kms from Casa Tordesillas. Local taxis are available upon request.
For more than 2 persons, please contact us for special prices
The whole villa is also available, with room up to 20 people
You can also check availability of rooms 1-2 in case this one is already booked
http://www.airbnb.com/rooms/128092
Or room 5: http://www.airbnb.com/rooms/290050
Guest access
The whole villa and the farm with the sorrounding forests and waterfalls are accessible for the guests
Interaction with guests
The guest become part of our home and the interaction is at a family level
Other things to note
Breakfast and afternoon home made paistries are included with your stay, other meals are available at an extra cost. Please let us know if you would like this service prior to your arrival. All additional services are payed in cash.
If a car rental is your option, make shure it is a 4X4
Also, since we are located in a wilderness area and the rural roads to our place are a bit of a maze, make shure you contact us so as to give proper directions and arrive before sunset.
The whole villa is available for up to 20 guests.
There is the possibility of horseback ridding for experienced ridders or ridding lessons for beginners. The cost is $60 for a 3-4 hr ride through the country side. $30 for a 1 hr lesson.
Also, we offer massage services from a profesional physical therapist. The cost is $40 for a 45 min. session.
Naturalist guided tours are offered. Cost is $20 per person.
There is a nearby restaurant with swimming pool, half a km away
---
---
Extra people $15 / night after the first guest
Always communicate through Airbnb
To protect your payment, never transfer money or communicate outside of the Airbnb website or app.
Learn more
---
Bedroom 1
1 double bed, 2 single beds
---
Enjoy, we normally are early to bed and early to rise, tipicall of living in the countryside.
---
---
---
---
Chema and Marga are truly super hosts. Always very attentive to their guests. Marga cooked some wonderful meals. They are a prime exemple of sustainability. They give one of the best model we should follow. Chema knowledge is incredible. Thank you both for sharing your knowledge. It is also a wonderful place to relax, heal, hike.
---
Marga and Chema cultivate a world of peace and conscious living, nestled in the treetops and folded into the mountainside. The truest form of Pura Vida is here at Casa Tordesillas. A space of learning, listening, and communing with the Higher Self. A place to share stories, bask in the equinox of sun and moon, honour silence, and embrace the sacred geometry of land and sky. These elements all manifest in the construction of Marga and Chema's home. The regenerative way of life reminded us that we are ALL stewards of the Earth with a duty to embody a harmonized existence that nourishes and protects our community and the planet. Marga's cooking is pure artistry and her beautiful spirit is a blessing. Chema's stories transported us beyond time and space, while grounding us in the teachings of the soil we walk on. They are visionaries, they are inventors, they are beautiful human beings and caretakers of the land. During our stay we soaked in the sunrise, meditated on the clouds, and tuned in to nature's symphony. A truly healing and awakening experience. A part of us still dwells at Casa Tordesillas. Thank you Marga and Chema for openly sharing this gift with us!
---
Chema and Marga were excellent hosts and their house is nothing short of spectacular. Pictures don't even do it justice. There's something very, very serene about their land. Unfortunately, we missed our first two nights because of a delayed flight, but the short time we spent here was absolutely worth the drive. No complaints, and we will be back. ❤️❤️❤️
---
Chema and Marga's house is definitely a utopia! From the vision and mission of its owners, the area, the house's architecture, pure water, delicious food , amazing views, and surrounding nature this place is a hidden paradise. Moreover, Chema and Marga were great hosts, they are sincerely committed to giving their guests the greatest experience. Overall, they were very helpful from the beginning to the end of our stay. The place is so peaceful and has such a high energy that we already miss it! If you are looking for a back to nature and a true sustainable living experience, definitely go to Casa Tordesillas.
---
Fantastic property and wonderful hosts. My travel plans got messed up and I arrived very late. They kept dinner out for me and helped me get there. Fantastic views and Chema is a great source of info about what to do, Costa Rica, Sustainability and more. The house is quiet and very easy to relax in. Marga cooks like a champion and these were easily the best meals I had in Costa Rica. My only mistake was not to bring binoculars to observe the birds. This is the type of house where you can relax watching the view and reading a book and let the day pass by in total tranquility.
---
First things first: If you consider yourself a person interested in the world - stay here now, ask questions later. Our two days in this magical, end-of-the-world hilltop house was really special. Chema welcomed us warmly and spent hours telling us about this haven of sustainability and discovery. He is clearly so passionate about what he's doing, it's a pleasure to take a peek inside his world for a while. He also took us out for an unforgettable horse ride through the country, telling us the story of virtually every person and every tree in the area. Our stay here was truly an immersion into a parallel universe of peace in the midst of natural beauty. It feels very, very far away from the rest of the world. Last but not least, Marga's home cooked meals were - by a landslide - the best food we got to enjoy in all of Costa Rica, it would have been foolish not to add it to our stay. Thank you both - We wish you best of luck with all your big and small ideas, we will be remembering our stay for a long time!
---
We are native from Madrid, Spain. Residing in Costa Rica since 1976, following a sustanable way of life. We offer holistic health and sustainable practices seminars. We also offer horse back riding for experienced riders and nature hikes through the tropical forest and to the local waterfalls and pools.
For us to have a guest is a way to share our way of life, to promote a sustainable life and to make friends.
Our main object is two fold, first is to simplify our way of life by practicing sustainable techniques and regenerative activities; second is to be minimizing our impact on the planet, that is, that our ecological footprint would be less and as we see it, is about quality of life instead of standard of living.
"You are not necessarily richer by how much you have, but perhaps, by how little you need"
Languages:
English, Español
Explore other options in and around Pérez Zeledón
More places to stay in Pérez Zeledón: