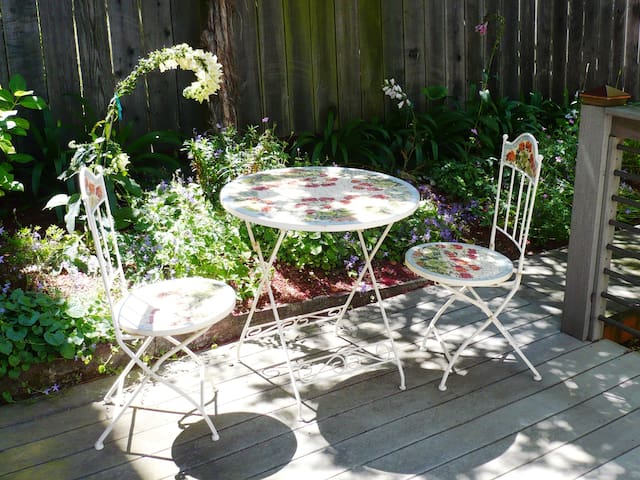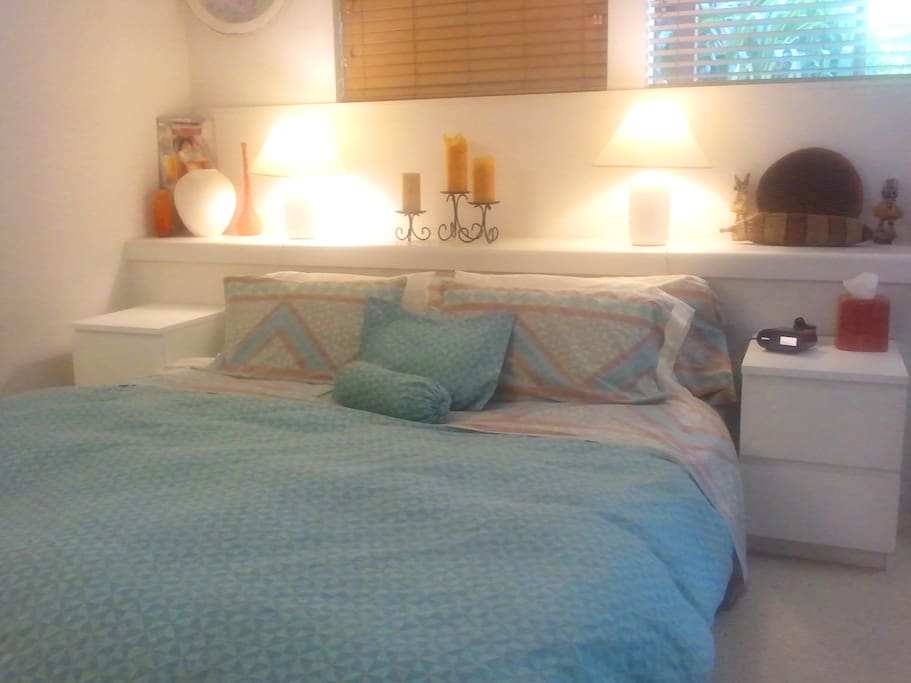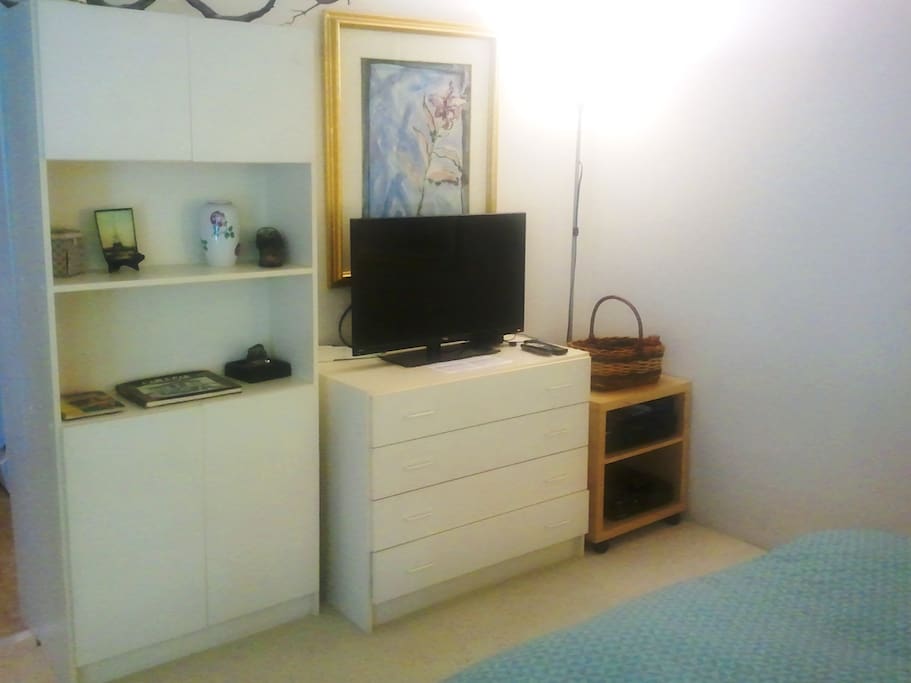 Convenient, quiet, private!
Welcome to our private guest suite with direct garden access! It's in a nice neighborhood with amazing views, plus you can walk to restaurants, shops and transportation. We have hosted more than 200 guests, so we know what you need for a great stay!
---
Bathrooms: 1 (Private bathroom)
Check In: Anytime after 3PM
Self check-in: Host greets you
---
---
Extra people $30 / night after 2 guests
Always communicate through Airbnb
To protect your payment, never transfer money or communicate outside of the Airbnb website or app.
Learn more
---
+++Welcome to San Francisco!+++
If you need anything, don't hesitate to call us! Phone numbers posted in the suite. Please try the house land-line first. Let us know if there is anything we can do to make your stay more comfortable!
Please read the House Rules below, and ask us if you have any questions.
CHECK IN / CHECK OUT
•We try to be flexible about arrival and departure times. The only exception is if we have guests arriving on the day you are leaving. In that case, we ask that you depart by 11:00 am - but we are happy to store your luggage in the garage.
•If you arrive on a day when we also have departing guests, check-in will be after 3:30 pm, though we will be happy to store your luggage, and will do our best to get you into the suite sooner, if possible.
DOORS & LOCKS
•Please always re-lock the exterior deadbolt lock when you enter and exit. We will provide you with additional information regarding locks and entry upon your arrival.
•If your shoes are dirty or muddy, please leave them outside the door.

NO SMOKING
•No smoking in the suite, in the garden or in front of the house. This includes e-cigarettes.
LAUNDRY - WASHER & DRYER
•Guests are not allowed to operate the washer and dryer. If you would like to do some laundry, please give us a call and we'll be happy to operate the machines for you. The charge for laundry is $5 per load.
WIFI
•We have high-speed wifi, with excellent reception in the apartment. We will provide you with the network and password information upon check-in.
BATHROOM
•Do not put any tampons or other sanitary items other than toilet paper in the toilet.
•Please do not use any hair-coloring products or dyes in the shower or sink.
•Please let us know if you are using any skin-care or acne products that contain Benzyl Peroxide. This can bleach our colored towels, so we'll give you a white towel instead.
•Please use limited amounts of toilet paper. We are required to have "low flow" toilets in San Francisco, and lots of paper causes them to clog. In the event of a clog, you will find a plunger next to the toilet.
•Please turn the de-humidifier to #4 when you are taking a shower, and let it run for a while afterwards. Also, turn on the bathroom fan when you are taking a shower and let it run for a while afterwards. This will keep the suite from becoming too damp.
•Feel free to use any of the toiletries in the basket outside of the bathroom. There is shower gel in the shower and bar soap (if you prefer it) next to the toiletries basket.
•You can hang clothes in the closet in the bathroom. There is also extra toilet paper located there. Let us know if you need more!
•Please leave the bathroom door open when you aren't using the bathroom. This helps it dry out and reduces humidity.
•Let us know if you need any additional paper products.
LUGGAGE STORAGE
•Please do not place luggage or bags on the ledge/shelf below the windows. We have provided luggage racks for your convenience.
•If you want to store any luggage in the garage, just let us know.
APPLIANCES & HEAT
•If the de-humidifier (large white appliance) noise bothers you, you can turn it down. Just remember to turn it on when you take a shower, to number 4. Also turn on the bathroom fan when showering. This prevents the suite from getting too humid.
•Please turn off the de-humidifier when a window is open. Otherwise, it will try to dry out the San Francisco fog - which is impossible!
•If you use the heater, please unplug it when you are not in the apartment. This is for safety.
•The other appliance is an air purifier. Feel free to use it.
•Enjoy the coffee beans in the refrigerator. There are coffee filters in the drawer nearest the coffee-maker. There is also tea and sugar on top of the microwave.
•It is safe to drink the water.
•Please store any cereals or snacks in the plastic container provided. Let us know if you need more containers. Don't leave out food that might attract pests.
TELEVISION
•Operating the TV: Use the larger TV remote to turn on the TV and adjust the sound. Use the smaller cable remote to change channels.
CLOCK RADIO/ALARM/iPod DOCK
•Instructions for the clock radio and alarm are in the drawer below it.
•You can dock your iPod in the clock radio. Different docks are provided in the little teacup on the table next it.
LIGHTS
•The light next to the TV is turned on and off using the light switch next to the door. The light needs to be turned on to operate with the switch.
WINDOWS
•If you open a window, please use the one on the far right, which has a screen. There are sometimes various creatures in the garden (raccoons, mice, neighbors' cats), which may get in otherwise. Also, don't leave the outside door open for this same reason.
TELEPHONE
•We can put a land-line phone in the suite for you if you would like to use it. Calls anywhere in the US or Canada are free.
FURNITURE
•Please don't tilt back on the chairs - it's dangerous for both you and the chair!
•If you need extra chairs, just let us know.
LINENS, BEDDING & ROLLAWAY BED
•Let us know if you need more or different types of covers for the bed. They aren't stored in the apartment.
•Do not use or move the spare bed sheets or pillow cases which are stored in the linen cabinet or with the roll-away bed.
•Please do not use the roll-away bed or remove the cover unless you have booked and paid for the roll-away bed.
•We are happy to launder bed linens and towels for guests staying longer than 1 week. Just ask!
TRASH & GARBAGE
•Trash/garbage collection is on Tuesdays. If you have trash, you should put it in the containers near the garage entrance on Monday night:
+The big blue container in the garage is for recyclable items (dry paper, cans, bottles, hard plastics - no plastic film or styrofoam).
+The big green container is for food and paper with food on it (nothing else - no metal, no styrofoam)(URL HIDDEN)+The big black container is for anything else (plastic film, used kleenex tissues, etc.).
+Plastic bags are NOT recyclable, so do not put them in the blue container.
GARDEN & DECK
•Feel free to use the backyard. There are two tan cushions next to the wardrobe which are for the chairs outside. Please bring them back inside after using them. If you go into the backyard, first check to be sure the knob lock on the door is unlocked so you can get back inside!
•During the summer, you may hear our garden irrigation system turn on automatically. It runs for about 10 minutes.
AROUND THE NEIGHBORHOOD
•There is a notebook with menus from all the nearby restaurants located next to the basket of tourist information.
CHECK-OUT
•Please wash any dishes or utensils you have used before leaving.
•You don't need to remove the sheets or empty the trash (but thanks for the thought!)
•Please let us know when you are planning to check out. We like to say "goodbye" in person, and also make sure that you haven't left anything behind (guests have left cameras, cell phones, passports, medications and other important items!) Check-out time is 11:00 am or sooner, unless we have made prior arrangements.
FEES
•The charge for lost or missing keys is $35.
•We clean the suite between guests, but in the event of excessive dirt, unwashed dishes/pans/utensils or other unexpected cleaning, there will be a $100 charge.
Have a wonderful stay!
---
---
---
---
Gayle and Paul are fantastic hosts. When I left my backpack in a taxi on the first evening, they were so nice and supportive, helped me to reach the company and to keep calm. Also in the following days they regularly sent emails to check how I was doing - I really appreciated that! The room is warm (and cool during hot days) and cosy with a very comfortable bed. It is very clean and the kitchen and bathroom are equipped with everything you need for a short stay. I can only recommend!
---
By far the best Airbnb experience on my trips to SF. It just feels like a home. Gayle has been very helpful and all communications are nice. From the garage, the private kitchen, private bathroom, private living space to the bed, simply clean & quiet. And it's pretty good exercise for me to walk to the office, LOL.
---
The best place to stay away from the big city but it is close to the city too! There are bars and restaurants nearby and you find a small grocery in walking distance and bigger ones you can reach with bus/car.
---
We found Gayle and Paul to be gracious and personable hosts! Gayle spent time orienting us on our first day there, and provided coffee and cookies! We were a bit early and since no one was moving out, Gayle let us check in early so we were able to get on with our day. The unit is comfortable, well located for the Caltrain, and it's easy and economical to request Uber or Lyft to get around. It is walkable to local restaurants and markets on 18th. We very much enjoyed our stay and would stay again! Thanks so much for a great and comfortable place to stay!
---
Our first airbnb experience and it was outstanding. Gayle and Paul are personable and excellent hosts, offering all kinds of useful information on restaurants, transportation and more. The accommodations were comfortable, well-equipped with anything you might need, and actually roomier than I had anticipated. Their back garden is delightful, as is the charming neighborhood of Potrero Hill with all its terrific ethnic eateries. We stayed a month and managed to try Mediterranean, Vietnamese, Peruvian, French, Mexican and breakfast fare - all in the neighborhood! I look forward to staying here again sometime.
---
Points positifs: Lieu super calme, propre, hôte très accueillante. Possibilité de se faire à manger avec des provisions disponibles comme le thé, café, céréales,confiture etc. Lit king size super confortable, wifi, tv. Dans la sdb sèche cheveux, serviettes, penderie, échantillons etc... Point négatif: logement sombre et déshumidificateur très bruyant (que l'on peut arrêter). Pensez à quitter les lieux avant 11h, on n'avait pas fait attention (pas l'habitude de Airbnb et Gayle ne nous l'avait pas rappelé) et du coup nous l'avons mise dans l'embarras car la société de nettoyage attendait après nous. Du coup Gayle nous en a voulu et s'est montrée un peu moins aimable. Dommage car il me semble que l'erreur est humaine! On recommande ce logement sans hésitation malgré ce malentendu.
---
I am a freelance travel and food writer, whose work has appeared in National Geographic Traveler, Gourmet, The Washington Post and many other publications. So, if you stay with us, you get bonus professional travel advice about San Francisco and the Wine Country! My husband is an investment manager and author who specializes in impact investing--helping investors who want to make a positive impact on the world, while also seeking profits. We often rent apartments in various parts of the world and enjoy "living like a local" when we travel. We are in our 40s and own our house - so as guests, we are quite responsible and self-reliant. English is our first language. I also speak French and my husband speaks Spanish. We know a bit of Japanese and Italian, too. If you have any questions, just ask!
Languages:
English, Español, Français
Response rate:
100%
Response time:
within a few hours
Explore other options in and around San Francisco
More places to stay in San Francisco: