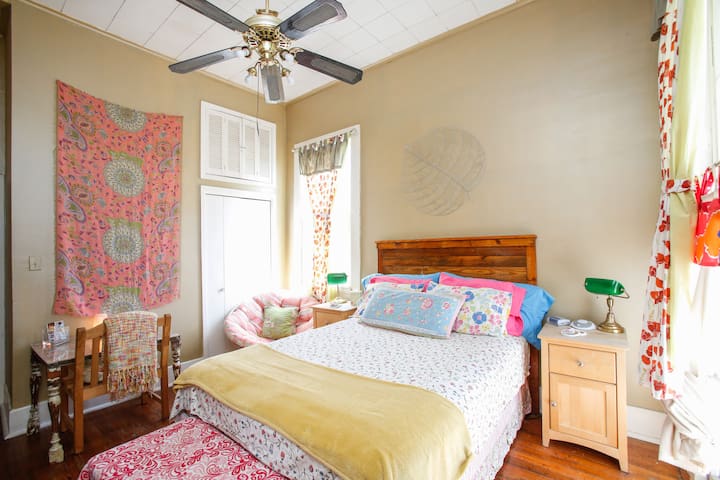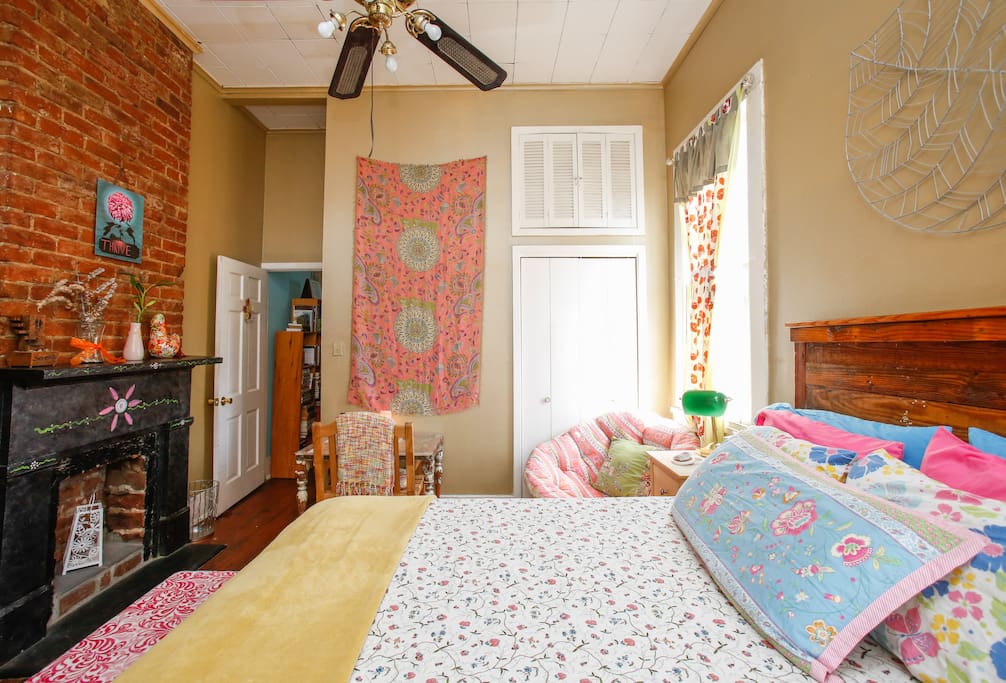 Private room
2 Guests
1 Bed
About this listing
❤️ROOM
Master Bedroom
Queen Bed, Twin Airbed Avail
Balcony
❤️APT
Shared With Other Guests & Host
Shared Bathroom
Shotgun Style
Full Kitchen/Bath, Washer/Dryer
Courtyard & Dipping Pool
❤️NEIGHBORHOOD
Cafes, Shops, Parks, River, Tram & Bus
---
Check In:
Anytime after 3PM
---
Kitchen
Space where guests can cook their own meals
Essentials
Towels, bed sheets, soap, and toilet paper
---
---
The Space
❤ Welcome To Rosie's Cove! ❤
Rosie or Rosy /ˈrōzē/ :
Bright, Cheerful, Optimistic
Flushed With A Healthy Glow
Consisting Of Or Decorated With Roses
Having The Characteristic Pink Or Red Color Of A Rose
Perfect for the happy, flexible, ecofriendly, budget-conscious, "rose-colored lens" traveler seeking tropical flair, simple luxury, international community, healthy ambiance, friendly interactions & fab neighborhood!
Rosie's Cove is a true (URL HIDDEN) intentional community building, healthy living, eco-friendly environment and good, old fashioned fun!
The information posted here will help you, the potential guest, to make the best accommodation choice for yourself. If you're looking for run of the mill accommodations without a lot of character, passion, worldly mission, or soul ~ you won't find that here. On the other hand, if you are looking for the most compassionate, joyous, collective, global human experience wrapped up into authentic, unique, hand tended, well loved (email hidden)sie's Cove is the right place for you!!
Kindly take the time to read through the full listing, guest reviews, and message exchanges with the host. Be sure to ask questions if there is any information you do not understand or wish to be clarified before you book. Sending a reservation request means you have read, understood, agree to, and are fully responsible for Airbnb, as well as Rosie's Cove policies once the reservation has been accepted. Rosie's Cove wishes for all guests to be delighted with their choices as well as to enjoy the unique character, community, and rose colored experience of The Cove in peace and harmony!
~~ Rosie's Cove Mission & Overview ~~
Rosie's Cove is fueled by teamwork, sustainability, and respect! Low rates, clean living, healthy atmosphere and peaceful vibe are generated by a community of guests taking a sense of responsibility and care for enjoying and protecting The Cove's 'ecosystem'. As part of this commitment, throughout the apartment, you will find many furnishings, bedding, decorations, cleaning products, body products, and food that are natural style, organic, fair trade, sustainably harvested, and/or locally produced.
We learn from and share with each other so, please be sure to leave your positive impact in the apartment just as Rosie's Cove hopes to do with you~everyone and everything that enters The Cove has a story! Rosie's Cove heartily believes in considering the impact of our choices for seven generations and living simply that others may simply live!
Let's get started!
~~ Rosie's Cove ❤ Riverbend Gem ~~
There are 4 accommodations to choose from at Rosie's Cove:
Riverbend Gem ~ Master Bedroom, Queen Bed
Riverbend Nook ~ Bedroom-Den, Full-Double Bed
Riverbend Sweet Spot ~ Common Room, Double Futon
Riverbend Cozy Corner ~ Common Room, Single Futon
This listing is for Rosie's Cove Riverbend Gem, the spacious, private master bedroom with large balcony overlooking park. Rosie's Cove Riverbend Gem includes a super comfy queen bed, 2 night stands with reading lamps, clothing armoire, writing table, papasan chair and ottoman, hope chest, and full length mirror. The balcony, as well as 2 large double-hung windows with flowy curtains, fill the room with wonderful light and river breezes throughout the day. Shared bathroom. Soft, cozy linens. Some natural bath/body products and hair dryer available. Guests should bring or purchase upon arrival their own, personalized toiletries as desired. Breakfast available upon request for additional fee depending upon availability of host and desires of guest. Tea, coffee, cookies &/or fruit always available!
Rosie's Cove Riverbend Gem is perfect for individuals and couples, students, young professionals, late-night crowd, and any flexible travelers looking for a gorgeous, homey, happy, fun, communal, peaceful, place to stay on a budget! This is a private 'shotgun' style Master Bedroom (each room connects to the following room, like beads connect to each other on a necklace) with a door leading to the balcony on one side and door leading to the rest of the apartment on the other side so, guests staying in this room will walk through the hallway of the Den to reach the Common Room, Kitchen, Bathroom, and front door of the apartment. On a privacy scale, Rosie's Cove rates this room 10 out of 10.
Rosie's Cove Riverbend Gem is the room most set apart from the rest of the apartment however, guests are welcome to come to the kitchen where you are apt to find Rosie's Cove Proprietress brewing up some fresh herbal teas, simmering a pot of homemade soup, baking fresh bread or dicing a salad with local veggies from the community garden :*) Come on in for a taste!
As noted, this is a shared apartment. Each room is priced according to amenities, size, and level of privacy. Please be prepared to enjoy the communal style living offered and that you are selecting if you choose Rosie's Cove for your stay. Guests should also be aware that if you choose to stay during festivals, holidays, graduations, or large-scale events, you are coming at peak time and each room may be fully booked. If you feel you are looking for ultra private accommodations with your own bathroom, entrance, or amenities that should be catered only to your needs...this may not be the best fit for you. All are welcome but please choose this location based on your excitement with the offerings, as well as desire to interact with host & other guests, rather than simply on price or convenience. Rosie's Cove is Holistically-oriented for all!
Please visit Rosie's Cove Riverbend Gem Guidebook on Airbnb for an ever-growing list of local recommendations! You'll have to search close up on the map to find the (URL HIDDEN) buried under all the neighborhood restaurants ;*) http://www.airbnb.com/rooms/24999/guidebook/
~Check-In Begins at 3PM / Check-Out Ends at 10AM
~Free Street Parking In & Around Riverbend Neighborhood
~French Quarter Approx 5 Miles
~Airport Approx 12 Miles, Train/Bus Station Approx 4 Miles
~~ Rosie's Cove Rates ~~
RIVERBEND GEM ~
PRIVATE MASTER BEDROOM QUEEN BED
$50/Person/Nite, $65/Couple/Nite
$300/Person/Week, $390 Couple/Week
($25/Nite For 3rd Person On Stowaway/Airbed)
~Weekly Rate Includes *FREE* 7th Nite In Master Bedroom
RIVERBEND NOOK ~
PRIVATE MIDDLE BEDROOM/DEN FULL BED
$40/Person/Nite, $50/Couple/Nite
$240/Person/Week, $300/Couple/Week
~Weekly Rate Includes *FREE* 7th Nite In Master Bedroom
RIVERBEND SWEET SPOT ~
SHARED COMMON ROOM DOUBLE FUTON
$30/Person/Nite, $35/Couple/Nite
$210/Person/Week, $245/Couple/Week
RIVERBEND COZYCORNER ~
SHARED COMMON ROOM SINGLE FUTON
$25/Person/Nite
$175/Person/Week
**Above specials do not apply to holidays, festivals, graduations and other large events when basic rates apply. Rates subject to change.
BASIC RATES
$50/Person/Nite For All Rooms
Private Guest Stays available. All Private Guest Stays will be assessed a separate cleaning fee and security deposit. Please, inquire for more information and pricing.
All Guest-Shares will be assessed a $100 security deposit. Private Guest Stays will be assessed a higher security deposit according to number of rooms and guests in reservation.
Nominal cleaning fee of $20 per booking of one week or less, or $40 for more than a week, is charged for natural cleaning supplies and housekeeping services. Cleaning hours are 1-3pm each day, during which time guests are required to vacate premises for ease of host accessibility to all rooms and surfaces, both indoor and outdoor, for sanitizing, laundering, and restocking of supplies.
Rosie's Cove offers healthy-style accommodations for all! Rosie's Cove is a smoke-free environment. This includes both indoor and outdoor spaces--apartment, balcony, courtyard patio, shed, steps, walkways outside of entrances--or anywhere on or near the premises. Guests smoking anywhere on premises will kindly be asked to leave without refund. Rosie's Cove also is unable to accommodate guests who intend to smoke off of the property and then return to the apartment--due to the lingering smoke smell. Guests smoking off premises and returning smelling heavily of smoke will kindly be asked to leave without refund.
The above house rule does not include guests occasionally attending clubs and bars where smoking is permitted since smoking is still commonplace in many New Orleans clubs and bars. However, to protect clientele, bartenders, and musicians, many local music and drink venues have voluntary committed to offering a smoke-free atmosphere! Check out 'Let's Be Totally Clear New Orleans' online for a regularly updated list of smoke free venues and daily shows.
Please remember, Rosie's Cove is my home--not a vacation rental. Kindly treat the apartment with respect and gentleness, just as the host strives to do with all guests!
Rosie's Cove seeks to make rates affordable for all kinds of travelers. Why should single travelers have to pay the price of two? Mixed room accommodations provide affordable stays for students, volunteers, families, groups & international travelers!
~~ Rosie's Cove Accommodations~~
The best of Big Easy living full of character and charm! Come stay in this beautiful New Orleans apartment on the 2nd floor of a mixed architectural Double Gallery-Creole Cottage-Shotgun Style home where you will watch ships go by above rooftops from the balcony, smell authentic NOLA & ethnic cooking of restaurant owners from around the world, have a peaceful night's sleep in a super comfy bed, and receive top-notch TLC!
Choose from Master Bedroom, Bedroom-Den, or Common Room--all fully, furnished. right, colorful rooms, barge board wood floors, natural-style furnishings, cathedral ceilings, ceiling fans, exposed brick fireplaces, huge double hung European windows providing light all day. Shared walk-in kitchen with fridge, toaster oven, and full sized oven (no microwave or dishwasher), common room (dining/sitting), breakfast bar, full bathroom, balcony overlooking historic park, tree & rooftop view of neighborhood from all rooms, large gated patio with seating and saltwater dipping pool in warm months, neighborhood WiFi, W/D. Combination of Queen Bed (Master Bedroom), Full-Double Bed (Bedroom Den), Double Futon and Single Futon (Common Room) plus single airbed upon request. Soft, cozy towels, linens & bedding provided. Children welcome!
Apartment amenities include non-central heat and air conditioning. Heat includes room heaters, available any time, which keep each room nice and toasty! Air conditioning includes two high-powered window units, one in Master Bedroom, one in Common Room, which keep entire apartment cool. A/C units installed in windows from approximately, mid-May through Mid-September. Plentiful ceiling and window fans, along with heat repelling curtains, are provided in each room throughout the year for maximum comfort!
Please be aware that the temperature of the apartment, while somewhat flexible in each room, is determined overall by the host with the greatest comfort level of current guests taken into account. It is recommended that any potential guests seeking precise environmental control for their space should keep this in mind when booking accommodations.
Premises include approximately 800 square feet of indoor apartment space plus approximately 800 square feet of outdoor balcony & patio space which includes shed with laundry room for a total of approximately 1600 square feet of usable guest space.
Please note: Rosie's Cove is not a hotel, motel, or bed & breakfast. It is my sweet, cozy home where I live and work, as well as invite family, friends, clients, and travelers looking for natural style living accommodations to share with me while enjoying the fun & leisure of New Orleans!
~~ Rosie's Cove Neighborhood ~~
Historic, charming, quaint, pedestrian friendly neighborhood. Hop on St Charles/Carrollton Streetcar or bus at end of block to French Quarter, Garden District, Irish Channel, Central Business District, Warehouse District or Midcity. Easy-on, easy-off streetcar to Festivals or hop in cab and arrive in minutes. One block from Mississippi River & walking/jogging/biking trail. Dine in restaurants galore featuring world-class New Orleans & international cuisines. Walk, bike or drive through the Riverbend & adjoining neighborhoods enjoying boutiques, cafes, bars & clubs with world-renowned New Orleans jazz, blues, cajun, funk, rock, reggae music & more. Walk to Maple, Oak, St Charles, Carrollton, Magazine, Tulane, Loyola, groceries, hospitals, libraries, zoo, playgrounds, and parks including Dublin, Audubon, Palmer, Danneel, Doggie, Levee & community pool in Audubon park.
~~ About Rosie's Cove ~~
Delight in the coziness and relaxation of a home-away-from-home in this eclectic, earthy, peaceful & fun apartment with full amenities located in the historic, tree-lined, pedestrian-friendly Riverbend-Carrollton-University neighborhood of Uptown, New Orleans. Enjoy quick & easy access to the French Quarter, Marigny, Bywater, Garden District, Irish Channel, Mid-City and many, other neighborhoods via streetcar, bus, cab, bike, or on foot. Delight in the sights, sounds, and tastes of staying right in the city, amidst local artists, musicians, writers, film-makers, and chefs while walking to dozens of world-renowned clubs, restaurants, cafes, boutiques, and spas. Walk one block to the Mississippi River to view the delightful, grand watershed of the Gulf South and 2/3 of the United States! Enjoy a walk, jog, or bike ride on the MRT (Mississippi River Trail) connecting Uptown and Downtown. Hop on a streetcar or bus at the end of the block for a gorgeous, relaxing ride by spacious parks with native wildlife habitats, flowering gardens, and elegant homes all under the St. Charles Avenue Live Oak Tree canopy. You may even, see some Mardi Gras beads hanging from the branches! Perfect for single travelers, couples, families and small groups seeking a fun, convenient, peaceful New Orleans experience, as well as undergraduate and graduate students desiring quick & easy access to Tulane & Loyola Universities or Oschner & Touro Hospitals.
Se Habla Español! / We Speak Spanish!
~~ Rosie's Cove Guests ~~
Friendly, peaceful, mature, positive outlook, communal, respectful guests desired.
Rosie's Cove has hosted guests from diverse places around the world including 67 countries: Afghanistan, Albania, Algeria, Argentina, Australia, Austria, Belgium, Bosnia, Brazil, Bulgaria, Canada, Chile, China, Colombia, Costa Rica, Czech Republic, Denmark, Dominican Republic, Ecuador, Egypt, El Salvador, England, Eritrea, Finland, France, Germany, Guatemala, Hungary, India, Indonesia, Iraq, Israel, Italy, Japan, Kenya, Korea, Kuwait, Malaysia, Mexico, Monaco, Morocco, Netherlands~Bonaire, Nigeria, Oman, Peru, Philippines, Poland, Romania, Scotland, Seychelles Islands, Singapore, Slovakia, South Africa, South Korea, Spain, Sweden, Switzerland, Taiwan, Tanzania~Zanzibar, Trinidad, Turkey, United Arab Emirates, United States Of America, Venezuela, Vietnam, Wales, Guinea; 44 States ( & DC!) including Alabama, Alaska, Arizona, Arkansas, California, Colorado, Connecticut, Florida, Georgia, Hawaii, Illinois, Indiana, Kentucky, Maine, Maryland, Massachusetts, Michigan, Minnesota, Mississippi, Missouri, Nebraska, Nevada, New Jersey, New Mexico, New York, North Carolina, North Dakota, Ohio, Oklahoma, Oregon, Pennsylvania, Rhode Island, South Carolina, South Dakota, Tennessee, Texas, Utah, Vermont, Virginia, Washington~District Of Columbia, Washington State, West Virginia, Wisconsin, Wyoming...and right here, close to home, from all over Louisiana!!
Lovely for seasoned travelers or newbies, individuals or groups, families, students, even locals looking for a fun, homey, relaxing authentic experience in the Big Easy. Please visit Rosie's Cove Reviews & References on Airbnb for a glimpse of the many, wonderful guests we have had the pleasure of hosting.
Rosie's Cove youngest guest was 9 months old and oldest guest had his 90th birthday in New Orleans! Guests of all ages welcome however, the average age of guests is generally between 20-60 years old. Travelers of all ages must be prepared to live with each other and respect each others' needs.
Rosie's Cove strives for each guest to feel valued and special in this Riverbend, New Orleans 'home away from home'...because you are! We love to learn about our amazing guest. Your bio, photo, and recommendations, as well as e-messages and phone conversation (we will give you a ring once, your reservation is booked) help us to be fully, prepared for your visit! Rosie's Cove deeply, appreciates every guest's unique qualities. We always, want guests to fe