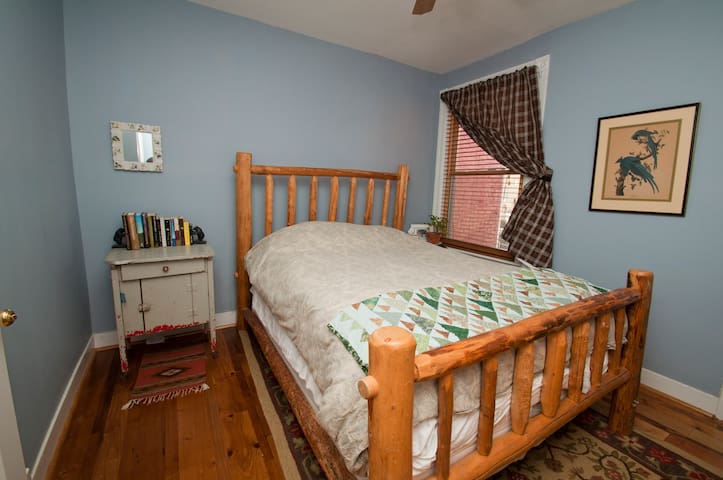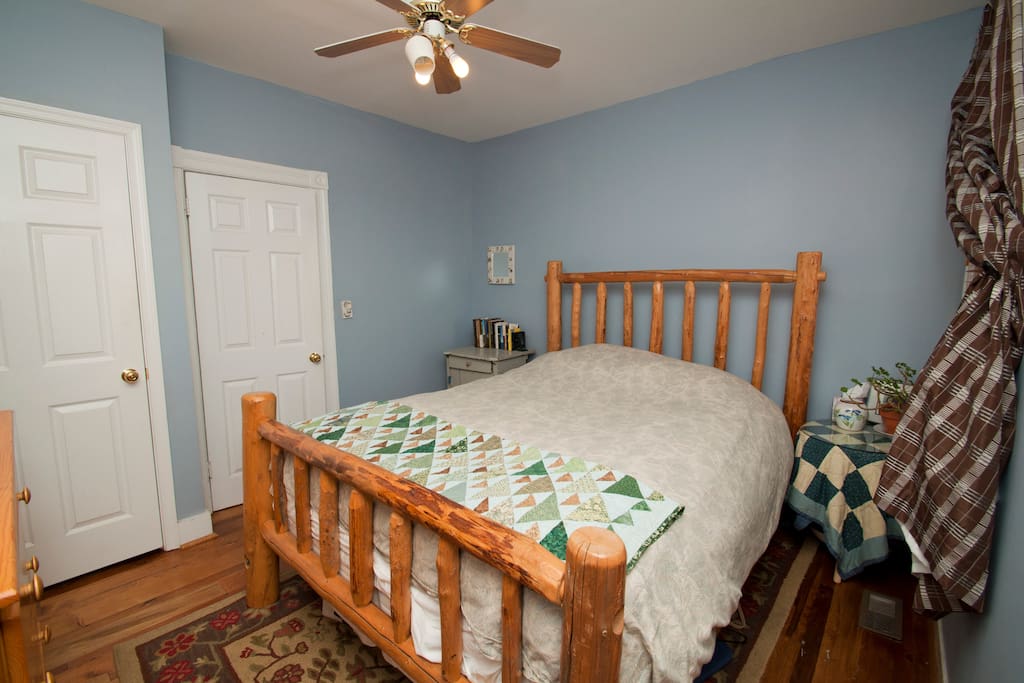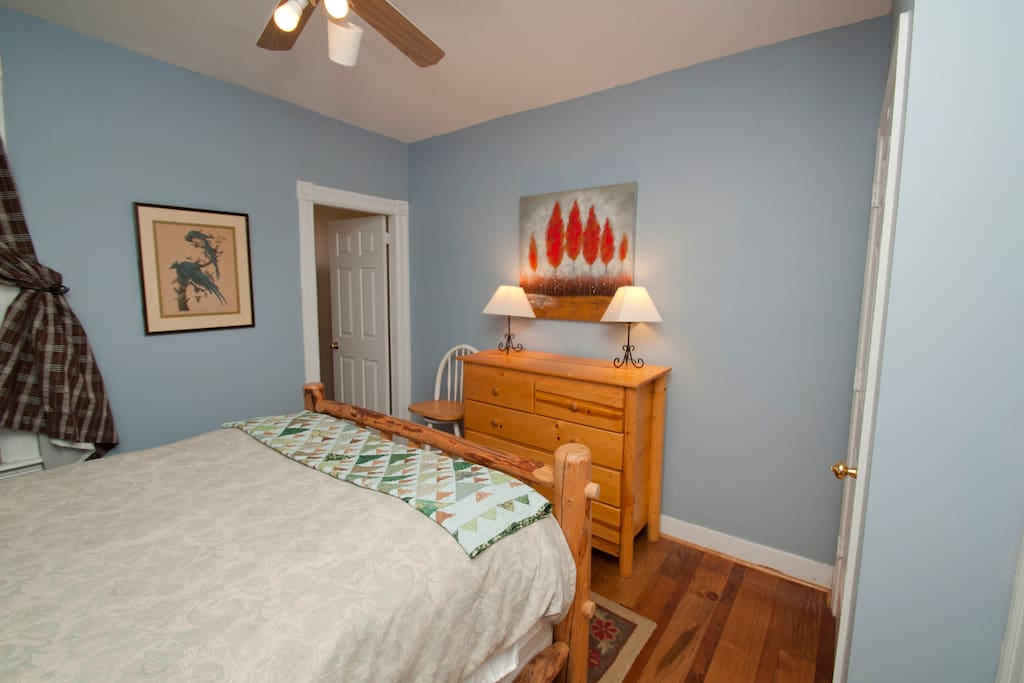 About this listing
A clean & private room comfortably sleeps two or three with a handmade log bed, comfortable queen sized log bed, and side room with desk and fold-out twin loveseat bed. Centrally located + 4.5 blocks to the metro, also enjoy kitchen, patio, & porch.
---
Check In: Anytime after 2PM
---
---
Extra people: $15 / night after 2 guests
Always communicate through Airbnb
To protect your payment, never transfer money or communicate outside of the Airbnb website or app.
Learn more
---
The space
This two and half bedroom house is in a residential neighborhood of Capitol Hill, three and half blocks from the metro (On the Silver, Orange and Blue line), and less than two blocks from a major grocery store. The house has central air, Wifi, gas for cooking, and plenty of street parking. The neighborhood is very safe. Historic Eastern Market, the second oldest open air market built in 1805 is seven blocks west which is perfect for picking up fresh veggies at the farmer's market and getting Maryland crab sandwiches. I'm a great host too and will greet you when you arrive and retreat if you want space or can chat a bit. You will stay in the guest bedroom with a private attached office which has wifi, closet space, and a super comfortable log bed. You are welcome to come to the gym with me as my quest if that interests you (Apparently an individual guest can come once a month for free). I have the best gym (e.g. three floors or room to work out, hot tub, and sauna). The house has new hard wood floors, stainless steel appliances and was recently renovated. There is a little patio out in the back and a front porch. If you want to feel what real Capitol Hill neighborhood is like--this is it. It should be noted that a little crepe shop just opened one-a-half blocks away and the Capitol is one-and-half mile away! A Capitol Bike Share stand hosts rental bikes one block away where you can rent bikes that is open 24/7 Check out:
You have a private bathroom with your room.
Parking If you need a parking permit I can obtain a residential guest parking permit but I have to pick it up at the Police Station. The parking is free if you give me your license plate number but I charge a $25 fee to pick it up the permit (one flat rate). Hotels charge $30 a day for parking. You can park for free on weekends and holidays without a parking pass but will get a ticket if you park without a permit for more than two hours on weekdays or when games are going on the stadium. If I have to pick up the permit on the day of your arrival at the last minute (there is a $35 charge because I hire someone to pick it up for me).
Location: My house is a mile point two on foot to the Capitol building, accessible by metro by Reagan airport or a 15 minute cab ride from there. From Baltimore I am 38 miles away and you can take the metro here from there too on the Green metro line.
From Dulles Airport here are your options:
1) Cab: A cab costs about $65 and is fastest. Cash or credit card.
2) Washington flyer: This bus leaves Dulles airport every half hour on the quarter hour and takes you to Metro station where you can finish your trip on the Orange or Blue line east to Potomac metro. Cost: $9 for the bus fare and about $2.85 for the metro ride at peak hour. This way is second fastest. Buy tickets inside the airport at a stand.
3) 5A Municipal bus. Many professionals who travel for business take this. It leaves from the airport every half hour on the quarter hour also. It costs $6 and takes you to L'Enfant plaza where you take the Orange or Blue line east to Potomac metro. This is the best value for your money and takes about ten minutes more than Option #2. Cash only/Exact change required.
4) Super shuttle: $35 This is my least favorite option for the money as Capitol Hill East is the farthermost of neighborhoods on the Hill from Dulles and they drop you off last. I don't recommend this option.
5) Union Station: Take the D6 bus (time table here: and request to stop at Massachusetts and 17th Street. Walk towards D & 15th Street, SE. Make sure you are walking in the right direction as East Capitol is the dividing line between NE and SE. Don't walk to D Street NE (common mistake)
Beds: The bed in this master guest room is a queen sized bed. The mattress, before I bought my house, was the second most expensive thing I owned. It is a premium mattress. The second bed in the study/den is a twin bed that pulls-out from the love seat. The sofa bed is new (purchased in May 2012). I put a thick foam topper on it and mattress pad. If you need the second bed made please tell me in advance. There is a second charge of $15 for it.
Safety: My neighborhood is safe. I've lived on Capitol Hill for seven years and never felt unsafe.
Continental Breakfast: Consists of orange juice, a pastry and a banana or other piece of fruit and hot tea. Sometimes I make eggs and tortillas available for your use.
Maps: AirBnB's Street view maps is not working. Here is the corrected link: My house is light green and behind the tree (Note: Tree was knocked down during Hurricane Irene).
Bonus offer: Thinking about becoming a host on AirBnB or think you know someone who should be a host? I am a designated AirBnB ambassador and offer this unique promo code where new hosts get a $50 bonus. Use this promo code when starting a new account and a listing and we both get $50 after your first booking: Sign up as a new host www.airbnb.com/newhost and use the promo code: ZB9QQD
Communications: I prefer to use AirBnB's site for our communications. Why? Sometimes guests email goes to my spam. Sometimes guests link a secondary email and do not check it (I am very good at communicating but if you don't use the email that you have linked than we have a problem), or sometimes guests loose their smartphone or leave their phone behind. By communicating on AirBnB, you can always call AirBnB and AirBnB can read you what I have written you. If I need to get a message to you through AirBnB (I am out of wifi service which happens but is rare), I can call AirBnB and they can email you. So long story short, if you reach out to me by email, I will respond to you (if it does not go to my spam) but I will ask you to use the site. If you are not hearing from me it is 100% because your email has gone to my spam and it is not personal. Thank you!
Guest access
Guests get their own bathroom with tub, shower, toilet, and sink. You get free wifi, the possibility to pick up a key 24 hours a day, coffee, tea, pastries in the morning, condiments, cooking supplies, towels, and sheets. You get access to a back patio, porch, and metro cards (if prior guests didn't take them by accident) which saves you $10 on the metro. You also get discounts on groceries by using my Safeway card which gives you 10-25% discount on food/drink (use my phone number at check-out). You get free residential parking all day and all night in SE, NE, and SW DC but I have to register the permit at the Police Station which takes time and I hire someone to pick it up ($25).
If you want $20 in free taxi money to get here and back, open an Uber account using this link:
Interaction with guests
I am generally present during guest stays but I do travel for work and sometimes I am away for a night or all of the guest's stay. I try and be here when guests check in and I typically only travel once a month. I like to interact with guests but I like to give them free time as well. I often work from home so if I have a business call I have to prioritize that appropriately.
The neighborhood
Residential Capitol Hill is an amazing, little known part of great American living. Eastern Market, one of three public open air markets, was created here in 1805 when DC was designed. It attracts artisans, organic fruit and vegetable farmers, ad gourmet food vendors. The American Planning Association recently ranked the Eastern Market Neighborhood, which is four blocks me (8 blocks to the market itself) as one of the top ten places to live in the United States. The neighbor is very safe. I've lived here for 9 years and never felt unsafe. It is ethnically diverse like Sesame Street. Be prepared to see all kinds of people of different ethnicity and sub-cultures living together (e.g. White, Asian, African American, gay, married with kids, single, retired). My area of Capitol Hill is how all US cities should be like --mixed racially and ethnically and happy! Potomac Metro, my metro, has the second highest earning household income of any other DC metro except Foggy Bottom (e.g. the average income is $122,000)! The General of the Marine Corps lives blocks away like many Congressional Hill Staffers and other prominent DC politicos. There is a ton of security in the area--probably a little too much ;) Barack Obama and Michelle dine occasionally on Barrack's Row on 8th street just blocks away. Barrack's Row is home to Rose's Luxury, Bon Appetite Magazine's rated #1 new restaurant in the county. For good local eating check-out Ted's Bulletin (try a home- made adult milkshake or poptart), Bayou Bakery, Belga (Belgian), Ambar (Balkan), and Cava (Greek).
Getting around
The metro is three and half blocks from my house on the Silver, Orange, and Blue line which runs from East to West across the city and back. A bus also runs from the metro and to and from Union Station. DC National Airport, Reagan Airport, is a 15 minute cab ride. The Capitol is about a mile from my house. I am very centrally located.
If you want to catch a cab try the Hailo Taxi Hailing App. You can get $15 off your 1st ride with the new promo code FREEINDC (I don't know when this promo code will expire). There is also Uber and Lyft, car share services that you are very popular and inexpensive. Lyft is a donation model so it tends to be a bit cheaper. Note: Traditional cabs in DC are my least favorite form of transportation. From Union Station to my house they are fine or from my house to and from the airport. Cabbies are just irritable in DC otherwise.
This is my favorite mode of travel in this order: 1) Walking, 2) Metro, 3) Circulator, 4) Bus, 5) Lyft, Uber or Hailo but I have a car so I don't need a taxi and 6) Taxi
Taxis are the worst in DC. I try and avoid them (unless you are coming from Union Station).
Other things to note
The neighborhood is very safe. I've lived here for seven years and never felt unsafe. There is a big grocery store, Safeway, 1.5 blocks from my house. It has organics, a solid international food section, a liquor store, bakery, ATM, and Starbucks inside.
Free Groceries! Order $50 worth of groceries for $30! The closest pick up spot is at Union Station or have the food delivered. Get fresh local meats, cheeses and veggies from local Maryland and Virginia area farms: click:
---
May not be safe or suitable for infants (Under 2 years)
Check in is anytime after 2PM
Check-in. It is the responsibility of the guest to confirm the check-in time 24 hours prior to checking in. If you do not confirm the time, there is no guarantee I meet you at the property at 2 PM or later (the check-in time). Confirmation is you ask for a time. I propose what my calendar can accommodate. We mutually agree. Easy! If you fail to coordinate a check in time with me, I can leave a key in a lockbox for an arrival after 5 PM.
Early Check-ins. Early check-ins (before 2 PM) cannot be accommodated. Because AirBnB guests are staying the night before, there must be adequate time for them to enjoy the property and check-out and then have the cleaners come.
Loitering: If you early for your check-in, please find the Pretzel shop (C & 15) or Starbucks. Hanging outside the property makes my neighbors uncomfortable. It can make prior guest uncomfortable. Again, early check-in cannot be accomodated, this includes hanging around the property.
Please remove the sheets and pillows for cleaning after your stay.
Parking: On Capitol Hill residents have to go to the Police Station and register your license plate and tag with a temporary permit. It is free to do this but I have to drive to the police station, park, and register your tags. The service fee to pick up the permit is $25. The passes are good for free parking anywhere on Capitol Hill (SE, NE, and SW) so you can enjoy free RESIDENTIAL parking all day long. :)
Check-in. Please schedule a one hour window for your check-in time which cannot be altered to earlier. Please let me know if you are running late. Once the check-in time has been scheduled, it cannot be moved earlier since my schedule gets set once you confirm your first check-in time. No exceptions.
Shoes: I recommend bringing slippers or flip flops to my house. I put in new wooden floors which can be slippery! I also don't like shoes inside generally--it is easier to keep the house clean without outside shoes inside.
Linens: Towels and sheets are complimentary of course but please do not hang wet towels on wood furniture or doors or leave them on the floor.
Key: If you forget to leave the key upon check-out or loose the leave the key you will loose your deposit. I have to change the front and back door locks for security purposes.
Your home is my home and I want you to be comfortable. Forgot something--tell me. Stained something--I can help. Need a reservation for a good restaurant -- I am happy to make one for you.
This is a pet-free and smoke free home. Please no smoking on the premises.
No guests outside the reservation.
There is a flat rate $10 fee to leave bags in the premises after 11:30 PM. You can pay in cash.
---
Strict
Cancel up to 7 days before your trip and get a 50% refund plus service fees back.
---
---
Washington D.C., District of Columbia, United States

·

Joined in July 2011
I have a graduate degree from a leading university, love the city and the mountains, and am professional, present, aware, and helpful. I was born in New York City, raised near the city, went to college in Burlington, VT and graduate school in New Haven, CT and lived in Alaska, Wyoming, Montana, Utah, and took many trips to San Fran for business and beyond. I currently have clients in my day job in Colombia, Hawaii, Florida, New Mexico and beyond. I welcome people from ALL nations, ALL religions, ALL family types, in different stages of their life (students, newlyweds, professionals, travelers, retirees, etc) and/or travelling with relatives, friends, spouses, kids, relationships etc!

My style of hosting is I leave the house the way I would want to find a place to stay when I am traveling. I care a lot about details.I want my guests to be happy and comfortable above all else.

I feel that AirBnB is a tremendous gift--one that allows me to bring on clients to my business who cannot always pay upfront (e.g. non-profits, groups that work for refugees, tribes, etc). The upfront cash-flow allows me to take bigger risks when choosing to work with new start-ups in the environmental market place.

After a year of hosting, I have dealt with almost every situation you can imagine. Every day so far, I still feel like it is a tremendous opportunity and a gift. I do not take your choice to stay with me for granted.

I am very open person and love hosting people of different cultures, subcultures, religions, ethnicities, gender, family types, traditional and untraditional partnerships etc. I've taken two college semesters of American Sign Language (ASL) and can finger spell pretty well mixing in more traditonal ASL. Gallaudet University students, alumni and family are welcome. I consider it an honor and a delight to host you plus your friends, partners, your professional service animals, and family in my home. Thank you!




Response rate:
100%
Response time:
within an hour
Exact location information is provided after a booking is confirmed.
Explore other options in and around Washington
More places to stay in Washington: