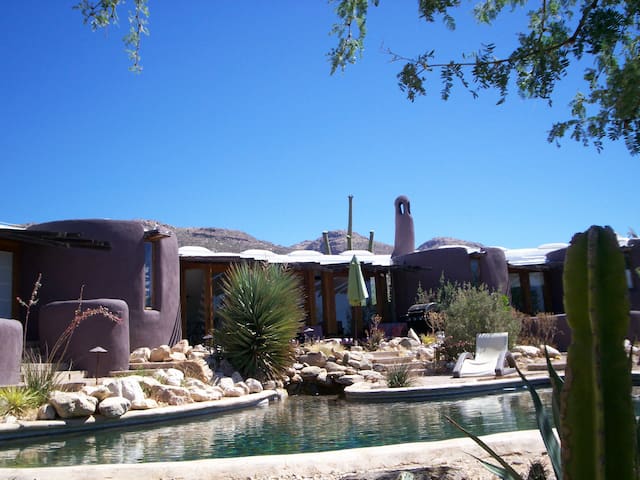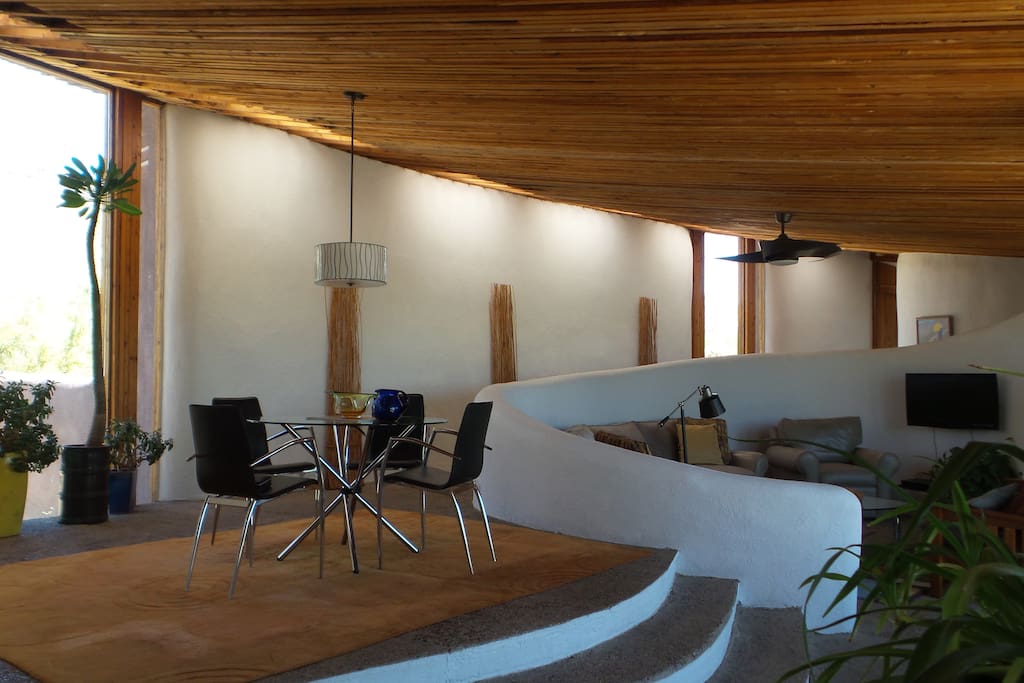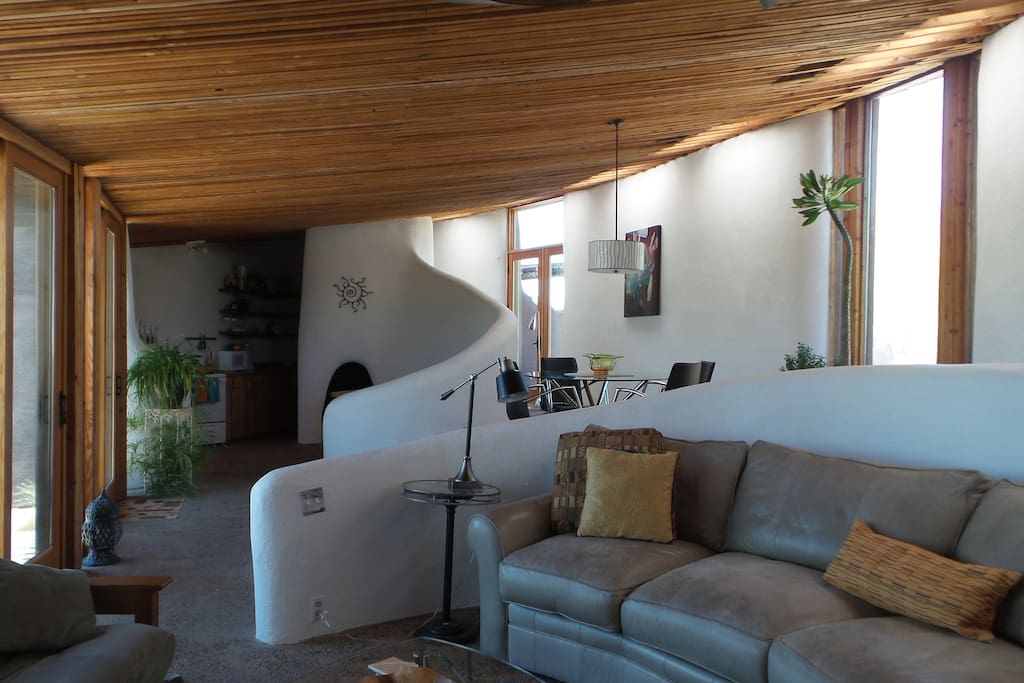 Desert Moon Retreat- Award Winning Architecture!
Desert Moon Retreat- Award Winning Architecture!
The Desert Moon Retreat is surrounded by the towering saguaro cacti of the Sonoran Desert but just minutes away from town. There is the main house with 2 bed/2 baths or the smaller studio guest house to choose from. Both share the pool area.
Check in time is 4pm or later, check out is 11am or sooner.
Three night minimum except for holidays which have longer minimums, please ask.
The space
This award winning architectural wonder has all round rooms reminiscent of the Hopi Indian's historic Kiva. With its plan in the shape of the crescent moon, architect Alex Riley designed this residence in 1984 to contain sculptural spaces with floor to ceiling windows that capture the mountain, city and desert views. It is located at the base of the Santa Catalina Mountains in a quiet desert setting complete with a collection of botanical cactus, succulents and other native and near native desert plantings. The rooms are spacious, the accommodations are luxurious and guests come to rejuvenate and relax while immersing themselves in the Sonoran Desert with all of its spectacular flora and fauna. This 3.5 acre property contains many outdoor spaces perfect for enjoying the sunrise, outdoor dining or the colorful sunsets. The location is perfect for winter skiers, year round bicycling, golf, mountain hiking, and much more! The Desert Moon Retreat has two bedrooms (both with king sized beds) , two bathrooms, a futon that opens to a bed, full kitchen abundant with cooking utensils, large side by side refrigerator, microwave, and cappuccino maker, an outdoor grill, many outdoor sitting areas, a wonderful pool, hot tub, a dining area, breakfast nook, two offices, two large walk in closets, washer and dryer and outdoor sitting areas off of each bedroom. The floors are aggregate concrete and many area rugs cover floors in living room, dining area, master bedroom, baths. I love how the floors massage my feet, others prefer to wear flip flops, thongs,
etc. Have a look at the photos and let us know if you have any questions.
Guest access
Pool and spa area are shared by guests staying in the guest house.
Interaction with guests
Owners maintain pool, spa, landscape, and trash. We try to complete work between reservations however, this isn't always possible. Please note: We don't allow group gatherings at all, other than the 1-6 people in your reservation. If you are caught hosting a group gathering, we will evict with no refunds. We will need identification from all guests staying at the house, and may ask to see it. When reserving this property, you must include the names of all people on the reservation.
Sneaking in unpaid guests is stealing and we will evict immediately with no refunds. Your paid reservation indicates you will abide by all rules and agree with the penalties. It is unfortunate that we have to post this rule, but due to the dishonesty of others, we must.
Other things to note
Dogs only, no cats -this is firm. You must tell us the breed, sex, age of the dog if bringing one.
Please note that we require a four night stay during the Fourth of July, Labor Day, Memorial Day, Thanksgiving and a week's stay minimum during the Christmas holidays. As the dates get closer to these holidays, and we haven't rented the place, we can adjust this policy-please ask.
We do have a camera on the front door to verify entry and to be sure the property is safe. We will count the number of guests going into the house and if you bring any pets and confirm this information with the information you provided us when you made your reservation. Other than that, we don't watch your every move as we want you to feel comfortable at this special oasis in the desert. Should anything change about your reservation please contact us ahead of time.
---
This listing has essential business travel amenities.
---
Check In: Anytime after 4PM
Room type: Entire home/apt
Self check-in: Smart lock
---
---
Extra people $30 / night after 2 guests
Always communicate through Airbnb
To protect your payment, never transfer money or communicate outside of the Airbnb website or app.
Learn more
---
Not safe or suitable for infants (Under 2 years)
Check in is anytime after 4PM
Check in time is 4pm or later, check out is 11am or sooner. Early check ins are possible if we have no one leaving the day of your arrival and will incur a $40 early check in fee. We cannot accommodate those wanting to check out after 11am, due to our cleaning staff's schedule.
Smoking is NOT allowed in the house.
DOGS are permitted only with prior approval. Additional fee of $15/night per dog. NO CATS, BIRDS, ETC, SORRY.
Pool and Spa Rules:
1. NO PEOPLE THAT WEAR DIAPERS (YOUNG AND OLD) ARE ALLOWED IN POOL OR SPA.
2. NO PETS IN POOL OR SPA.
3. NO GLASS CONTAINERS ALLOWED IN POOL OR SPA AREA-THIS A HEALTH DEPARTMENT REQUIREMENT AS BROKEN GLASSES REQUIRE US TO EMPTY POOL
ANYONE FOUND TO BREAK THESE RULES WILL BE ASKED TO LEAVE IMMEDIATELY AND WILL BE CHARGED AN ADDITIONAL $1000 TO EMPTY AND REFILL POOL AND/OR SPA. NO EXCEPTIONS.
HOUSE RULES:
3. NO SMOKING IN HOUSES, NO FIRES, NO ILLEGAL DRUGS, NO LOUD MUSIC, NO PARTIES, NO OUTSIDE GUESTS WITHOUT PRIOR APPROVAL. THIS IS NOT A PARTY HOUSE, IT IS INTENDED FOR RELAXED VACATIONING ONLY.
PLEASE RESPECT THE OTHER PEOPLE LIVING IN THE AREA.
We collect a 6.1% sales tax for renters that stay for less than 30 days at a time. We will tack this on to your rental cost.
---
---
---
---
This is such a magical, relaxing home. The pool is wonderful, the house amenities are all there. I would strongly recommend a stay here if you need to rejuvenate.
---
To sum up, this house is a fantastic place to stay if you are looking for a super relaxed and secluded retreat but might not be ideal if you are wanting to stay "connected". Let's start with the many positives. The house is truly an architectural gem and left me endlessly fascinated with the unexpected and unique usage of structural lumber (2x4s). The inside is bathed in light all day long. You will not be able to see nor hear any of the neighbors and the view of Tucson is almost entirely unobstructed. Everything is spotlessly clean, including the pool and the six patios. The king size beds are very comfortable. The showers are unorthodox and an adventure on their own. Really, if your goal is to just hang out by the pool or curl up with a book at night, then look no further. But if you do have expectations of being a bit more connected, then it might not be the place for you. The listing mentions "Wi Fi Internet" but that's charitable at best. It's satellite internet with extremely low data caps. That means definitely no Netflix (or any other) streaming at night and seemingly dial-up speeds for even simple web browsing. Assume there is no Internet available and use your (much faster) phone connection. Also, the House Manual (visible after confirmation) talks about charging electric cars. This is referring to a 120v outlet available in the exposed driveway. It's suitable to "top up" a plugin hybrid or extended range electric (e.g., Prius, i3, Volt) but not even close to charging a full electric like a Tesla. If you do have an electric car, assume you will be charging somewhere else! Our stay was close to ideal, though, and probably would have been fully ideal if I had known there was no usable Internet.
---
Karla was a tremendous host! She received us very well and gave us a full walk through of the property while explaining the beauty of its architecture, art pieces and landscaping. This house is a piece of paradise sitting on the edge of Mount Lemmon. I would encourage everyone to stay here and enjoy the experience!
Thank you, Wali, for writing. It was so nice to meet all of you and I am glad you enjoyed the place. Thanks for the nice comments (both private and public). We wish you all well and hope we can host you again. Maybe next time you can stay longer! Thanks again for choosing our special place in the desert.
---
Carla's place is amazing. The picture and description is very accurate. The check-in process is extremely smooth, since all we needed was the key code to the front door. Even though another group of guests stayed at the pool house, we still enjoyed a perfect romantic getaway. We definitely recommend Carla's place if you are looking for a secluded area.
---
This place is amazing. An architectural gem. Semi-circular plan surrrounding a beautiful (non heated) pool and landscaped garden. Not a flat wall to be found anywhere. The reasons I am not giving 5 stars are that there is a casita on the property which takes away from the otherwise amazing seclusion and privacy. (You share the garden and pool with the casita guests), also the floors are extremely rough concrete which make it uncomfortable to walk in your bare feet.
---
This is my first negative review ever on Airbnb.   #1. THE HOSTS.  Their aggressive hostile approach makes me wonder if they actually want to be in hospitality.  It really cast an unpleasant shadow on our stay. A. I booked the property for a friend, myself and my dog, 3 nights, agreeing to pay the 45$ dog fee.  Maria sent a link to add the dog payment. When i did not respond in just 3 hours time, she sent me a threatening email about how my entire stay would be doubled if i did not immediately approve the charges.  When I replied that I had already agreed to the fee and for her not to threaten me, Maria was unapologetic and made excuses she had problems with guests in the past.  Hospitality 101. You treat your guests with respect.  I have hosted plenty and had all sorts of experiences and always treat a new customer positively, regardless of past experiences. B. 2 hrs after checkin time 4pm, I did not have a way to get in.  There is a door passcode that we did not get until almost 6pm.  We were waiting outside the house for nearly an hour after checkin time. C.  Their house guide is so aggressively hostile, constantly warning how eager they are to keep your security deposit or charge you a $1000 fee for this or that. My favorite line from their guide, and i quote "we were considerate enough to provide this house for you." Do they need a reminder that they chose to be in hospitality and that airbnbers are paying customers? From the cameras outside to mentioning that they drive by and notice what lights are on, we just felt creepily like we were being watched.  It was a very uncomfortable feeling and not at all hospitable. D.  On our 3rd day there, we finally met Carla (we didnt meet Maria) and then again when we were checking out.  She was very friendly and nice and pleasant and approachable. If only our experience had been like that from the beginning. #2.  THE HOUSE A.  The floors are concrete/gravel, called #67 gravel (from a designer/building background) and completely uncomfortable and unbearable to walk on barefoot or in socks.  And i hike barefoot sometimes, so i am not overly sensitive. This was not just a moderate discomfort.  *FUTURE BOOKERS BEWARE* Carla discussed it with us, that they have considered options on making it more comfortable.  BUT THEY NEVER MENTIONED IT IN THEIR LISTING. I dont like surprises and to not mention something like this is deceptive. It is a large house so one does need to walk around. B.  There is a guesthouse attached to the mainhouse that shares the outside space. This wasnt mentioned in the listing.  Just know, if you want the seclusion of the entire space including the outside space, you have to look up their other listings and book that too. C.  The house itself is structurally very interesting and beautiful and...
Wow, Dorrito--I am sorry you had this experience. I enjoyed meeting both of you and had no idea you were disgruntled! You were both friendly to me. However, I do need to respond: We did have a problem with Airbnb's getting you your access code--our Airbnb rep did something wrong to our listing and our renters were not getting our emails regarding check in, so I am sorry about that-I had no control over it until we discovered Airbnb's incompetence and their lack of care in fixing it, so I had to find other ways to communicate with guests. Regarding the guest house and cameras--these ARE mentioned in our ads and you are the first to say they are not. The cameras (2) are pointed at the front door and the driveway so we can see who is coming and going into our rental-if all people were honest we would have no need to do this, but past experience has required us to have cameras to keep an eye on our investment. I am only interested in seeing when guests arrive so we know they found the place and when they leave so we can come in to clean. Believe me, I have no desire to watch you and have no time to waste doing that anyway! We have no cameras anywhere else, so guests have the privacy they desire. Every vacation rental I have ever been to has had cameras except one-that one I had to walk through the owners breezeway to get to the casita I was staying in, so they could keep a sharp eye on who was coming and going. We don't drive by to see what lights our guests have on--how would we know which rooms they are in and why they have lights on? We do occasionally stop by the properties to maintain the pool, hot tub, landscape and only do this during daytime hours. The maintenance is done as quickly as possible so guests have privacy. Regarding your mention of a security deposit: AIRBNB DOES NOT HAVE SECURITY DEPOSITS AND WE NEVER MENTIONED ONE TO YOU!!! YOU ARE NOT BEING HONEST WITH REGARD TO THIS---NO WHERE IN OUR AD OR HOUSE BOOK DOES IT STATE THAT WE WILL KEEP A $1000 SECURITY DEPOSIT. AIRBNB HAS YOUR CREDIT CARD NUMBER, NOT US!!! NOW THAT YOU HAVE MENTIONED THAT LIE---I CANNOT TAKE YOU SERIOUSLY ABOUT ANYTHING YOU WROTE. IF YOU CANNOT BE HONEST--DON'T EXPECT ME TO CARE ABOUT YOUR COMMENTS!! I TAKE ALL COMMENTS SERIOUSLY AS I AM VERY INTERESTED IN RIGHTING THE WRONGS TO MAKE EVERYONE'S EXPERIENCE A GOOD ONE!! We do have plans to put a concrete overlay on the floor-this summer when rentals are slow--not something that I feel is needed to put in an ad. This discussion came about with your friend and I as we were having a nice discussion about the house and so I merely mentioned some upgrades and improvements that were in the plans for this summer. A talented architect designed and built this home for himself to live in--I had no control over his choice of flooring materials, but I walk around that house in between guest stays with no problems. But to be fair: look at other reviews to see what other guests say about their wonderful stay at this unique property. We have many repeat renters too! If things like our behavior toward guests or our accommodations were terrible-I doubt we would have any repeat guests. I have no idea of your communication with Maria, but after talking to her about it, she just merely needed you to approve the pet fee so she could put the reservation in the books-and felt that if you were not interested in responding that she would have to entertain other inquiries. I am sorry you had a bad experience with her, I wish you would have communicated that to me on the two occasions that I chatted with you-you seemed happy to me. I could have at least tried to smooth things over but you didn't bother to mention it, so how could we apologize or fix your issue? I have known her for 11+ years and know that she isn't purposely disrespectful to our guests. Perhaps you took her comment the wrong way? I do know that we do not double our fees and Airbnb wouldn't allow it anyway, so again, you are not being honest in what you write. Contact Airbnb to see how they charge--they will tell you that hosts cannot double fees or require a $1000 security deposit. After reading what you wrote at length--I feel you are an unhappy person in general. Perhaps that is why you decided to take 3 years off as you mentioned to me. And perhaps now you have too much time on your hands! In the future, you really should think about being honest about what you write. Lastly, please know that we treasure our guests--it is them that keeps us in business!!! I enjoy meeting them as most are very interesting and fun to talk to. It is our desire that they have a nice place to stay and a great vacation!
---
I am an interior designer, landscape designer, and real estate agent with Canyon Group Realty llc. We work with people interested in purchasing property in Tucson and offer property management services including vacation rentals, corporate rentals, long term rentals, and even watching properties should you wish to have a second home in Tucson but not want to rent it out. You can contact us for additional information. Our vacation rentals such as these are operated under Desert Moon Vacation Rentals llc. I enjoy this career very much as I get to meet so many interesting people!
Languages:
English
Response rate:
100%
Response time:
within an hour
Explore other options in and around Tucson
More places to stay in Tucson: