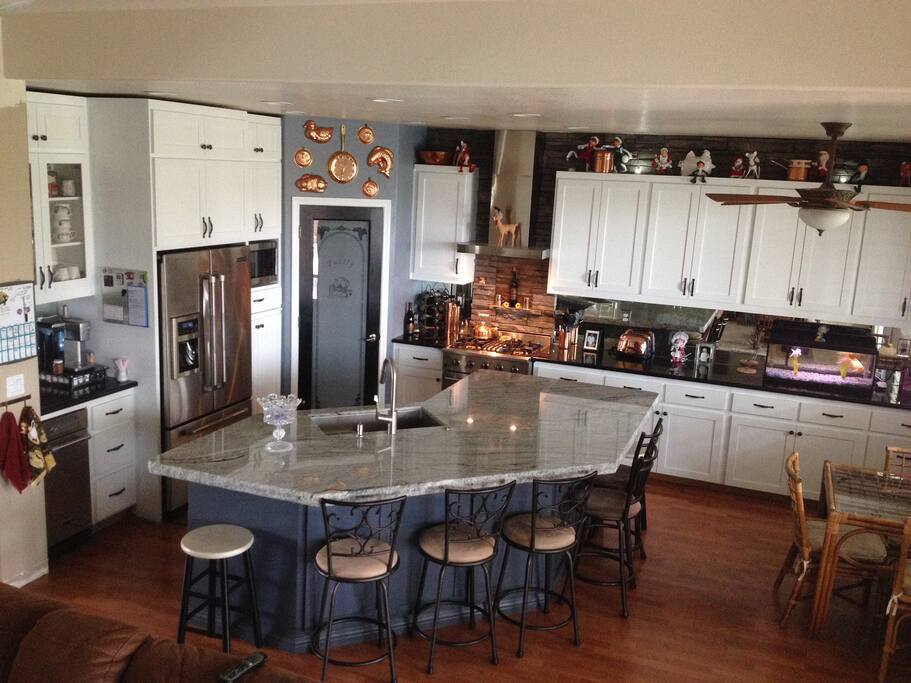 Private room
12 Guests
4 Beds
About this listing
850+ guests in nearly 300 reservations, so far, have enjoyed our little oasis with us. SF , Yosemite , Bass Pro Shop, Big League Dreams, more. Our happy big dog loves company too. Solarheat Pool. Outdoor Hot tub Spa (pool/spa seasonal). CONTINENTAL BREAKFAST. Relax in luxury beds. Enter through the arch into completely Private rooms include 92" TV w/theater quality viewing (movies,sports,etc) & private bathroom. Does not show 300 reviews because not everyone takes the time to review us. : (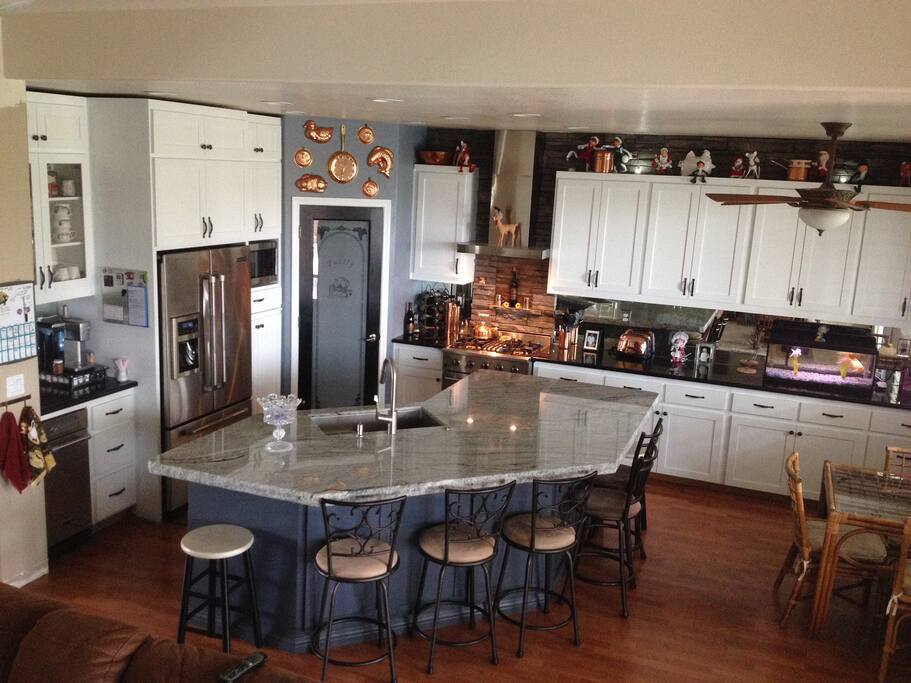 Brand new kitchen Nov 2015. Hope you enjoy it too. Enough counter room for 8. Airbnb was my inspiration to remodel this.
---
Check In:
Anytime after 4PM
Pet Owner:
Dog(s), Cat(s), and Other pet(s)
---
Kitchen
Space where guests can cook their own meals
Essentials
Towels, bed sheets, soap, and toilet paper
+ More
---
Extra people:
$14 / night after the first guest
---
The Space
This is a private suite in our home which includes a private living area with 92 inch screen TV you see in the photos. With a 2 person reservation, you get a one bedroom suite. With 3 or more, you get a 2 bedroom suite. I choose to have only one guest reservation in our home at a time. I could choose to have 2nd reservation for bedroom 2 or even a 3rd bedroom on upper, like most do, but at this time I would rather not for the comfort & feeling of security of our guests. ONLY our family and you and your guests will be here during your stay.
Children under 7 years old have been a behavioral issue here when they choose not to behave or follow adult supervision. We have an open pool, stairs, etc. and this can be nerve racking, causing us to worry. Please consider your child and if he/she is not the type to listen, choose elsewhere. Thank you. If younger than 7 and you consider your child/children VERY well behaved, we will be happy to have them but it at our own discretion. So get ready for some questions. We did choose not to have any young ones here anymore, but i miss them ( the good ones) so I changed my mind.
BEAUTIFUL MORNING SUNRISE VIEW FROM YOUR SPACE WHERE YOU SEE THROUGH THE PALM AND REDWOOD TREES ACROSS 20 ACRES+. You just have to get yourself up out of the super comfortable beds to see it. I am told that this is not an easy task. Also have enjoyed watching the occasional storm from these rooms.
YOUR BEDROOMS, LIVING ROOM AND BATHROOM ARE TOTALLY PRIVATE AND SEPARATED FROM THE REST OF THE HOME.
FRESH AND CLEAN
All Bedding and towels are freshly cleaned prior to each new guest arriving. The rooms are thoroughly cleaned with each new guest
CONTINENTAL BREAKFAST Served in our newly remodeled (11/2015) kitchen. We usually provide muffins, oatmeal, orange juice (fresh squeezed when in season... August/sept/Oct may not be fresh), coffee, tea, hot chocolate, milk and sometimes some other little bonuses. I am also known for my homemade cinnamon rolls. It does take time to make these but if this is a favorite of yours, let me know prior to arrival and I'll try and schedule to make some instead of muffins.
************IMPORTANT*************
Kindly take a few minutes to read through all the information we have provided on our site.
Check the calendar for your desired dates.
On your Profile page,
Fill out all requested verifications. (3 for USA, 2 for out of Country)
Upload a true photo of yourself and type a bio on your profile page about who you are.
This is recommended by Airbnb and it has worked for us.
Send a message with the purpose of your stay and who you are traveling with. We like to make sure we work for you needs and want to make sure our stop is a perfect place to be with your desired destinations. Having our guests give us 5 star reviews is important to us so we wouldn't want anyone unhappy with your choice to stay here.
Check with all persons reserving to see if there are any cat or dog allergies or fears. The pets are not allowed in the airbnb section of the home but the fur is still airborne. All pets are friendly, even the chickens. I describe Koda, our malamute/husky as a big teddy bear in a dog costume. Don't be surprised to see the cats, chickens & dog all hanging out in the backyard together. Many people compliment on how calm and well behaved our dog is. He would love to show you the tricks he has learned. (for a reward, of course)
Lastly, check that all guests would be able to go up and down stairs as the BNB rooms are located on the 2nd level.
**************************************
IMPORTANT ALSO!!!
The listed price is based on 2 persons to a bed.
2nd bedroom is available to use only if you have booked for 3 or more.
If you are 2 persons wanting separate bedrooms, there is a $14 additional fee to do so. Just plug in 3 people instead of 2, and the price will automatically adjust for the use of both bedrooms.
Large groups of 4 or more, please message me to confirm the bedding arrangement.
1 guest = Queen bed
2 guests = Queen bed
3 guests = Queen and Twin Bed
4 guests = 2 Queen beds
5 guests = 2 Queen and Twin Bed
6+ guests = contact me for bedding arrangements
THE QUEEN BEDROOM #1
Queen Size Mattress with 600 TC sheets. Super comfy. Most tell me they slept in because they just didn't want to get out of the bed. Have a great nights sleep. You have a TV in your room. Heating Blanket, Ceiling Fan. Closet and Drawers. View & privacy, including the sunrise.
THE QUEEN BEDROOM #2
Queen Size comfortable Mattress with 600 TC sheets. Currently has no TV. But you still have the 92 inch TV in your family room. Can add a twin bed to the room if desired (with a booking for 5 or more) Let me know prior to arrival. Heating Blanket, Ceiling Fan. Closet & small drawer space.
FAMILY/ENTERTAINMENT ROOM.
If you have a large group, this room is great additional space. Depending on how big your group is, we may set up beds in here as well.
YOUR family room has 2 VERY comfortable couches (great for sleeping or napping), a desk, microwave, mini refrigerator/freezer, pantry. If you need more refrig/freezer space, we have more space in our own for you. Also the 92 inch screen TV, yes 92, with Bose sound system. We currently also offer Netflix, Pandora, Full Cable stations and WII (if you can figure that out) Wifi is available here too with Comcast HIGH SPEED INTERNET SERVICE (best in the area). We also have a large movie collection or you could rent from Redbox down the street for the newer releases.
You have a private bath with Shower/Tub Combo. For our larger groups, we do have a bathroom at the bottom of the stairs with a shower that you are welcome to use. It is our guest bath and not exclusively for you, but anyone is welcome to use it.
GREAT STOPPING SPOT FOR TRAVEL
You probably can't find a home more smack dab in the center of CA than ours. We are also just off the main artery of travel for California by car. Interstate Hwy 5 is the quickest route running through California reaching the borders of Canada to Mexico.
From I-5 to Hwy 120 Manteca, go 2 exits to Airport Way right. First left, first right. YOU'RE THERE. So easy, So convenient.

MAIN ATTRACTIONS.
* Midway point between SAN FRANCISCO and YOSEMITE.
* BIG LEAGUE DREAMS SPORTS PARK. Baseball, Slow and Fast Pitch Softball played in 6 Replica parks of different pro fields of our nation. Also Batting Cages, 2 restaurants that overlook the fields and an indoor soccer field.
* BASS PRO SHOP (Look it up, too much to describe) No one has ever been sorry they took the time to check this place out. Its a store with so much more. Only 2 in California and one right here. People drive many miles to see it.
* DELL OSSO FARMS FAMILY FUN". The Dell Osso's opened their farm up about 12 years ago and have added so much every year. Millions of people visit each year. Depending on the season will tell you what they are offering for your families to enjoy included Pumpkin Farm, Winter fun, Mud Run, Rodeo, etc. Look it up.
With the exception of my daughter, whose room is upstairs,on the opposite side of the house from airbnb and includes her own private bath, we rarely use the upstairs. Our master is downstairs. Some people never see her. Between college, studying, 2 jobs, boyfriend, and the gym…you rarely see her.
NO PETS! NO SMOKING! NO DRUGS! If you must smoke, please smoke on the sidewalk, away from the house.
Looking forward to meeting many people from many places. We will do all we can to make your stay a happy one.
Yours, Phil & Gerry
Guest Access
Upstairs has it's own heating and air conditioning system (New 6/2016). Ceiling Fans in all rooms. Share downstairs (Remodeled 11/2015) kitchen. Lots of Refrigerator & Freezer space. Large dining table accommodates up to 12 in dining area. Table for 4 to 6 in your room but may be removed to provide more sleeping space if needed. (see photos) Loveseat has been replaced with a desk that has become used much more than love seat. (Desk not pictured yet)
Pool and outdoor Jacuzzi (seasonal). Jacuzzi is new 6/2016 but an even better one should be here within the next month. Please let us know you are into Jacuzzi's so we can make sure it is ready for your use. You may swim anytime but its going to be chilly at times. The pool is solar heated so only warm months are when we have a warm pool.
SEASONAL
We have a fire pit, fireplace, pool for you enjoyment that is seasonal. Our pool has a beautiful 5 ft waterfall. We also have a Bar-B-Q available all year long under the Palapa Hut that can be used in the winter if your up to it. We can get down to the 30's here in the winter and up to the low 100's in the summer.
THE POOL does NOT have a fence around it. If you have smaller children and this is a concern, you may want to choose another home without an open pool. SWIM AT YOUR OWN RISK. With small children, you will be asked to acknowledge a pool waiver.
Interaction with Guests
As little or as much as you like. Please feel comfortable as you are part of our family now. We are very social but also realize that some of you have had a very long day and understand quiet time. Just be yourselves. We don't judge. Everyone is different, including us. We are so into Airbnb that sometimes we get overexcited having guests here. Please tell us you are exhausted and need quiet time if we are over talkative. We don't always realize that and certainly understand.
The Neighborhood
We live in a very pretty 14 year old safe neighborhood where neighbors actually know each other. Our home is 3000 square feet and just 2 of us live here now with the maybe occasional relative visiting overnight. We have plenty of parking and you will, in fact, park on driveway, near the front door. If you have any valuables you are concerned about, like bicycles, motorcycles, I even had someone with lots of bottled beer, let me know and we will put it in the garage or house. NO need to take chances. PLEASE TAKE ALL VALUABLES OUT OF YOUR VEHICLE! The highest amount of crime in Manteca seems to be auto's being broke into. Although our area seems to be the most crime free area in the entire city, I would hate to take that chance. In our 5th year of doing Airbnb with about 850 guests and we have never had a problem.
DRIVING DISTANCES
118 miles E- YOSEMITE National Park (2.5 hrs) -
90 mile E - Dodge Ridge Snow Skiing (under 2 hrs) closest
55 miles E - Scenic Hwy 49 drive (1 hr to how far you want to go)
1.5 miles E - BASS PRO SHOP
3 miles E - Highway 99
58 miles E - Jamestown/Columbia Gold Panning (1 hr)
60 miles E - Begin Calaveras County Wineries in Sierra Foothills (1.2 hrs to Sonora)
MANTECA LOCAL WINERIES TOO!
2.5 miles W- Highway Interstate 5
75 miles W- SAN FRANCISCO (1hr 20 min)
50 miles W- Enter San Francisco Bay Area (Castro Valley). (45 min)
80 miles W- Pacific Ocean Beaches (1.5 hrs)
4 miles W - Dell Osso Farms Lathrop fun times (look it up)
1 mile N - BIG LEAGUE DREAMS & Costco -
30 miles N- Lodi Wineries and tasting rooms (35 min)
60 miles N - Sacramento(1 hr)
69 miles NW - Jelly Belly Factory Fairfield (1 hr 15 min)
160 miles NE - South Lake Tahoe (2 hrs 45 min)
62 miles NE - Columbia Gold mining town (1 hrs 20 mins)
85 miles NE- Calaveras Big Trees (1.5 hrs)
72 miles NE- Mercer Caverns (l.5 hrs)
138 miles SW- Monterey (2 hrs 15 min)
12 miles S - Blue Diamond Almond Factory (14 min)
12 miles S - MODESTO, CA (14 min)
19 miles S - Gallo Center for the Arts (Theatre) (20 min)
328 miles S - Los Angeles/Hollywood (5.5 hrs)
355 miles S - Disneyland (6 hrs)
Getting Around
COSTCO & WALMART
We have a Costco right here at our exit too if you need a refill on any food items and our store has gasoline fill up station. First and closest COSTCO you come to near I-5 heading north from the LA/San Fernando valley area, about a 4 hour drive. Best prices around for gas. I can take you if you don't have a card.
Walmart is just off the freeway too, just 2 miles down from us. Should have just about anything you may be needing (except gas). Regular Grocery Store is 2 miles away also.
We do not have a very good public transportation system but we do have Lyft, Uber and taxi service. I can also take you to the store or nearby if needed. We have Ace Train that heads into the San Jose Area M-F weekdays with 3 trains going out in the morning and 3 trains headed back in the late afternoon, evening.
We also have Bay Area Rapid Transit (BART) that will take you all over the Bay Area. But, the closet stop to us is about 45 minutes from here in the Dublin/Pleasanton Area.
Other Things to Note
If you need power strips for your additional electronic devices, OPEN the drawers, they are there. I have told guests and showed them and even have it on a small list I have out of "details you may want to know" and still they suggest them as something I should look into getting. Once our guests see the TV, I tend to lose a lot of their attention to what I'm saying. This place is a bit overwhelming with all you see. I love the looks on my guests faces when they first see their space. Pure joy and that's such a compliment.
+ More
---
Not infant-friendly (0-2 years)
A HAPPY HOME IS WHEN EVERYONE MATTERS, BEING THOUGHTFUL, COURTEOUS, AND RESPECTFUL OF OTHERS IS OUR MOTTO
*No Loud music.
*Quiet time 10 pm. This does not mean "go to bed" just quiet down
for the rest of the household.
*No Lifeguard on duty. No fence around pool. BEWARE
*Swim at your own risk. Pool hours 9am to 10 pm. 11 pm on weekends. You can swim earlier or later but MUST be very quiet as not to upset neighbors. I am very respectful of my neighbors and wish to continue doing airbnb.
*Dishes and Pots and Pans available but please clean up after yourselves and everybody uses the house. Pots and Pans do not go in dishwasher.
*Pick up before leaving. OK to leave bed messy and unmade as we will be stripping beds upon your departure anyway.
*Unnecessary roughness, disrespecting of others will not be tolerated. You will be given a first warning. Our home, Our Rules. If it persists, you will be asked to leave and no refund will be given due to the time we gave to prepare our home for you and not had opportunity to offer it to someone else. If we book any of the nights that you were to stay after being asked to leave, we will refund for those nights that another guest filled. It would be wrong to keep payment from 2 different guests for the same night. We really don't expect this happen, most people are respectful, just needs to be said.
MUST LOVE DOGS and tolerate (or love) cats. We also have chickens but you don't interact with them and they are not in the house.
+ More
---
---
Your Host
---
Manteca, California, United States
·
Member since October 2011
My husband and I moved here from Fremont CA (SF Bay Area) to Manteca CA 14 years ago, in 2002, and said....whatever will we do with this big ol' house? So in 2011 when Airbnb entered my life, I knew It was an answer and the reason we fell upon this particular home. It was made for Airbnb and has brought us unbelievable joy hosting such of variety of people from all over the world. I have learned and experienced so much interacting with my guests. Can't tell you how lucky I feel to be able to do this. So blessed.

Our last daughter is moving out to her first apartment this month, July 2016. I'm very sad but she has been weening us for a couple of years with her busy schedule so the shock won't be so bad. We will officially have joined the empty nesters club. Our daughter, is a very sweet loving girl and was the reason for the move to Manteca. She is starting her Junior year in college.

We have 2 other daughters. Our eldest is a nurse with our 2 grandkids and our second daughter is a very talented artist. Our youngest is hoping to enter the field of psychology.

My husband's hobby is Halloween and he and his partner spend a lot of time getting the "Scary Perry Haunted House" put together every year. It is top quality and outdoes what a neighborhood haunted house would usually put out. Therefore, house is in quite disarray from this event. We used to not open the house to airbnb during this period, but due to demand of people wanting to stay here then, we decided to keep if available and see if it works out. Since Dell Osso Farms is open during that time and it a big attraction, it would not be in our best interest to shut down during that time. We have lived in the bay area all our lives until we moved an hour east of it. So we know the bay area quite well. We have spent many years turning our yard into an oasis and think we are about done. We get many compliments on how beautiful it has turned out and it is great to see my vision become a reality. I love flowers and gardening but since we got the dog and chickens, things have changed. Well, at least until we got the dog who thinks flowers are toys and chickens who enjoy them for dessert. Flowers make me happy.

I love hearing people's stories so I hope, if you stay here, you will tell me yours.

I, myself, happily retired from 34 years in the automotive industry. I also am an Independent Designer for the Origami Owl Jewelry Company. If you come to my Manteca airbnb, It will be here. I carry inventory. The website is www dot awiseoldgal dot origamiowl dot kom if you want to look first. Some people are not prepared before they get here and wish they would have known. FYI. Also sell cinnamon rolls and was encouraged by a guest to post this because they took some home as a gift for friends. Ask me if you are interested

Hope your plans can be included with a stay in our home.
Happy travels, Gerry
+ More
Response rate:
100%
(
past 30 days
)
Response time:
within an hour