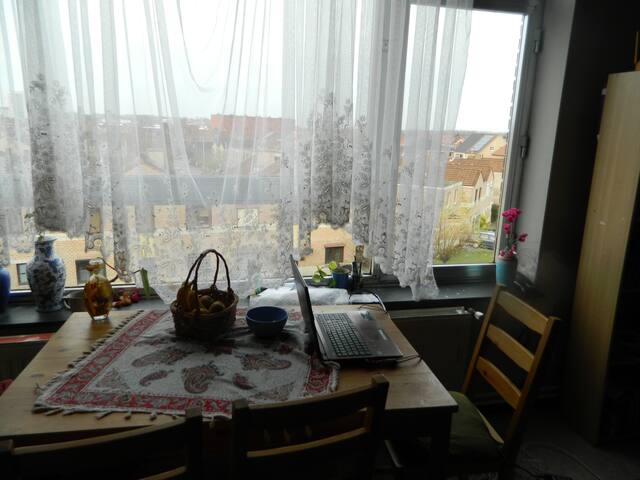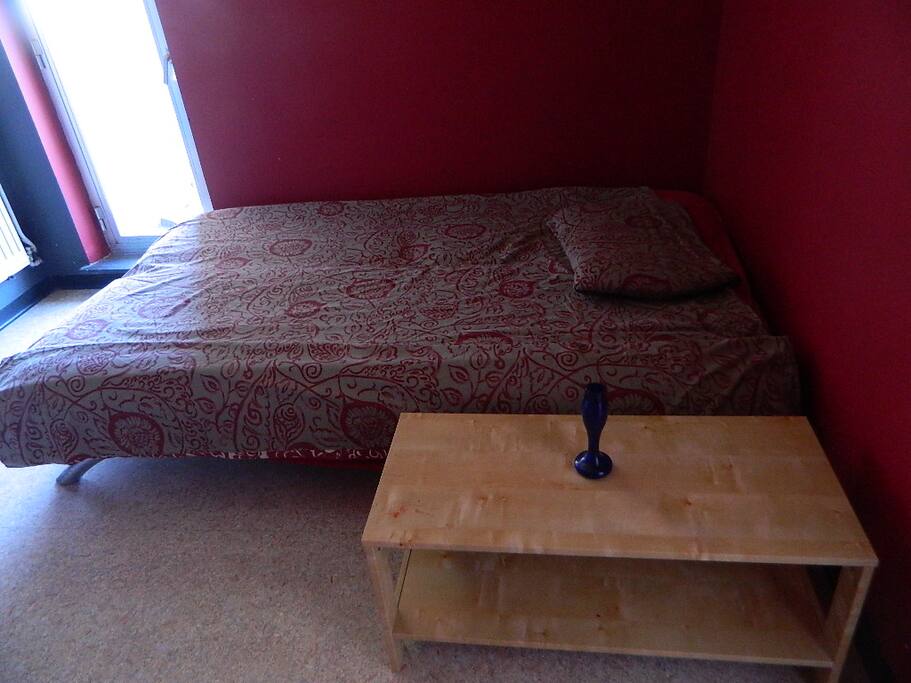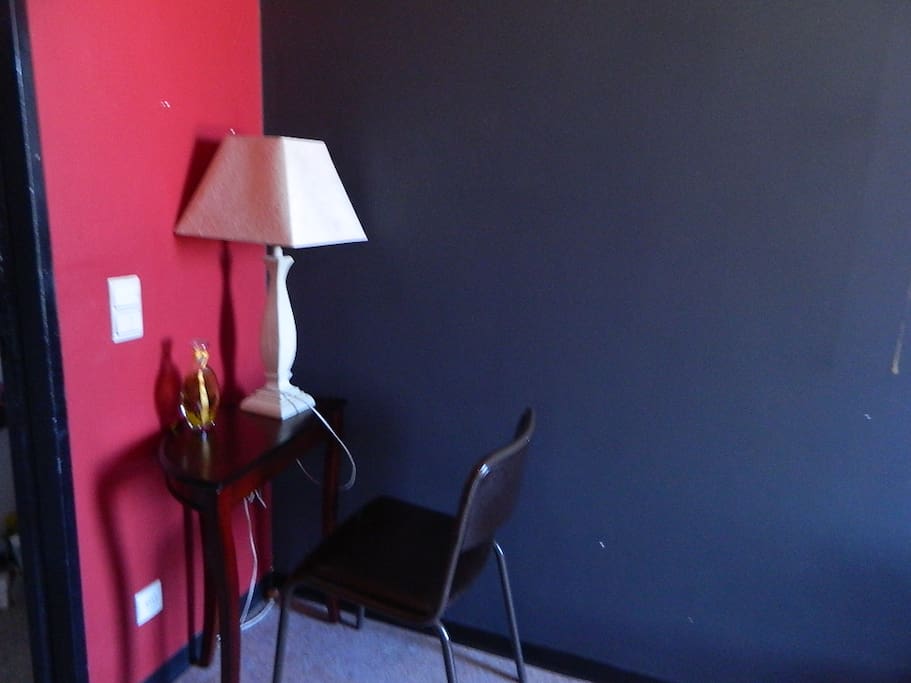 renting a room in a calm area
I have a room available in my apartment. It is not luxurious but cozy.
The space
It is located in a nice area with a nice view.
Guest access
The guest can have access to the balcony, to living room to bathroom, kitchen.
Interaction with guests
He/she can reach me by mail, phone you see me most in the evening if needs help.
---
---
---
Always communicate through Airbnb
To protect your payment, never transfer money or communicate outside of the Airbnb website or app.
Learn more
---
---
---
---
My stay was 12 weeks. I would not recommend for a long term stay, but short term might be doable, if you can tolerate what I describe. The major problem was that she created issues about money, even though I paid everything through Airbnb. I reserved this months in advance for work travel. I heard nothing after her accepting my reservation. I contacted her again a week before, to follow up, and she said she'd send me all the information. Then a couple days before my arrival, she suddenly asked me to cancel the later portions of my reservation and pay outside of airbnb, claiming she wasn't getting enough money, even though she had months to see her total. Being new to airbnb, I tried to work with her. I cancelled part of it but said I couldn't pay more than I had agreed. She became annoyed when I apparently didn't cancel what she wanted, saying I "didn't listen to her", and it was not her fault if airbnb charged me fees, suggesting it didn't matter if I ended up paying more with this new arrangement that was entirely her idea. After a lot of back and forth, I finally told her it needed to all be through Airbnb, and so she said to change it back, so I did, and she accepted the change. A week before I was to leave, she began claiming airbnb did not give her enough money for my last payment, and asked how much I paid. I told her what I remembered, but wasn't sure what that was in euros. It was what the plan had been for 6 months at this point. She started saying how she had to pay for electricity and didn't have a job and complained that I sometimes used a fan (the room is much hotter than where she sleeps). Electricity is included, and I was rarely there on weekends, rarely used the lights or kitchen, and was gone for a two-week holiday that she was still paid for. I decided to leave early, even though I paid for the whole time, sent her a message letting her know where the keys were and explaining it. She denied doing more than "just checking what the last payment was", despite messages right above from when she complained about money in the beginning. The accommodations also should be explained better. She sleeps in the living space, which contains the kitchen. I rented the bedroom. The bed (futon) is not comfortable. She kept saying she would put a different bed in (even though I never complained), but never did. There is no place to hang clothes. I bought hangers and hung them off the heater. Bathroom is shared, with only a bathtub and removable showerhead, no curtain. No towels provided. There was a small stove and toaster oven, no microwave. The refrigerator was small and crowded. This isn't necessarily bad, but is good to know as alot of standard things aren't available.
I don't know what to say. I am wondering how can someone lie so easily. I understand you are angry liz and I agree you left 4 days before your checking out but I wrote you two mails to say sorry for what happened between us. You didn't answer me because you were never communicate. You left my place because I asked you a simple question of how much you paid for this last month. I was confused because I saw in my bills that AIRBNB paid about 200 euro for the month of September. When you said it is because you will leave one week earlier than whole month I convinced but in the evening when I was back surprisingly you were not there. I am not a materialist person and I think it is pity you understand me in this way. I tried to explain you what happened about the amount of money you should pay per month before your coming. Normally I ask 300 euro per month for the room. Unfortunately a mistake happened before you coming. I told you only before you request for the room, AIRBNB updated its regulation and outlook. In new changes in my profile I couldn't find the exact amount per month that I have to choose to become equal to 300 euro. It was in percentage. When you requested that was like I will earn about 250 euro. By mail I wrote you I didn't know exactly which percentage should I select to become this amount of money. That is why I asked you to cancel that request and do the re-request. Although after changes still I didn't come to this amount of 300 per month but I agreed to leave it like this because you said you don't like to talk about the money. I honestly before your arriving wrote you if you work and you always used to go to hotels my room is not suitable for you. It is good more for the students but you said only a bed is enough. Anyway I didn't expect you to be so unfair. You paid me less than 300 euro and every night you used your fan but I din't say anything to you to ask you more money. You can read feedback about me by people how friendly I am. Although to me you were an anxious, nervous and isolated person but I even wrote on your profile that you are nice because I knew it was your first experience in AIRBNB. I recommend you continue to go to hotels if you travel for your job. AIRBN can't be a good place for you I think because you have to be communicative and honest.
---
Zahra was very kind. Unfortunately, we arrived very late to Leuven but she came to look for us anyhow. Her room is very small and certainly better for people who just need a night to stay. The shower is more of a bath, and a little tricky to use. Since the apartment is old, some areas look really dirty. However, Zahra welcomed us kindly and it was a great neighborhood and comfy enough for our last night.
---
Zahara was very nice! But I must say that her apartment is very humble, as it is a student apartment. She has a tub and not a shower. I got a bit lost looking for her apt, so make sure to confirm the address with her.
---
Zahra was a very friendly and easy-going host. She provided me with a spare key to the apartment and the freedom to leave and return at my own convenience. The room is as listed, quite basic, but affords much-needed privacy that many people look for when renting a room. The bathroom needs an upgrade however, since the reduced water flow sometimes became annoying (excellent for water conservationists!). The neighborhood is pretty and serene and only about 12 minutes walk away from the train station.
---
I am a kind, social and an esay going person. I like to know about different cultures and and I like people from all over the world.
What I can't live without is my family, friend, love,book,internet..
I have seen Germany, France, Italy, Turkey, Luxamburg, Holland..
I have read different books, novels and..I like alternative musics. I like dancing too.
Foods: Italians, Thaies, Indian, and lot more.

Languages:
English, Français, Nederlands
Response rate:
90%
Response time:
within a day
Explore other options in and around Leuven
More places to stay in Leuven: