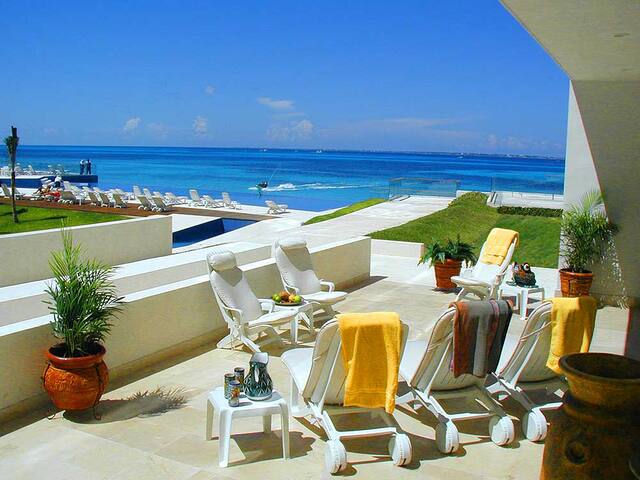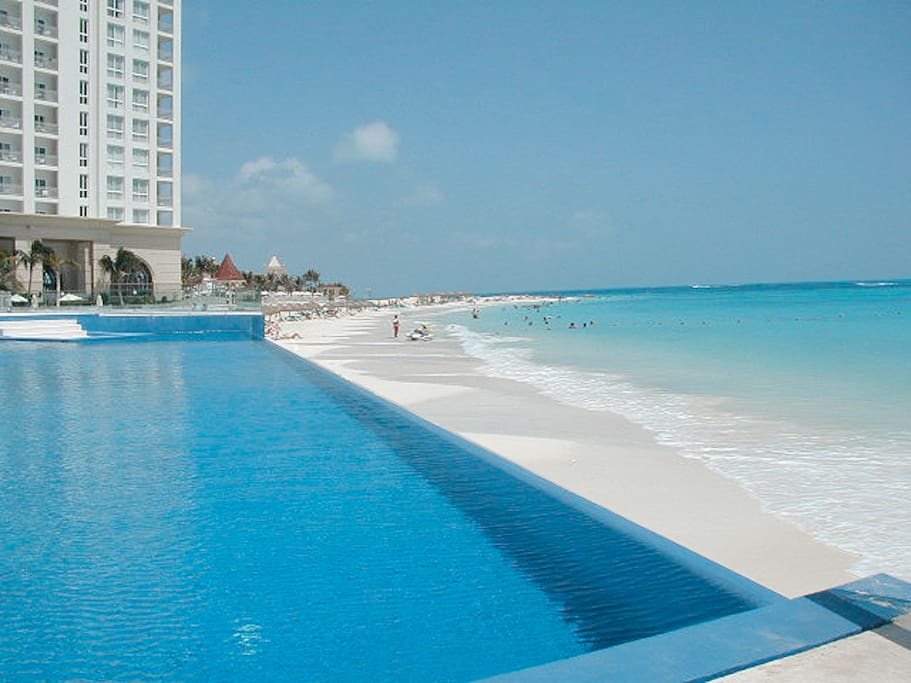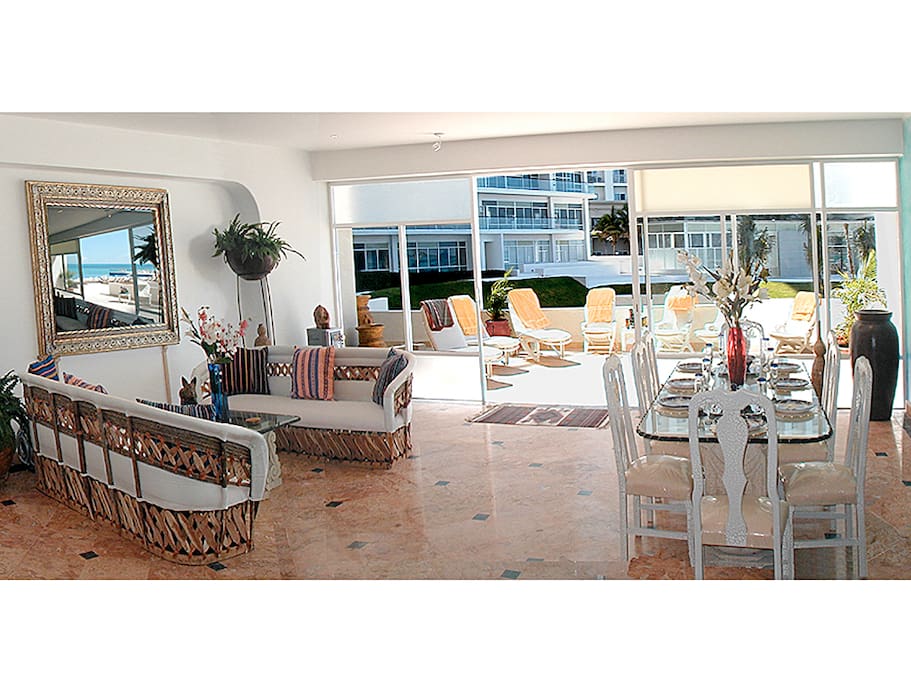 Entire home/apt
6 Guests
3 Bedrooms
3 Beds
About this listing
DIRECTLY ON THE BEACH AND on the GROUND FLOOR, overlooking the incredibly turquoise green and blue water of the Caribbean Sea. My home, Casa Maya Playa, with three king bedrooms and four full baths, has every amenity you can imagine to make your vacation here in Cancun one that will live in your memories for years to come.
---
Bathrooms: 4
Bedrooms: 3
Beds: 3
Check In: Anytime after 3PM
Check Out: 10AM
Room type: Entire home/apt
Extra people: No Charge
Cleaning Fee: $155
Security Deposit: $1030
The space
CASA MAYA PLAYA -DIRECTLY ON THE BEACH AND ON THE GROUND FLOOR- CANCUN'S FAVORITE FAMILY VACATION RENTAL !!!!
WELCOME TO MY CASA MAYA PLAYA. This is truly one of the most beautiful condos situated on one of the most beautiful oceans in all the world.
There is also a virtual tour of my home you can look at if you would like to. Please email me to get the link.
DIRECTLY ON THE BEACH AND ON THE GROUND FLOOR, overlooking the incredibly turquoise green and blue water of the Caribbean Sea my home, Casa Maya Playa, has every amenity you can imagine to make your vacation here in Cancun one that will live in your memories for years to come. With its 3 large king-size bedrooms, and its 4 granite and stone bathrooms, my home is the ultimate in luxury beach front living, and is perfect for parties of up to 6 people with grace and ease.
My new home here in Cancun is truly fantastic, and is located directly in the middle of the world famous hotel zone between the Hotel Riu Cancun and the Hotel Fiesta Americana Coral Beach. Its like owning your own private home directly on Waikiki Beach! The location is centralized so that you never have to rent a car as you can walk to almost every attraction Cancun has to offer. Taxis and busses are numerous for those day trips you will want to make to the nearby Mayan ruins of Tulum or other attractions like Splash, or the underwater caves at Xcaret. Of course, cars are available for rent either at the airport or at numerous locations throughout Cancun.
Located on the ground floor, my home has a 45 square yard terrace and looks out onto the beach, ocean and adjoining gardens. You can walk out onto the terrace and then walk a few more feet to the lap pool, and then a few more feet to the beautiful infinity swimming pool, and then down a few steps and you are standing directly on the whitest most beautiful sand in all the world.
It is quite large, about 2,400 square feet with the living room, dining room and master bedroom facing the sea, and goes completely through the building from front to back, so that the 2 back bedrooms open onto private terraces and gardens, also with views to the ocean.
The custom designed kitchen has hand hewn granite countertops, a separate breakfast room table, and has all the amenities to make preparation of meals a delight. Dishwasher, microwave, blender, coffee maker are all there, and various spices are always on hand. The water is UV filtered and is completely safe to drink. There are TVs and DVD/VHS players in each of the 3 bedrooms. We also have WiFi and high speed Internet. All you have to do is plug in and you are surfing the web!
Love to read? We provide the most popular Magazines & Books Free via the Foli app for your iPad and Smartphone! Foli serves the most popular magazines and best-selling book titles and authors.
----------------------------------------
AMENITIES ON THE PROPERTY
For those of you who appreciate the finest in amenities, my condo has not only a wonderfully large infinity swimming pool right at the edge of the beach, but also has a 30 meter lap pool with a large waterfall with submerged chaise lounges directly in front of my terrace, so you can lay on the lounges in the pool and sip your favorite tropical drinks while feeling the spray from the waterfall directly behind you. There is also a 3rd swimming pool located on the street side of the building for those of you who want to catch the last rays of the day as the sun sets in the western sky.
There is also a complete spa and fully equipped gymnasium at your disposal. Also, you will love our spa, which has two additional private hot tubs and two steam rooms. The gym is very good. It has all the free weights you need, lots of machines, two treadmills and two elliptical walkers.
Additionally, there is a Protected Kids Playground with swings, slides, etc. in the grassy garden area for the little tots in your family.
The building is completely secure, with 24 hour guards and receptionists to receive all visitors. Parking is private and directly under the condo.
I can tell you that I am in love with my new place, and I know that you would love it also. The Caribbean Sea has the most beautiful water I have ever seen, and I also own a home on Sunset Beach on Oahu, so I know what I am talking about.
Cancun is one of the most exciting places I have ever been to. It has so much history, being home to the Mayan Indian civilization, that you will never be bored while you are here. For those of you who are interested in Mayan culture, The Mayan History Museum is just 2 blocks from my home. The world famous Mayan ruins at Tulum is just a 40 minute drive down the coast. I have put just a couple of photos of it on a separate photo page for you to look at.
All the water sports are within 5 minutes of my home. SCUBA and snorkeling are unsurpassed as the ocean here in Cancun has some of the clearest water in all the world. Jet skis, parasailing, and sunset cruises on big pirate sailing ships are all part of the fun you will find here. By the way, the pirate ships cruise nightly directly in front of my terrace.
Swimming with dolphins and hand-feeding the sharks are one of the many attractions here and is located just 5 minutes away. Don't worry though, the sharks are trained not to bite the tourist's fingers!
The restaurants in Cancun are also world famous for their international cuisine. You will find the best French, Japanese, Chinese, Cuban, Italian, American and even Mongolian restaurants all within 5 to 10 minutes from my home. By the way, you will notice the Mayan influence in cooking here. They use spices that are not found elsewhere, and the local food has a wonderfully distinct flavor. One of my favorites is the local fish known as "Mero", which is Grouper in English, prepared in Mayan spices and steamed inside a banana leaf. Hmmn, nothing better!!
Night clubbing is unsurpassed in Cancun. Virtually every world famous nightclub is represented here, and you have seen them all on entertainment television many times. Carlos and Charlies, Senior Frog's, Coco Bongo, the Hardrock Cafe are just a few. There is even a club here named the "Over Thirty Club" for those of us who like blues and jazz.
There is always something musical going on here in Cancun. Home to the Cancun Jazz festival, Cancun also has many parks in which musical events are always taking place. Also, all the hotels and clubs have live bands, so you will always find music to suit your taste.
World class shopping is all around you, with the beautiful Plaza Caracol being just across the street from my building, and the fabulous Isla Dorada shopping center just 5 minutes away, which is built like Venice, Italy, and has little boats that cruise on the canals through the middle of the shopping center. You will be singing "Arrivederci Roma" in no time at all.
Taxis and buses are numerous for those day trips you will want to make to the nearby Mayan ruins of Tulum or other attractions like Splash, or the underwater caves at Xcaret. Of course, cars are available for rent either at the airport and also right next to the building.
Our main endeavor to you is to make sure your stay with us is the best it can possibly be. Our property manager is always on call for you and lives nearby. We will happily provide you with any information or help that you need with securing any outside reservations or services that you may desire such as tours or activities, dolphin encounters or snorkeling, etc.
If you have a special need, just call us and we will do everything in our power to see that you have everything that you need.
Restaurants & Night Spot Information
Grocery Shopping
Attractions Information
Fishing Boat Rental Information
Massages/Spa/Salon Services
YOU WON'T HAVE TO bring anything except your Swimsuit and a Smile to have a GREAT TIME!
(Because We Provide The Beach Towels!!!.......)
Gracias from Your Owner!
Michel Rubini
CASA MAYA PLAYA TESTIMONIALS
Great location, quiet, private, beautiful and easily accessible.
We had a great time and loved the condo and location. The giant supermarket across the street was fabulous--we were there every day. Although, there was a glitch with the washer and dryer, Fredy and the building maintenance staff worked hard to get it back up and running for us. The building and grounds are meticulously maintained and the staff friendly and helpful--even going so far as to help us with our Spanish. The ground floor location of the condo with easy access to the sun deck, pools and beach made it all the more homelike. No long corridors or elevators--from warm, breezy outdoors directly into cool spacious rooms--heaven. After just one day on the sun deck seemingly directly above the crystal clear water and seeing crowds of people on the beach at the hotel next door will make you feel like you're pampered and special. The condo is centrally located in the hotel zone with a bus stop seconds away. There is a miles-long bike/walking/running path lined with palm trees just out the front door. Great for doing your daily exercise and for strolling after dinner. You can also book tours right next door and take the ferry to Isla Mujeres from the pier just steps down the beach. Be sure to rent a golf cart when visiting Isla Mujeres--what a great way to explore the island. We are already working on our next trip to Cancun and can't imagine staying anywhere else. Michel and his staff made booking easy and transparent--don't hesitate to book your next vacation to Mexico at Casa Maya Playa!
Stayed: December 2014 Submitted: Decemb
Memorable Experience
Michel...we enjoyed ourselves immensely in Cancun and we thank you for providing your home to make this vacation memorable. We've already bragged to friends and family about your place as a desirable alternative to hotels should they plan a Cancun stay. Excellent location and facilities!
Stayed: June 2015 Submitted: August 2, 2015
Amazing Vacation Rental!!!!
Thank you so very much for sharing your property with us!!! It was an amazing vacation!!! Your home it's incredible!!! The yard surroundings are beautiful and the staff was TOP NOTCH!!!!! Fredy was so kind and helpful!!! You are so lucky to have him taking care of the everyday needs at your condo. He responds back immediately and is very dependable and knowledgeable! "
Stayed: July 2015 Submitted: July 25, 2015
first time to visit Cancun Mexico
We had a fabulous time, your home was absolutely gorgeous and it was just as the pictures described it. We thought that the staff was very accommodating and was nice to know that they were on duty round the clock for security. The big grocery store right across the street was great, we did a lot of stops over there. We were very pleased with the location we could walk to about everywhere we wanted to see and the boat to go across to the Island was right next door. I would recommend not to buy the excursions from the people who sell it randomly we went online and booked our own at Wet and Wild much cheaper and my kids were able to swim with dolphins water slides and a lazy river and included food and beverages all day. We would definitely go back! Thanks again and if we ever get a chance to go to Hawaii I would contact you for a place to stay there.. Have a great day and thank you again for letting us enjoy your lovely home..."
Stayed: August 2015 Submitted: August 24, 2015
Perfect location! Stop wasting your time searching!
I could go on and on about how great this place is but I will try to make this short and sweet. First off this property is located right in the center of everything but is in a secure and quiet complex so you when you are done with whatever you were doing that day you can come back to piece and quiet. One of my favorite things to do after a hard day "out on the town" is coming back to the condo and taking a nap on the patio and listening to the waves crash. Or just lay in bed with the door open. Its that safe where you can sleep with the door open and you wont have to worry. I wish you knew what I knew right now. You would stop your search and book this right now! We have been to Cancun 3 times now and this was by far the best place we have stayed. The last two times we did all inclusive. I will never do that again. No reason to when you can walk right across the street and buy your groceries from a brand new state of the art grocery store that has everything you need. Also, don't even think about renting a car. There is absolutely no need! Everything you need is in walking distance. Also, if you want to book an excursion just go outside, take a left, walk down the hill/driveway and go to the building on the first corner on your left. You will see it right away. They do a good job and they don't try to pressure you in to anything. Make sure to do Xel-Ha! So much fun! Also, make sure to take the ferry (which is right next door) to Isla Mujeres and rent a golf cart to tour the island in. The ferry is like 20 bucks per person for round trip. Wait... one more thing. Make sure to try out Calypso's. Cheap food, good service, and strong drinks! Its, just like everything else, in walking distance. Probably 4 blocks. I will continue to rent this property as long as its available. Stop thinking about it, just book it, you will not be disappointed!
Stayed: September 2015 Submitted: Septemb
Perfect spot
Our group of 4 adult children and myself had a marvelous time. Perfect location, lovely accommodations, very pleasant and helpful staff. We rented a car at Hertz next door and took an excursion. We had use of the washer/dryer, which was terrific. We loved being able to walk out the door to the pool or beach, just as I had imagined. We strolled the beach and stopped for lunch in some of the hotels. Having cocktails and dinner on our own terrace at our own pace was so delightful at the end of a busy day. And there were many restaurant choices just steps away on the days we did go out. So glad we chose Michel's place.
Stayed: December 2015 Submitted: January 15, 2016
Our slice of paradise...
Hello Michel, thanks for checking in with us. We are still talking about our trip daily because we had such a wonderful experience! The condo was absolutely perfect for our family and we truly had a spectacular time! With two very young children, the security of the premises was amazing and I couldn't believe that we had found a place like this in Mexico. We actually felt comfortable allowing our 3-year old run round the grassy courtyard while we relaxed on the patio. It felt like a second paradise!!! Everything was exactly as you described it, and the home is beautiful. We had everything we needed for our 10 day stay and honestly, we felt like we could stay for another 10 days. Our 2 boys (3 years and 9 months) also felt so at home and slept like babies (pun intended) every night just like they were in their own beds. During the week we pretty much had all of the condo amenities to ourselves and spent countless hours bouncing between the pool and the beach....sounds rough doesn't it? Awesome home, awesome experience!
Stayed: January 2016 Submitted: February 27, 2016
Combining elegance with convenience
We spent 5 days in this gorgeous, elegant condo, but we would have happily stayed for a month! The condo itself is even better than the photos, beautifully decorated, very large, with comfortable beds and everything spotlessly clean. We especially appreciated having the use of the washer and dryer. The ground floor location was really convenient, yet we felt very safe and private with friendly, unobtrusive security guards everywhere. There are 3 beautiful pools and the beach and ocean are right there. A huge Chadraui supermarket is directly across the street, and several restaurants nearby.
Cancun is known for its nightlife and there are nightclubs and bars nearby, but the condo itself was very quiet.
Fredy was so kind and helpful, as was the owner Michel Rubini, thank you for the privilege of staying in your beautiful condo! We have now been spoiled and would not consider staying anywhere else in Cancun. Casa Maya Playa has it all!
Stayed: February 2016 Submitted: February 25, 2016
CONDITIONS OF RENTAL

1. This reservation is for quiet residential vacation accommodations only. Therefore, parties, fiestas, weddings, receptions, reuniones, luaus, events, and gatherings of any kind are strictly prohibited. No additional people beyond the maximum occupancy of the condo (which is 6 people) are allowed on the property at any one time, unless disclosed to and agreed upon by The Owner in writing. The names of all guests staying at the property must be listed below. If the names of the guests in your group change, this must be communicated in writing to The Owner not less than 7 days before the guests arrival. Additional guests beyond those submitted below are not permitted and shall be considered a violation of this agreement and reason for forfeiture of any security deposit and cancellation of the contract.

2. Only 1 vehicle may be parked on the property at any one time.

3. Quiet hours are from 10pm until 8am. Guest use of property is subject to local noise ordinances, therefore loud amplified music, dancing, shouting or loud talking or moving of the furniture inside the home is not allowed. Noise complaints are subject to local law enforcement intervention. The Owner will see Law enforcement intervention as a violation of this condition.

4. The property shall be in the same condition upon departure as at check-in. Normal wear and tear excepted.

5. Guest may not sublet or assign this rental agreement.

6. Guest must immediately notify The Owner or the Property Manager of fire or other damage to the property.

7. Guest shall be liable for all acts of the family, invitees, employees, or other persons invited onto the property.

8. Guest shall be responsible to return all keys upon departure. (Please leave them on the large blue platter located on the kitchen counter).

9. Guest shall abide by the House Rules of the Owner as provided to Guest upon check-in.

10. Guest shall not bring any pets onto the property.

11. Guest understands that The Owner cannot guarantee that adjacent properties will be free from construction or other work. The Owner will inform Guest if it should learn of such construction or other work or plans for same that is scheduled for the dates on which Guest had reserved the Property. Any inconvenience caused by construction must be communicated to The Owner during the Guest's stay. The Owner at his sole discretion will determine if and in what amount any compensation would be due to the Guest.

12. Guest understands that Cancun has a tropical climate in which insects, rodents and lizards unfortunately flourish. You will undoubtedly encounter these pests during your stay and understand that The Owner will make his best effort to hold to an absolute minimum your interaction with these pests. Contact with a pest inside or outside of your rental is not reason for termination of this agreement nor a refund of your monies.

13. Guest is responsible for the removal of any stains or damage done to bedspreads and upholstery.

14. Guest shall not permit any use of the spas or swimming pools by unsupervised children or other guests. Guest and other invitees shall use the spas and swimming pools at their own risk.

15. Guest understands and acknowledges that the house is a non-smoking house and that smoking is not permitted anywhere on the property. Violation of this condition shall be considered a violation of this agreement and reason for forfeiture of any security deposit and cancellation of the contract.

16. Guest understands that there are certain risks inherent to persons and property located adjacent to the ocean. Guest acknowledges that the Owner would not rent this property unless the guest accepted these risks and conditions.

17. GUEST UNDERSTANDS that the floors inside the condominium unit, the swimming pool area, the hallways and the pool stairs and all stairways are covered with ceramic tile, and become slippery when wet, and the guest further understands that the owner will not be liable for any accident and/or damages caused by slipping or falling in these areas or any other areas of the building.

18. THE GUEST agrees to wear rubber-soled shoes when walking on any of the tiled floors both inside the unit and outside of the unit. GUEST AGREES that failure to do so will constitute a breach of this contract and further agrees that the owner will not be responsible for any accidents or damages caused by the failure to wear the proper shoes at all times while inside the unit or anywhere on the property.

19. GUEST ACKNOWLEDGES receipt of the "RULES OF THE CONDOMINIUM ASSOCIATION" including the Pool Rules and agrees to abide by them while staying at the condo.

20. Spa Rules
+The Spa will be open from 7:15 in the morning until 7:45 in the evening and the gym will be open as usual from 7am to 10pm.
+ Please reserve the use of the steam bath at least 30 minutes in advance.
+ Towels found in the spa and the gym are for everyone. Please do not remove them from these facilities.
+ Children under 18 are not allowed in these facilities.

**IMPORTANT POOL AREA NOTICE**
It is important to emphasize that the pool area is very slippery and great care should be taken when walking in this area. Please use rubber soled sandals when walking in the pool area. Owner is not responsible for accidents caused by slipping in this area.
Thank You For Your Attention To This Notice

*Number of Guests
Rates are based on the maximum number of guests reserved during the rental time period. For example, if a reservation is made for a total of 7 days, and 6 people stay for 5 days and 2 people stay for 2 days, the rate charged for the total 7 days will be the rate for 6 people. The rate will not reduce because of the reduction in the number of guests for those 2 days.

*Cancellation and Refunds
Cancellation of booking at any time after the Confirmation has been issued may result in forfeiture of deposit(s). Refund of moneys paid for rental and services (deposits) will be made only under the following circumstances:
1) The home becomes unfit for habitation and no equivalent substitute can be obtained by owner; or
2) The home is re-booked for the period of the initial booking for an amount equal to or greater than the initial booking under this agreement. If the home is re-booked for a portion of the term of this agreement, a pro-rata refund will be made based on the difference between the daily rental under this agreement and the daily rental on re-booking of the home.
All cancellations shall be subject to a service fee equal to 15% of the Total Rental Amount. This service fee shall be assessed whether or not the home is re-booked.
The owner reserves the right to cancel bookings at any time with a 30 day notice. If owner cancels a booking, all moneys received will be returned to the tenant(s) immediately. Owner shall have no liability to tenant(s) for cancellation except to refund tenant(s)'s deposit. Owner shall not be liable to tenant(s) and tenant(s) hereby waives all claims against owner for any injury or damage arising because of or resulting from cancellation by owner.

*Liability
Tenant(s) shall indemnify and hold harmless owner and the property (premises) and home and all improvements thereon, free and harmless from any and all liability, claims, loss, damages, or expenses resulting from tenant(s) occupation, and use of the property/premises, specifically including, without limitation, any liability, claim, loss, damages, or expense arising by reason of:
(a) the death or injury of any person, including tenant(s) or any person who is an employee, agent, tenant, or invitee, of tenant(s), or by reason of the damage to or destruction of any property owned by the tenant(s) or any other person, from any cause whatsoever, while that person or property is in or on the premises or in any way connected with the premises or with any of the improvements or personal property on the premises:
(b) the death or injury of any person, including tenant(s) or any person who is an employee, agent, tenant, or invitee, of tenant(s), caused or allegedly caused by either (1) the condition of the premises or some building or improvement on the premises, or (2) some act or omission on the premises of tenant(s) or any person who is an employee, agent, tenant, or invitee, of tenant(s), on or about the premises with the permission and consent of tenant(s):
(c) tenant(s) failure to perform any provision of this agreement or to comply with any requirement of law or any requirements imposed on renter of the premises by any duly authorized governmental agency or political subdivision.

Jurisdiction
This agreement shall be governed by the laws of the State of California without regard for its rules of conflict of laws. The parties hereto consent to the jurisdiction of the Superior Court of the State of California in and for the County of Riverside with venue to be established in Indio, California.
Palm Springs, California, United States
·
Joined in March 2010
Hi, I'm Michel Rubini, the very happy owner of a beautiful beach home on world famous Sunset Beach on the North Shore of Oahu, Hawaii, and 3 wonderful homes in Mexico, 2 in Puerto Vallarta and 1 in Cancun. I am a musician by trade, and I have been playing piano since I was 3 years old. I have always been a beach person and I really enjoy all my homes in all their wonderful locations. I think you will enjoy them also.

I came to Mexico in 2004 and fell in love with it immediately. I have been blessed with the good fortune to be able to live here with the wonderful Mexican people and share in their relaxed style of living, where everything slows down just a notch or two from the "hurry up" pace of America. Being a "beach bum" all my life all 4 of my homes are located directly on the beach and (URL HIDDEN) be able to sit on my terraces and view the ocean and listen to the sound of the birds and waves is a wonderfully relaxing experience that I look forward to every morning that I am here. I am very happy to be able to share my 4 little pieces of Heaven with you. I hope that you enjoy The Sunset Beach House, Casa Maya Playa, Penthouse Of The Dolphins and Home Of The Dolphins as much as I do. Aloha, Michel
Response rate:

75%(past 90 days)
Response time:
within a few hours
Explore other options in and around Cancún
More places to stay in Cancún: