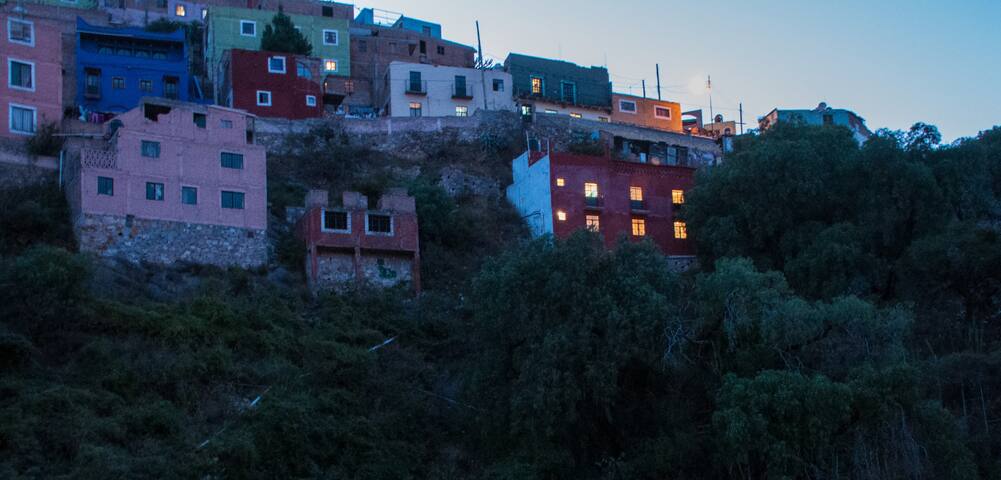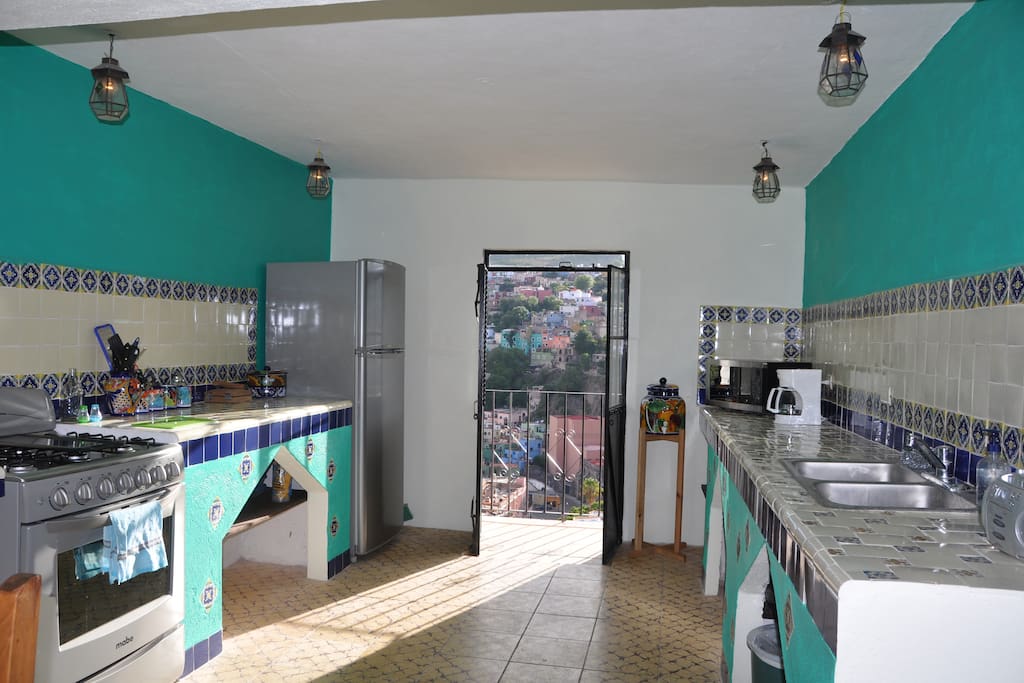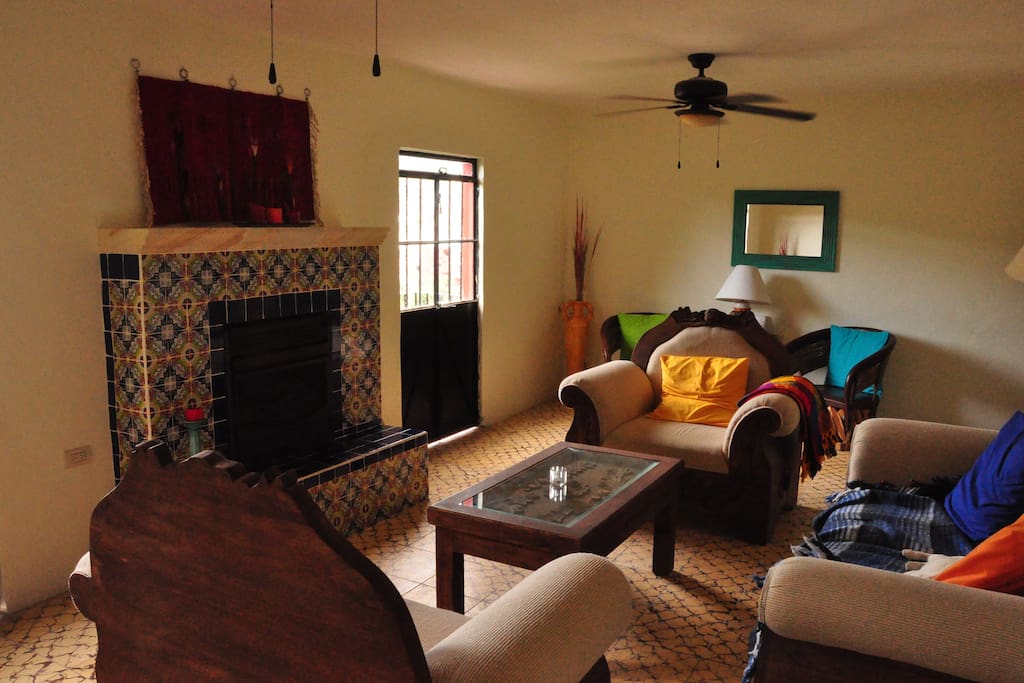 About this listing
La Rosa Roja, located on Transversal del Tecolote, is perched near the top of historic Callejon Tecolote ("Owl's Alley). The hike is well worth it, rewarding guests with exquisite views of the city below, and the Sierras surrounding the town.
The space
Guanajuato, nestled in the Sierra Madre at the geographic and spiritual center of Mexico, will soon become your heart's home. A UNESCO historic site, this beautiful city highlights Mexico's revolutionary and artistic past, while supporting a colorful, robust present. A former silver mining town, central Guanajuato is reserved for hardy walkers, with old mining tunnels serving cars, leaving steep, narrow cobblestone streets to pedestrians.
This 2-bedroom, 3-bath home has been completely renovated, with all new systems, furnishings and décor. Enter at the rooftop level, and note the huge terrace where you'll want to entertain, or simply bask in peace and quiet as you soak in the views. Fully tiled in traditional Mexican patterns, the roof is divided into three zones: the laundry area (with separate line outside for "solar drying,") the main entertainment area, and an open-air room to provide separation for reading, dining, or even sleeping under the stars.

On the main floor, enjoy a spacious, airy salon, measuring 22-feet long. Separate seating areas in this bright room flanked by two balconies include a great reading area with oversized equipales; wall space decorated with books, music, and a main seating space with couch and two overstuffed chairs surrounding the tiled gas fireplace. The small custom-designed office space just off the main salon, is equipped with a writing desk, shelves, and wireless connection for your convenience. The dining hall greets guests just past the main entrance, opening to a Mexican–style kitchen with all-new stainless appliances, traditional cookware and dishware, and yet another balcony. A full-sized bathroom completes the top floor—ideal for washing up before dinner, but equally usable for extra guests staying in the main salon.

The sleeping area downstairs boasts two master suites, both with comfortable queen-sized pillow-top beds, drawers and private closets for storage. The front suite, offers a deep corner soaking tub, custom tiled, with matching sink and commode. The back suite, offers beautiful Mexican antique bed and armario, with a cala lily/sunflower-themed bathroom, also featuring a soaking tub. Both baths have fantastic water pressure—a real plus in Guanajuato! Unique to this home is "La Cava," a cool, cozy wine cellar and reading area, also located on the downstairs level for your relaxation and enjoyment.

Owned by Americans with an appreciation for comfort, all bedding and linens are of natural fibers. There are easy-to-use gas fireplaces gracing the main salon, and gas heaters in each bedroom suite for those rare cool winter nights.

Interaction with guests
Our property manager is located a short 5 minute walk down the hill.
---
---
---
Always communicate through Airbnb
To protect your payment, never transfer money or communicate outside of the Airbnb website or app.
Learn more
---
Since the house is located in a traditional Mexican neighborhood, please show them respect by greeting them and behaving in a responsible manner.
---
Strict
Cancel up to 7 days before your trip and get a 50% refund plus service fees back.
---
This is a nice, very private home perched on the hill. You must be able bodied to get in and out, but the views are great and the facilities good. Mario, Rex's manager, makes getting to and from the airport a breeze, even late at night and early in the morning. There can be loud partying in the event facility at the bottom of the hill, usually on Friday and Saturday. But I guess I got used to it over my time there. All in all, it is a good, private perch from which to enjoy Guanajuato.
---
We had a great stay at Rex's place. Believe the reviews when it comes to accessibility. This was our 3rd trip to Guanajuato and this location was the toughest in regard to stairs BUT it was also the best view. There definitely needs to be lighting added to the outside stairs. When you arrive back at the house after dark, going down the outside stairs without lights makes those stairs treacherous! Rex has provided small flashlights, just don't forget to take them with you if you plan to return after dark. The kitchen is well stocked with everything you need during your stay. The towels are thick and soft - A+! There is plenty of hot water and the water pressure in sink faucets is great but only one shower had decent water pressure. This lack of water pressure is not uncommin for the area. The living room furniture is very comfortable which we really appreciated after longs days walking the lovely city. We really enjoyed varied CD selection that was available. The roof top patio is just great but only two chairs and a small table are provided for a home that easily accommodates 4 people. Would I recommend this location? Yes, definitely! We love this city and this is a very comfortable home.
---
This is a very nice home, situated high on a hill. Something like a 400 foot elevation increase from where you'll be spending most of your time. The climb once or twice per day is not for the faint of heart. Don't stay here with your parents or young kids. Another review does a good job counting all of the steps. Don't take it lightly. The house itself is very comfortable. Plenty of fresh water is available. Really nice WiFi. The views are gorgeous. Sitting on the rooftop deck with a glass of wine is a trip highlight (but the patio furniture could be a bit more comfortable). Great views from every single room. The plumbing is a bit more complicated or random than I expected. It was quite difficult to get a decent shower, given the complexities of the plumbing. Very likely typical in this city. There are some low ceilings in this home. Between us, we hit our heads 4 times. Please walk the stairs hunched over for safety. There were two nights of loud music coming from the disco below. It didn't cause us any trouble - we just used it for background music. The neighborhood is very safe. The whole city, really. Very friendly people. Very few speak English, but they are all willing to work with you to communicate. Cool little super-mini (convenience store) just down the street. Anything you might need. Wear very comfortable shoes. You'll be doing a lot of walking on cobbled streets. The local manager, Michael, is extremely helpful on all topics. His restaurant (Los Campos) is one of the top three in the city, and the only one of those downtown. Very convenient location to this house. It's extremely well-priced (he should charge more for the great food and experience). You'll go back twice. (URL HIDDEN)
---
My husband and I spent six weeks at Rex's home in Guanajuato in Sept./Oct. 2015. We had a fantastic time and overall enjoyed being in the house. The communication with Rex was quick and informative. Additionally, when there was a discrepancy between the amount agreed upon and the amount charged by Airbnb, Rex quickly issued a refund. Rex's property manager Michael (a native English speaker) was generally accessible and responsive. He lives in Guanajuato and he met us at the house when we arrived and also arranged for services during our stay. The house itself is exactly as described in the listing, and the location is very convenient to the historic center. The view is phenomenal and the furnishings are comfortable. The kitchen is well stocked with essentials and we were able to cook extensively. The only appliance that we missed having is a toaster. The water pressure is strong in two bathrooms and weak in the third; we never had an issue with hot water. The Internet (wifi) was generally good and we were able to stream movies, but it wasn't quite good enough to stream a movie and do something else at the same time. The following are some notes that I think are helpful to know prior to booking a stay. --The house is prone to having insects come inside. During our stay we found 11 scorpions ranging in size from tiny to medium/large as well as a variety of spiders and other small insects. The scorpions in the region are not dangerous, but if you're a wimp like me then seeing them can be a bit disconcerting. Rex and Michael mentioned that they intend to have the house professionally treated for bugs, so hopefully that will help. --As other reviewers have mentioned, the climb to/from the house is quite steep. The altitude is also higher than we were used to, so even as relatively fit 20/30 somethings, we were a bit winded going up during the first week. It was great exercise, but definitely a chore if you're carrying something or going up in the hottest part of the day. This house is definitely best for people who are in shape! Also, if you're staying long enough to have to bring your trash out, the dumpster is located up another very steep and long set of stairs above the house. --There is an event space on the hill below the house that occasionally has EXTREMELY loud events. I was skeptical until I heard it for myself. It's so loud that you feel as though the speakers are in the house and it's impossible to sleep. There were four events while we were there (we were away for two weekends, so possibly more) that typically ended by midnight, but the party for Independence Day (which was mid-week) went well past 2AM. In general, Guanajuato is not a quiet place (dogs, music, church cannons), so if you're a light sleeper consider bringing ear plugs. Overall a great stay!
---
We spent 19 days here in the house. It really worked for us, and Rex and Rita provided useful information about most everything a newcomer could want. We already know Guanajuato well, but still were impressed. The house is very nice and aesthetically pleasing, the kitchen very spacious and well equipped, beds comfortable, and three bathrooms. Martha and Juan, the property managers, were very responsive to our needs. 2 warnings: 1. This is NOT a place for anyone with any kind of accessibility issues! Even taking a taxi to the nearest point for drop-off will then require walking UP several (35) steep steps, then walking DOWN nearly 60 steps to get to the living room/kitchen level of the house, then another 10 or so down to the bedrooms. Reverse the up and down leaving the house. To get to the Centro, you then walk down a steep cobblestone callejón maybe 5 minutes walking fast, another few flat ground minutes to the central Jardín. On way home, steep uphill for 5-10 minutes, then the steps described above. And remember, elevation is 7200' above sea level! In hot weather, the climb up is pretty gruelling during the day. That said, we're in good shape, and welcomed the exercise. It was not a problem for us. But not for everyone. 2. The house is right above an event space that literally held afternoon through evening functions every night Thursday through Saturday the three weekends of our stay. These were weddings and quinceaños parties, with incredibly loud live and recorded music that lasted well past midnight (2:30 am one night) and, literally, caused the house to vibrate! If you are coming to study or expect a quiet night of sleep, you have been warned! Especially around the weekend. Apparently neighbors have complained, but to no avail. It is insane! And I am a professional musician and former dj! All that said, we had a great stay, appreciate the effort that was put into making the house so nice, and would definitely stay again.
---
This house is unbelievably beautiful! Truly amazing. The views, the neighborhood, the kitchen... everything was like the photo's and description but even better in real life. The house management was incredibly helpful on our arrival and even arranged a taxi for us to return back to df. We had an amazing stay and had some great workouts on the hills of Guanajuato. the only mistake i made was i brought my massive heavy wheeled suitcase (as I have been staying in df for a month), I do not recommend bringing any luggage that you cannot carry up many hills and steps!
---
We were welcomed at the airport in Leon. We felt at home the second we walked in. The house was just what we expected. A very clean and tidy private house in a local neighborhood. All of the neighbors seem to be locals. We were hoping to live in the Mexican culture. We enjoyed the views and the peaceful location. We had planned to do some work via the Internet. Great Wifi. A perfect place to relax and within 10 minute walk of the center of town. A very good trip
---
Exact location information is provided after a booking is confirmed.
Explore other options in and around Guanajuato
More places to stay in Guanajuato: