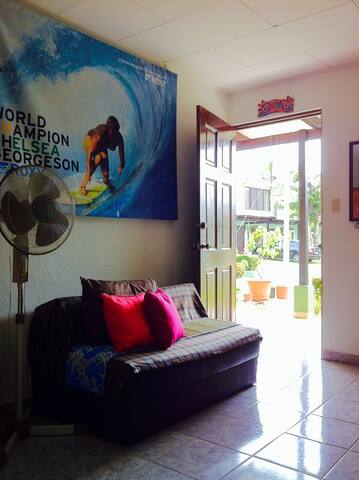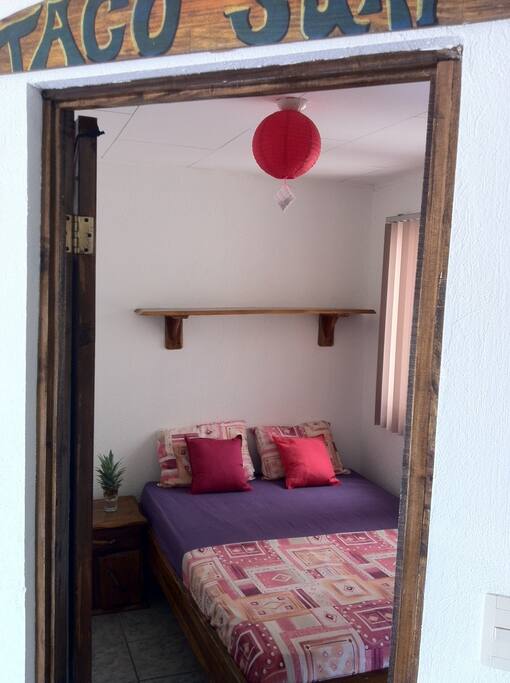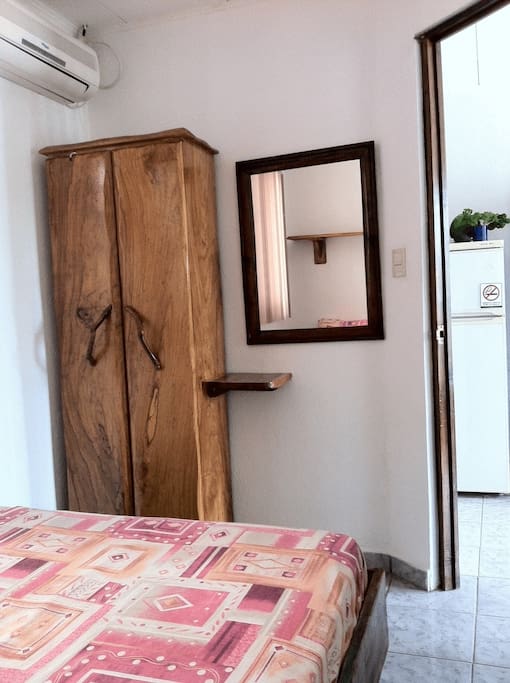 One bedroom condo is located on the main strip in Jaco. Cozy, clean, safe in a gated quiet location, only 1 block from the beach!
The space
This one bedroom condo is conveniently located on the main strip in Jaco with a walking distance to a supermarket, shops, restaurants, bars, cinema, performance theater and the beach is only 1 block away!
The condo is equipped with a Kitchenette, A/C, Cable TV, internet, Hot water shower, Refrigerator, Coffee Maker, Parking Space and Community Pool.
Interaction with guests
I live in Jaco all my life and I can give you recommendations on restaurants, running/ bicycle routes and other things you can do in Jaco and surroundings. Could also help you with transportation, booking tours and renting surfboards or bikes.
Always communicate through Airbnb
To protect your payment, never transfer money or communicate outside of the Airbnb website or app.
Kindly use the AC primarily at night time and do not leave it running when the room is unoccupied or when left the condo.
In sum, our experience was a disappointment. Arelyn was great with communication and responding through airbnb, and that was about the only positive experience. I never actually met her, she had her brother meet us to give us the key to the place when we arrived, which was fine, but it would've been nice to have met her. Our first impression of the place was that it was in a decent location in relation to the middle of town. The gated community was good, and the guards were very friendly. Arelyn advertised a "hot shower" and "coffee maker" which we found were both non-existent in the place. When I asked her about the hot water she said "we don't have it" and that was it. We didn't have wifi for the first day that we were there, but she fixed it the following day. The place was not clean. There were blankets covering the chairs and couches, which of course the pictures do not show. The white walls were covered in dirt and stains. The countertops were rotting in places and there were ants everywhere. There were several cockroaches, which are pretty typical for Costa Rica, but not in places that are kept clean and sealed. We were afraid to keep any of our belongings on the floors and made sure to shake everything out before we put it on (clothes, shoes, etc.). A lot of reviews mentioned that a bike was there for them to use, but we never saw one. While we were sleeping one of the nights we heard a loud banging that kept us up all night. The next morning we watched a piece of the roof blow off. When I messaged Arelyn about it she never responded. We ended up telling one of the grounds keepers about it and he fixed it. The shower head was not safely attached to the wall and was covered with mold (it must have just been cleaned prior to the picture that is posted on the site). The pool in the community was nice and kept very clean. I would've much preferred to use the outdoor shower at the pool rather than the shower in Arelyn's place! Overall, I would not recommend this place unless you are looking for a very "local" experience and don't care much about cleanliness, comfort, or insects. After spending 9 days in Jaco, we learned that there are SEVERAL better options for the same price or cheaper. We were originally going to extend our stay in Arelyn's place for another 4 days, but we ended up finding another place to stay for the rest of our trip. I'm glad we did, because I slept much better the rest of the time and didn't have to worry about a thing.
---
Arelyn was unable to meet me once I got into Jaco but was able to send her brother in law to let me into the condo. The neighborhood is gated, quaint, and well kept. The condo itself is as pictured and the a/c and fans were great, however the wifi wasn't working for either one of us and I wasn't able to contact Arelyn in time to fix it. There were also ants and a huge cockroach in the kitchen, so Arelyn said she would send the maid over but it was too late since we were only staying two nights. Overall the place was manageable and in a good location but should have been cleaned prior to us coming.
---
Host was very nice and even lent me a bicycle at no extra charge. The apt is a short walk from beach and nightlife in a gated neighborhood, so it is quiet at night. There is a laundry sink and clothes line in an enclosed sunroom so you can wash some things and not get beach sand in the pool.
---
I stayed in Jaco for the entire month of March 2015. Arelyn's apartment was the perfect place for me! The beach is right across the road and all the bars and restaurants are at your finger tips. The Hannia condo community is a very nice place as well. There is 24 hour security and the guards are very pleasant too. I didn't swim in the pool, but it looked very nice (albeit a bit small). Why swim in the pool when the Pacific Ocean is right across the street?! Arelyn was a super host!! She was always there for anything that I needed. She even gave me a personal phone to use. In fact, I met her entire family and I cannot say enough about what wonderful people they all are!! I HIGHLY recommend this apartment to all! Thanks Arelyn!!
---
The person that was handing the keys over to me was flying out of Costa Rica the day I arrived so was not able to meet me at the rental, I found out later that she was the care taker of the place and not the owner, so when I showed up the door was unlocked and the keys were on the coffee table. I was able to reach Arelyn by phone for directions to find it and had her on the phone when I went through the rental and made sure all the water faucets turned on, the lights turned on, the A/C worked, WiFi worked. The hot water turned out not be working, a shower head contraption with electical wires going into it, I called her after being there a couple days about it and she said she'd get an Electrician that lived in the same condos to come by and look at it but never got a call back from him or her about, she said she sent me a text that he was coming but I never got a text or message here about him coming. The bed was really uncomfortable, you could actually feel the rings of the springs in the bed so all night whichever side I was laying on the spring pressing into my arm or shoulder that arm would go numb, wake up, turn over, go back to sleep, then that arm goes numb, wake up, turn over, go back to sleep, repeat all night. I ended up leaving two days early after talking to Arelyn on the phone about the hot water and bed and she was really nice and aplogetic about it, and I got a credit to my final bill for the remaining two days and did not have to pay a penalty for checking out early. The area / condo neighborhood was great and felt secure with a gated entrance and a rotation of security guards 24/7 and those guys were nice too. Quiet at night, no loud partying going on. I paid $75 a night for the place and while I was there I looked at the listing on AirBnB and it was going for $50 which is what I felt it was really worth. So did I feel a bit ripped off? Yes. Was the place worth $75 a night? No. I ended up finding a hotel with a nicer bed and working hot water and the other amneties that this place had plus free breakfast for $60. Again, Arelyan was understanding about how I felt about being uncomfortable, and even offered me additional MORE free nights to stay there but I had to fly home and be back to work, when I suggested maybe charging $50 (what it was currently listed for) instead of $75 suddenly she couldn't understand English so well and was mixing up what I was asking/saying. Now listing is back to $75 again, not worth it. Good luck.
---
I am a young professional working and living in Jaco.


Languages:
English, Español
Explore other options in and around Jaco
More places to stay in Jaco: