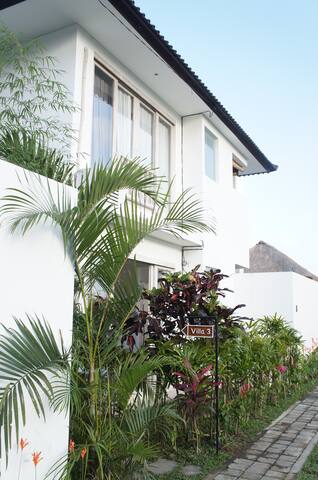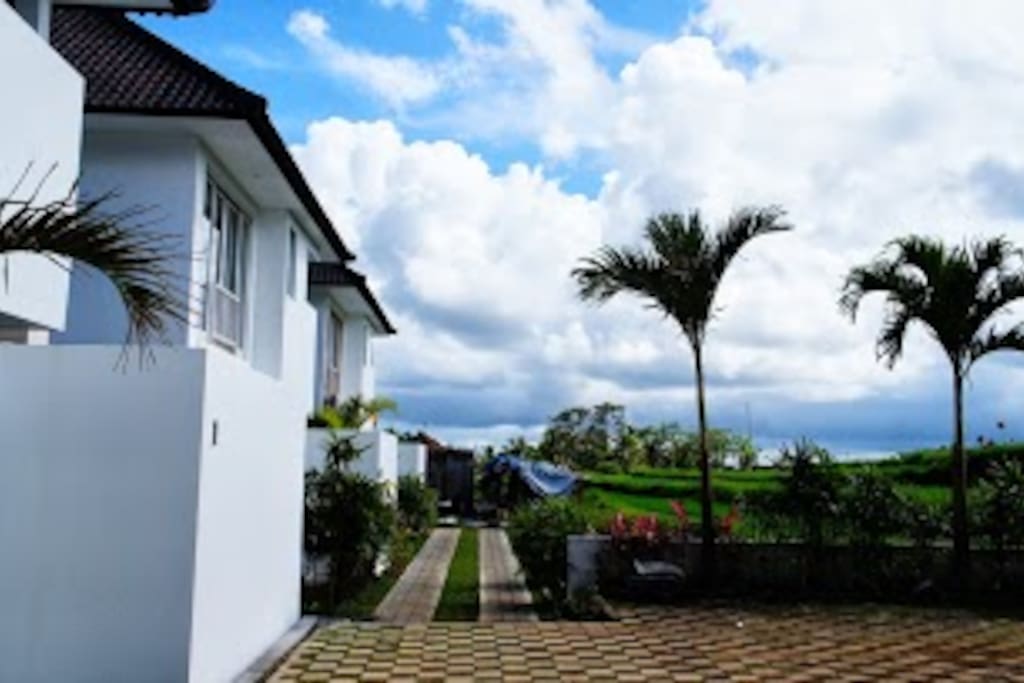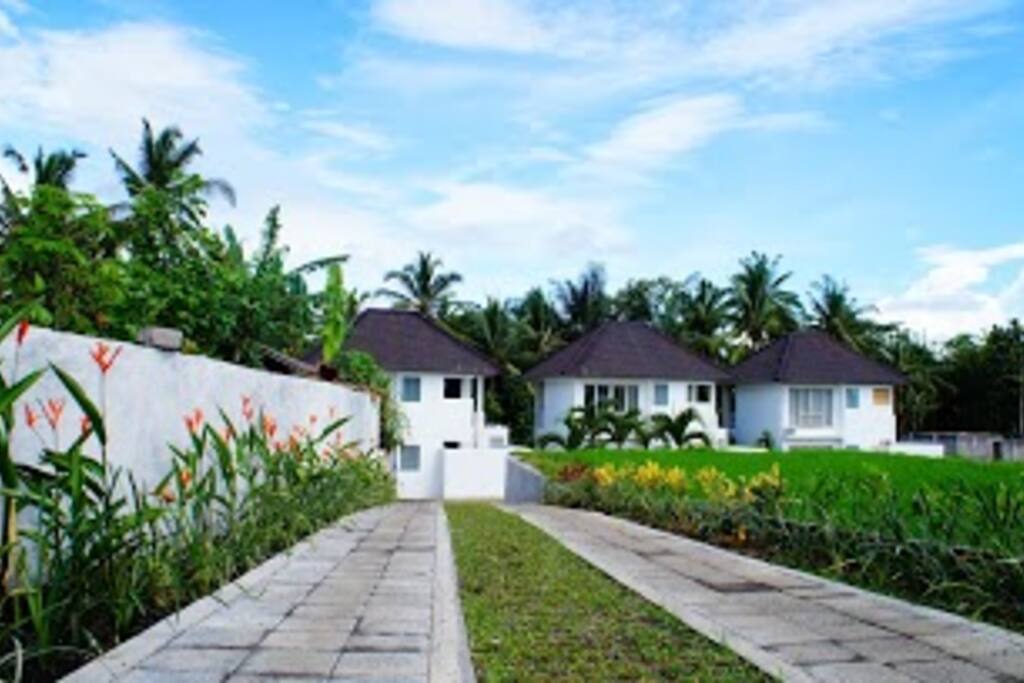 VIDYAA : MODERN DESIGNER VILLA UBUD
Pondok (Cottage) VIDYAA (V-1) deluxe designer villa has 2 AC (double) bedrooms and can accommodate 4 adults. Located within a complex of four villas called Villa Vinayaga, it is just 3 km away from central Ubud with awesome views of rice fields.
---
---
Always communicate through Airbnb
To protect your payment, never transfer money or communicate outside of the Airbnb website or app.
Learn more
---
It is not our intention to 'police' your actions and/or impose restrictions that stifle your style and spoil your holiday. Be that as it may, please respect the facilities and our other guests by abiding with the following guidelines.
DRUG & ALCOHOL POLICY
The use or possession of banned drugs and narcotics is a punishable offense in Bali which could result in the DEATH PENALTY. The observance of our ZERO TOLERANCE standards is therefore critical.
NO smoking inside the rooms. It is for your own safety.
NO pets allowed. It could disturb guests in the other villas.
NO loud music and party after 9 PM. Ubud is a very quiet farming village and everybody here enjoys peace and tranquility.
NO glass at the pool and pool area. It for for your own safety
Switch off the air conditioners & lights when leaving the room or not in use.
PLEASE CARRY A PRINTED COPY OF THE PASSPORT FOR EACH OF THE GUESTS AND HANDED IT OVER TO OUR STAFF, AS WE ARE REQUIRED TO SUBMIT THIS FOR COMPULSORY POLICE REGISTRATION OF ALL OCCUPANTS.
It is very important to enjoy yourself!!!
---
---
---
We stayed there for three nights. It's pretty hard to find the place since the number of the villa wasn't clear and when we asked some local people living around the area, they didn't know where the villa was located. We tried to reach the villa's keeper but he didn't seem to know the area well either. There was a problem with some lamps at our villa (no.1) on the first night there. In the morning, the water didn't work so we couldn't take a shower. We did inform the host and she told us that the villa's keeper would solve our problems. On the second day, finally we got transferred to villa no.4, which seemed better. It's more spacious and it isn't as dark as the previous villa. Unfortunately, the very same problem occurred: the water still didn't work until the last day of our stay.
Thanks for your feedback. As my staff however has already informed you the occasional interruption to water supply is beyond our control as this is a supply from the Government Water Board (PDAM) and hence such disruptions are entirely out of our control. Such incidents sometimes happen in Ubud due to technical reasons and/or maintenance. However what you have failed to mention is that you were upgraded to the far more expensive pool villa at no cost to you. Shampoo and soap is always supplied to guests but expecting toothpaste and welcome snacks is rather unrealistic in a villa operation of this nature. Please also note that our staff have accommodated a very late check-in at 10.00 pm, which is also outside standard practice. I would have been appreciated if your review highlighted both the negative and the positive aspects. While we appreciate your feedback we wish it was more 'balanced'. Thanks
---
We arrived in DPS airport late at night, and our driver Wayan was already awaiting us, he was very welcoming and friendly and took us straight to our villa. The place was very beautiful, clean, modern, tidy, just like the pictures. It isn't walking distance to anything but Wayan & his friend Umin took us wherever we needed to go with no hassle. They definitely played a big part in our trip as they were so so kind, welcoming and planned things for us and took us to places we never thought of going! We had very little contact with Shireen so not much to say about that. The only downside to the villa is that hot water runs out VERY fast, which means the bath is useless unless you just want a luke warm foot soak, also very low pressure, but other than that lovely villa.
---
The villa is nice, but there are tons of ants and other insects, but that is somewhat expected when you are in a jungle. Fairly close to the Ubud square, only about 5 minutes away. The villa was not ready when we arrived due to a commutation error between Shrieen and the villa caretaker. (No fault on the villa keeper, Shrieen just did not tell him we were coming) The staff at the villa was nice and helpful, except Shireen was difficult to deal with. Very short and matter of fact. Had a problem with her advertising the listing for a cheaper price, then charging us for a much higher price. To my knowledge I did not see anywhere on the listing of surge rates. Should be clearly posted, but was not. Overall I would not recommend the space because of the dealings with Shireen, but had that been better then I would recommend the villa.
---
The villa is very nice. Close to ubud center. 5 minutes by motorbike and in the middle of the forest and rice fields which makes it unique. Very easy and reliable to book. Clean and safe. The only cons was our transfer for Gili, since Ketut the caretaker booked tickets for us but when we arrived at the harbor we realized it was just a voucher and so we skipped the first boats. Apart from that i really recommend this villa!
---
Great value for money. So close to Ubud centre but we enjoyed the quitness around the villa. Ketut is a very friendly and warm person, helping you out with everything. We rented some scooters and that was the perfect way to travel to and around Ubud. Thanks again Ketut for your hospitality, kids are already missing you!
---
Yoshi's villa was fantastic! For the first part of our trip we stayed in his villa with the pool and then transferred to this villa. This villa was very comfortable, relaxing and clean. We just wish it had a pool. PROS - The villa is very well decorated and clean - Everything is private and you don't have to worry about anyone bothering you or seeing the other guests staying in the other villas. - All of the local restaurants and warungs deliver to the villa. Just take a look at the numerous menus that are left for you and dial. Warung Bintang is right up the street and even had live music! - The outdoor showers are fantastic! Showering outside and under the stars was so relaxing. - Ketut the caretaker is very kind and willing to help you with anything. - The kitchen is well stocked and great for cooking. We even had a cooking class! - The location is about a mile from the main road, so you're away from the crazy tourists and feel like you are somewhere exclusive and very private. - Anything you want can be taken care of. We had our laundry picked up and dropped off (very inexpensive), we rented a scooter for the week, we were able to hire a driver to take us around. - If you need a driver to pick you up from the airport or take you around on a tour, Made is very friendly and affordable - The location felt very safe CONS - The wifi is pretty slow but does work. Just don't expect to stream anything or make calls from your computer. - There are a ton of bugs. Honestly after the first hour, we got used to them and it was no big deal…your in the jungle so it's to be expected. Thank you so much to Yoshi, Ketut and Made. You made our stay wonderful and we can't wait to come back!
---
We've stayed in Yoshis Place for about 10 days as a family with two kids. It's a nice and calm place, rice fields in the front of the house, and palms and a jungle feeling in the back. A very relaxing and tidy place. It's a bit outside of Ubud, that means that it took us a 30 min walk to come to the center of Ubud. The nice thing about being a bit outside, is, you see more of the traditional way the Balinese people live. Because in the center, there are lots of Tourists. (Of course, it is also easy to take a quick and cheap drive to Ubud, if you don't want to walk) Our housekeeper Ketut is a wonderful person. He took very good care of us. And we could always come to him with any question we had. Also our friendly driver Made, who was recommended by Ketut brought us always safe to all places we wanted to go to. Our "second home" during our stay was the "sugars villas", a place very close by, where you could find a good breakfast and the nice pool. We've been there often as the kids enjoyed the pool and we enjoyed a cool drink at the bar and a nice talk with the neighborhood. Yoshi's Villas are a wonderful place to stay, if you want a nice and quiet place, while you are in the center of Ubud in just a 5 minute drive.
---
Hi, I am Shireen - your SUPERHOST at Villa VINAYAGA, a complex of four 'pondoks' (cottages), namely LAKSHMI, VIDYAA, DHARAA and PARAA. Welcome to Ubud. I promise you that I will do everything within my means to make your stay with us a memorable one.

Born in Malaysia, I spent the first few years of my professional life as a Flight Attendant with Malaysia Airlines before venturing into my family business and spending the next 15 years as the Director of Marketing for a diversified group of companies engaged in businesses ranging from food and beverage to printing and packaging, trading etc.

I now divide my time between Ubud and Kuala Lumpur. Why should you travel to Italy to EAT, India to PRAY and Bali to FIND LOVE when you can do all three right here in the "Island of the Gods" - BALI. It was love at first sight for me when I first visited Ubud. I am unable to think of many other places in the world where one could enjoy as much peace and tranquility. To be lulled to sleep by the rustling of leaves and the flowing of water in the stream below to being woken up in the morning by the chirping of birds, the croaking of frogs, the quacking of wild ducks and the crowing of the village rooster is a lifestyle that big city living just cannot offer.

A Mother of 4 teenagers, I manage to maintain a healthy balance between my work and family lives. I enjoy travelling and cooking. My Husband (an Australian management consultant) assists me with my business ventures and I value his support immensely. Our pet - a 2 year old poodle called LILO is very special to us and keeps us all very amused throughout the day.

My passion is to serve the needy and the less fortunate. As an active charter member of the Rotary Club of Seputeh, I am very committed to the alleviation of poverty and the provision of basic needs and life skills to impoverished communities in Indonesia and Malaysia. This business venture is another step towards enhancing my community service work in Bali. My motto echoes that of Rotary International - "Service Above Self".

Welcome to Ubud and do enjoy your stay with us at your "Home away from home". We are at your service at all times.


Languages:
Bahasa Indonesia, Bahasa Malaysia, English
Response rate:
100%
Response time:
within a few hours
Explore other options in and around Gianyar
More places to stay in Gianyar: