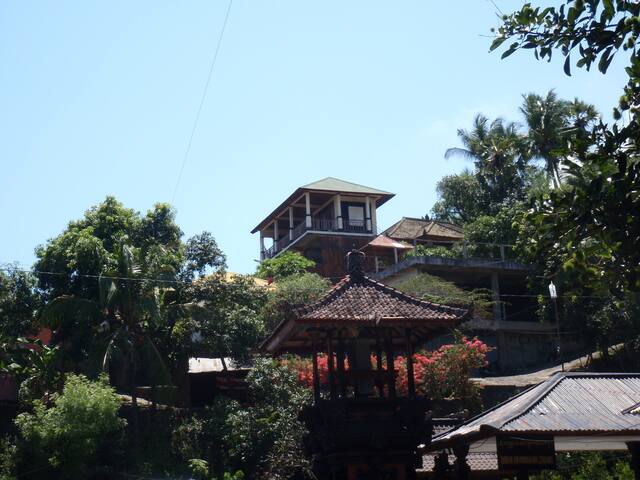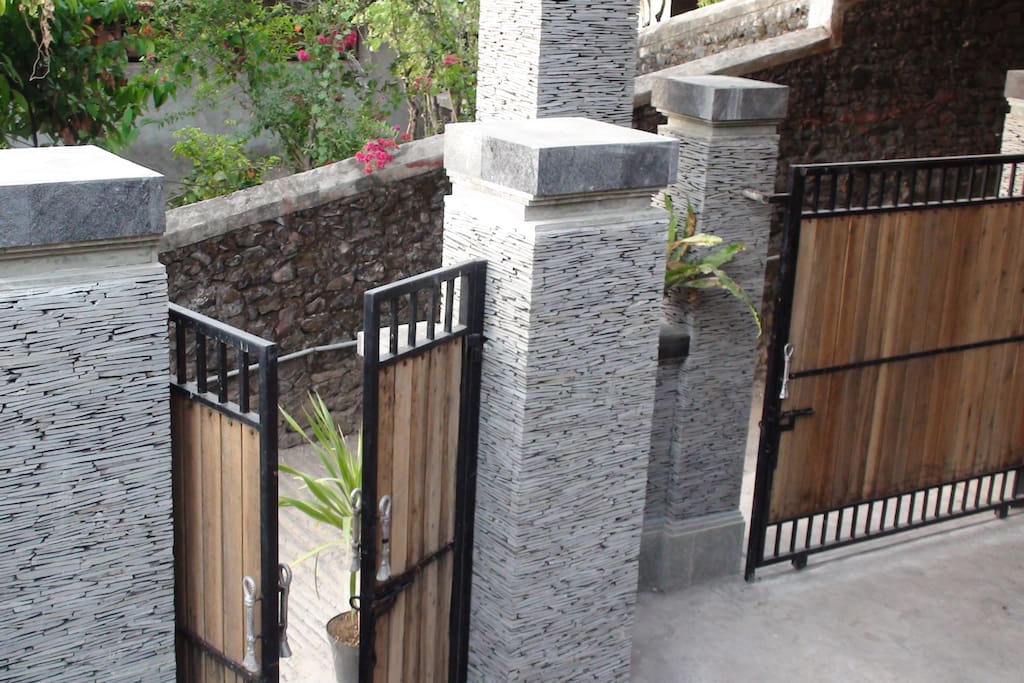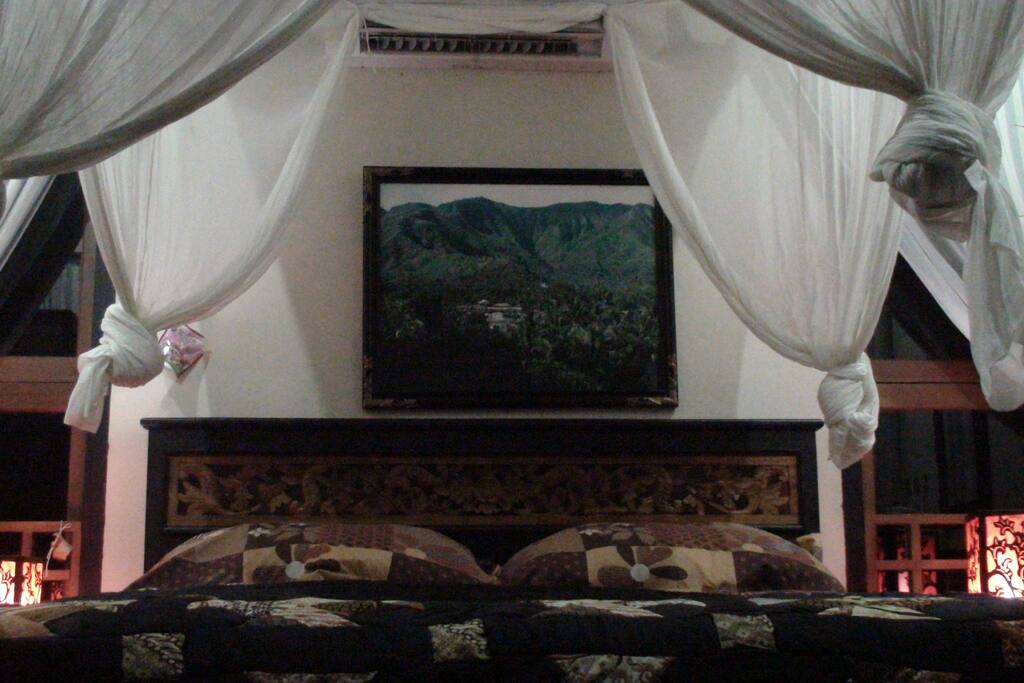 About this listing
A quality 4* western AC HWS accom [we CAN take 4persons in 2rooms @ cost per room -pls ask ] in a working Balinese village called Les. For people who want to wind back! No KFC etc. Peaceful walks beaches great views life is slooow and peaceful.
The space
We have TWO rooms- we CAN accommodate a family as we have 1 Double room & king size bed, one twin room & two 3/4 beds. NB. Advertised tariff is per room with B'fast. Both rooms 4* quality, see site images. To book both rooms say for a family you need to go to our "other" listing situated at Airbnb https://www.airbnb.com.au/rooms/3760940
or just email us telling what you want and we will sort out the details :) :)
There are few opportunities left to go back in time and slooow down. This is an unspoiled working Balinese village that moves to the religious and spiritual beat of Balinese life. It's around 8.5k persons, with many temples and associated activities. It is in the NE of the Island and backs onto the two main mountains, hence there is only dry land farming. There are local guides we can introduce you to, who can take you for long walks or you can just explore on your own. Beaches are unspoiled and clear of people, solitude is easy. NB it is remote, in Balinese terms, there is no night life for tourists and also no western pharmacy so do take basic needs. Each day there is a local food and goods market and this is a great way to start your day by having an early coffee at the market Warung, [black sticky rice 'Gadja Cus Cus' is great too!] and watching local life go by. Because of the properties elevation mosquitoes are not a problem - common sense still applies re covering up etc.
For SCUBA and environment enthusiasts volunteer work on coral reclamation is available. We also have two good six gear bikes with baskets and luggage carriers for your use.
Guest access
The property has two rooms, [advertised tariff is per room so if you want two rooms for a family you need to x2], a double and a twin. Breakfast is included in your tariff but other meals can be purchased very economically at several local Warungs. You are in The Spice Islands so do experiment with the local cuisine. Tea and coffee facilities are in each room, as is a fridge and safe box. Rooms are AC and shared bathroom has HWS and WC as well as privacy. We can arrange all pickups and drop offs to anywhere on the island as well as meet and greet at airport. Motor bike taxis are available at your accommodation and we can connect you to English speaking guides also an AC vehicle and driver for hire, who can meet you off the plane and be at your call to take you to any part of the island, at local not tourist prices.
Interaction with guests
Les is as we said remote. Bahasa Indonesian is understood but the langua fraca is Balinese. We can arrange hire of transport and English speaking guides for your whole trip or English speaking local guides can be hired and we can arrange a safe driver with good English for getting in / out and accompany you for your stay, if desired. The accommodation is on a private level above the family dwelling and little communication is possible excepting in Bhasa or Balinese with the family. [We will have an English speaking liaison person on call for you.] The local population is extremely friendly and sign language works pretty well for basic needs. The focus of the property is a wind down opportunity in friendly and unique environment away from western push and shove. Mobile phones work well, both voice, SMS and Email. Opportunities for learning crafts, Balinese cooking, dancing or language can be arranged. Very very good massage can be arranged on your verandah [also inexpensive!]. SCUBA and snorkelling are also available as well as visiting an international corral rehabilitation project or other local attractions. Les has a world class water fall that is a Must Do. Just ask, we want you to enjoy.
Other things to note
If you have food allergies YOU are responsible. Observe basic food rules and always drink bottled water. That said you are in the spice islands so sample local cuisine and fruit is always available according to season. Two six speed bicycles with carry baskets can be used by guests, please ask. NB we do not provide cycle helmets. Whilst we can supply WIFI by request at no cost, you should be aware that three mountains partially block all of north Bali's signal. Consequently www connections can be erratic in N Bali by WIFI. Smart phones have no problems, the local mast is in plain view from the property.
---
---
---
Always communicate through Airbnb
To protect your payment, never transfer money or communicate outside of the Airbnb website or app.
Learn more
---
Les is an unspoiled village with a Hindu religious base, please respect this. You will be welcomed at temple festivals but do observe protocols. We have a NO SMOKING policy on the property and please no late night carousing. Accidents are tolerated but damage is not.
---
Moderate
Cancel up to 5 days before your trip and get a full refund, including service fees.
---
---
This place held the charm of a true Balinese village experience, and all that comes with it. Truly for those who want to experience village life - the bustling market in the morning (early), the (extremely) friendly villagers, children flying kites on days off, chickens running everywhere, small warungs where you can purchase cheap but very delicious food, and family & village temples. The view from the rooms is AMAZING. The porch is the perfect spot to sit out on during the day (fantastic view of the jungle and sea) and night (lights of the local fishing boats dot the ocean). The bed is extremely comfortable, the room cool and clean and the bathroom is perfectly Balinese. The only minor discomfort is the early morning Hindu call to prayer that is broadcast to the village on loud speakers. It is part of the village life but if you are a light or late sleeper, this could be an issue. We suggest earplugs and/or a white noise machine and you'll be fine. Let me reiterate what others have said here - Made & Ketut and their family are absolutely the most welcoming, wonderful people you may ever meet. Be sure to ask for a cooking lesson if you enjoy Balinese food. It was the highlight of our entire Bali trip! And enjoying the meal we made with their whole family is something we will treasure the rest of our lives.
---
Thank you very much, we had really nice time at your place. Made and Ketut are nice open minded people and I would definately recommend this place for everyone which would like to get in touch with local people and explore local culture. I will come back one day :)
---
If you really want to dive into the Balinesian culture, Made's and Ketut's place is just what you are looking for - not just because of the life in the remote village of Les, but especially because of the friendliness and generosity of Made and Ketut. They shared so much of their culture with us - be it traditions, Hinduism or cooking (Made's cooking is excellent and also her mother and mother in law are great cooks). You can really become a part of their life if you want. Because of that, they were far more than just AirBnB hosts for us.
---
If you like to enjoy a quiet and relaxing yet adventurous holiday, this is the perfect accommodation. The perfect location away from the busy city. Surrounded many outdoor activities and wonderful helpful kind locals. A beautiful rooftop view out looking the ocean, a sea of palm trees, mountains with a back drop of both sunrise and sunsets. The local hosts (Made and Ketut) were absolutely incredible!! The most gorgeous souls you'll ever meet. Super helpful with the biggest hearts. Happy to organise site seeing, provide transport 24/7 and also give guidance 24/7 where ever you choose to go. (Being so far away from the city, given its a village area, there aren't a lot of English speakers so it's handy to have either Made or Ketut to translate!!) My boyfriend and I LOVE to travel and enjoy experiencing other cultures...this was one of the best trips we've had!! Tejakula - Les provides you with the REAL BALI!!!
Melissa, we are all so pleased that you enjoyed your stay with us in Les. We feel that Les is the "Real" Bali, not the Kuta/Legian scene. Made and Ketut as well as their extended families are keluarga to Helen and I so we have experienced at first hand their warmth and friendship. Do tell your friends about your visit. Half of what we receive from visitors is given to educating the children in Les, who's families cannot afford to finance education for them beyond primary school. Search on the web for our foundation and more information with three w's then (URL HIDDEN) Many thanks for your comments above. Sampai jumpa lagi Harry.
---
Of our 11 day trip in Bali, Les was our FAVORITE destination! Come here if you want to experience the authentic daily life of the people in Bali. The host, Made, lives beneath your unit and she is AMAZING. She will take you to the market in the morning, show you the local ingredients, and then teach you how to cook with them at night. She will take you to the temple, the school, or do anything she can to show you her village. The driver/tour guide (also named Made but a different person) is also amazing. He drove us to Mount Batur and then on a whim decided to hike it with us... in flip flops! But he was more able to climb the mountain than we were! The accommodation is superb. The view is just as beautiful it looks in the pictures. The deck is spacious. The bed is supremely comfortable and they had the largest towels that we had seen in all of Bali. Even though it is a small village, there is tons to do! Go to the school and talk with the students in English, see how salt is made, visit a living coral reef, see the Les waterfall (and climb to the top if you are very brave!) go to temple, or hire a car and see some neighboring villages for the day. There is so much to do and see in Les, you will not be sorry for staying here!
Steve and Julia you will be made most welcome in Les any time you want to come back. Our grapevine says that the local Balinese you came close to, were fascinated by your different accents, to other white skinned persons that speak English :) We are all so glad that you had such a great time and you certainly did lots of exploring. Yes Made [ Astriasi who lives on the floor below you ] is one of the warmest most charming and delightful persons anybody could wish to meet. I am so glad that you have given her the tag of "AMAZING" and she has done so much for village children's education, through YKIP and our own foundation Ethical and Green. You carry our strong recommendation to other hosts. Harry, Made, Ketut and all at Les
---
A true Balinese experience...wonderful people, a stunning waterfall, real village life. The accommodation, just as pictured, would easily suit two couples or a family, very comfortable, AC worked fine with balcony views over rooftops and coconut palms to soothe your soul and to marvel at the homemade kites soaring so high. Harry made every effort to prepare and inform us for this authentic village experience and Made, our host, ensured we had delicious Balinese breakfasts with superb coffee and graciously attended to our every request. She organised Kadek to guide us around the temples and the village, a font of knowledge and such an open door into Balinese traditions. Explore the early morning food market, try the small local food stalls for delicious Balinese food, essentials from tiny shops...there are no tourist touts. Walk to the waterfall, our guide Casper enthralled us with local history, botanical gems and patiently led us to the world heritage class waterfalls. Being active 60+ travellers we explore by foot or local drivers. We travelled from Sanur then onto Bedugul before venturing to Desa Les, catching the daily shuttle bus back to Ubud. Understand that Hindu temple life is very traditional here with regular music and chanting, the rhythms of subsistence village life surround you...a very special experience. We commend all that Harry, Made and the village elders are doing to promote education and Eco tourism to benefit, sustain and share this special place.
Patricia and Antony are the guests that we all enjoy welcoming and taking in as "Family". Thank you for your sensitivity and appreciation of Desa Les and its life. As we impress to all who enquire, this is the Bali that Margaret Meade wrote about, before Kuta and Legian and all of the glitzy pseudo Bali, that too many Parawisata think is Bali. Made, Kadek and Casper all send their good wishes and the hope that you will come again, for you will always be welcome. Jaka diri baik baik ya.
---
I run an online training business, which also underwrites the costs for a Foundation promoting education for disadvantaged persons 3xw spot ethical and green spot org....anisation This means that 100% of monies get to point of need. What you spend with us in Les is divided 50% to education for impoverished Bali children and 50% to our Balinese partners. My wife and I travel a lot and like to have a self contained base to live in, whilst we explore an area, so maybe you do too? We [think] we are pretty easy going and flexible, enjoy food and cooking, meeting new people, exploring country sides and small towns, we are not big city people, Les is our escape hole, which we are happy to share with like minded people. After Australia, Europe and Asia seem so explorable with short distances and large populations! Helen is fluent in French, German and Ivrett and I can get by in Bahasa Indonesian/Malaysia. Our interests are based around reading, classical music, cooking, gardening and for me out doors activities that include SCUBA and fishing. Dogs and animals generally are among our best friends. We will be pleased to share our tranquil retreat and the Les village experience with persons who value such.
Ketut and Made are our Balinese partners, warm hospitable people who have family in Les and they communicate very well in English and Made in Japanese. Having them along as guides and for transport can make SO MUCH difference to your visit, please give this aspect lots of consideration, we make all arrangements for you from meet at airport on arrival and/ or pick up at hotel. [NB transport is not included in the tariff but we get for you at basic Balinese -ie not tourist- prices from our partners] We want you to have a very positive experience and an unspoiled Balinese village is not geared to tourism, be clear about this. English is rarely understood, basic Bahasa Indonesia and sign language work and we can connect you to a local guide if you are wanting to be independent. There are no street names in the village either! IF you want to be independent and get there on your own, we send you a rough map of the village streets and actual GPS co.ordinates taken at the accommodation on my IPhone,[ isn't technology wonderful ] with a printed picture from the web page you will find our way to the accommodation ok, but really its inexpensive and so much easier if you are taken or met by a local. :-) :-) We know we can show you the Bali that Margaret Mead wrote about, if you let us guide you!
Response rate:
100%
Response time:
within an hour
Exact location information is provided after a booking is confirmed.
Explore other options in and around Les Village
More places to stay in Les Village: