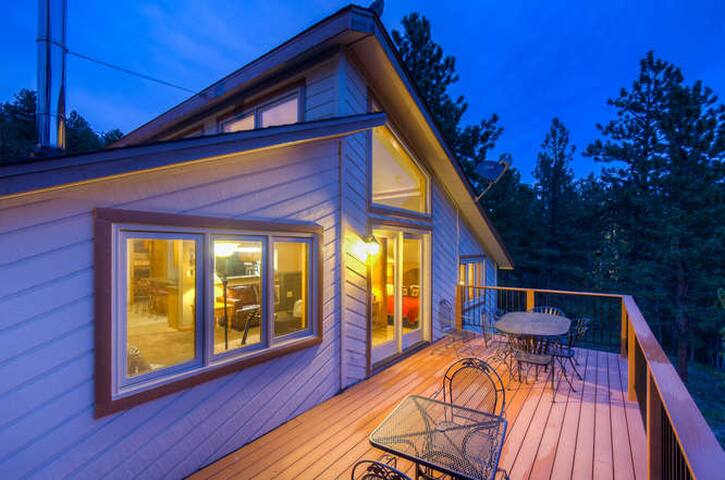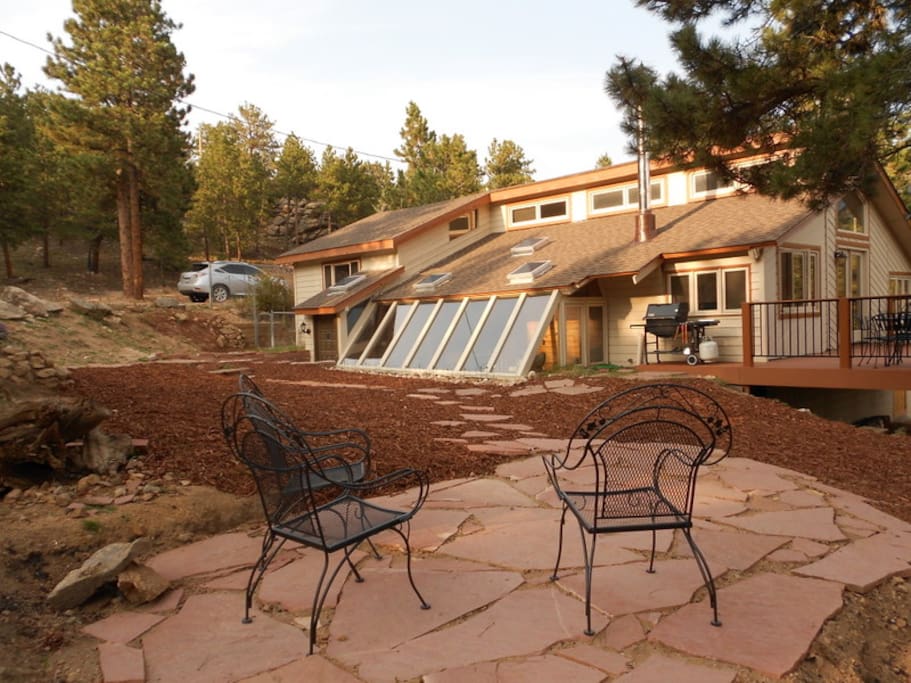 Fabulous Private Lodge - Over eighty 5 star reviews on other websites.
Centrally located in the mountains of Golden with great access to Boulder, Denver, and many mountain towns including skiing.
Unbelievable views - Serene yet close to restaurants, coffee shops, hiking, fishing, biking, skiing, skiing and much more. Back deck overlooking thousands of evergreen trees 2.5 acres along with open space and a stream. Sleeps 8-10. 2 baths Lots of parking Cozy wood stove with wood provided!
The space
Secluded and private yet close to amenities located in Coal Creek Canyon.
'This lodge has all of the amenities of a luxury home and is located in a semi-secluded area. We felt like we were truly getting away from the hustle and bustle of life with the added bonus of being close to the Denver area.'
'Just returned from 5 days at this wonderful home with my family. Tucked into the mountains, this is a beautiful, rustic but updated home ...close enough for easy trips into the wonderful towns of Boulder and Golden. Hiking trails abound in the Boulder/Golden area, all within short driving distance. Eldora Ski Resort is great for skiers of all levels, close by, and the views on the drive through the mountains one of the most beautiful you will experience.....The home is well furnished and equipped and communications with the owner are excellent.'
Perfect for a romantic getaway, recreation, family retreat or business trip. Nestled in the woods of Coal Creek Canyon, this lodge is private and peaceful. It is within 2 miles of Hwy 72 so it has great access .
Snow shoes provided for our wooded areas and on the property and adjacent land. Roads are plowed by the county and driveway privately.
Activities in the area: All within about a half hour.
Fishing, ice fishing, hunting, hiking, rock climbing, golf, kayaking, rafting, horseback riding, bike riding, atv, motorcycle riding, snowmobiling, boating, hunting, snow shoeing, sledding and cross country skiing, downhill skiing, golf, gambling, shows, Coors Brewery, and shopping.
Areas within about a half hour:
Historic Golden, Boulder, Blackhawk and Central City, Nederland, Gross Reservoir, South Boulder Creek, Golden Gate Canyon State Park, Caribou Open Space, Boyd Lake, Eldora Ski Resort
The small mountain town of Nederland is quite an experience to explore. Rafting in Idaho Springs 41 miles. Denver is also just 35 miles away where you can enjoy The Buell Theater(concerts, plays, symphony), Natural History Museum, Denver Broncos football, Colorado Rockies baseball, Denver Nuggets basketball, Avalanche hockey and so much more. Water World Water Park is within 45 minutes as well as Elitch Gardens Theme and Water Park. Breckenridge, Keystone, Copper Mountain, and Vail Ski Resorts make a good day trip. Rocky Mountain National Park and Estes Park are 60 miles away. Rafting and hot springs in Idaho Springs. Denver Intl Airport is an hour away. National Western Stock Show, Red Rocks Amphitheater is 26 miles and you can take a party bus through (URL HIDDEN) (PHONE NUMBER HIDDEN). Check out Elderado Hot Springs and enjoy a massage.
This lodge has incredible views and privacy within the woods. Wildlife can also be seen. It is within minutes to a convenience store, liquor store, an authentic German restaurant, and a Mexican/American restaurant. There is also a coffee shop close by where you can rub shoulders with the friendly locals and enjoy periodic musicians. A Non-Denominational church is close by as well. You will really experience Colorado here. We have a wood burning stove with plenty of wood so you can enjoy a cozy fire with snow flocking the abundant trees on the property. There are vaulted ceilings throughout with many skylights. Enjoy a barbecue on a spacious deck with breathtaking views. There is hiking, sledding(provided) and snow shoeing(provided) on our wooded property and open space. We have also have frisbees for you to set up a course and have a fooseball table inside as well as many games, books and videos. The lodge has been newly professionally remodeled and is made for a vacation rental, no personal belongings here, it is yours to enjoy. There are extremely comfortable beds in each bedroom. It has a mud and laundry room and 2 car garage.
Dinning area provided for 10 people. Bedding, towels, kitchen pots, pans, utensils, etc are also provided - fully furnished. Entertainment: 2 television sets with dish network, Netflix, Wii Games, WiFi, and phone.
We have a 3 night minimum but if there are less nights available between stays you can book them.

Peaceful, tranquil and charming, you will never forget your time spent at Rudi Lodge.
Guest access
Electronic lockbox for arriving at any time. 2 car garage.
Interaction with guests
Call me or email with any questions.

We have a 3 night minimum but if there are less days available in between stays you my book them.1 week stays only during Christmas, New Years and Thanks giving please.
Other things to note
We prefer a 6 day minimum stay on holidays.
Check-in is anytime after 4PM
Self check-in with keypad
There is a list of instructions for things to do on the inside of the house, ie. linens, towels, etc
No smoking or pets in house or you will loose your security deposit. No marijuana shall be brought into the lodge, if this happens a bad review will result and action taken with Airbnb. Renter is personally responsible for any damages to the property. No more than 10 persons in Lodge. No fires on the property except in wood stove.
This Rental Agreement and Contract (the "Agreement") is a legally binding
agreement made and entered into as of the Reservation Date which is agreed upon.written below by
and between the person(s) or company (the "Guest") and the
owner, manager or agent ("Rental Agent"), pursuant to which the
Guest has agreed to rent the residence described below (the "Property" located at 339 Rudi Ln., Golden Co.), for the
duration of the Rental Term for the Total Rental Fee and other good and valuable
consideration as described herein.
OCCUPANCY
Guest agrees that no more than [10] persons shall be permitted on the
Property at any time during the Rental Term, all of whom shall comply with the
conditions and restrictions imposed upon Guest under this Agreement.
CONDITION AND USE OF PROPERTY
The Property is provided in "as is" condition. Rental Agent shall use its best
efforts to ensure the operation of all amenities in the Property, such as internet
access, satellite or cable TV access or hot tubs, fireplaces as applicable. Rental
Agent shall not be held responsible for such items failure to work, but will make
every effort to correct any issues as reported as quickly as possible. Guest
acknowledges that use of amenities such as hot tubs, pools, spas, fireplaces,
decks, and the like may be potentially dangerous and involve potential risks if
improperly used, particularly with regard to children and such use is at the
Guest's own risk.
Guest shall use the Property for residential purposes only and in a careful
manner to prevent any damage or loss to the Property and keep the Property in
clean and sanitary condition at all times. Guest and any additional permitted
guests shall refrain from loud noise and shall not disturb, annoy, endanger, or
inconvenience neighbors, nor shall Guest use the Property for any immoral,
offensive or unlawful purposes, nor violate any law, association rules or
ordinance, nor commit waste or nuisance on or about the Property. There is no
smoking inside or fires outside.
DEFAULT
If Guest should fail to comply with the conditions and obligations of this
Agreement, Guest shall surrender the Property, remove all Guest's property and
belongings and leave the Property in good order and free of damage. No refund
of any portion of the Total Rental Fee shall be made and if any legal action is
necessary, the prevailing party shall be entitled to reimbursement from the other
party for all costs incurred.
ASSIGNMENT OR SUBLEASE
Guest shall not assign or sublease the Property or permit the use of any portion
of the Property by other persons who are not family members or guests of the
Guest and included within the number of and as permitted occupants under this
Agreement.
RISK OF LOSS AND INDEMNIFICATION
Guest agrees that all personal property, furnishings, personal affects and other
items brought into the Property by Guest or their permitted guests and visitors
shall be at the sole risk of Guest with regard to any theft, damage, destruction or
other loss and Rental Agent shall not be responsible or liable for any reason
whatsoever.
Guest hereby covenants and agrees to indemnify and hold harmless Rental
Agent and their agents, owners, successors, employees and contractors from
and against any costs, damages, liabilities, claims, legal fees and other actions
for any damages, costs, attorneys fees incurred by Guest, permitted guests,
visitors or agents, representatives or successors of Guest due to any claims
relating to destruction of property or injury to persons or loss of life sustained by
Guest or family and visitors of Guest in or about the Property and Guest
expressly agrees to save and hold Rental Agent harmless in all such cases.
RELEASE
Guest hereby waives and releases any claims against Rental Agent, the Property
owner and their successors, assigns, employees or representatives, officially or
otherwise, for any injuries or death that may be sustained by Guest on or near or
adjacent to the Property, including any common facilities, activities or amenities.
Guest agrees to use any such facilities or amenities entirely at the Guest's own
initiative, risk and responsibility.
ENTRY AND INSPECTION
Rental Agent reserves the right to enter the Property at reasonable times and
with reasonable advance notice for the purposes of inspecting the Property or
showing the Property to prospective purchasers, renters or other authorized
persons. If Rental Agent has a reasonable belief that there is imminent danger to
any person or property, Rental Agent may enter the Property without advance
notice.
UNAVAILABILITY OF PROPERTY
In the event the Property is not available for use during the Rental Term due to
reasons, events or circumstances beyond the control of Rental Agent, Rental
Agent will apply due diligence and good faith efforts to locate a replacement
property that equals or exceeds the Property with respect to occupancy capacity,
location and value that meets the reasonable satisfaction of the Guest. If such
replacement property cannot be found and made available, Rental Agent shall
immediately return all payments made by the Guest, whereupon this Agreement
shall be terminated and Guest and Rental Agent shall have no further obligations
or liabilities in any manner pertaining to this Agreement.
ADDITIONAL TERMS TO THE RENAL AGREEMENT
In addition to the standard terms included herein, Guest acknowledges and
agrees that the following additional terms and conditions apply to the Guest's
rental of the Property:
GENERAL PROVISIONS
This Agreement contains the entire agreement between the parties with regard to
the rental of the Property, and any changes, amendments or modifications hereof
shall be void unless the same are in writing and signed by both the Guest and
the Rental Agent. This Agreement shall be governed by the laws of the
Commonwealth of Massachusetts. The words "Rental Agent" and "Guest" shall
include their respective heirs, successors, representatives. The waiver or failure
to enforce any breach or provision of this Agreement shall not be considered a
waver of that or any other provision in any subsequent breach thereof. If any
provision herein is held invalid, the remainder of the Agreement shall not be
affected. Any notice required to be given under this Agreement shall be in writing. When guest's payment and reservation are made they agree to the terms of this Rental Agreement.
Response rate:
100%
Response time:
within an hour
Explore other options in and around Golden
More places to stay in Golden: