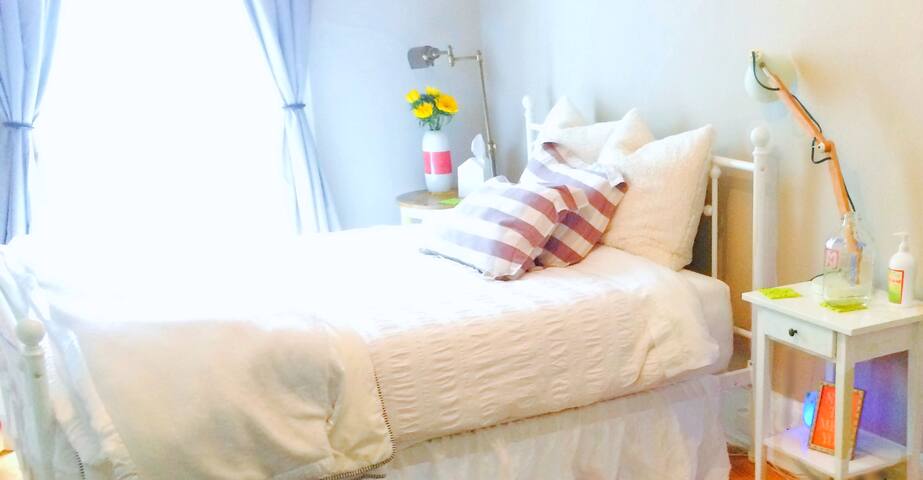 Private room
2 Guests
1 Bed
About this listing
Make yourself at home! Comfy bed, artsy, clean, quiet, safe home in hipster heaven. This is a 1901 Edwardian. Stairs to 2nd floor are steep. 6+ public transit lines. Walk/bike to Castro, Mission, Alamo sq, food/drink/shop on block & surrounds.
---
Check Out:
12:00 PM (noon)
---
Kitchen
Space where guests can cook their own meals
Essentials
Towels, bed sheets, soap, and toilet paper
+ More
---
Extra people:
$10 / night after the first guest
Permit / Tax ID:
Permit #15420297
---
The Space
NEW KITCHEN!
stove, microwave, dishwasher, large sink, cereal, milk, coffee maker, apples and assorted treats.
**********************************************************************
TRAVEL ADVISORY 2015:
California is in a severe drought. (short showers equal happy hosts). The current rains have not been enough to fill the reservoirs. I have umbrellas you can borrow and a few rain clothes. Even if there's a downpour it never lasts, just wait it out at a cafe.
Bring layers! Temps are usually about 55 - 70 fahrenheit. The weather is usually the warmest around 2p but it can get cold and windy before or after. The perfect item is a thin down jacket available in Union Square at Uniqlo. It weighs almost nothing and packs into a supplied tiny sack.
**********************************************************************
ABOUT MY HOUSE:
Key code locks! No more negotiating a meet-up time to get the key. You are welcome to arrive at any time and leave your bags downstairs after you check out. Please let me know your approximate arrival time so I can get your room ready and remind me to give you the current door codes.
My home resides on a quiet residential street one block from everything you need.... restaurants, shops, cafes, Toronado (popular beer bar), six transit lines, much etc. The house is a two bedroom town home in the back of a large front yard and fence. Inside is a deck and trees. Laundry available one block away. First floor living, dining, kitchen, 1/2 bath - upstairs, two bedrooms & bathroom w tub/shower. First floor now has wall to wall oak flooring, that's why I request shoes off inside the house. Comfort is key, you will be resting on a real bed with new mattress, pad and all cotton sheets. There is a comfortable twin sized cot if you don't want to share the queen sized bed or have a third guest. I supply many comforts of a hotel. There are toiletries you may have forgotten, four pillows to choose from, three down quilts, robes, slippers, a television with slot for viewing DVDs of my film collection, a selection of films to watch on DVD, a kitchen with cereal, milk, coffee, tea, fruit, juice, pasta, oh, yes, there's wireless internet. One car parking optional for $20/night. Six bus lines within a two block walk. You really don't need a car here. Lots of fun restaurants & clubs, but quiet in the house. This location would appeal to responsible hipsters. I am a photographer/ artist with way too many years of television production experience.
Make yourself at home. Feel free to cook up a storm, watch a dvd in the living room or on the TV in your room. I will be happy to show you the wonderful world of take-out or insider, non-tourist info. I'm not expecting any mandatory socializing but love sharing my home and giving advice on places to see.I look forward to meeting you! I'm the perfect roommate as I am rarely home.
ATTENTION LOS ANGELENOS: You will find your bedroom a tad cool. There is a portable heater, down booties, electric blanket and shawl, robes & three down quilts for you. Folks from SoCal tend to be temperature challenged. Everyone else seems to think it's just fine, great for sleeping. The central heat keeps the downstairs cozy warm, you can adjust it to your taste. Plenty of hot water for showers.
PUBLIC TRANSPORTATION IN SF:
All you need is a Clipper card. I have two in the guest room that you can use and return at the end of your stay. Go to underground Muni station and add money. There should be some $$ on the card already. Fares are $2.25/person, good for one hour, thirty minutes in any direction. Your stop is CHURCH ST, 2-3 block walk from the house.
TRANSPORTATION FROM SFO:
Tell the driver you're going to the Lower Haight, Waller st between Fillmore & Webster.
my house is in the middle of the block, you will see a silver Nissan Cube parked in front, a fence with 340/ 342 on it, the house is behind the fence.
PLAN A:
A taxi will cost you about $60 (not including tip)
PLAN B:
(website hidden) has a shared van service, they charge
$17 for the first person, $10 for the next.
You can search (website hidden) for promo codes, usually
about $3 off per ride. AAA members get $3 off if booked in advance and you have your card with you. The best price is when you book a round trip online.
PLAN C:
BART is the mostly underground trolly service.
There is a free shuttle from SFO to the first BART station. Then you take BART to the Civic Center Stop. (approx $12/person). ... I heard the price went up a bit.
You will be underground. You go up a flight of stairs, still underground, to catch MUNI going outbound. Take any train and get (email hidden) stop. Then you walk north 1-2 blocks to my house. I can talk you in!
PLAN D:
join (website hidden) and request someone to pick you up from the airport. people will bid and you can select someone to hire.
PLAN E:
Get the UBER, UBERx, SIDECAR or LYFT app ahead of time, sign up for free membership and book a ride. You will need a paypal account. No cash is exchanged, payment is considered a contribution from zero to whatever, the going rate is posted on the App when it's time to pay. Remember if you pay nothing, drivers won't rate you very high. Drivers usually arrive much faster than the taxi or bus.
NEW AND IMPROVED ARRIVAL INFO:
No Key Exchange Needed:
I have a key codes.
Please remind me to give you the current codes and let me know about what time you will arrive. You are welcome to leave your bags downstairs after you check out.
The is a land line telephone in your room. If you make a call to someone in San Francisco you only need to use 7 letters. The phone in your room is (phone number hidden). If someone outside San Francisco wants to call you they need to dial (phone number hidden) is country code) (415 is San Francisco area code) (phone number hidden) is your personal phone number).
RENTAL CAR?
If you decide to take a road trip I recommend Enterprise because they pick you up at the house and take you to your car. Such a deal.
HOW TO OPERATE THE LOCKS:
Seeing as fatigue may be a travel factor you could be one of the 50% who have trouble with the key pad lock. Here's the drill. You can't see the house from the street. You will see a silver Nissan Cube parked in the middle facing a fence. The fence has a door. The door has a keypad lock on it. If you can't see the numbers on the keypad, press the uppermost button for illumination. Enter the code. Turn the handle and in you go. Easy Breezy. Now you're walking down the sidewalk towards the front door. There are two houses side by side, mine is on the left. (and has the address on the door!). The front door of the house has a keypad which requires and extra step. Besides illuminating the keypad, inputting the code, you have to then turn the deadbolt to the left AND open the door handle, enter and you're home free. (the latch on the handle sticks a little, don't panic, it works). Now inside, turn the deadbolt to the left to lock the door. FYI: when leaving the house, all you have to do is close the door, press the illumination key, and turn the deadbolt to the right to lock. whew. But wait, there's more. Your room is upstairs to the left. Extra towels & sheets under the bed, open the window if you need air, there's a fan & a heater & lots of toiletries if you forgot anything. Help yourself to anything in the kitchen/fridge. Make yourself at home. The tv in your room plays dvds if you have any chill time. Did I mention there is coffee, tea, hot chocolate, cereal, milk, and assorted goodies. The water carafe in your room contains Meyer lemons from my yard. Yes, they make a lovely parting gift, help yourself to these sweet native lemons. Don't worry about listening to the tv, radio, or talking on phone at a reasonable volume late or early, the rooms are separated enough that I will never hear you. When you leave the house, please leave your bedroom door ajar so I know you're not there. I promise not to go in the room unless something is on fire or smells bad. Ok, I am sure there is more, but that is the basics. Looking forward to meeting you.
THE US TELEPHONES:
example phone# 1-(415) (PHONE NUMBER HIDDEN)
( "1" is the country code, "415" is the city code, so if you're using
a local phone forget the 1 & 415 )
Marin County and San Francisco are area code 415. East Bay cities like Oakland and Berkeley are area code 510. South Bay cities like Palo Alto, Burlingame, San Mateo are area code 650. You can use the pink princess telephone (land line!) in your room. Don't forget the #1 and area code if you are not in the 415.
SPECIAL TOURS:
If you like photography, check out Pier 24
It's an awesome FREE GALLERY, reservation only, they book via their website. Make your reservations way in advance of your trip. Two hour visiting slots Monday through Thursday. Ask me how to find the secret entrance as there are no signs, very 007. Reserve time at Pier (website hidden).
Another site that books up early is the ALCATRAZ Island (URL HIDDEN) and tickets can be found at alcatrazcruises
ANCHOR STEAM Beer has a great tour, complete with multiple tastings.
If you are a sporty baseball type, there are tours of AT&T PARK every day except home game days.
For info on any and almost every tour available go to the
site called: allsanfranciscotours.
I've left you a pile of local menus, your food choices are almost endless within walking distance. Sushi, burgers, Mexican food, Chinese food, Ethiopian, Indian, Falafels, Sausages, BBQ, Tofu & Green Beans, Pizza, Organic Grocery Stores, Bars Galore, Quirky Stores, Bakery, and much much more.
Cafe du Soleil on the corner opens at 7am if you don't feel like making your own coffee, and closes about 9:30p, live music sometimes.
NEXT BUS, or NEXT MUNI App & Website is all you need to plan your bus routes.
CLIPPER CARD is all you need for MUNI or BART.
You can buy a card for any amount at the machines underground. One ride is $2.
WIFI ???
YES, the code is on your desk. (Lynn's wifi)
.
YES, you can leave your bags at the house all day after you check out, come and get them when it's time to leave the city.
YES, there is availability on the calendar. If you are asking about specific days, that means those days are open. If they were not, you would not be able to inquire. That's how airbnb works.
Traveling with a child, 3rd person: The guest room has a queen size bed and a fold out twin bed.
Don't hesitate to ask more questions, I'm full of advice. Once you're in the city everything is really convenient. MUNI transit line N stops 2 blocks away on Duboce & Church. J line goes north on church and turns right at Duboce. Walk an extra block to market street and you can take the underground MUNI, any line goes east downtown or west to CHURCH St STOP. (L,M.T).

MANDATORY FIRST TIMER TOURIST SIGHTS:
this site should help you plan your day:

There's absolutely no shortage of things to do, see and experience in San Francisco, a city filled with natural beauty, creativity and an irrepressible spirit. Needless to say, narrowing down its wealth of attractions to a mere top 10 must-sees is no easy task. The sights and experiences we landed on comprise a diverse mix of the best the city has to offer, including iconic superstars (Golden Gate Bridge, Coit Tower) to cultural powerhouses, such as the California Palace of the Legion of Honor and de Young museums, to spectacular places that defy categorization but will leave an everlasting impression (Crissy Field, Japanese Tea Garden, Lombard Street). Getting to these places is relatively easy and the cost of admission varies (some of the best are free). OK, hit it—enjoy our favorite quintessential San Francisco attractions.
Lombard Street
Neighborhood: Russian Hill
For those seeking out San Francisco's OMG hills, Lombard Street is the mother lode. Situated between Hyde and Leavenworth streets sits the famous and whimsical red-brick slope with eight switchback turns. The one-way street (from Hyde down), generously sprinkled with flowers and manicured greenery, wends through the well-to-do Russian Hill neighborhood, past gorgeous Victorian homes. Built in 1922, it was designed to allow cars to navigate the steep grade. Prepare for bumper-to-bumper traffic when driving down the hill (go slowly), or avoid the wait and walk down, or up, the staircases that flank the block. (Take the Hyde Street Cable Car and get off at the crest.) The best place to take pictures is from the bottom of the hill. This "crookedest" street is quintessential SF at its best.
Legion Of Honor
Neighborhood: Lincoln Park
Albert Hitchcock fans will recognize the California Palace of the Legion of Honor—locals call it simply the Legion of Honor—for giving Jimmy Stewart a run for his money in 'Vertigo,' as the museum where the mysterious portrait of Carlottta Valdes lived. With its neoclassic beaux-arts facade and extraordinary cliff-side location overlooking the Pacific Ocean and the Golden Gate Bridge, the museum does justice to the state's WWI casualties for whom it was dedicated. (The structure is an exact replica of its Parisian namesake.) The sprawling museum houses an enviable collection of ancient and European art spanning 4,000 years. Along with an ever-changing rotation of stellar modern art exhibitions (O'Keefe, Picasso, Toulousse Lautrec, etc.), the museum is rich in permanent treasures, most notably Rodin's 'Thinker,' the star of the Legion's outdoor Court of Honor. That's not all—more than 70 Rodin sculptures make their home here. Additional highlights include one of the largest collections of prints and drawings in the country, European tapestries and reproductions of room interiors from the Middle Ages on. Plan on spending a good couple of hours taking in the exhibits and then grab a bite at the lovely Legion Cafe. Free parking. Closed Mondays. The Legion is part of San Francisco's Free First Tuesday of the month program. (Admission tickets to the Legion include same-day general admission to the de Young Museum (special exhibition fees not included).
Japanese Tea Garden
Neighborhood: Golden Gate Park
It's impossible to be anything but Zen at the gorgeous oasis known as the Japanese Tea Garden, which lives in glorious Golden Gate Park. Visitors are transported to another time and place as they are surrounded by cherry trees, bonsai and pretty ponds, winding paths and arched bridges, as well as a traditional Shinto gate and a large bronze Buddha (made in 1790 Japan). This is a great place to grab a spot on a bench, turn off your iPhone (and any other e-devices you have with you) and enjoy the quiet and magnificence of the surroundings. One of the most popular spots in the park and the oldest public Japanese garden in the country, the traditional Japanese garden was initially built for the Midwinter Exposition in 1894. Famed Golden Gate Park landscaper John McLaren hired Makato Hagiwara to design and care for it, which he did faithfully until WWII. The teahouse p(website hidden) serves authentic Japanese teas, snacks and sweets, and the gift shop is ripe with souvenirs. The best time to visit is during early spring when the pink blossoms on the cherry trees are in full bloom. The garden is open daily, with free admission before 10AM; $7 admission for non-resident adults; $5 for non-resident seniors and nominal fees for children 5-17.
Crissy Field
Neighborhood: Marina/Presidio
Locals never tire of it and tourists fall in love at first sight. Crissy Field is a stunning public park and wildlife refuge that's situated between the Marina Green and historic Fort Point beneath the Golden Gate Bridge. Completed in 1861, Fort Point was designed to keep hostile fleets from gaining entrance to the Bay during Civil War days. Today, it's a fascinating museum also worth a whirl. Enjoy a stroll or bike ride along the hard-packed, family-friendly promenade that snakes along the Bay and beach, past beautiful marshes and dunes, home to herons, egrets, gulls and many endangered species. The Warming Hut, a café/gift shop, is a perfect stopping point. Pull up a picnic table or throw down a beach blanket and enjoy the gorgeous views of the bridge and the impressive boats, windsurfers and parasailers that flock here. Any time of day is a lovely time to visit, although the wind tends to pick up in the afternoon. Always pack a sweater or sweatshirt, wear comfortable shoes and don't forget the sunscreen.
De Young Museum
Neighborhood: Golden Gate Park
Located in Golden Gate Park, the de Young Museum is housed in an ultra-cool modern building wrapped in copper, with a breathtaking twisting tower befitting the amazing treasures it houses. A vast collection of American art from the 17th century through modern day is the jewel in its crown. Other star collections that comprise the easy navigable museum include works by premier California artists such as Richard Diebenkorn and Wayne Thiebaud, international textile arts and costumes, as well as African and Oceanic artworks. Its rotating special exhibitions will knock your socks off and have included stellar programs such as Yves St. Laurent and Warhol Live to Maya Lin: Systematic Landscapes. An excellent café and top-notch museum store are not to be missed. Closed Mondays. The Legion is part of San Francisco's Free First Tuesday of the month program. (Admission tickets to the de Young include same-day general admission to the Legion of Honor (special exhibition fees not included). Paid garage parking is available beneath the museum.
Flower Power Haight-Ashbury Walking Tour
Neighborhood: Haight
If you equate San Francisco with all things peace, tie-dye and Summer of Love, this is the tour for you. While the focus is the famous hood's hippie roots, tons of interesting tidbits about the area's history are sprinkled in by the knowledgeable tour guides (i.e. in the early 1900s, the area drew visitors for the thrills of the hills with a popular amusement park ride called the Chutes that featured a log flume ride, landing in a pond). As you stroll a 12-block area from the tour's starting point (corner of Stanyan and Waller streets), you'll visit all the famous landmarks and learn the truth behind the lore. Highlights include the onetime locales of the Psychedelic Shop and Drogstore, and the still-operating Haight-Ashbury Free Clinic. But if you're like most, the coolest part of the tour will be ogling the homes of the famous residents who inhabited them back in the day. These include the Grateful Dead, Charles Manson, Jefferson Airplane and Janis Joplin, among others. This tour is extremely popular so make sure to reserve in advance. Tours run Tuesdays and Saturdays at 9:30AM, Thursdays at 2PM and Fridays at 11AM.
Coit Tower
Neighborhood: Telegraph Hill
It's one of San Francisco's most visited and beloved landmarks. The 210-foot white, fluted pillar pierces the skyline from the top of Telegraph Hill and affords visitors some of the most magnificent 360-degree views of the city. The tower was built in 1933 with funds bequeathed by Lily Hitchcock Coit, a wealthy, colorful woman who left one-third of her fortune to the city, with instructions to beautify the skyline. Not only is Coit Tower a memorial to its namesake, but also to the San Francisco firemen whom she adored (as a child, she was saved from a fire). Some liken the tower's façade to the nozzle of a fire hose. To get to the top of the tower you can take an elevator or climb the 400 or so steps. But before you ascend make sure to check out the tower's other treasures—the ground-floor murals, painted by 26 master artists and 19 assistants, depicting various aspects of the Great Depression on the city. The colorful artworks were created as part of Roosevelt's Public Works Art Project.
Ferry Building Marketplace
Neighborhood: Downtown/Embarcadero
Locals and tourists can't get enough of the Ferry Building Marketplace at the foot of Market Street and the Embarcadero. Along with its magnificent bayfront views (hello there, Bay Bridge), this landmark building beneath the famous clock tower (born in 1898), is a veritable foodie heaven showcasing local and regional talent. It's stuffed with cafes and shops/stalls featuring everything from artisan cheeses, specialty foods, baked goods, ice cream, cookware (including newly opened local Heath Ceramics) to organic produce and offshoots of some of the city's top restaurants and one of the best itself: Slanted Door. It's also home to one of the biggest and best organic Farmer's Markets in the country, which runs Tuesdays and Thursdays, 10AM-2PM and Saturdays 8AM-2PM.

Golden Gate Bridge
Neighborhood: Marina/Presidio
Even the most breathtaking images of the city's most recognizable icon can't do it justice. That's why visitors need to get up close and personal with the Golden Gate Bridge and its famous International Orange hue (specially formulated to protect the bridge from rusting due to fog and moisture) and majestic towers, which continue to marvel 70+ years after its birth. Lorded over by chief engineer/designer Joseph Strauss, construction took four years (1933-'37) and cost $35 million. The engineering wonder and 1.7-mile suspension bridge (today, the second longest in the country) connects San Francisco and Marin County. It is open to pedestrians and bicyclers (enter on the east sidewalk). There are two lookout points on both ends of the span to take in spectacular views and click images. The Roundhouse, a visitor center featuring a historical exhibit, gift shop and café, is located on the southeast side of the span and a must-visit.

Alcatraz Island
Neighborhood: Fisherman's Wharf
Its life as one of the most legendary prisons ever came to an end in 1963, but the ghosts of infamous gangsters like Al Capone and Robert "Birdman" Stroud live on at Alcatraz, one of the city's most-visited attractions. The short ferry ride to the island departs several times throughout the day from Pier 33 in Fisherman's Wharf. For those who don't spook easily, see how you hold up during a night tour. (Reservations are highly recommended for all tours.) The Rock's storied and fascinating history comes to life while listening to the stellar audio tour and roaming the cellblock and cafeteria, seemingly frozen in time. Outside the buildings, colorful gardens provide a bright contrast to the somber prison structure. The grounds have also become home to rare plant-life and sea birds. Although it is little known, Alcatraz's pre-prison history is quite interesting, as well. Just a few tidbits: It was home to the first American lighthouse on the West Coast and served as a major defense fort during Civil War days.
ABOUT THE LOWER HAIGHT:
The Lower Haight was recently voted San Franciscans' "favorite" neighborhood by a popular real estate blog. Here's a closer look at this fun and funky place to live and hang out.
The Lower Haight is the blocks off of Haight that are west of Divsadero, south of Oak or Fell, north of Duboce, and east of Webster, Laguna, or Market.
Haight Street, of course, is known for its great mélange of retail establishments, bars and eateries, and art, both street scene and commercial. Lower Haight features more of the restaurants, watering holes and art establishments.
This is a neighborhood where people are out and about in the street at all hours, walking and talking, eating and cycling, skating and singing, hustling and bustling. You will get asked for spare change and there might be more felonious types of hustling going on in a nearby dark alley, but for the most part the Lower Haight has ditched its dangerous past and is a pretty safe place to be, as long as you're self aware and smart.
Housing in the area includes apartments, subdivided old homes into duplexes and quad-plexes, and some single family homes.
Your neighbors will be a super diverse mix of singles, families and couples, primarily working class, most liberal and community minded.
Public transportation to and from Hayes Valley / Lower Haight is plentiful via Muni, and if you ever cycle The Wiggle – a bike route from the Mission to Golden Gate Park – you've passed right through the Lower Haight.
Life in the Hayes Valley /Lower Haight is filled with interesting experiences, new foods and good friends!
For all of our out of town people visiting for the first time
I recommend getting a Go San Francisco Card
available from smart destinations.
Best deal is for a weeks pass with entry into all the cultural attractions
New in 2012 is the CLIPPER CARD. You can purchase them in any amount. There are machines in the underground Muni, as well as some customer service desks at Safeway grocery stores. You can buy them in advace on line at CLIPPER CARD. Adult fares on MUNI are $2/person, including a 3 hour transfer.
Also, get yourself a Muni Week pass or Safari Pass
for unlimited public transportation . You really don't need to rent a car in SF, its very Walkable
and if you do rent a car, the City has Carshare
Such as Zipcar /Citycarshare so if you are already a member, its a great deal
Guest Access
Make yourself at home. There is cereal in the kitchen cabinet over the sink, milk in the fridge, fruit on the counter. Use the kitchen, hang out in the living room, read on the deck, be comfortable. Watch a dvd on your own tv or in the living room.
Some people have trouble finding the house as it's in the middle of the block, behind a fence and big tree. Tell the taxi or shuttle driver that you are going to the Lower Haight. When you book the room you will find more details not available on this public profile.
No need for figuring out a key exchange, the locks are all key-pad coded. Please remind me to give you the current codes before you arrive so you can let yourselves in if i'm not home. Late arrivals no problem, leaving your bags downstairs after you check out, no problem.

Interaction with Guests
I try to give you space but am always available for advice, information, a friendly chat. Consider me your personal concierge. You have your own room with a real bed, plenty of extras and 99% chance of a comfortable and quiet night sleep. Exceptions are the 4th of July and rare Saturday night neighbor party.
The Neighborhood
diverse
convenient
artsy
only in San Francisco
shops
restaurants
photo-ops galore
friendly
urban & residential
local and international hipsters galore
Getting Around
6 transit lines within two block walk. easy breezy to get anywhere on MUNI, BART, CalTRAIN, bike rental ( Blazing Saddles), walking, car rentals, car services, get out there!
Other Things to Note
If you are on a road trip, return your car when you reach San Francisco. You don't need it.
24 hour Safeway one block away.
+ More
---
This is a two bedroom home. You will feel as if you have the house to yourself as I am rarely home.
RULES:
Shoes off at front door please (new oak floors downstairs).
No smoking indoors. No cigarette ashes on the stairs, take a walk further down the front yard please. Especially if it's late at night the sound outside really carries if you're sitting on the deck.
we are alergy friendly, no pet hair in this house.
Parking space can usually be arranged for $20/day additional fee or public garage for less.
My airbnb insurance doesn't cover unscheduled guests in the house.
I'm almost always flexible with check out time, but need to clear out your room by 11am to clean sheets, etc. You can leave your bags downstairs while you tour the city.
I insist you make yourself at home! Eat the cereal, make yourself a pot of coffee or tea, leave your towels in the bathroom, read a book on the deck, text me for suggestions. I know this city really well.
Your rest is assured as the room is quiet.

YES, you can leave your bags at the house all day after you check out, come and get them when it's time to leave the city.
Traveling with a child, 3rd person: The guest room has a queen size bed. If needed I can set up a twin cot, crib & highchair.
+ More
---
---
Explore other options in and around San Francisco