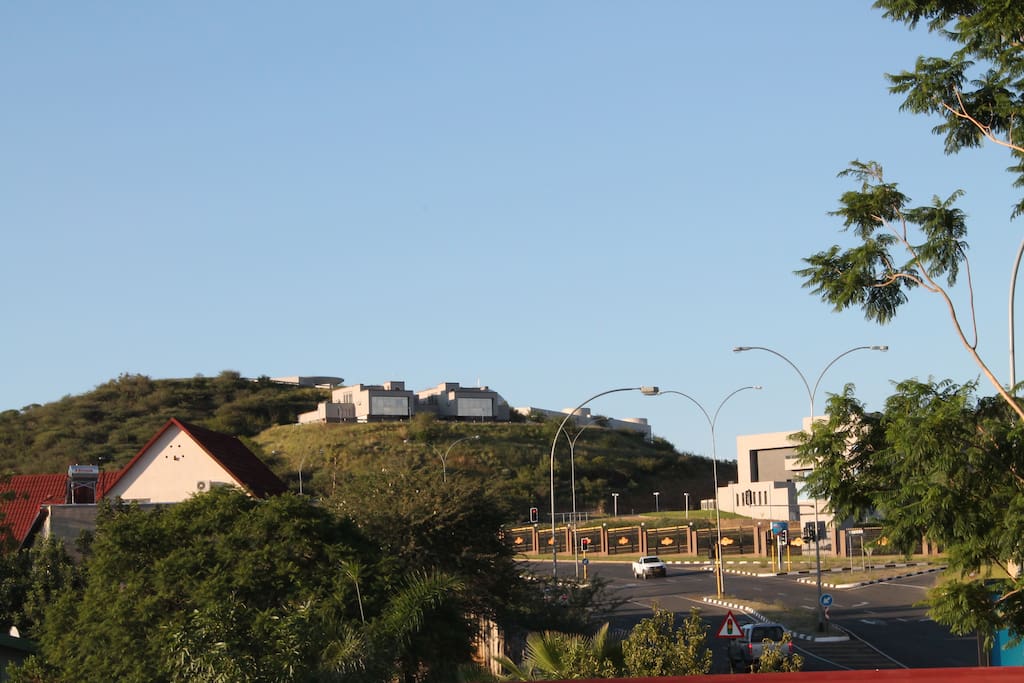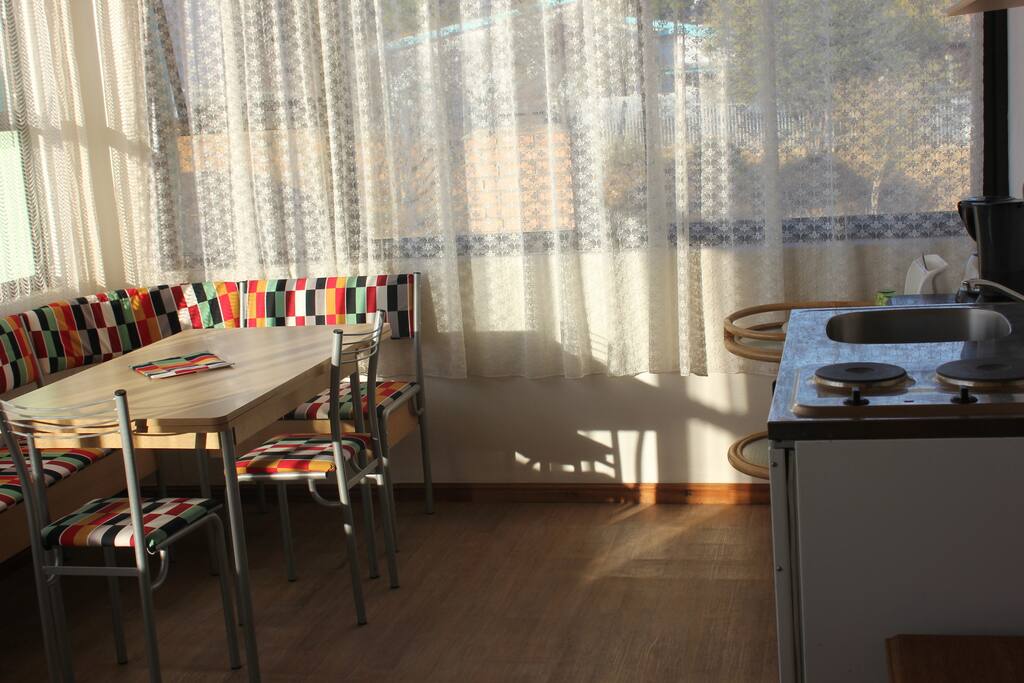 Fully licensed with the Ministry of Trade and the Namibian Tourism Board.
A Very sunny flat in a secured area near the house and office of the President of the Republic of Namibia.
Shopping mall only 15 minutes brisk walk away.
Special Rate: Special fixed rate of US$ 600 per full month for long staying guests. However, if a guest stays with us for one month and some extra days, the extra days are calculated as per the daily rate. All rates in US $.
The space
It is a home away from home with ''instant family'' and most amenities you can possibly have while on a holiday.
The Flat has two rooms, one a very spacious bedroom with a Queen size bed, an extra small bed upon request and en-suite bathroom. The other is a sitting room with a mini kitchen unit.
We opened our coastal home for our clients in Swakopmund on 1 July 2016.
Guest access
Barbecue area for barbecue or to prepare a potjie. Essential kitchen utensils are kept in the barbecue area including an electrical stove and a fridge.
Interaction with guests
We traveled quite a bit while we were Namibia's Ambassadors to Sweden, Nigeria and Austria and we love to meet people and exchange ideas or just to chat. However, we will never impose or be intrusive into your privacy.
Your flat is on top of the Garage. This whole structure is not attached to the main house in which we live. Our two grown up children live in the main house.
Other things to note
Following will be provided
Discount (for long staying guests)
Clean linen (weekly for long staying guests)
Towel(URL HIDDEN)(weekly for long staying guests)
Cleaning (weekly for long staying guests
Cutlery and crockery
pots and pan
coffee
tea
sugar
salt n pepper
Laundry service for your personal clothing is not included in the rent/fee. There is a washing machine for one load per stay, iron and an ironing board for your use. However, we can take you to a Laundry Person/ Laundrette to do your washing but must be paid for separately.
Free WiFi albeit slow upstairs in your flat/room. You are most welcome to work in our main house office or to sit around the pool area where WiFi signal is the strongest.
Always communicate through Airbnb
To protect your payment, never transfer money or communicate outside of the Airbnb website or app.
Self check-in with doorman
1. Pets not allowed
2. No loud noise after 10 PM.
3. No unregistered guests allowed.
4. Give a 1 or 2 hour estimate time of arrival.
5. Turn fans off when not in the rooms.
6. Keep doors and windows closed while fan is on to keep the place cool. 7. Use timer on fan to switch itself off when you go to sleep while it is
running to avoid over heating and probably cause a fire.
8. Safe water. Use water sparingly
9. Be respectful to property and leave the place in a reasonable state.
10. Security Alarm is set at 10pm and switched off at 07am. Arrange with
hosts if early switch off is needed.
11. No meals included.
12. No smoking inside apartment.
13. No Drugs.
This rental had beautiful panoramic views of the neighborhood. It was very secure, with multiple gates and alarms. It definitely had the feel of a secret hideaway. There was plenty of closet space and many drawers for clothes in the bathroom. I liked the overall setup, which was almost like a junior one bedroom or studio. It was located right off of a main road, which made it easy to walk over to the road and catch a taxi (although I was warned they weren't as safe as the more expensive car service companies). There wasn't really anything in walking distance and the car services took about 15 minutes to arrive. By car, the closest mall was about 5 minutes away. As was mentioned in a previous review and by the host, the WiFi signal was very weak ( almost nonfunctional). I purchased data using an mtc SIM card and was able to access the Internet that way. The speed was average. If you're from the US, you'll need to provide your own universal adapter, which is very inexpensive. The bathroom wasn't as clean as I would've liked and I was provided with one towel per week. Be sure to bring extras. The back of the kitchen stove was greasy as were the salt and pepper shakers. The kitchen was stocked but I needed to purchase my own sharp knives, water glasses, and colander. There was no hot water in the kitchen faucet and no freezer in the mini fridge, but there were four burners for cooking. That was a plus. There was a fan in the kitchen but nowhere to plug it in. The bed was a little bit hard and not as comfortable as I would've liked.I stayed in September and in the afternoons it did become hot. There was a fan but no A/C. At night, if you stay out past 9 or 10 pm, be aware that you need to call the owners on the phone before you come back in, so they can disarm the alarm. The house reminded me of a family environment where everyone was willing to talk and was usually available. I did not have as much privacy as I would have liked because there was often someone knocking on my door. Sometimes I was sleeping or on a call, so it was inconvenient at times (even after I asked to be contacted via phone). Although the listing on AirBnB said laundry service could be provided for an additional fee, I was told I was a woman and had to do it myself. There was a nice-sized TV with DSTV (satellite TV). Overall, it was safe, inexpensive and not too far from town. In general, the hosts were responsive, and there was plenty of closet space.
Response from Daniel And Revival:
Autumn is a very bitter woman who wrote malicious lies about my place because I refused to be her maid. We take pride in what we offer and had glowing reviews from all our previous guests. We will list all her lies individually and give our side of the situation. 1. Bathroom was sparkling clean as it is scrubbed with antiseptic detergents before a new guest arrives. We block two days off on our calendar after departure of a guest in order to clean and air the matress. We provide one big towel per person per week ( see the listing). 2. Kitchen stove. There are two cooking units on which one can cook. One is a brand new mini stove/oven which Autumn was the first one to have used. The other was a hotplate/fridge and washing basin combo unit. This unit is affixed to the wall and there is no space between it and the wall. So I am lost at what she claims as back of the kitchen stove being dirty. (see pictures in the listing) 3. Salt and pepper shakers. Very clean and always filled for my clients. 4. Knives and water glasses are provided as a matter of necessity. 5. Hot water never comes out in the first second you open a tap. 6. Freezer in the mini fridge is working . we always switch off all appliances in order to safe electricity and switch on when guests arrive, that is the reason she did'nt find ice in the freezer. 7. There is a multiplug in the kitchen from where the tv extension is also plugged in in plain view. She could have asked if she didn't see it and we would have gladly shown her just as she did when she couldn't get the tv switched on. 8. Bed. We offer very good quality bed ever which is not a futon. Please (SENSITIVE CONTENTS HIDDEN) (URL HIDDEN) and you will learn that sealy beds are orthopaedically designed. 9. Namibia is a hot country and Windhoek is no exception. We described our place as '' A very sunny flat''. (see the listing). We never mentioned that we have air conditioning installed but that we hhave two portable misty fans. One for each room. 10. Privacy. Yes it is true that we went to knock on her door several times. About three times when we received calls from our security company when a distress alert was received after we showed her how to operate the pad and she could not get it. The other time was when work needed to be done on her balcony by men and we didnt want to startle her when she came out and find them by her bedroom door. And one othe time when she said she wanted to discuss some issue with me and I waited and waited and when she did not come down my daughter went up to call her. She never told us to only contact her via phone. 11. Laundry. We offer a washing machine to be used for free despite water restrictions and all. However, we said laundry service could be arranged at an extra fee which would be paid for by the client. (see the listing) Autumn arrived on Thursday afternoon31 August and on Monday morning the 4 September she found me doing my laundry. After exchanging pleasantries she ask if she could bring her laundry upon which I responded that her personal laundry is not included in the rent but that we will wash and iron her bedsheets, pillowcases and the towel after one week of her stay as per the listing (see the listing). Then she said that it is mentioned in the listing that her laundry could be arranged for a fee. I then explicitly told her that I meant by arranging that is to show her where to take it where it would be done at a fee to be paid by her. I also told her that the taxi guy knows the place but I can tell him then she said the taxi is too expensive. She then continued to try and convince me to just do it for her and I refused and told her there is a free washing machine on offer she must put the clothes into the machine, go back to her room, continue watching the movie she told me she was watching, come back after an hour remove the clothes and hang them on the line until they are dry. She refused to take my offer and I could tell that she was annoyed. Next day she came again and insisted that I do the laundry for a fee. It is then that I really got annyed too that a child, the same age as my daughter demands that I do her laundry. I also asked her why she would'nt do the washing herself and she responded they are a lot. I asked how many is a lot and she said the whole 20kg suitcase full. I then offered her the second washing machine too that she separate the blacks from the whites and fill up both machines to do the job but she refused. The next day she wrote to me via airbnb and I reiterated via airbnb all I said earlier and and that I even agreed for the suitcase full of dirty clothes she brought along could be washed in my machines at my water, soap and electrical costs. Please note those clothes did not get dirty while she stayed at our place , she brought them already dirty. Cleanliness. We demand guests to clean their rooms on a daily basis and that we will clean their room and change linen once per week at a time convenient to them. (see the rules in the listing) We also ask the guests upon arrival whether they agree with that arrangement or whether they prefer to only be given clean linen weekly. Autumn told us that she would want us to do the cleaning and we did on the 7th and 14th. She refused on 21st and 28th. Now, the irony is if she was such a clean and neat person why did she refuse to have the room cleaned. The flat was in such a dirty state when my daughter went up to inspect before the cleaner started cleaning both times and also when she left for security reasons. She left old food in dirty plates in the bedroom, crumbs in the bed and no clean kitchen utensil and there was a very very bad odour everytime. We fumigated the room after she left. Autumn was the most untidy guest ever.
---
When I first came across this listing, I was a little nervous that there were only glowing, positive reviews. After a two month stay at Daniel and Revival's Bird's nest, I completely understand why. I cannot say enough positive things about my experience. The family was so incredibly welcoming and helpful that they made my stay in Namibia an absolutely incredible experience. From cultural advice to assistance with transportation to being so kind as to listen to my day, the family could not have been more kind nor more respectful. They have truly become a family I hope to keep in contact with for a very long time. As for the apartment, the room itself is huge and immaculately clean. It includes an equipped kitchen, bathroom, and living area. The room is also cleaned, free of charge, periodically to help it stay welcoming and warm. The view is breathtaking and the neighborhood is safe. I would highly recommend this airb&b to anyone who is looking for a safe, affordable, clean & comfortable stay in Namibia. 5 stars!
---
Daniel and Revival's place is a great place to stay in Windhoek. The flat is very spacious and comfortable and has everything you need. Daniel and Revival are very friendly and easy-going. They helped me to navigate Windhoek, organized a ride from the airport, and gave me advise on my time in Namibia. I also enjoyed chatting with them about our various travels and experiences.
---
We stayed for one week and had a lovely time. The apartment is very spacious and has all amenities for a self-catering holiday in Windhoek. The description and the photos are spot on so you wont experience any real-estate agent-ish gloss over etc. At the same time, the location is very close to Maerua Mall which is one of the biggest malls in Windhoek, whilst centre of Windhoek is just a bit further. Taxis are reasonably easy to jump on into town and back, costing about 10-20 Namibian dollar each way. Considering other similar options in Windhoek, this place offers great value for money. We would recommend it for singles and couples who are not looking for 5 star accommodation but rather a cosy and homey setup at a great price.
---
The apartment is exactly as in the photos, clean, comfy and with all the necessary items for my stay. The bed and couch are really comfortable. I also needed a place to work with my laptop and the desks and chairs did the job perfectly. The neighbourhood is really nice and quiet and very close to my place of work. I would definitely stay here again.
---
Namibians born in Windhoek. We lived in Zambia for 11 years where we met, got married and our three children were born. We served as Namibia's Ambassadors to Sweden, Nigeria and Austria.
We are now enjoying our twilight years with our energetic 3 year old grand daughter. We love to meet new people.



Languages:
English
Response rate:
100%
Response time:
within an hour
Explore other options in and around Windhoek
More places to stay in Windhoek: