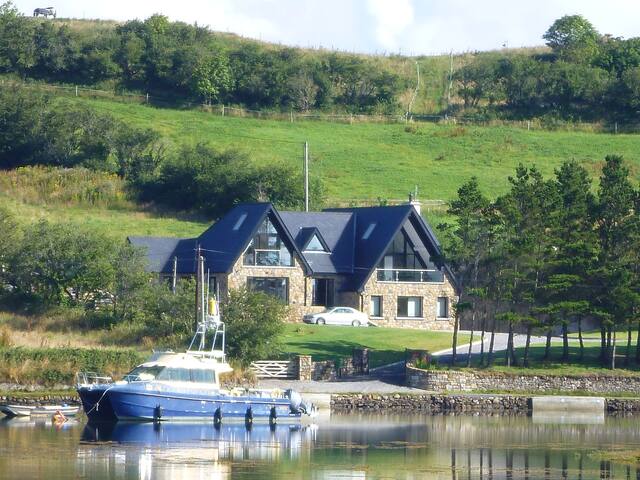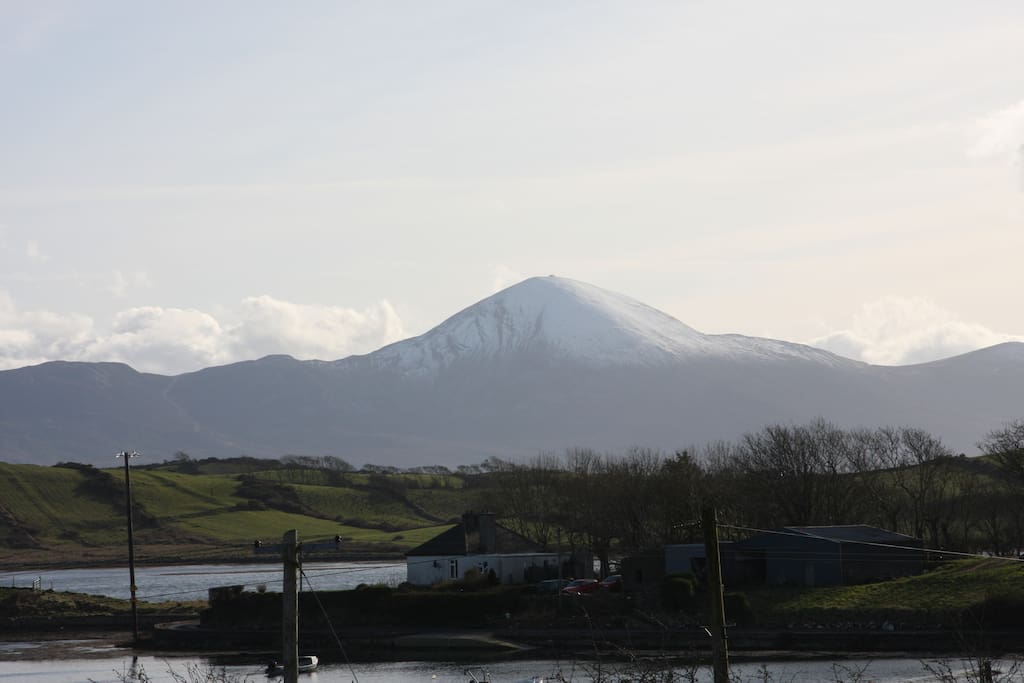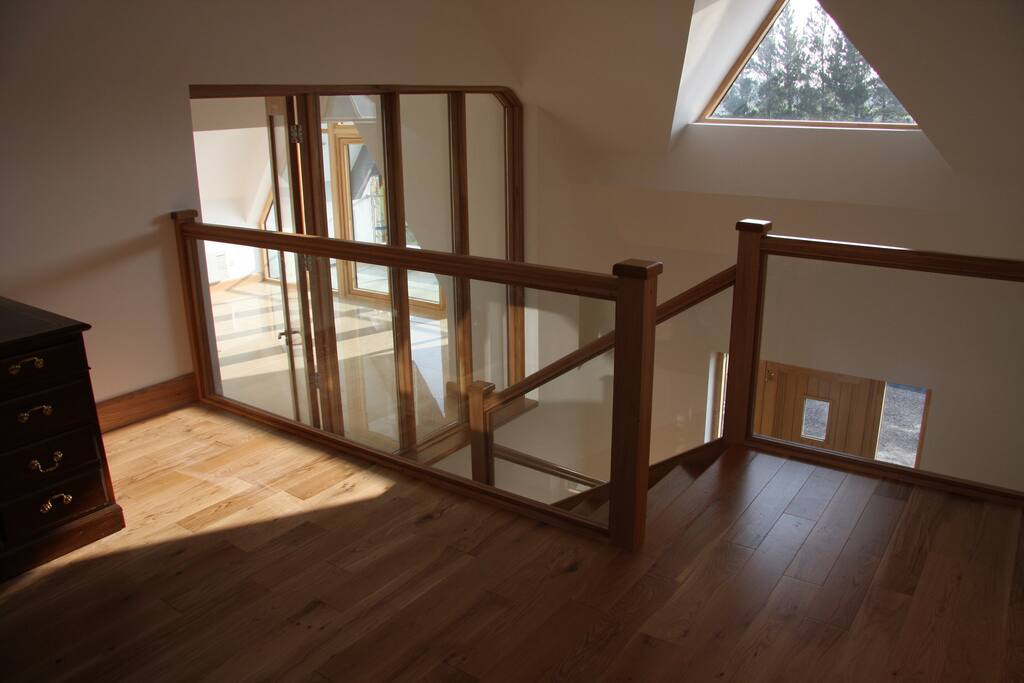 Entire home/apt
8 Guests
4 Bedrooms
4 Beds
About this listing
Luxurious holiday home on 12 acres of land with spectacular sea & mountain views overlooking Clew Bay. Enjoy local nature or relax in front of the wood burning stove, play a game of snooker or have a picnic on our private beach. (URL HIDDEN)
---
Bathrooms: 4
Bedrooms: 4
Beds: 4
Check In: Anytime after 5PM
Check Out: 10AM
Room type: Entire home/apt
---
---
---
The space
House
3,200 sqft , split level, architect designed house.
4 spacious bedrooms (incl 2 feature bed rooms) sleeping eight, 3 ensuite bathrooms and one main bathroom with electric shower.
Very large lounge with wood burning stove, surround couch, small bar and snooker table.
Direct access from lounge to balcony area looking out over the sea and islands of Clew bay over towards Croagh Patrick.
Modern kitchen/breakfast room/ utility with all modern conveniences.
Dining room with direct access via 2 double French doors onto large patio area overlooking the sea. (The dining room seats 10 )
The dining room when not in use can be used as a study and contains a large antique walnut cabinet with an extensive range of books.
Office with 'partner's desk' and comfortable swivel chair on upper landing level with direct internet access.
Other features include WiFi internet access, satellite TV , DVD, zoned heating, heat recovery/ ventilation, and alarm. All windows are triple glazed and outside walls are doubly insulated to add to comfort and reduce energy costs. The large apex windows (X3) allow substantial solar gain.
The kitchen/Utility contains double oven with grill , built in microwave with warming drawer, dishwasher, induction hobs x2 ( The second hob is located in the utiliy room), larder fridge, under the counter freezer, condenser drier and washing machine.
Small garage with bathroom/shower
Location
Rosnakilly is situated on Clew Bay, Westport, Co Mayo, Ireland approx half way between the picturesque towns of Westport and Newport.
The house ('Croibh-inis') is situated on the sheltered side of a circa 120 acres land mass which is 'practically an island'. There is however direct road access over a narrow stretch of land ( ie an isthmus) to Rosnakilly.
The house enjoys a shore frontage of approx 70 metres with its own mooring buoy for those who wish to bring their own boat. At high tide the sea is no more than 4 metres from the front gate and 35 metres from the house itself.
The 12 acre site stretches back up behind the house , rising to a hill ( with breath taking panoramic views, looking South to Murrisk and Croagh Patrick , West to the numerous islands of the bay ,way out to Clare Island and North towards Newport and the spectacular Nephin mountains.
The site then descends back down towards the sea once more where there is access to the shore, and a small secluded pebble beach. Furthermore this area of the site expands into 4 small fields ( ideal for picnics, wildlife, birdwatching and walking ) before converging into a point which juts out into the sea.
This latter area of the site enjoys approx 1 kilometre of shore frontage with excellent vantage points for rod fishing.
The property letting is subject to strict Terms & Conditions
Guest access
Guests have access to the entire house and the 12 acres of land with unique sea access. There is also a mooring point available just in front of the house
Interaction with guests
Guests are greeted on arrival and again on departure.
The neighborhood
Fishing : sea, river and lake fishing. Boats can be chartered locally
Water sports : sailing, swimming, snorkeling, diving, water skiing and sea kayaking
Walking / Cycling : seashore walks on site and locally. The now famous 'Greenway', the route of the old narrow gauge railway line that originally extended from Westport to Achill , has been transformed into a safe cycle/walkway/jogging route with over 30 miles of beautiful coastal countryside. The route passes within easy access of Croibh-inis House (approx 2km ) and extends through Newport onto Mulranny and finally to Achill.
Hill walking: The nearby Nephin mountains and the famous pilgrimage mountain of Croagh Patrick with its sister mountains and Western way will provide a challenge to hill walkers.
Fitness/ Exercise/Relaxation/De-stressing: Holidaying at Croibh-inis House will provide the ideal getaway from the various stresses of daily life. The sea air, unrivalled location with awe inspiring views enveloped in peace and tranquility can only be of therapeutic benefit. The easy access to walkways, jogging routes, cycle routes and open water swimming will be of interest to those who wish to lose weight, maintain general fitness or perhaps improve fitness. Indeed the more serious competitive athlete particularly those who compete in the increasingly popular triathlons will find Croibh-inis and its environs to be a superb training location.
Hide-Away :The house and surrounding lands , provides the ideal destination for those seeking peaceful and tranquil seclusion, without the feeling of isolation. For honeymoon couples, Croibh-inis provides the ultimate romantic setting. Furthermore,it would be of particular interest for those who need to escape from public life be they celebrities or politicians or perhaps for those creative people who wish to write or compose in inspirational peace.
Weather: This is the West of Ireland...come prepared ! It rains here frequently Thats a meteorological fact of life Accept it ! Get on with it ! And you'll enjoy your stay immensely . Therefore, come prepared with full rain gear and waterproof boots in order to enjoy all the area has to offer regardless of the weather.
Historical interest
Westport House was built in 1730 on the ruins of a former castle of the legendary Irish pirate Queen Grace O'Malley. It is one of Ireland's most beautiful historical homes and is open for guided (URL HIDDEN) also incorporates a very popular pirate adventure park and adventure activity centre.

The National Museum of Ireland- Country Life is located just outside Turlough village near Castlebar and is an ideal place for a family to visit. It gives its visitors a unique opportunity to see how the people of Ireland lived between the Great Famine and the 1950's. In addition to the museum galleries and 19th century house, the extensive grounds of Turlough Park feature gardens , woodland walks, a river and a lake all overlooked by an ancient round tower.
The Ceide Fields- Preserved beneath the unspoilt blanket bog , the Ceide Fields are the most extensive Stone Age field systems in the world. Guided walking tours allow the visitor to explore a world unseen for millennia.

Local Entertainment/Eating out/ Pubs/Night life
Westport is the nearest large town and is approx 10 km away.This delightfully laid out town boasts elegant streetscapes and effortlessly friendly character. Not surprising then that it was recently named "best place to live in Ireland " in a competition run by the Irish Times. Westport has an very extensive choice of restaurants, bars and nightclubs and becomes quite busy during the summer and particularly on weekends.

Newport is a smaller town that is approx 7 km away that is equally picturesque but has a smaller number of restaurants and pubs. It is ideal for the 'quiet drink' or meal. Located here also is the famous Newport House which is included in the Blue book on Irish restaurants/hotels.
Irish Times Best Place to Live in Ireland 2013: Westport
Irish Times Best Place to Go Wild in Ireland 2014: Erris, Co. Mayo
Getting around
There is ample parking around the house. Close access to dedicated cycle routes. Local taxis available.
Other things to note
This property & immediate surrounding area is ideal for those who are interested in outdoor pursuits such as walking, hiking, cycling, swimming, fishing, diving, sailing and boating.
---
Terms for holiday accommodation
Croibh-inis House Rosnakilly, Kilmeena, Westport, Co Mayo
In these Terms and Conditions 'the Owner' means The Registered Owner of Croibh-inis House.
'Visitor' means the person to whom the confirmation invoice (the "Confirmation Invoice") is addressed.

1 Agreement
1.1 These Terms and Conditions are available on request and are published on the Owner's website. A copy is also normally supplied with the Confirmation Invoice. The making of a booking will form an agreement on these Terms and Conditions (the 'Agreement') between the Visitor and the Owner for the holiday rental of the property known as Croibh-inis House, Rosnakilly, the 'Accommodation').

1.2 The Owner permits the Visitor to occupy the Accommodation for the period shown in the Confirmation Invoice ("Holiday Period") together with the use of the furniture, fixtures and effects.

1.3 The Visitor will be responsible for all payments and for any damage whether caused by the Visitor or his or her party. References to 'Party' in these Terms and Conditions will include the Visitor's family, servants, agents or guests. The Visitor is advised to make his or her party aware of these Terms and Conditions.

1.4 The Confirmation Invoice will show the name and contact details of the Visitor, period of the booking, the specific property to be occupied, the members of the Visitor's Party, the dates that payment falls due, the method of making payment and the holiday price at the time of booking.

2 Deposit
A booking for a holiday will become firm when the amount shown as "payable now", representing either a deposit or full payment, has been received by the Owner in response to a Confirmation Invoice issued by the Owner.

3 VAT
The Owners are not registered for VAT.
4 Payment
All payments can only be accepted in Euro and payments must be may be made by cheque or draft drawn on an Irish bank or by transfer to the Owner's bank account if those bank details are shown on the Confirmation Invoice. Payment will be accepted by debit or credit card if specified on the Confirmation Invoice and subject to a surcharge being paid by the Visitor.

5 Final Payment
The full balance of the total holiday cost will be payable not later than 12weeks before the holiday begins. Reminders or receipts will not be sent unless requested and unless a stamped addressed envelope is provided. If the full balance is not paid on time, the Owner reserves the right to cancel the holiday booking, in which case the deposit will be forfeit.

6 Cancellation
The reservation may be cancelled at any time by the Visitor giving the Owner notice. This notice may be given by telephone but must be subsequently confirmed in writing and shall be regarded as taking effect on the date that written notice is received by the Owner. A €100 cancellation charge will be payable for each week booked where notice is given more than 12 weeks before the holiday begins. Any amount received by the Owner in excess of €100 per week will be refunded in this case. On receipt of notice within twelve weeks of commencement a cancellation charge equal to 50% of the price of the holiday shall apply. In the case of any booking where the holiday commences within 12 weeks of the booking date a cancellation charge equal to 50% of the price of the holiday shall apply so that 50% of the amount received by the Owner shall be refunded to the Visitor.

7 Owner Right to Refuse/Alter
7.1 The Owner reserves the right to refuse any booking.
7.2 The Owner reserves the right to cancel or alter arrangements made for the Visitor whether before or during the relevant visit (a) in any circumstance which arises from or is attributable to acts, events, omissions or accidents beyond the reasonable control of the Owner or (b) where in the reasonable opinion of the Owner it is necessary to perform or complete essential remedial or refurbishment works. If a booking has to be cancelled by the Owner, he will take reasonable steps to offer an alternative booking. If the Owner is not able to offer such an alternative or the Visitor does not accept the alternative offered, the Owner will return to the Visitor the relevant proportion of the money paid by the Visitor to the Owner in respect of the Accommodation and will not otherwise be liable for any loss caused by cancellation or alteration.

8 Change of Booking
There will be a fee of €100 for any transferred booking subject to availability, and bookings may not be transferred within 8 weeks of the Visitor's holiday, or from one calendar year to another. A transferred booking is a change in the Visitor, or from one date to another. If the transfer requested also involves reducing the length of the holiday, it will be regarded as a cancellation.

9 Visitor Accommodation Limitation
Occupation must be limited to the number of persons for the Accommodation as specified or named on the Confirmation Invoice. No person not named or specified on the Confirmation Invoice is entitled to entry to the Accommodation.

10 Joint Bookings
The Booking should be made in one name only and that person (the Visitor) shall not, without the written consent of the Owner, assign the booking.

11 Services
Unless otherwise stated in writing, the holiday price will include all charges for water, sewage, electricity. Oil will be metered and the visitor will be charged for excess usage.

12 Loss of Visitor Property
12.1 Except as indicated below, the Owner cannot be held responsible for loss or damage to any belongings or for injury sustained by the Visitor or members of his or her party during their stay at the Accommodation. The Owner excludes liability for loss or damage to any belongings or for death or injury sustained to the Visitor or members of his or her party during the stay at the Accommodation except to the extent that such injury or loss or damage to any belongings is caused by the negligence or wilful default of the Owner or where such exclusion or limitation of liability is prohibited by law.

12.2 The Visitor shall be liable for and indemnify the Owner against any liabilities, damages, claims, costs, losses (whether direct or indirect and including loss of profits) and expenses incurred or paid by the Owner arising from the Visitor's breach of the terms of the Agreement or the use or occupation of the Accommodation which arise from any breach by the Visitor of his or her obligations under the Agreement or from any negligence or wilful default of the Visitor and/or the Visitor's party. Expenses recoverable shall include, but not be limited to, court, legal and experts' fees incurred in advising on and initiating action to enforce the terms of the Agreement and in defending actions and claims initiated without regard to the terms of the Agreement. The right to recover such expenses shall be on an indemnity basis, subject to account being taken of any costs otherwise awarded by any Order of Court.

13 Pets
No pets allowed
14 Owner Right of Entry
The Owner and/or his agents reserve the right to enter the Accommodation at any reasonable time on reasonable cause; this includes any annual external re-decoration for which access to the inside of the Accommodation will be required, and external windows and doors may be opened during this process.

15 Visitor Obligations
15.1 The Visitor undertakes to keep the Accommodation and all the furniture, fixtures and effects in the same state of repair and condition as at the commencement of the booking period (reasonable wear and tear excepted) and shall pay to the Owner the cost of repair, or where repair is not possible, the value of any part of the Accommodation, furniture, fixtures, fittings and effects so destroyed or damaged as to be incapable of being restored to its previous condition. Breakages and damage must be reported as soon as possible.

15.2 The Visitor must allow the Owner and/or its agents to enter the Accommodation to inspect the state of it, on prior appointment or in an emergency when immediate access must be granted.

15.3 The Visitor must not use the Accommodation or allow its use for any dangerous, offensive, noisy, illegal or immoral activities or carry on there any act that may be a nuisance or annoyance to the Owner or to any neighbours.

15.4 The Visitor and his or her Party must comply with any reasonable regulations relating to the Accommodation of which the Visitor has written notice. Such regulations will normally be found in the welcome pack in the Accommodation.

15.5 The Visitor and his or her Party must not do anything or permit anything to be done that would or may result in the insurance of the Accommodation becoming void or voidable or the premium on it being increased.

16 Property Cleanliness
The Visitor and members of his or her Party are asked to leave the Accommodation clean and tidy. The Owner reserves the right to make a charge for extra cleaning if the Accommodation is not left in a satisfactory condition.

17 Family Occupation
17.1 The Accommodation shall be for family use only, not for youth groups or other groups or student parties. Sleeping in tents or motor vehicles adjacent to the Accommodation is not permitted.

17.2 The Agreement is personal to the Visitor. The Visitor must not use the Accommodation except for the purpose of a holiday by the Visitor and the Visitor's Party during the Holiday Period, and not for any other purpose or longer period. For this purpose a holiday shall be regarded as a determinate period of pre-planned absence by the Visitor from his normal place or places of residence.

17.3 The maximum occupancy of the Accommodation shall not be exceeded. The Visitor must not hold any function or celebration in the Accommodation involving any persons not named or specified in the Confirmation Invoice.

18 Drought
The Owner cannot accept responsibility for drought and the consequent shortage of water at the Accommodation.

19 Weather
At the start of the day that a Holiday Period commences, the Owner will assess whether there is a significant probability that the Accommodation will prove inaccessible due to bad weather. If the Owner considers that the Accommodation will prove inaccessible, then the Owner will take reasonable steps to inform the Visitor and to offer a refund of 100% of the amount paid. For this purpose the Accommodation shall only be deemed inaccessible if it cannot be reached, or expected to be reached, using a normal road-going four wheel drive car driven by a driver of average ability. This does not include temporary inaccessibility 1-2 hrs caused by high tides which occur occasionally and are a feature of this property. No refund shall be due to any Visitor for any periods of inaccessibility that may occur after the commencement Holiday Period.

20 Advance Bookings
All bookings should be made well in advance. It is advisable to book early to avoid disappointment, particularly over school holiday periods.

21 Comments/Complaints
Every reasonable care will be taken to ensure that the Accommodation is presented to visitors to a high standard. Should the Visitor find on arrival that there is a problem, or cause for complaint, the Visitor should immediately make this known to the Owner. Reasonable steps will then be taken to assist the Visitor. The Owner will not normally make any refunds in respect of complaints made after the Visitor's departure from the Accommodation if the Visitor did not make the complaint or the problem known to the Owner during the holiday. The Owner wishes the Visitor to comment on his or her stay and a visitor's book is available in the Accommodation for this purpose.

22 House Closure
On rare occasions, the overall management of the Owner's estates or properties may mean that the Accommodation has to be temporarily withdrawn from holiday use. There will normally be substantial notice of this. However if these circumstances lead the Owner to cancel, modify or alter an advance booking then clause 7 will apply.

23 Arrival and Departure Times
23.1 Adherence to the Arrival and Departure times forms part of the Agreement and any stay that extends over this period will be subject to a charge being made for additional days. Arrival time is between 17-00 pm and 18-00pm on the first day of the holiday and Departure time is between 10-00 am and 12-00 noon the last day of the holiday. No access can be given prior to 17-00pm due to the time needed to clean the Accommodation between bookings.

23.2 The Visitor will be issued with 2 sets of keys to the Accommodation on the first day of the Holiday Period and the Visitor must return them on the last day of the Holiday Period or the date of departure, if earlier. Failure to do so will incur the cost of a replacement set.

24 Rural way of life
The Accommodation is located in a rural area and any action by the Visitor and his or her Party that interrupts or endangers the livelihood of others authorised to use the Accommodation and/or the surrounding land belonging to the Owner will constitute a breach of the Agreement by the Visitor. The visitor and his or her party are obliged under this agreement to be respectful to neighbouring households, and avoid interfering in any detrimental way with the local environment.

25 Right to Evict
The Owner reserves the right to evict the Visitor and his or her Party (without) compensation being payable to the Visitor or any member of his or her Party) if this is deemed necessary by the Owner; for example, should complaints be made of anti social behaviour or unreasonable breakages or damage occurs or smoking restrictions are not observed or the Accommodation is being otherwise misused or there is a material breach by the Visitor of the Agreement.

26 Data Protection
The Owner stores personal data relating to Visitors. This data will only be used for the purposes of the Owner's business and will not be shared or transmitted to any third party, except for any purposes described under the "privacy" section of the owners' website.

27 Non-Waiver
The non-exercise by the Owner of any of its rights under the Agreement in any particular incidence of breach or default by the Visitor shall not consitute a waiver by the Owner of such right in that or any subsequent incidence.

28 Notices
Notices shall be sufficiently served if sent by pre-paid first class recorded delivery letter, facsimile transmission or email to the address appearing in the Confirmation Invoice or such other address as each party may from time to time have communicated in writing to the other. Any notice to be served on the Visitor under the Agreement may be given during the Holiday Period by delivery through the letterbox or putting under the front door of the Accommodation and shall be deemed to have been received upon the expiration of 24 hours after service.

29 Severance
If any provision of this Agreement is held by any competent authority to be invalid or unenforceable in whole or in part the validity of the other provisions and the remainder of the provisions and the remainder of the provision in question shall not be affected.

30 Headings
The headings in this document are included only for convenience and do not affect the meaning of the clauses to which they relate.

31 No Tenancy
The Agreement is for the Holiday Period and is not intended to create the relationship of Landlord and Tenant between the Visitor and the Owner.

33 Governing Law
The construction, validity and performance of the Agreement shall be governed by the law of Ireland and both parties submit to the exclusive jurisdiction of the Courts in Ireland.
34. The Visitor will provide a copy of a valid passport to the owner or his representative to confirm identity when booking. The visitor will also provide an individual list of his party on arrival.

35. No smoking is allowed in the house

Signed Visitor:_______________________________________
Signed Owner/Owner's representative:_________________________________________________
---
---
IE
·
Joined in December 2013
Response rate:

100%(past 90 days)
Response time:
within a day
Explore other options in and around Westport
More places to stay in Westport: