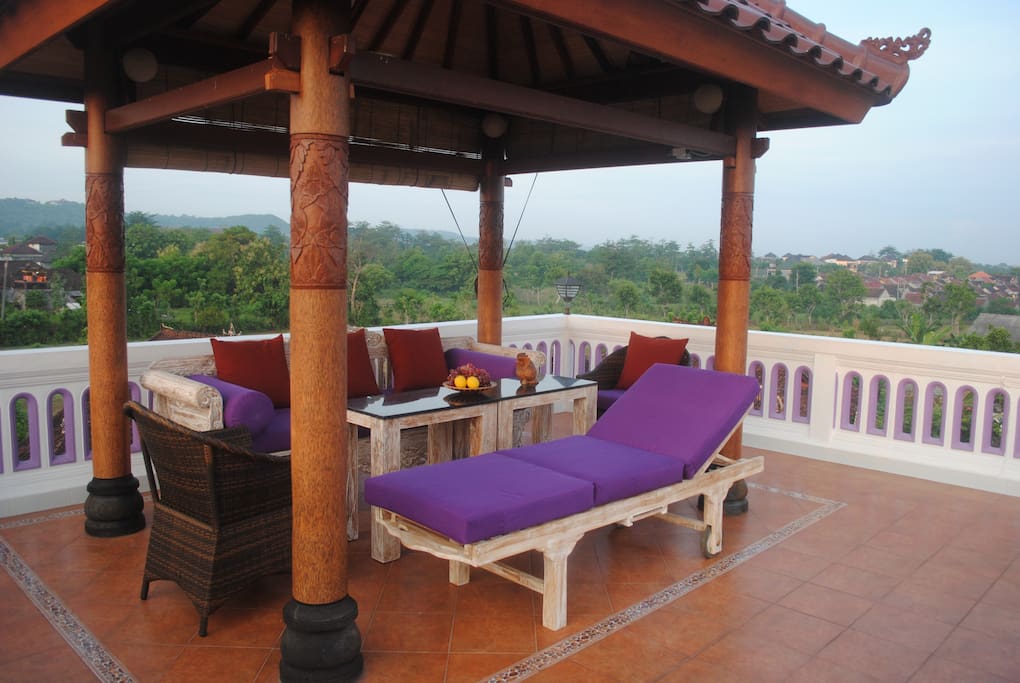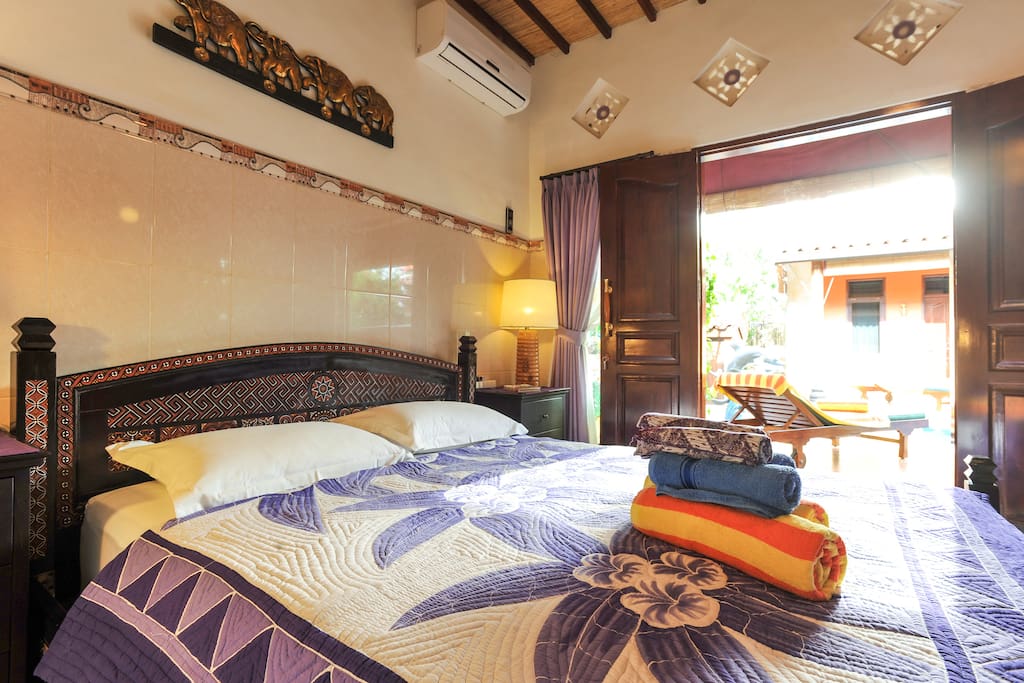 About this listing
Tropical Oasis - The Guesthouse !
Enjoy your Private Pool ! Private Rooftop Terrace with full views of sunrise, sunset and stargazing ! Private fully equipped kitchen !
Only 5 minutes away from Jimbaran Beach and Ayana Hotel (with its Rock Bar)
Tropical Oasis and hosts are rewarded as super-hosts 30 months in a row!
(Airbnb allows you to filter on 'Superhost' when searching.)
High speed Fiber optic WiFi-Internet.
We offer a very clean and healthy environment. Free from f.ex mosquito's.
---
This listing has essential business travel amenities.
---
Check In: Anytime after 3PM
Room type: Entire home/apt
Self check-in: Doorman Entry
---
---
---
The space
You will find our stylish pool-villa nestled peacefully in the hills of Jimbaran, just a short bike ride to Jimbaran Bay with its famous seafood restaurants, white sandy beach and legendary sunset.
Our ambition is to go above and beyond being just your 'Home away from home '. Together with or handpicked, trusted partners, that live up to our high standards of hospitality, quality, service and support (see more in point 14 below) we want to give our guests a totally satisfying, excellent experience while staying in Bali. You won't be disappointed, have a look at our reviews....:)..!!
Highlights... 15 good reasons to choose Tropical Oasis for your stay in Bali:
1. A private, exclusively yours, shimmering clean, blue shining pool (7 x 4 m). Five steps away from the living area. The pool, together with the tropical garden, is enlightened after dark. A great place for socializing!!
2. A private, exclusively yours, Rooftop Terrace Gazebo. Feel the refreshing breeze from the ocean with 360 degrees panoramic view of the Bali mountains, Mount Agung, Java and the Indian Ocean in a distant. You can watch airplanes from all over the world silently (you will hear no sounds at all) landing and taking off at the airport conveniently located a 15 minute car ride away. Enjoy the amazing sunset and sunrise from here and experience the clear sky after dark, enlightened only by the stars and the moon. This is the perfect place for meditation, yoga and romantic dinners. Or just for drinking your cup of tea or coffee.
3. Only 5 minutes, easy and safe access to the famous Jimbaran beach and its seafood restaurants and glorious sunsets.
4. We have around 15 minutes to Balangan beach.
5. Location 'in the middle of everything'. Look at the map below. We are not more than maximum 25 minutes easy access away to most 'points of interest' here in the southern part of Bali.
6. Private, fully equipped kitchen with spacious fridge, kettle, toaster, microwave, freezer etc
7. Bedrooms with comfortable beds and air cons.
8. We provide free high speed Internet and Wi-Fi (Fiber Optic), very fast and reliable, for your communication with the world outside our peaceful Oasis.
9. Enjoy our lovely orchid-garden with many tropical plants, herbs and trees. Feel free to use the organic herbs for your cooking.
10. Professional Massage. Soviana is a Certified Medical Massage Therapist, after two years of studies in Sweden.
11. We offer a very clean and healthy environment. Free from mosquito's and other undesired animals!
12. Privacy. With respect to our guests, we leave it to them to decide the balance between privacy and interaction. At the same time we are happy to be supportive in any way we can.
13. Add to the above our ambitions to provide highest level of hospitality, quality and service and you got a good picture of what to expect when you stay at Tropical Oasis..:)
14. Tropical Oasis is more than your 'Home Away from Home'! We know our island and we are prepared to support when you are planning activities on Bali and the other outlaying islands. We are concerned that you have a great time not only in Tropical Oasis, but also elsewhere in Bali during your stay. Together with our trusted partners we have plenty of experience to arrange exciting day-trips, rental of cars and motorbikes etc. etc. See more below:
-As soon as you have booked our place, we will send a comprehensive information package about our recommended day-trips. Competitive rates and great value!
-Info about our services and some ``good to knows`` and ``think abouts`` etc.
-You will take advantage of engaging our handpicked, trusted partners. Those that are able to live up to our high standards of hospitality, quality, service and support to our guests:
Partners regarding:
-Rental of motorbikes, cars and drivers.
-Partners for conducting interesting day-trips for all tastes. We are happy to arrange your airport pickup.
-By us tested and selected restaurants (we are very picky..:) Our criteria for a good restaurant are great food, great service, great value, affordable and consistent).
-Cooking classes.
-Diving, water sports and boat trips to other islands like Lembongan, Lombok, Gilis etc etc
All you need to do all by yourselves is to choose and Enjoy…Relax and have a Great time…!!..:)
15. We are humbled and proud having fulfilled the Airbnb requirements to be appointed as Superhosts (now 30 months in a row...)! With guests from more than 40 different countries.
OBS : Did you know that you can filter on 'superhost' when you do your search for available accommodations ?!
See also our 2 other listings at Airbnb:
The Main House:
https://www.airbnb.com/rooms/2067761 2 bedrooms for 4 sleeping
OBS: For 1 or 2 persons the Guesthouse provides a very cozy, fully equipped, functional and well organized space indoors, plus terraces under roof around the private pool. In addition to this you have the private rooftop. The Guesthouse includes everything you need for your living, a wardrobe and other places to store your belongings.
If you still would prefer to have some more space and comfort than the Guesthouse provides: At your arrival you will always have the option to pay a small fee for upgrading to the a little bit more luxury Main House.
The Pool Suite:
https://www.airbnb.com/rooms/2067984 3 bedrooms for 6 sleeping
All our accommodations offers total privacy and you will be the only guests. That is having the Pool and Rooftop Terrace all for your own pleasure.
++++++++++++++++++++++++++++++++++++
 
You'll find yourself in a wonderful position from which you also can discover the rest of Bali. We live in an area where you will meet and come close to the Balinese people and culture, as well as meeting western people. It's a nice, peaceful countryside location, but still close to everything. Look at our Location Map below. All spots of interest in our nearby surrounding, which we have pointed out, take around 2-25 minutes to reach! Just unwind and absorb the tranquil and amazing island atmosphere.
In the villa's center, surrounded by tropical gardens with numerous flowers and herbs, sits an inviting, blue-shining, always clean swimming pool.
Our villa features both open and indoor style living. All bedrooms are equipped with air-conditions of latest technology, so they are very silent and convenient. All rooms have fans (via the air cons and-or fans in the ceiling.)
Free breakfast (self served) is included the first week: bread, cereal, egg, milk, juice, coffee and teas. We also provide free drinking water. Other than that, the fridge is big- fill it with your personal favorites!
If you prefer to buy your own breakfast, more matching your personal taste, we deduct 2 USD per night and adult.
We have plenty of parking spaces.
------------
The property consists of two buildings:
1. In the Main house there are 2 bedrooms, one bathroom and a fully equipped western kitchen. There is a 42 inch led-TV and DVD. There is also an extra toilet and shower behind the house. Outside the living room you have the terrace, separating the pool from the Main house. The big bamboo curtains create more private space when you roll them down. They are also very efficient to protect from sun or rain.
We name the bedrooms Master bedroom and Poolside bedroom:
----Master bedroom: You will enjoy a bigger bedroom with a king-size bed of best quality (180 cm width). A wardrobe is there for your clothes and belongings. When stepping out of the bedroom you will enter the living room – kitchen area.
----Poolside bedroom: This is a slightly smaller bedroom with a Queen-size bed, 160 cm in width. A wardrobe is available for your clothes and belongings. This bedroom has two exits: One to the living room – kitchen area and one directly out to the pool.
2. The Guesthouse contains a bedroom with an en-suite kitchen and bathroom.
----The Guesthouse is like a private cottage. With an en-suite bathroom and fully equipped kitchen, your own fridge etc. If you want to cook yourself, you will have all equipment that you need. The bed is queen-size (160 cm width) and of best quality. In front of the bed you have the TV and DVD. A wardrobe is there for your clothes and belongings. When stepping out of the door you enter your private terrace, separating the pool from the Guesthouse. Why not lay down in one of the long chairs, open your book and recharge your batteries!! We have a, removable, bamboo-wall (see picture) in order to create more privacy. The big bamboo curtains give more private space when you roll them down. They are also very efficient to protect from sun or rain.
## NOTE:
In this listing you are renting the Guesthouse with its 1 bedroom, sleeps 2 persons. There is one bathroom.
##:
Interaction with guests
We celebrate, usually on the Rooftop, your arrival with a relaxing welcome-drink. Then we introduce you to the facilities of Tropical Oasis, to make you feel at home in your new 'Home away from home', and also invite you for a 15 minutes short tour in our nearby surroundings, like Jimbaran Beach-area, restaurants and supermarkets. You will also get the opportunity to buy some food, a local SIM-card, change money, visit ATM etc etc…
After the introduction (now that you already feel at home..:) we leave to our guests to decide the level of interaction and attention. Our ambition is to provide 100 % privacy and personal space for our guests and yet be available when desired. If we are not at home, you can always reach us on phone or e-mail. We are 'the staff' and as responsible owners also your guarantee that everything works to your fully satisfaction! When you prefer privacy you can easily choose to have that. When you feel for company and conversation or need help with arrangements or have questions, we are always there for you! We have our own private entrance and living-space behind the Main house on second floor, apart from the spaces that we are renting out. Our own space is very private. The same applies to the spaces that we rent out.
The neighborhood
Our location has the feel of a remote and quiet countryside location, but still we are close to everything with easy access. Tropical Oasis provides the perfect opportunity to combine solitude with action.
Take a look at the map below and see how our location is almost in the center for getting around to other interesting places in this southern part of Bali. You will reach all places pointed out on the map within 25 minutes with a car or motorbike.
Surroundings:
-There are numerous beaches all around the coastline. Each one has its own character. Some of the beaches are great for just relaxing in the sun or swimming, some for challenging surfing (f.ex 15 minutes to Balangan beach) and other water sports. Some are more suitable for families, elderly and children.F.ex Nusa Dua beach. All beaches are within a convenient driving distance. We also know about some secluded beaches off the beaten track, not far from us, that we are happy to show you.
Our villa and its location are ideal for all kind of groups, families, couples or singles. Not so suitable for children under 5 years, or for people needing wheelchair.
-Golfers will find their paradise not far from where we stay: Nusa Dua golf (25 min from our house) is one of the highest rated international golf courses in South East Asia. The same goes for Dreamlands New Kuta Golf Course (around 20 minutes from us).
-Nearby the villa you will find many 5 stars hotels like Ayana with its famous Rock bar. Why not spend some daytime in the fantastic Ayana and its Rock bar, 5 minutes away from us, and feel the ultimate luxury, and in the evening walk back home. The lovely Four Seasons is also only minutes away.
-Western supermarkets are nearby
-Walking distance to numerous restaurants
-Only 15 minutes to airport. We are happy to arrange Airport pickup.
Getting around
We provide a very detailed map of Bali that you are welcome to borrow.
Some options depending on your preferences (Ask us for rates if you intend to rent fex a car or motorbike):
- Walking: In around 20-25 minutes you reach the Jimbaran beach, plenty of restaurants and food-markets. You will find 5-6 restaurants within 3-10 minutes walking-distance. There is a well assorted Mini-Market just 3 minutes walk. If you do not like walking too much, we recommend that you consider to rent fex a scooter or car or some other means of transportation.
- Motorbike: Within 5 minutes you will reach the Jimbaran beach, plenty of restaurants and food markets.
- Car: Within 5 minutes you will reach the Jimbaran beach, plenty of restaurants and food markets.
- Car with driver: Ask for rate.
- We have a big Taxi station nearby. No problems to find a taxi here, there are plenty. We recommend Blue Bird Taxi (as they use taxa meter), but also other taxis are available.
- Many of our guests like to use online Taxis like Uber and Grab Taxi. You just need a smartphone, internet and the apps. Those taxis are 'banned' in some specific parts of the island, but very much available nowadays. The rate is around 1/2 of what other taxis charge. Internet Maps-GPS works great in Bali.
In addition to this we go ´´Shuttle busing´´ with our car. We drive in the beach and restaurants direction more or less at least one time every day. The same goes for supermarket. You are of course welcome to join us on those daily tours.
If you plan to rent a car or a motorbike, we are happy to help with that. We only work with our trusted, reliable partners. They also organize all kind of different trips and activities, just tell us what you want to do, and we will do our best to arrange it. As we are living in Bali, we have plenty of suggestions to make your stay an unforgettable one: the best places to see, things to do and best ways to get around.
Other things to note
Many guests love to spend a lot of time in Tropical Oasis feeling ``at home away from home``. Just relaxing and having a good time around the cozy Pool or Rooftop Terrace and cooking in the fully equipped kitchen when they are hungry...
We never have any problems with supply of water, electricity and Wi-Fi. But unfortunately we know so many accommodations and areas of Bali (also in this southern part of the island) that have severe problems with those basic things. Therefore we recommend, that, when inquiring to rent a villa ask the owners if they have any of these problems, which can occur often. Without water, electricity (and maybe without fast, reliable WiFi as well..:) life is not so pleasant !
Welcome to our Tropical Oasis!!! Unwind and have a good time!!!!
---
May not be safe or suitable for infants (Under 2 years)
We are giving all our respect and consideration to our guests and we expect the same in return.
If there is anything that we can do to make your stay more enjoyable, please let us know. We want to make sure that you get full value and are 100 % pleased with your stay at Tropical Oasis and Bali !
Please respect :
- No smoking indoors. No problems to smoke outdoors.
- No pets.
- No loud and disturbing noise after 10 pm and before 8 am.
- The number of guests (children included) checking in must be no more than the number of guests declared at the time of your booking. If you occasionally would ask for an exception, please let us know.
- No unauthorized guests without host's permission. So..our guests are not allowed to bring their own guests.
- Tropical Oasis is not suitable for children below 5 years! Please respect this.
Other than that: Close all your works, bring your sunscreen, put up your sunglasses, grab your drink and enjoy Tropical Oasis and our lovely Bali !!..:)
Enjoy your stay and feel very Welcome!!!
Best regards Thomas & Soviana
---
---
Bali, Indonesia

·

Joined in August 2013
Hello and Welcome to Tropical Oasis!

We are an Indonesian-Swedish couple that love to do our very best to add value to our guests experience of Tropical Oasis and Bali. To provide your base, your 'Home away from home', while spending quality time here! We hope to be a part of making your stay as GREAT and memorable as possible.

We have traveled all around the world, stayed at fabulous hotels and resorts as well as in backpacker accommodations and tents, and everything in between..:) So we believe we have a good understanding of what travelers need and appreciate. We are our own 'staff' and as responsible owners also your guarantee that everything works to your fully satisfaction! Our aim is to provide a suitable blend of hospitality, privacy and support depending on our guest's preferences and experience of traveling.

We met in Hong Kong, where Soviana worked for 12 years with a lovable Chinese family, so she speaks fluent Cantonese besides Swedish and English. Thomas profession is Business-IT consultant. After Hong Kong we moved to stay in Sweden for 8 years. Soviana completed a 2 years education in Sweden to become a Certified Medical Massage Therapist. So, if you like real Professional Massage – that's one of the reasons to choose to stay at Tropical Oasis..:)..! Soviana successfully run her own massage-company in Sweden for 6 years, before we left for Bali. Now we live in Bali since 2011 in the villa which we designed and built ourselves.

We like traveling, music, sports, hiking, good food, cooking (good food..:), gardening, reading, watching movies and to spend time in the beautiful nature. We appreciate socializing with good friends and other interesting people that we meet. We are clean and tidy and prefer the silent, relaxing places most of the time, more than the noisy ones. And we do not make a lot of noise ourselves.

We follow approaches as ´´Why not? ´´ and ´´ Of course we can!´´ and the mindset as ´´ This is the first day of the rest of our lives´´

ENJOY !!..

Response rate:
100%
Response time:
within an hour
Exact location information is provided after a booking is confirmed.
Explore other options in and around South Kuta
More places to stay in South Kuta: