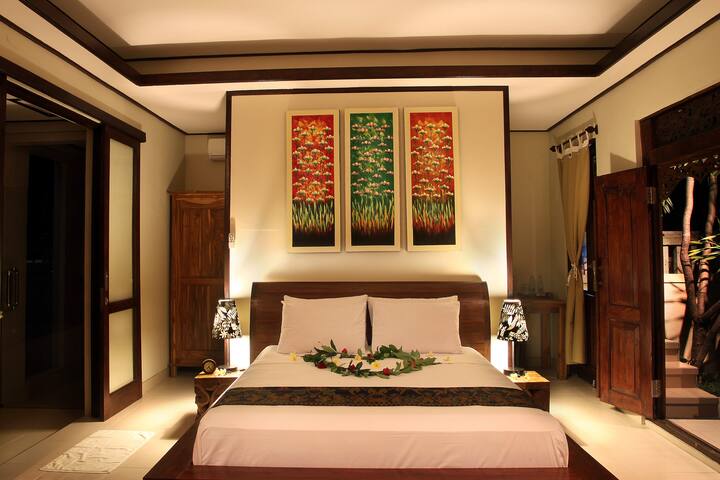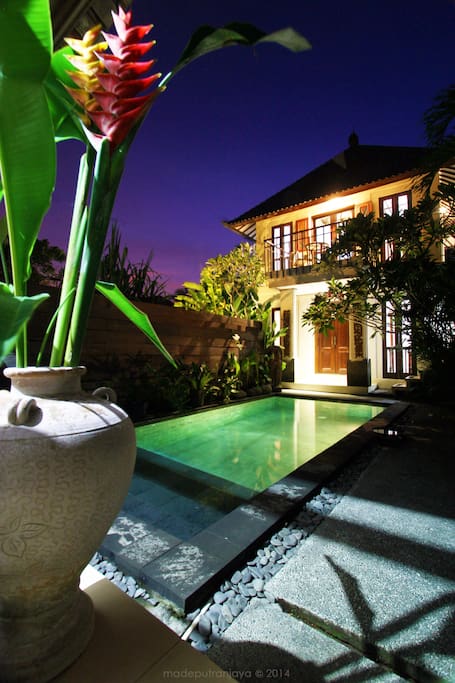 Private villa with swimming pool in Ubud Bali and surrounded by lush tropical garden.The living area is an open-concept room, which makes it very cooling and breezy during the day. Located in quiet Mas area of wood carving village and we provide free shuttle to the center of Ubud only 10 minutes from our Villa. Breakfast is include and we also provide airport pick up service for extra service. We will always make sure you have memorable holiday in Bali.
The space
Private villa with swimming pool in Ubud Bali and surrounded by lush tropical garden. we located only 60 minutes from Bali International airport and only 10 minutes from Ubud the best city in Asia. We provide your personal assistance and driver to drive you to Ubud and back at any time.
Garden villa with pool.
The villa is surrounded by vibrant tropical gardens, coconut palms and local green plantation.
Bedding
The villas are furnished with antique bed, double bed mattress(160 x 200 cm) .
Size of room
All villas are fifty (150) square meters in size including terrace.
Facilities
all rooms have en suite bathrooms with bath tub with over head shower and hand shower, air conditioning, color satellite television, telephone, electronic safe, tea / coffee facilities, hairdryer, terrace, dining room and kitchen.
* Double bed
* Bedside table
* Writing desk
* Chair
* Television
* Tea / coffee maker
* Sofa
* Wardrobe
* Electronic safe
* Hair dryer
* Bathroom
* Toilet
* wash basin
* Bathtub
* Swimming pool
* Terrace
* Sofa / day bed
* Kitchen
* Dinning room
Special benefits on staying on villa
* Fresh and Healthy welcome drink on arrival
* Balinese flower arrangement
* Breakfast served in villa or in our restaurant.
* Complimentary bottle of water in the room and at pool
* Free shuttle service around Ubud
Free shuttle to Ubud and return to villa;
Depart to Ubud
11:00 am
04:00 pm
07:00 pm
Depart from Ubud
04:10 pm
10:00 pm
If you have any other inquiries about Bali and Ubud, please feel free to email me, as I am Balinese and know more about Bali. I will try help all my guest to explain about our island and our culture.
Guest access
Swimming pool is private also the dining room and kitchen. The guest only share shuttle to and back from Ubud
Interaction with guests
Me or Wayan will always there to help you to arrange shuttle or we can talk about your plan during breakfast.
Other things to note
Silent Day Rules...........
What happening on the 28th March.............

Dear Valued guests,
The Balinese Hindus do not celebrate the coming of the new year of Saka calendar with lavish party; they celebrate it with meditation instead. No activities are allowed to take place. These mandatory religious prohibitions include no pleasure (amati lelangon), no traffic (amati lelungan), no fire (amati geni) and no work (amati karya).
This year, Nyepi Day falls on 28 March 2017
On Nyepi Day, we will not be able to accept any check-in nor check-out throughout the day.
We notice that you will be staying with us during Nyepi Day, kindly be informed of the below situations during Nyepi Day:
The silence begins at 0:00 am of 31 March 2014 and will go on until the next 24 hours
All shops are closed on Nyepi Day
Guests has to stay inside the resort area
When listening to the music or watching TV in the villa, keep the sound at minimum level
There will be no traffic on that day in the whole Bali island
Ngurah Rai airport will be totally closed on 31 March 2014, so there will be neither arrival nor departure in the airport on that day. All connecting airports around the globe have been informed in advance about this.
Across Bali, the activities are allowed only in emergency rooms and maternity section of hospitals and the arrival section of airport. Any emergencies are taken into consideration and tolerated. The whole island is in silence.
However, operational activities and services in the resort will operate normally.
One day before Nyepi, Pengerupukan Day, there will be a nearest Ogoh-Ogoh parade performed by our neighboring Nagi villagers in the evening. Ogoh-Ogoh is the manifestation of a person, an object or anything that disturbs human lives. This parade is an exorcism ceremony at the main village crossroad, the meeting place of the demons. Beforehand, there will be a Perang Api (fire war) to start the parade with.
---
---
Always communicate through Airbnb
To protect your payment, never transfer money or communicate outside of the Airbnb website or app.
Learn more
---
Check in is anytime after 12PM (noon)
Temple/Pura Protocol
The Balinese are quite open and generally welcome visitors. You can enter most temples freely. Wear a sash around waist and preferably a Sarong.
Big temples can hire a sarong at the front gate but nice to have your own. You can buy a sarong in Ubud market.
Woman who are menstruating must wait out side the temple.
If you visit a holy spring like Pura Tirtha Empul and decided to try bathing, keep your cloth on and leave the shampoo behind. it is not a bath, but an immersion on holy water. for spiritual cleansing.
Expect to pay a small donation before entering a temple. This donations are put to good use and help with the upkeep of the grounds and the temple itself.....
Free shuttle to Ubud and return to your cottage:
Depart to Ubud
11:00 am
04:00 pm
07:00 pm
Depart from Ubud
04:10 pm
10:00 pm
Note :
If you miss your shuttle, than you will pay IDR 50.000 to drop you back home or to the town.
We will not provided free shuttle on your check out day.
Thank You
---
---
---
Me & my husband (honeymoon!) ended up staying at Saba Garden Villa in Gianyar because Gusde let us know about a week before our stay that there was construction starting next to this villa. I really appreciated his pro-activeness in helping us to have the best stay possible. The villa was much farther from Ubud but ended up being a blessing in disguise as we were able to enjoy the beautiful surrounding area of Saba, and we loved the slightly isolated villa. It was truly paradise and everything was impeccable--there are four villas in a gorgeous, heavenly spacious garden, a wonderful roomy pool with built in lounges, and there were two showers (one indoor and one outdoor beautiful garden shower) and a raised bath in our villa. The beautiful details of the room, traditional wood carved deco, spacious and airy bedroom, outdoor living room and kitchen as well as little amenities like mouthwash and stocked beach towels by the pool really made the stay extra special. The quality of the room was outstanding and we wished we could have stayed longer. I made a mistake when I originally reserved an extra night but Gusde came and personally refunded us for half the rate of the night which was very generous. We were driven everywhere we wanted to go in Ubud, to spa treatments etc., and our driver Dewa was super nice and very easy to communicate with in English. Would highly recommend staying in any villa run by Gusde and I would go back to Saba Garden in a heartbeat! My only regret was that we didn't book the in-house masseuse quickly enough, I heard from the other guests at the villa her massages are incredible! I never saw the Ubud Villa but I can say book Saba Garden Villa if you want to go to heaven and back, for real.
---
This particular villa was full when I booked on Airbnb, but Gusde offered to move me to a nicer villa at the same price, which I accepted. I ended up staying at Saba Garden Villa, which is about a 30 minute drive outside of Ubud. While I was initially a bit nervous about this distance, it ended up being no problem whatsoever and the BEST stay I've ever had through Airbnb. The villa is outstanding in every way - beautiful rooms, pool, common areas etc. with an incredibly helpful and nice staff. There are 3-4 rooms in the villa, but I was the only person staying there at the time, so I had this huge place to myself. One of the staff, Agung, would cook me breakfast every morning whenever I was ready that included fresh fruit, eggs, bacon, toast, coffee and more. He would also help me order dinner and even served it to me at night! Wayan also drove me to and from Ubud every day, available to pick me up and drop me off whenever I wanted. I was so impressed with this villa and the staff that I will be recommending it to all of my friends who travel to Bali and I hope to return very soon!
---
Great accommodations and all around helpful! We had a lovely experience at his grandfather's home for a traditional Balinese ceremony honoring iron. We met other members of his village and family and shared stories/appreciation of Apple products. The villa was secluded and offered the perfect start to our Ubud stay. Wayan is the villa driver and always made sure we were taken care of. The villa offers a free shuttle to Ubud. Gusde and his wife even shuttled us a few times as well. The pool is wonderful and when you book just two people in the 2 bedroom villa, they keep the other bedroom vacant so you have complete privacy. There is an upstairs room and a downstairs room. We stayed downstairs. Of Gusde's other listings, (white bedrooms in other villa) you can use the pool only if there are no guests in the 2 bedroom villa. Breakfast was great. We opted for traditional Balinese and since I was a vegi, they were happy to accommodate. Fresh fruit, juices, food, coffee were all wonderful. The rice paddies where in transitional growth phases while we were there, so just know this when you visit the area. I actually liked it better as you get to see more work happening in the fields. The road is not very busy and is perfect to take a stroll down to the local village where we met Wayan's wife and children, saw men grooming their roosters, and were greeted with an endless amount of smiles. Wayan's wife owns a laundry service in the village and they will pick up and drop off for your convenience. We paid no more than $3 to do an ample load. On a side note, I left a shirt in the villa and only noticed I didn't have it 3 days after our departure. Gusde and Wayan made every effort to find it (was hidden in the sheets and ended up in their laundry) and personally dropped off the shirt at our current accommodation. Thank you for a wonderful stay. We look forward to seeing you all again! Cheers, Nicole & Jeremy
---
The private villa was exactly what my wife and I were looking for during our stay in Ubud. I think we may have stayed at a different property across the street than what is listed (supposedly better) as they were doing some construction so the details may not apply to the property as listed. The villa itself was large and the plunge pool/lounge area was amazing. We spent almost an entire day there just relaxing. Gusde was also extremely helpful during our stay. As others have mentioned, he can arrange for you to be taken to town at no charge a couple of times during the day as the property is tucked away from the touristy areas of town. He also recommended things to do, and as a great AirBnB host, he even invited us to join in attending a religious festival that his village participates in twice a year. We just happened to be visiting at the right time! While he was busy juggling the festivities (he is an important person in his village), he still found time to follow a procession of offerings to the temple and watch a traditional Balinese dance show. It was great, as there were only about 5 other tourists at these functions out of the the thousands of Balinese that were there. I think the only complaint you could have would be the location. If you want to stay in town and be able to walk around to restaurants and have the night life, this wouldn't necessarily be the place for you. At the same time, we found that the location was part of the charm and we still spent plenty of time in town. Would definitely recommend.
---
Stayed at the larger villa because of a mix up that Ida was quick to remedy by upgrading us and refunding us a night. Villa is close to Ubud shopping center (less than a 10 minute drive). Ida or his drivers are always available for when you want to go into the city and the convenience of return trips is unmatched. There is a beautiful infinity pool, but the water was too cold to jump into. Very pretty though. Showers always had abundant hot water, and the rooms were made up daily for us. Ida is very nice and his team is always on call for you. Only cons are the bugs and duck sounds during the night. I recommend doing a cooking class but would hold off on doing it at Basil Pesto, they are just beginning and haven't set up the kitchen yet for multiple people and for a class type setting.
---
We just returned from our two week honeymoon in Bali and we spent the first five nights of that trip in Ubud in this private villa. We had a fantastic time and Gusde who runs the place was an incredible host. The villa is a little removed from the main town of Ubud and we needed to get cars back and forth each day but Gusde made that process easy. Breakfast came to our villa each morning and over breakfast someone from Gusde's staff or Gusde himself would ask us what we wanted to do for the day and the rest was easy. They even arranged a day trip for us with a local driver Yande of Bali Island Tours (EMAIL HIDDEN) and we ended up arranging for Yande to drive us everywhere we went for the next week and a half after we left Ubud. If you have a sense of adventure and want to stay in a beautiful setting surrounded by peace and quiet - this is the villa for you. Thank you Gusde, Wayan and Yande for making our trip amazing!
---
Gusde, Wayan and their staff were very friendly, welcoming and helpful. They arranged shuttle to the center for us and were very flexible with the shuttle - in general they were very flexible with everything (check out etc.) (maybe also due to the fact that there weren't a lot of guests during our stay). The villa was generally clean. The room and the equipment are in good condition. The kitchen outside was not very well equipped. We would also recommend to order sth. in their restaurant Bali Pesto (delivery service to the room for free) it was delicious. The area was great for us. A bit out of town but very easy accessible by scooter and also easy to find. We definitely recommend Gusde as a host.
---
Gianyar, Indonesia
Joined in August 2011
Hi i'm Ida Bagus and I am Balinese, I have studied in Switzerland and traveled a lot in Europe .Airbnb concepts is my favorite one because you can help guest to get in contact with local and see real Bali, so when you visit Bali you must meet local or Balinese and I will always come to make sure to you have wonderful holiday in Ubud. Me, my wife or Wayan will always there for breakfast and planning your trip each day, also explaining about Balinese culture and nice place to visit. Since we have registered on Aibnb in 2011, we have built more rooms and now we have 14 rooms to rent, so please check our other listing, when the room that you interest is booked Welcome to Balinese hospitality
Languages:
Bahasa Indonesia, English, Français
Response rate:
100%
Response time:
within an hour
Explore other options in and around Ubud
More places to stay in Ubud: