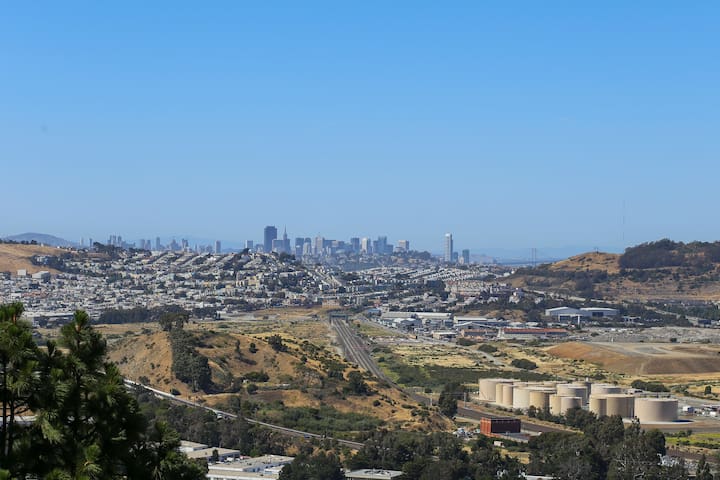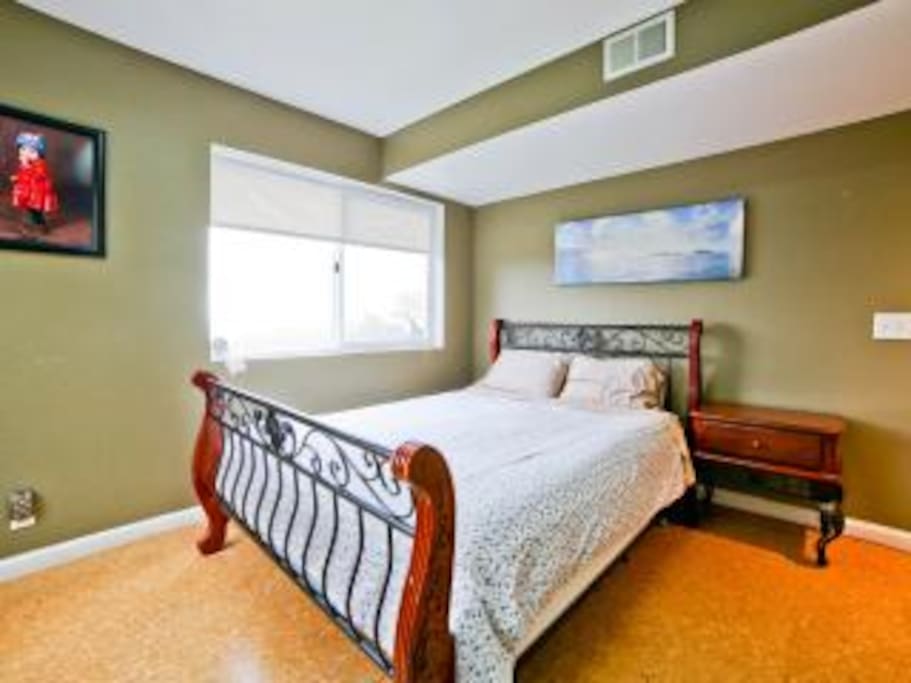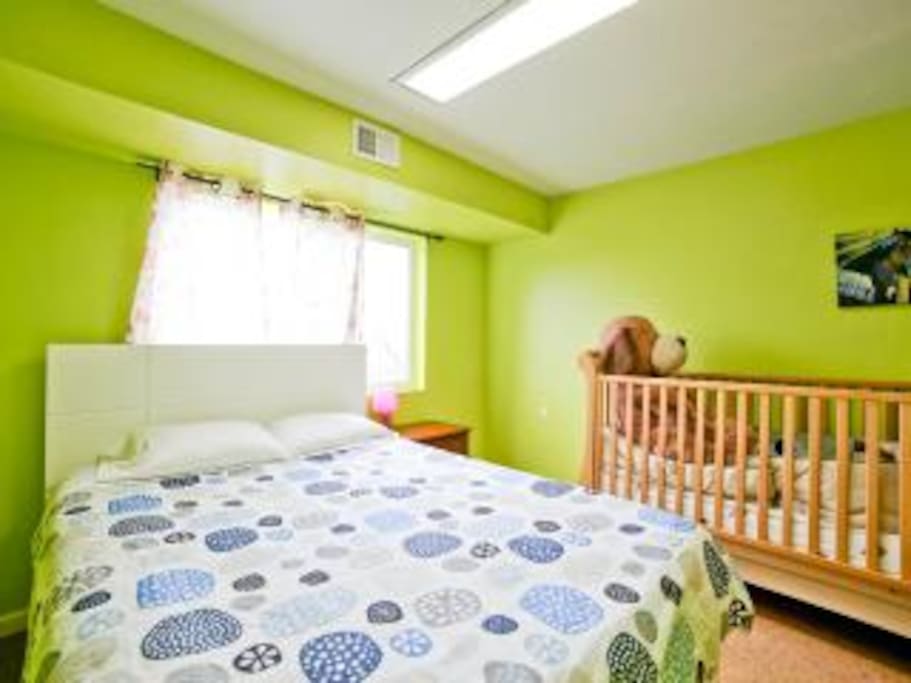 About this listing
This 3 bedroom apartment is located on a nature preserve. You get the solitude of San Bruno mountains and the views and proximity of San Francisco all at an affordable price. It's on the lower level of our home with two separate entrances.
---
Room type:
Entire home/apt
---
---
Weekend Price:
$295 / night
---
The space
This listing is comprised of two smaller apartments with separate entrances on the lower floor of the house. Secluded and private but only 10 min from SFO and San Francisco, the house is located in the San Bruno mountains, in a conservation area with a very diverse habitat (San Francisco's area largest urban open space: (URL HIDDEN) hidden)/). It also has amazing views of the city, Bay Bridge and the bay. We have sunny weather and typically when the fog rolls in towards san francisco it skips our house. we are well set up for families with kids. since our home is on a private road and Brisbane is a safe, small town right outside San Francisco we believe that we offer an affordable home in a great, safe location. We have just remodeled our home in a eco friendly manner and we offer the modern conveniences of a new home without losing the charm that makes Brisbane unique. We offer large screen TVs, cable with more than 150 channels, roku with netflix, hbogo, etc. a wii for the kids and plenty of games and reading material for all ages.
There is ample closet space for Airbnb guests as well as two small kitchens. Our home is a good fit for folks that enjoy a quiet place in the middle of the woods but close to the city.
The space is comprised of 3 bedrooms (on the lower level). We have 3 queen beds, a futon and a crib.

We have an extensive deck that has views of the city and the bay. Our property extends on more than an acre and is a gateway to the San Bruno mountains conservation area with many miles of hiking and biking.
High speed internet (100+ mbps), cable, office space (printer, scanner, copier) are also provided.
We strive to provide an allergen free environment and we do not accept smoking or animals of any kind (including service animals). My wife is extremely allergic to pet dander and for health issues we cannot accept any animals inside the home.
Guest access
The guests will have access to this apartment, the yard, our property (more than an acre), the San Bruno mountains nature preserve that can be accessed through our property.
Interaction with guests
We want to make sure that our guests are comfortable. We work with a property manager that handles maintenance issues and maid service is available upon request. My wife and I, as well as the property manager are available by phone and email.

The neighborhood
Brisbane is a unique town, diverse in spirit, relatively small but but surrounded by nature and the location is unbeatable. With great access to transportation, SF airport, San Francisco and the peninsula it provides a unique location for visitors to the bay area that would like to be close to our famous tourist sites but would like to enjoy the peace and quiet of a small town with amazing views of the bay, the city and San Bruno mountains.
Brisbane is a small town and although we do not have as many dining choices as SF does due to its proximity to it you can experience a tasty SF treat in the middle of the woods through grubhub. Grubhub delivers food for free from local restaurants so you can have the best of both worlds, amazing food from local SF restaurants in the middle of the woods.
Getting around
There is a free commuter shuttle (about a 10 min walk from the house), which will take you to BART or Caltrain.Bart, Caltrain, buses are nearby, however not as convenient as having your own car. Please keep in mind that you would have to walk for 10 min up a steep hill from the bus station.
Should you rent a car there is plenty of off street, free parking on our private road. Other ways to get around are Uber/Lyft (an app you can download on your Smartphone). easy access to 101.
Other things to note
Small supermarket downtown. Some selection of organic foods.
Madhouse Coffee: a good place for coffee and breakfast.
Authentic mexican restaurant downtown, not great but better than other restaurants in town.
The vietnamese restaurant as well has decent, cheap sandwiches and pho.
farmers market: every thursday afternoon. sometimes on sundays.
In addition we will offer free, same day shipping for local stores through (SENSITIVE CONTENTS HIDDEN) shopping t local stores. why go to costco when costco can come to you?
One thing to note which is repeated several times throughout our description is that our house is on the hill and it's secluded. Therefore, some folks have found that driving up a hill might not be to their taste. San Francisco, Brisbane and a lot of other towns in the Bay Area have homes on the hill. That fact adds to the charm for some folks and for others it's a driving challenge.
I will email check in instructions to everyone with details about the house, directions, etc.
One thing to note which is repeated several times throughout our description is that our house is on the hill and it's secluded. Therefore, some folks have found that driving up a hill might not be to their taste. San Francisco, Brisbane and a lot of other towns in the Bay Area have homes on the hill. That fact adds to the charm for some folks and for others it's a driving challenge.
---
Check-in time is 4PM - 9PM.
We value indoor air quality and we do not allow smoking indoors or for that matter pets.
1. CHECK-IN: After 4.00 pm and CHECK-OUT: Before 11.00 am The housekeeper will come at 11 am to clean the place for the next Guests.
Some exceptions can be made but only under special circumstances. WE DO NOT ACCEPT CHECK INS LATER THAN 9:30 PM.
Maid service is available upon request at an additional charge.
2. NO PETS
We strive to have an allergen free home.
3. NO SHOES INSIDE THE HOUSE (Hawaii style)
We strive to provide a clean home for our guests at an affordable price. We often have guests with babies and children that play on the floor.
3. NO PARTIES. Parties, which are defined as social gatherings involving food and/or entertainment, consisting of more than the capacity of guests assigned will result in an additional charge and penalties.
4. NO SMOKING INSIDE THE HOUSE.
Please do not smoke inside the house. Air quality is very important to us.
5. CLEANLINESS. All debris, rubbish and discards must be placed in a trash receptacle, and soiled dishes should be washed.
6. One last thing: California is going through an epic drought. Anything you can do to conserve water is highly appreciated. We installed low flow toilets to conserve water but it will help greatly to have a conservation attitude.
Rental Agreement
This Rental Agreement and Contract (the "Agreement") is a legally binding agreement made and entered into as of the Reservation Date written below by and between the undersigned person(s) or company (the "Guest") and the undersigned owner, manager or agent ("Rental Agent"), pursuant to which the Guest has agreed to rent the residence described below (the "Property"), for the duration of the Rental Term for the Total Rental Fee and other good and valuable consideration as described herein.
OCCUPANCY
Guest agrees that no more than [Max Guests] persons shall be permitted on the Property at any time during the Rental Term, all of whom shall comply with the
conditions and restrictions imposed upon Guest under this Agreement.
CONDITION AND USE OF PROPERTY
The Property is provided in "as is" condition. Rental Agent shall use its best efforts to ensure the operation of all amenities in the Property, such as internet access, satellite or cable TV access or hot tubs, fireplaces as applicable. Rental Agent shall not be held responsible for such items failure to work, but will make every effort to correct any issues as reported as quickly as possible. Guest acknowledges that use of amenities such as hot tubs, pools, spas, fireplaces, decks, and the like may be potentially dangerous and involve potential risks if improperly used, particularly with regard to children and such use is at the Guest's own risk.
Guest shall use the Property for residential purposes only and in a careful manner to prevent any damage or loss to the Property and keep the Property in clean and sanitary condition at all times. Guest and any additional permitted guests shall refrain from loud noise and shall not disturb, annoy, endanger, or inconvenience neighbors, nor shall Guest use the Property for any immoral, offensive or unlawful purposes, nor violate any law, association rules or ordinance, nor commit waste or nuisance on or about the Property.
DEFAULT
If Guest should fail to comply with the conditions and obligations of this Agreement, Guest shall surrender the Property, remove all Guest's property and
belongings and leave the Property in good order and free of damage. No refund
of any portion of the Total Rental Fee shall be made and if any legal action is necessary, the prevailing party shall be entitled to reimbursement from the other party for all costs incurred.
ASSIGNMENT OR SUBLEASE
Guest shall not assign or sublease the Property or permit the use of any portion of the Property by other persons who are not family members or guests of the
Guest and included within the number of and as permitted occupants under this
Agreement.

RISK OF LOSS AND INDEMNIFICATION
Guest agrees that all personal property, furnishings, personal affects and other items brought into the Property by Guest or their permitted guests and visitors
shall be at the sole risk of Guest with regard to any theft, damage, destruction or
other loss and Rental Agent shall not be responsible or liable for any reason whatsoever.
Guest hereby covenants and agrees to indemnify and hold harmless Rental Agent and their agents, owners, successors, employees and contractors from and against any costs, damages, liabilities, claims, legal fees and other actions for any damages, costs, attorneys fees incurred by Guest, permitted guests, visitors or agents, representatives or successors of Guest due to any claims relating to destruction of property or injury to persons or loss of life sustained by Guest or family and visitors of Guest in or about the Property and Guest expressly agrees to save and hold Rental Agent harmless in all such cases.
RELEASE
Guest hereby waives and releases any claims against Rental Agent, the Property owner and their successors, assigns, employees or representatives, officially or
otherwise, for any injuries or death that may be sustained by Guest on or near or
adjacent to the Property, including any common facilities, activities or amenities. Guest agrees to use any such facilities or amenities entirely at the Guest's own initiative, risk and responsibility.
ENTRY AND INSPECTION
Rental Agent reserves the right to enter the Property at reasonable times and with reasonable advance notice for the purposes of inspecting the Property or
showing the Property to prospective purchasers, renters or other authorized
persons. If Rental Agent has a reasonable belief that there is imminent danger to any person or property, Rental Agent may enter the Property without advance notice.
UNAVAILABILITY OF PROPERTY
In the event the Property is not available for use during the Rental Term due to reasons, events or circumstances beyond the control of Rental Agent, Rental
Agent will apply due diligence and good faith efforts to locate a replacement
property that equals or exceeds the Property with respect to occupancy capacity, location and value that meets the reasonable satisfaction of the Guest. If such replacement property cannot be found and made available, Rental Agent shall immediately return all payments made by the Guest, whereupon this Agreement shall be terminated and Guest and Rental Agent shall have no further obligations or liabilities in any manner pertaining to this Agreement.
ADDITIONAL TERMS TO THE RENTAL AGREEMENT

In addition to the standard terms included herein, Guest acknowledges and agrees that the following additional terms and conditions apply to the Guest's rental of the Property:
GENERAL PROVISIONS
This Agreement contains the entire agreement between the parties with regard to the rental of the Property, and any changes, amendments or modifications hereof
shall be void unless the same are in writing and signed by both the Guest and
the Rental Agent. This Agreement shall be governed by the laws of the Commonwealth of Massachusetts. The words "Rental Agent" and "Guest" shall include their respective heirs, successors, representatives. The waiver or failure to enforce any breach or provision of this Agreement shall not be considered a waver of that or any other provision in any subsequent breach thereof. If any provision herein is held invalid, the remainder of the Agreement shall not be affected. Any notice required to be given under this Agreement shall be in writing and sent to the contact information included herein. This Agreement may be signed in one or more counterparts, each of which is an original, but taken together constitute one in the same instrument. Execution of a digital signature shall be deemed a valid signature.
---
---
---
Brisbane, California, United States
·
Member since December 2013
bay area. outdoor and technology interests
Response rate:
100%
Response time:
within a few hours
Explore other options in and around Brisbane
More places to stay in Brisbane: