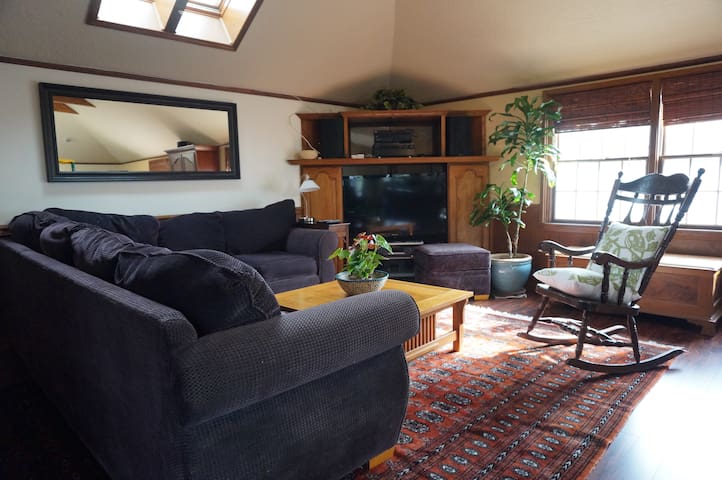 Entire home/apt
4 Guests
1 Bedroom
2 Beds
About this listing
3-room 1100 sq ft apartment on 2nd floor. Private entrance in estate high above La Costa Spa. High-tech full kitchen. 8-foot desk hides queen bed; also antique bed. Entertainment Center. Pool/Ping Pong/work table. Ocean peak view. See min. stay rules
---
Room type:
Entire home/apt
---
Kitchen
Space where guests can cook their own meals
Heating
Central heating or a heater in the listing
+ More
---
Extra people:
$15 / night after 2 guests
---
The Space
"WOW!" is the most frequently spoken word as people enter the beautiful 750 sq. ft. GREAT room of this incredible apartment, which also offers a sun room and separate bedroom.
The minimum stay is one month.
If you are a party of one or a couple who like each other and would consider something smaller, see our private entrance, private bath, ocean view office/studio rental https://www.airbnb.com/rooms/2770242
The key words are: "Office/Bedroom Studio private O.V."
The large apartment is an upstairs, separate, private unit in an estate home in an up-scale area of beautiful La Costa/South Carlsbad, in North County San Diego, CA. The neighborhood is scenic, quiet, peaceful and safe. A perfect location from which to explore San Diego and Southern California. It has a small ocean view and panoramic sunsets can be enjoyed after a one-minute walk.
The Great Room has open beam ceiling, two skylights that open and an array of lighting. There are many ways to relax, have fun or work: A pool/billiards table converts to a ping pong table that can be used as a conference or work table. The 8-foot desk hides a queen-size deluxe Murphy bed that pulls down easily and quickly (30 seconds... see the video!) with NO need to remove anything from the desk.
The entertainment center features surround sound, a DVD, and ATT-Uverse programs that you can view on a 50-inch TV screen that can also display what is on your computer and the Internet (included). (Ask for our 25-foot HDMI cable.)
The beautiful 200 sq ft vintage bedroom takes you back in time, with its gorgeous antique, wood-carved furniture, a full-size bed, bay window with cushioned seating, large closet, and dresser.
The kitchen and adjacent dining area offers high-tech kitchen appliances including two combination microwave/convection/grilling ovens and two induction stove tops, a dish washer and large refrigerator. Fully appointed for your cooking enjoyment.
The bathroom has a deep soaking tub and gorgeous Spanish tile sink.
The bonus "Sun Room" is for sitting, relaxing, writing, reading--and has another, expandable desk.
The small deck overlooks the ocean. Being less than 3 miles away is perfect to enjoy the sun rather than the marine layer (in some mornings).
A sitting area on grass allows for quiet conversations and meals, which can be cooked on the nearby gas BBQ.
Access to the Jacuzzi and pool requires an additional contract (due to liability issues).
Note that this apartment is not for loud parties, as we live in a quiet residential area. You are limited to inviting six guests.
Guest Access
Private staircase to 2nd floor apartment. Off street parking in front near your entrance.
Interaction with Guests
We are available for suggestions and direction, if needed, however, the apartment is very private, and we won't see each other after you check in, unless you request. YouTube videos explain special features such as how to convert the hidden bed to a desk in 30 seconds, and how to use the high-tech kitchen. Or if you prefer, we can recommend some fine restaurants in the area, some of which offer discount prices.
The Neighborhood
Our neighborhood is fabulous for walks and exercise, if you like moderate hills. Several offer great views to "look down" on the La Costa Spa and Resort. Ocean and beaches are a 10-minute drive. Visit the spa (2.4 miles from us) or walk along the lagoon near the Park Hyatt Aviara (about 3 miles away).
Interstate 5 is about 10 minutes drive for access to outdoor activities, theme parks, incredible restaurants, yoga studios, golf, wonderful beaches, parks, lagoons with hiking trails and shopping in Carlsbad, Encinitas, Solana Beach Oceanside and San Diego.
A selection of attractions:
Del Mar Race Track 14 miles 20 minutes
Legoland 6 miles 10 minutes
The Wave Water Park 8.5 miles 19 minutes
San Diego Zoo 32 miles 50 minutes
Wild Animal Park 20 miles 30 minutes
Sea World 31 miles 45 minutes
Balboa Park 33 miles 50 minutes
Getting Around
We are about 10-minute drive to the I-5 freeway. You can park at the Amtrak stations in Oceanside or Solana Beach and Coaster stations in Encinitas and Carlsbad that connect north to Orange Co and Los Angeles, and south to San Diego and Mexico.
Other Things to Note
This apartment highlights:
• Kitchen is high-tech modern and fully appointed and includes:
• Full-size Samsung refrigerator w/ice maker
• Full-size dish washer
• Induction stove tops for speed cooking
• Large Sharp microwave that combines convection roasting to cook twice as fast and better
• Second Cuisinart microwave that combines Grilling for faster and better cooking
• Cuisinart toaster oven plus blender, etc.
• Beautifully tiled full bathroom has an extra-deep tub to soak in and two safety bars.
• The dining area table seats 2 to 6.
• The 8-foot desk allows two to work, side-by-side.
• The Hidden Wall Bed (beyond the typical Murphy) converts from desk to queen size bed in 30 seconds, and you can leave everyone in place on the desk!
• The large living room area has a huge sofa on which six can sit or two can lie.
• Plenty of storage space: two armoires (one is mirrored), and a breakfront. The bedroom has a large mirrored closet.
• The cozy Sun Room can be used for reading or lounging. It has a reading chair, a writing table, and built-ins for storage.
• The bedroom has a bay window with seat cushions and beautiful, comfortable antique furniture. The bed is FULL size, Serta mattress.
While the unit has no built-in washer/dryer, we offer Laundry & Cleaning Services for a reasonable fee.
DISCLAIMER: YOU MAY HEAR SMALL DOGS' "YAP" (a high pitch but not very loud bark). This happens when people come to the front door, but does not last long. It happens much less frequently early or late. There are other dogs in the neighborhood.
+ More
---
NO smoking
NO pets
This apartment is meticulously designed, detailed, and maintained. Please be kind to it; we appreciate you taking care of it, as if it were your own. This is a non-smoking house. Although we have three small Pomeranian inside dogs, we cannot allow your pets.
Security deposit will be refunded within two days after you leave. Permission to use the pool and/or Jacuzzi is not given unless additional Pool/Spa Addendum is signed, listing pool/spa regulations.
We can change you sheets and towels and give your apartment a light cleaning weekly or as you request for $25, or you can use our washer and dryer one day per week (no charge).
HOUSE RULES, REGULATIONS, AND POLICY
To benefit all residents and to insure proper use of both the rented premises and the entire property, Tenants agree to comply with the following Rules and Regulations.
These House Rules and Regulations are part of Tenants' Lease.
HOUSE RULES AND REGULATIONS:
1. Tenants will use the premises for residential purposes only; will not conduct any business in or from their premises; will obey all laws, ordinances, and health regulations; and will do nothing that may injure the reputation or condition of the building or its owner. Solicitation of any kind, by guests or Tenants, is prohibited at all times.
2. Tenants will not do anything or keep anything in or about the premises that in any way will increase the risk of fire or that may conflict with fire or insurance regulations.
3. Tenants shall respect the rights of all other tenants/occupants of the property as well Owner and all surrounding neighbors to peace and quiet and will not disturb any of them unreasonably by shouting or other loud use of his or her voice, with noise, music, radios and televisions, odor, or in any other way. All abusive, disorderly, violent, or harassing conduct by a Tenant, including but not limited to abusive and/or foul language, sexually explicit comments toward tenants, occupants, Owner or neighbors is prohibited and is grounds for immediate termination of tenancy. Likewise, vandalism of any kind by a Tenant on or to Owner's property is prohibited.
4. When using the patio that includes the outdoor table for four and/or BBQ, Tenants should take into consideration and inform any guests that the wall of house amplifies sound towards Owner's neighbors. To be considerate, conversations should be at a reasonable level.
5. Tenants are responsible for the behavior of any and all of their guests, visitors, and invitees. Such persons may not break Tenants' Lease or these House Rules and Regulations. Tenants are responsible to pay for any damages or clean-up resulting from the conduct of their guests, visitors, and invitees.
6. Except for controls in Tenants' rental unit, intended for Tenants' use, Tenants will not operate any other controls relating to the property's utility services without the expressed, written, or prior approval of Owner. This includes but is not limited to heating and air conditioning, water and sewer, gas, electric (including lighting), laundry, or other equipment. Tenants will not enter garage to use Laundry facilities unless expressly permitted by Owner.
7. Tenants will not obstruct entrances, public areas, walkways, or other corridors, stairs, exits, driveways, parking areas, sidewalks, or fire escapes.
8. Tenants will not drive any nails or screws into walls, floors, tiles, ceilings, woodwork, or partitions; will not drill holes or fasten any article on any part of the premises, or damage or deface the same. Use of tape, glue, or adhesive of any kind is not permitted. Nothing, including clothes, towels, or any other item, shall be hung from ceilings, pipes, sprinklers, railings, or any fixtures outside of the premises.
9. Unless modified by the Lease, animals are not allowed at any time, under any circumstance, except for legally authorized guide dogs.
10. Tenants will not add or in any way change locks or keying.
11. No furnishings may be taken from the premises and put in, or on porches or balconies without prior consent of Owner, even for limited times.
12. Tenants will not varnish, paint, paper, or otherwise decorate any walls, floors, doors, woodwork, or cabinets without prior written permission of Owner. All restoration costs (even if decoration was with permission) will be at Tenants' expense, but must be supervised by Owner.
13. No vehicle or bicycle shall obstruct a driveway or in any way interfere with others' access thereto, nor shall they be parked on lawns, shrubberies, patios, walkways, or lawn extensions. Bicycles may not be brought onto the premises without prior consent of Owner. Vehicles shall not be repaired, lubricated, or washed on driveways or in parking areas of the premises. Any vehicle of Tenant or of Tenants' guests or invitees that leak oil or hydraulic fluid (which damage blacktop) must be removed, and Tenant is responsible for any cleanup (including environmental cleanup, and repair.
14. Tenants will act reasonably to conserve water and energy, and will report running toilets and faucets to Owner for service. Tenants will not make unreasonable use of heat, leave windows open during cold weather, or leave televisions or other permitted devices on and unattended. Tenants will not remove screens and/or storms from the windows, even briefly.
15. Tenants will not install any aerial or antenna, and they will not erect or use any radio
transmitters in the premises without both appropriate filters and prior written permission
from Owner.
16. Tenants will use toilets, tubs, and sinks only for their primary purpose and will never use them to dispose of sweepings, rubbish, rags, garbage, sanitary napkins, or other items likely to clog them. Tenants are liable to pay Owner for any expense it incurs for repairing damage (including unclogging toilets and drains) caused by Tenants, their guests, or invitees.

17. Tenants will keep/store any personal property only in their rental unit or in such space as Owner may assign them in writing, but storage of kerosene, gasoline, or other flammable or explosive agents is always prohibited. Owner is not responsible for any items left in the rental unit at the end of the Lease term.
18. Trash and garbage (including recyclables) always shall be placed in the trash and recycle containers provided by Owner, and container lids, if any, must be kept tightly closed at all times. (See Instructions for trash disposable in "Guidebook" provided in rental unit).
19. Tenants will perform reasonable housekeeping in their premises to maintain them in a clean, neat, and sanitary condition.
20. Unless expressly permitted by Owner in writing, Tenants shall not display any signs, flags, pennants, placards, advertisements, notices, pictures, ornaments, stickers, handbills, or other lettering so as to be visible on the outside of the property or on the premises.
21. Tenants will never go on the roof of the building for any reason.
22. Weight lifting equipment are prohibited at all times. Air conditioners, microwave or other ovens, space heaters, or hot plates, beyond those supplied by Owner are prohibited without prior written permission of Owner.
23. Smoking is not permitted at any time in the rental unit or outside of the rental unit, including entrances, driveways, or on any of the outside surrounding grounds or neighboring grounds.
24. Tenants will not remove batteries from smoke detectors or in any other way disarm
them.
25. Possession, sale, or use of any illegal drug or drug paraphernalia in or on the rental unit or the property is prohibited.
26. Possessing, using, or storing lethal weapons anywhere in the rental unit or on the property is prohibited. "Lethal weapon" is defined as any deadly weapon which, from the manner used, is calculated or likely to produce death or serious bodily injury. This includes, but is not limited to: all firearms, hunting knives, switchblades, bows and arrows, machetes, or other knives.
27. Maintenance requests shall be submitted in writing to Owner. Specifics of the problem, to the extent possible, shall be included in the request. Tenants are strictly liable to reimburse Owner for repair of any damage caused by violation of any of these House Rules by Tenants or by their guests.
+ More
---
---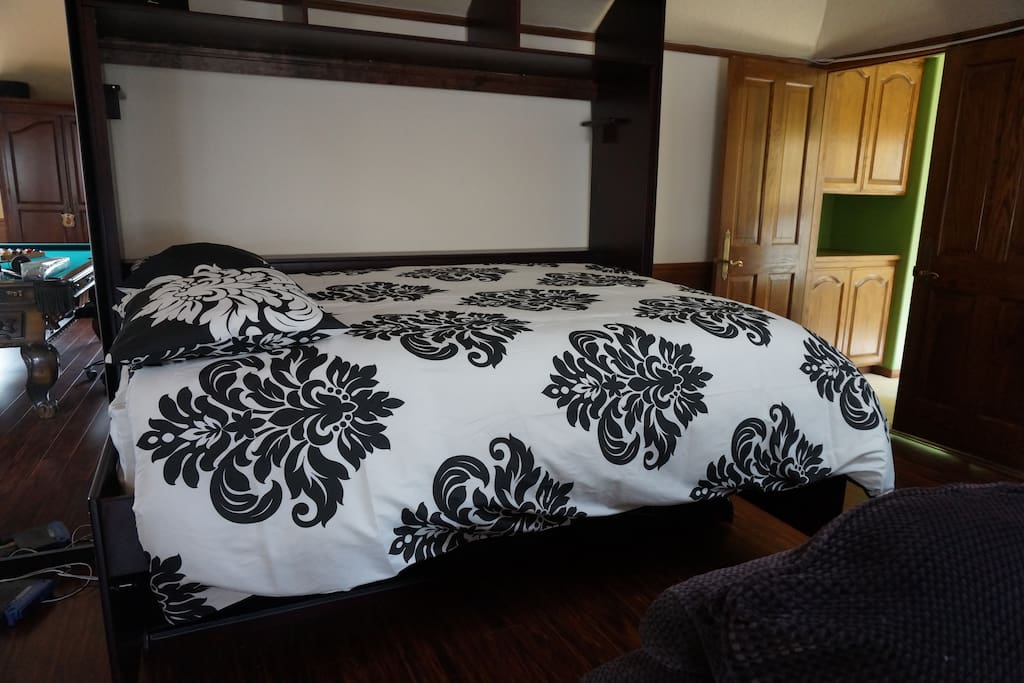 This is the Hidden Murphy Bed (30 seconds before, it was a 7 foot desk). In the great room. For a 30-second video demo of the easy switch, ask for the YouTube URL.
About the Host, Stanley And Beth
---
Explore other options in and around Carlsbad