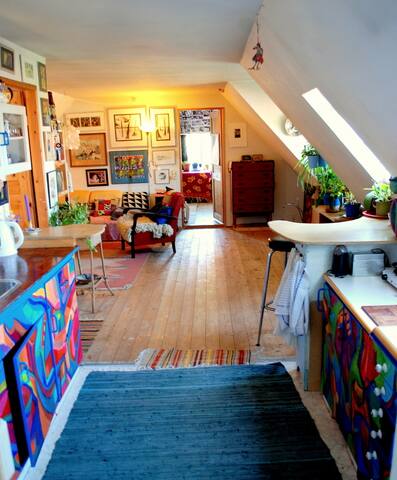 Entire home/apt
3 Guests
1 Bedroom
3 Beds
About this listing
Right in the heart of Svaneke, my apartment is very charming & cosy. It's not luxurious, but a place you can feel home. With a seaview from the windows & sounds of the sea on windy days.
Check out my photos & guidebook, to see why I fell in love!
---
Room type:
Entire home/apt
---
Kitchen
Space where guests can cook their own meals
Essentials
Towels, bed sheets, soap, and toilet paper
+ More
---
Extra people:
$23 / night after the first guest
---
The Space
You can rent the whole apartment for the price listed, but it is also possible to just rent a room and share the apartment with me. (This will of course be a cheaper price. Just contact me and we can work a price out.)
I live on the loft of a house from the 1700's, the walls are slanted half way up. I am a full-time artist living in my atelier, so there is artwork everywhere and few surfaces that are not painted in bright colours. My apartment is a cosy place most people find they can immediately relax in. I have a lot of artwork on my walls, secondhand, mismatched furniture, many colourful pillows, windows filled with plants and flowers, rows of beautiful art books and other endless things to look at. We haven't designer furniture, or lots of clean white lines, this is an old house, we are struggling artists and haven't much need for expensive material items. If you are used to a place with expensive designer things around you, new everything and a minimalist style, then this is NOT the place for you.
I love to have pretty things around me, art, books, old tins, boxes and trinkets from another time.
I have a lovely little view of the sea, down through the streets of Svaneke. It is only a 5 minute walk away in both directions and I can hear the waves crashing on the cliffs on windy days.
I allow smoking in my apartment, but since I myself do not smoke, please open the windows when you do smoke. It does NOT smell like smoke in my place for anyone who may be worried.
My parents live on the other side of the house and can always be contacted if you are in need of anything.
PLEASE OH PLEASE READ THE ENTIRE PROFILE before asking me any questions. I really do enjoy my Air BNB guests and I call many of them friends now, and so I don't want to sound rude. I work between 12 and 18 hours a day from June to October and I simply have not at all the time or energy to answer all the redundant questions people ask me. MOST OF THE QUESTIONS people ask can easily be answered by reading the profile. If you have a question not found or it is an emergency, then of course we will be here for you!
When you have booked, please PLEASE PLEASE read the house manual. Most anything you could be curious about is written there. (It is often that I get calls from my guests saying, 'uh, I am here now and no one is answering the front door...' I mean, it clearly says in the manual that there are three apartments, and if you are standing there knocking on the front door, no one will hear you to answer it.)
AVAILABILITY IN THE WINTER
You can stay with me as a single guest or as a couple in the winter, only if you are willing to share the place with me.
I generally do not rent out my apartment during the winters, for easy going people I sometimes make exceptions. So if you are a single traveller coming to Bornholm, write me a mail, we can probably figure something out.
LANGUAGES
I grew up in Canada, so my parents and I speak perfect English as well as quite good French and Danish.
We are a warm artist family who offer a unique place to stay. We will gladly take you out for some sight seeing, or leave you alone if that is what you prefer. I have travelled in over 30 countries and have always been attracted to people from all walks of life, from all parts of the planet. That is one of the main reasons I joined airbnb, and look forward to meeting new people, all sorts of different people!!
Guest Access
EXTRA ROOM
There is a very nice double bed out on the loft, just outside my door, with curtains all the way around it for privacy. It is not luxurious, but comfortable and I often sleep out there when sharing the apartment with guests. It is only available from June to early September. After that it gets too cold. There is also an extra bed in the living room, it comfortably sleeps one, and the couch can also be used to sleep one, though it is best for people who are not very tall!!
NOT HANDICAP NOR CHILDREN FRIENDLY
The staircase is quite steep and not handicap friendly. I am sorry about this, since I have some friends and even family that cannot visit me in my home.
My home is not at all children friendly, since I have not got any children of my own. There are far too many things everywhere to be a good place to bring your kids. I will of course believe my guests if they tell me they have an older or more responsible child, and exceptions can always be made.
There is a dog usually living in the apartment.
BABIES ARE WELCOME
There is, however, no problem with babies too small to walk. We have a highchair and a crawler for them to sit/sleep in. There is also room in the back of the house of a baby carriage, and a back entrance to the house for easy access.
LINEN
I will of course always provide clean blankets, feather duvet, pillows, sheets, towels and all you may need for a cosy stay. If there is anything special you may require, be sure to let me know, I will try my best to help.
KITCHEN
The kitchen is sort of small, with a half sized fridge, two burners for cooking and a toaster-oven. You are of course welcome to use the kitchen as you like. I will supply coffee / tea (milk, sugar etc.) for all guests, it is always nice to be able to drink a hot cup in the mornings. There is a high bar table under the window, with two bar stools, where I sit and eat my breakfast and watch the sea.
BATHROOM AND WASHING MACHINE
There is a washing machine in the bathroom. and a dryer down at my parents place which can readily be used. The bathroom is not the newest or nicest, but it is quite large, and I keep it clean.
I have covered it in artwork and trinkets to keep the eyes distracted from the awkwardness of the room. There is a shower, it may look a bit old, but the parts that matter are new! and IT IS CLEAN (but needs renovation). There is great water pressure and really really extremely hot water.

INTERNET & TV
We have free WIFI so when you come we will give you the code.
There is also library with free internet only a few houses away.
I don't have a TV but I have an array of films om DVD so if you have a laptop with you, you are welcome to watch them as well as listen to my music, I have stereo and litterally hundreds and hundreds of CDs.
Interaction with Guests
HAVE THE PLACE ALONE / DISCOUNT to share the place with me..
I have a good friend in town I stay with when guests want to have the place to themselves. It can, on most accounts, be arranged to have the apartment to yourself if you like. I have often stayed on the loft while having guests and it is very cosy to see them over coffee in the mornings, but otherwise I am often busy and stay out on the loft so that you will have the place to yourselves.
I always give a good discount if you are fine with me staying on the loft and sharing the kitchen and bathroom a bit...
The Neighborhood
SVANEKE
I live in Svaneke, which is one of the prettiest towns on the island of Bornholm. I live just up from the town square, where you will find a little local bar, a brewery/restaurant, a general store and a grocery store all are open year round. (There are many other specialty shops open which open only for the the summer season, jewellery shops and other hand-crafted goods, an ice cream parlour, and down a bit further, there is even a gourmet pizzeria (called BARSØ'S and my shop, called Art Box Bornholm.) Take a look at the guide book, I have listed all these places there and included photos of some of them too.
MARKET DAY
There is a market day on the square every Saturday from 9-13 and on Wednesday in the summer. It is the best known and most visited market-day on the island. Everything the vendors sell, has to have been grown or made by them, the sellers. There are quality products with charm and pride put into them. There is music and horse carriage rides, and coffee and snacks to be bought too. I recommend our Svaneke Markets days to every visitor to the island! (I have included a photo of our market day in the album.)
Svaneke is called the sunshine town.
Because of it's placing in the Baltic, the wind currents some how keep the rain away from us here. We do have rainy periods of course, but Svaneke literally gets a few hundred hours more sunshine than anywhere else in Northern Europe. We even have fig trees here with most wonderful fruit all through September! Walking around in Svaneke, sometimes feels like you are walking through a museum, or a time bubble. Most of the town is preserved to it's nearly original state. It is charming and colourful and is lived in all year round. It is very hard to get building permits for the smallest things. Our house has to be yellow, with white windowpanes, we have no choice, that is how it was when it was built, and that is how it will be kept.
Svaneke is known for being the town with all the artists. Potters, painters, glass artists and blowers, it has been the place known for it's mix of people, it's acceptance in others. Creativity has room to grow, to expand in such a place. Regardless of age, race, nationality, profession or whatever, there is room for us all, and we have parties where all dance and enjoy themselves whether they've arrived wearing rubber-boots or high-heels.

Getting Around
CYCLING
Bornholm is known as the cyclists island. People come here from all around the world simply to bike. The bike paths are some of the most picturesque in the world. If you tire of biking, you can always flag a bus down. The buses here have bike racks on the fronts and backs and so for a little extra bus fare you can take your bike with you. If you give us good notice, we can often acquire some bikes for our guests, let is know, and we will see what we can do!
BUSES
The bus stops to take you around the island are also on the square. There is a direct bus from Rønne, from where the ferry docks. The square is where you will find a little local bar, a brewery/restaurant, a general store and a grocery store all are open year round. (There are many other specialty shops open which open only for the the summer season).

Other Things to Note
MORE ABOUT BORNHOLM:
Every corner of the island is different.
The story goes that when God created the world, he had a bunch of left overs. He (or maybe She..?) wondered what to should do with these tin-bits, and with no better ideas, crunched them all up into a little ball and threw them into the Baltic Sea, and that is Bornholm. That is why we have so many different things here on Bornholm. The 3rd biggest forest in Denmark, the largest waterfall in Denmark, and mulberries and figs which do not normally grow in the Norther parts of Europe.
Bornholm is famous for it's granite. There are 11 different kinds of granite here and it is among the strongest and best in the world. It is also among the world's oldest and parts of it date back 2 billion years ago. 30-40 km high mountains were formed by volcanic activity and movements of the tectonic plates and is now bedrock it is mined from. The granite has created deep sea caves, so far down in the crust that the high atmospheric pressure and heat has tangled magma and many minerals together. This means that the granite is extremely weather resistant and great for outdoor purposes like walls, buildings, tombstones, and so on. Granite and smoked fish were Bornholms two biggest exports and if you find yourself walking the pedestrian streets in Copenhagen, Stockholm or even in Berlin, chances are the streets are made from Bornholmer granite.
SWIMMING POOL
There is a great indoor swimming pool in Gudhjem, with a view of the sea through it's massive wall of windows. There is a little sauna in both the men's and the women's. I go swimming here every Sunday. I have never been in another swimming place as wonderful as this one and because they use a mixture of sea salt and little chlorine, to keep the water clean, it's much more gentle on your hair and eyes.
NORTH PART
The Northern part is rocky and almost a bit mountainous (HIGH up by Danish standards, but not by Canadian!!) The Northern part is where the Hammershus castle ruins are and where the children's circus resides. (Cirkus Stjerneskud is has performances two weeks in June and is amazing, really worth seeing!!!!!)
SOUTH PART
The Southern part is where you will find the softest sand in the world (literally, it is used in egg timers because it is so fine, and it squeaks when you walk on it) The Eastern coasts get a lot of sun and are both sandy and rocky., and great for swimming. here are granite cliffs everywhere on Bornholm, but on the Southern Eastern parts they are round and soft and beautiful. They are the symbol of the island and quarries can be found all around Bornholm.
CONCLUSION... (If you weren't already sold!!)
I am bias, but i think Svaneke is the prettiest and most welcoming and also the most easy going town on Bornholm. But if I were to move to another part of Bornholm, I would move to Allinge. Allinge is on the North part and it is a beautiful town. It is not quite as lively as Svaneke, but there is a beautiful harbour and lots of small shops. There is a smoke house open all year round and two big grocery stores. These keep the town alive and like Svaneke it is lived in all year. I find some of the boutiques to be too touristy, where Svaneke is different because we are so many creative people living and there is artisans and crafts people everywhere here. Many of the towns on the island are filled with tourists in the summer and then they are dead in the winter.
I have posted quite a few photos from around the island and suggest you look at them to inspire yourself with where to go and what to see.
+ More
---
-enjoy yourselves and make yourselves at home
-if you have a pet, you are welcome to take him or her along. (we love animals in this house)
-open the windows when you smoke
-leave it as it was when you got there
-smile to the neighbours
-don't kill my plants (maybe water them if they seem really dry, but please take care not to over water them... have had a few accidents with some guests nearly accidentally killing my plants!!))
-NO shoes inside please. There are a whack of different sized and different kinds of slippers you should be able to find a pair you can fit.
- If you leave the house early in the morning, or late at night, it would be very much appreciated if you could walk quietly down the stairs. There is someone sleeping just under them, and they are a noisy set of steps!
-There is a plastic container for compost, we will happily empty it for your when you leave, just leave it in front of the fridge and when you go we will take care of it. (To put garbage out put it in the one beside the house you are staying in's container, not the one you see when going out the back door, but on the left of the driveway.
-do not flush the toilet every time (water costs a small fortune on Bornholm, so try and save the water... yellow let it mellow, brown flush it down) Water is expensive on Bornholm (as it very well should be!!!)
+ More
---
---
Explore other options in and around Bornholm