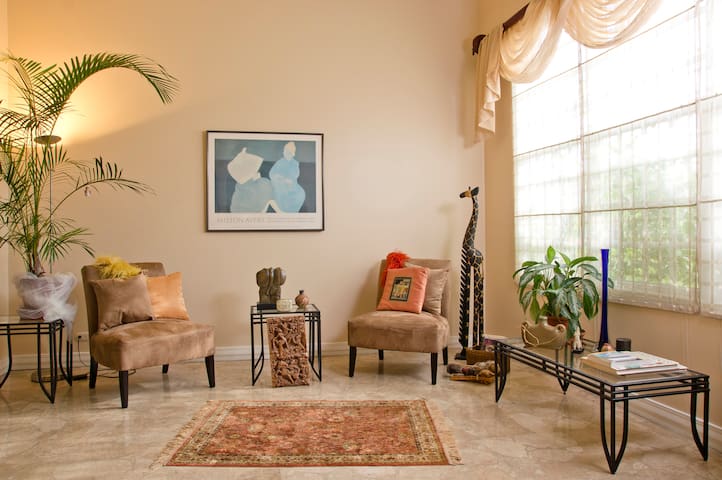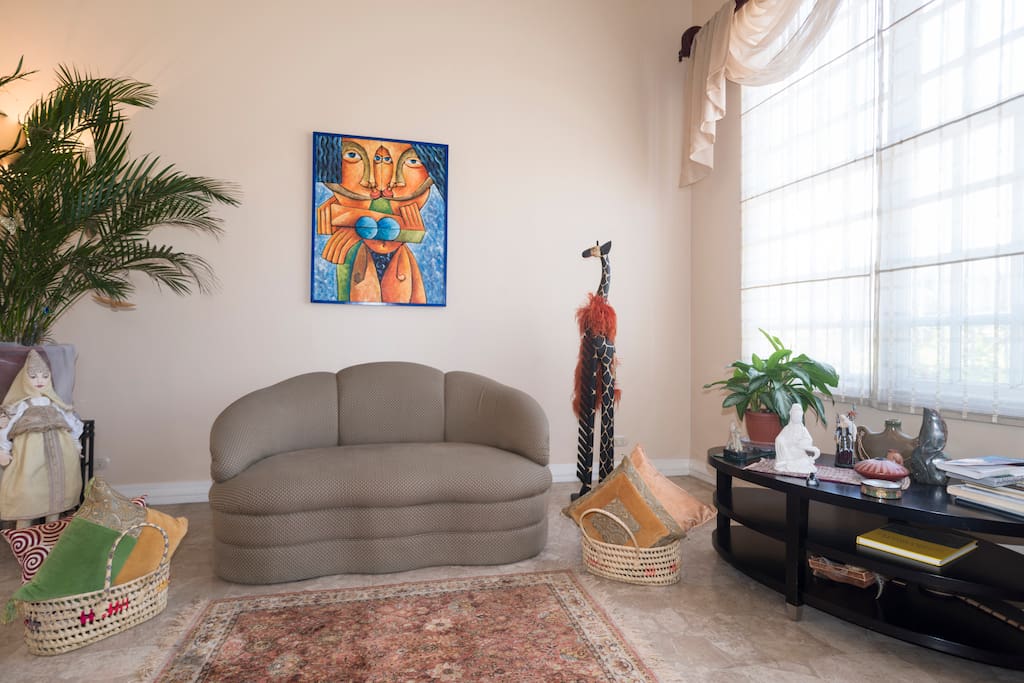 Luxury Living for Peanuts! BOYERO
The space
NOTE: Be sure to see the calendars for 9 LISTINGS. There are 2 rooms very economical rooms for 1 person, 2 very large Master Suites with jacuzzi baths for rates well below market, and 5 mid-range rooms. All rooms have en suite bathrooms except the MTN VIEW which shares a bathroom with one woman. Stays for 2 days up to 4 months which could include moving from one room to another so be sure to ask about this host to determine what is possible.
This is the calendar and description of the BOYERO room. (A Costa Rican Cowboy) The size of the room is 14 feet X 12 feet.
This is a very large room that could sleep two to three, perhaps four guests, with built-ins, including a desk, that help to save space in the room itself and an en suite bathroom.
See also the descriptions for the POAS, ARENAL, GRAND, DELIGHT, MTN VIEW, GARDEN rooms and ask about the availability of the COURTYARD room.
Room rates start at $28-$75./night with weekly and monthly rates available.
The Residence and Neighborhood:
Bed and Breakfast for short term guests or longer term with kitchen privileges. This beautiful home is in an upscale, safe neighborhood of Trejos Montealegre, Escazu (about 8 km, 15 minute bus ride from downtown San Jose) now has 9 rooms to meet different budgets and needs regarding time. Stay for 2 days, or 2 months, perhaps longer.
There are restaurants in the immediate neighborhood, movies, shopping center, medical/dental offices, hospital, Spanish lessons, grocery stores all within a short walk or taxi ride. Transportation is easy here with a very good bus and taxi system. There are several day trips from this location. Depending on your needs and plans, it could well be that there is no need to rent a car.
No heating or air conditioning needed in the Central Valley. Rooms have ceiling fans and this is good enough for room temperature control.
Here is the description of our other rooms that you will find when you go to "MY OTHER LISTINGS" on the airbnb site.
The GARDEN Room is small, but cute, with a private bath, one of our most economical, all the amenities on a cozy scale. Door opens into the garden. There is Internet in the room and at a covered table just outside for gathering or working with Internet. Guests have been offered larger rooms but have chosen this one! This room is appropriate for only one person, two if you are very friendly with a TWIN BED. (A double mattress could also be provided if desired).
Like the GARDEN room in the adjoining home, the KOLBI room (a little frog in Costa Rica) is small, but cute room, with a private bath and hot water in the shower, our most economical, most all the amenities on a cozy scale. This is a first level room that adjoins the kitchen. There is Internet several places around the two homes. This room is appropriate for only one person, with a new TWIN BED. You will have access to all the amenities of the two homes.
The DELIGHT room is a comfortable 13 ft X 13 ft room with a private bath and a QUEEN BED. Sleeps two comfortably.
The MTN VIEW room is an even larger room than the DELIGHT with a shared bath and a QUEEN BED and TWIN BED. It is a "favorite" of many guests because it has a view of the lovely Escazu hills and is sunny and pleasant all year 'round. The one other person who shares the bathroom is usually out and on her way by 6:30 AM so it is almost like having your own bathroom.
The GRAND room is a huge room (about 435 square feet) with jacuzzi (see photo)
It has a QUEEN BED and a SOFA or TWIN BED. Sleeps 3 comfortably with space to put more mattresses on the floor for friendly folks.
The ARENAL room
The POAS room
--------------------------------------
Weekly and monthly rates available for all rooms. Guests are welcome for medical/dental tourism, internships, transition times, relocation exploration, international telecommuting or ???
International telecommuters wanted! Be in Costa Rica while on the job, then go off to explore after work!
House enabled with Internet infrastructure to meet the stringent business/work needs. Multiple Broadband high speed Modems and Routers enabling Wi-Fi and wired connections in the rooms and throughout the house. We do our best to keep you connected 24/7 and we are (usually) successful!
All rooms nicely furnished with new high end mattresses. Movies galore! Books galore! Sunny garden. Wi-Fi for free throughout the home, laundry service, maid service available. Near Multiplaza, hospitals, ...most everything you need!
Taxi service from the airport can be arranged in advance ($30).
Tours available.
Great connections/referrals for your medical and dental needs at a fraction of the cost of the U.S. or Canada but with equal, perhaps superior quality. Ask us for details.
4 adorable cats are outside only.
Separate listings with calendars have been created for the other rooms mentioned above. The calendars are updated usually on a daily basis. Please write if you have questions and/or specific needs.
-------------------------------------------
Roam The World For Free ARTICLE
Thursday, 17 October 2013
Have you ever had an amazing vacation in a foreign country only to come home to a US$500 cell phone bill? You only checked a few emails, used (SENSITIVE CONTENTS HIDDEN) Maps, and uploaded pictures to (SENSITIVE CONTENTS HIDDEN) to make your friends jealous, so how could it cost that much?
I've been a victim to these outrageous roaming fees which has lead me to either leave my phone in airplane mode or buy a local prepaid SIM card in the country I am visiting, neither of which is ideal.
Beginning on Oct. 20th, the U.S. cellular company T-Mobile is changing the game in international travel by getting rid of international roaming fees. That's right, U.S. T-Mobile users will now be able to roam the world with their current cell phone and number at no extra cost.
The service will be available in countries including Panama, Colombia, Ecuador, Argentina, Brazil, France, Italy, China, and 200 other countries. It allows unlimited data usage and texting, with phone calls at a rate of 20 cents per minute. The service automatically connects to the local service in the new country and requires nothing for the user to do.
T-Mobile's new plan is perfect for the frequent and infrequent traveler that wants to always be connected while they are away. Picture being able to hop from country to country in Europe, use all of your data, apps, maps, and email, and not be penalized for it. The savings and convenience are extraordinary.
T-Mobile is currently the only cell phone provider in the United States offering an international cell phone service like this. It's great they are the first to recognize that we live in a global world where people want to be connected no matter where they are. It will also be interesting to see whether the larger carriers like Verizon and AT&T eventually jump on board.
For more information on T-Mobile's new plan visit: (URL HIDDEN)
---
Bathrooms: 1 (Private bathroom)
Check In: Anytime after 2PM
---
---
Extra people $5 / night after 2 guests
Always communicate through Airbnb
To protect your payment, never transfer money or communicate outside of the Airbnb website or app.
Learn more
---
Bedroom 1
1 queen bed, 1 double bed
---
Not safe or suitable for children (0-12 years)
Check in is anytime after 2PM
Non smokers only please. This is a smoke-free, cigarette smell free, butt free environment, house and all property.
Check in is from 2 PM-4 PM, earlier and later may be possible with prior arrangement.
Only registered and paid guests allowed in the rooms from the hours of 9 PM to 8 AM.
No children under the age of 8 years and all older children must have adult supervision.
Breakfast will be served for all guests here for 3 days or less. Those guests with weekly and monthly rates will be served breakfast for 3 days, and will have the use of the kitchen for all other meals. You may still have breakfast served to you from the 4th day at a cost of $5. per breakfast.
Rooms will be cleaned once a week, linens and sheets provided. More towels will be provided upon request.
Guests may use the washer and dryer for their personal clothes once a week, more times at a cost of $8. for wash and dry.
It is not required, but suggested that you wear house slippers in the house.
---
---
---
---
2nd stay with Liza. Both stays were great. Large, very clean rooms, nice common areas, lush courtyard, all in a safe upscale neighborhood of Escazu. I also like the critical mass of other guests, all fellow travelers like myself, staying in the 2 joined houses of Liza's.....not too many, not too few. I highly recommend!
---
Liza offers a 5 star experience at a really affordable price! I loved staying here, it was a luxurious oasis of calm and she had thought of so many necessities plus lots of extras that made it such an easy, comfortable experience. Having travelled around Costa Rica and stayed at some very suspect lodgings it was amazing to arrive to such splendour. The area is up-market, quiet and totally safe and within the confines of Liza's extensive house(s) this feeling of gentle calm continues. Liza is an amazing woman who is just such a delight to talk to, the breakfast table often hosts travellers from many different countries and the quality of conversation is very rich. Everybody I met there during my 4 night stay was positive, cheerful and Liza was really the central person encouraging the most stimulating of conversations. I would not hesitate to recommend this wonderful home and if ever I am in San Jose again I will make a beeline to Hummingbird House. Thank you Liza.
---
Liza was an amazing host. Really attentive and helpful! She made sure we had an easy earlier check in, and also accommodated nice breakfasts. Had great recommendations for the area. The location couldn't be any better, walking distance from movie theaters and nice restaurants. Our room was really comfortable and spotless clean. Our biggest surprise was the quietness and tranquility of the house and the neighborhood. Thank you again Liza, we had a great time!
---
This home was possibly THE nicest home we have stayed in to date. Liza was a fabulous host. With keen attention to detail. Very helpful in every way. Wonderful warm home feeling. Very comfortable beds. Nice and cool atmosphere. Great neighborhood. If We did live in Costa Rica. This is the place I would want to live.
---
Liza, our hostess, made our stay so desirable that we know we will be coming back and staying here again as soon as we can! Everything is as it is pictured and one of the best things is the full use of the kitchen - we were able to save a lot of money by fixing our own meals! Liza sent us off with a wonderfully unexpected parting gift, which just put the icing on the cake for us! You will enjoy staying here and meeting some really nice people too! Thank you, Liza, for making such a wonderful place available and affordable to all!
---
Liza was an exceptional host even well before we arrived. We exchanged many emails regarding transportation accommodations, weather, attractions and their distances, and more. She was always very patient. Liza has a wonderful driver that picked us up from the airport and he shared a bit about the country that was interesting and valuable. Liza greeted us upon arrival with a friendly smile even though we arrived significantly later at night due to customs delays. Her place is accurate to her ad and is absolutely beautiful, clean, peaceful and homey with three beautiful cats. The room was also accurate with an efficient ceiling fan and much appreciated. Liza even provided extra beds for my son and daughter. For the first three mornings Liza provided us an abundant spread of Costa Rican fresh fruit, boiled eggs, and toast with rich conversation and some good laughs. However, we were surprised to find out that for the remainder of our stay we would be needing to make our own provisions for breakfasts as in the amenities on the Airbnb site 'breakfast' is selected and we were concerned about the additional cost we didn't plan for. Her driver is very knowledgeable with interesting and valuable information but disappointingly his services were not in our budget so we opted for Uber and bus services that were comfortable enough to take us to just about all the attractions we wanted to see and just about anywhere in the country including Manuel Antonio National Park. All-in-all we enjoyed our stay, highly recommend Liza as a host, her place, and hope to return in the future.
Pam: It was great having you here for your family vacation. Thank you for choosing Costa Rica for this special bonding time. I hope you continue having such vacations over the years. I am sorry you were inconvenienced with the 3 days of breakfast. I do state this 3 days of breakfasts in my listing, as I recall, it is in the "House Rules" section. The idea is that guests get a rate break for weekly and monthly rates; the 3 days allows guests the opportunity to see where grocery stores are so they can be more independent with the use of the kitchen and I am able to reduce the rate, as a result. Again, I am sorry you felt a strain with the expense; if you want a way to feel better about it, please recall that your negotiated rate for the room was very good as I wanted to help you make this special trip as affordable for you as I could possibly make it. I love helping families come together which is why when you made the request for a rate reduction, I did the best I could in that regard. I am sorry, it makes me a bit sad, to know you feel it was not sufficient. I will consider your point and try to implement your comment as best as the airbnb site allows. I wish they had an * so a guest knows to go to the comments re each point. May you enjoy all of your own guests with the great pleasure that I enjoyed having you here!
---
We couldn't have been more pleased with our stay with Liza in her beautiful home. Ross, Grace and I were welcomed warmly and Liza proved to be a wonderful hostess, who has turned her home into a palace with all of the amenities a guest could want for. Her knowledge of the area and available services have also been a great benefit for our trip. We would certainly be glad to make a return visit!
---
I have had many adventures (with what seems to be endless travel along with life experiences) and these adventures continue in Costa Rica. I had a guest house in San Francisco and I would love to welcome you to my home here in Escazu, Costa Rica for a short or longer stay. This home was picked and decorated with YOU in mind!

Since arriving in Costa Rica in 2002, I have been a teacher specializing in English for Specific Purposes and English for Business Purposes which is very interesting because I get to learn a lot about all kinds of fields. Some of my students, along the way, have come from banking, nutrition, medicine, finance, small business, diplomacy, etc. I had an interesting time getting two Master's of Education simultaneously, one from the University of Costa Rica and one from Framingham State College.

In 2010, I taught at EARTH University in Guacimo Costa Rica where they teach sustainable farming, so this city girl learned a lot about farming and I have gotten very interested in issues around farming and other matters about sustainability.

I have also been a massage therapist for nearly 23 years, something I am very passionate about.

Since June 2011, this very interesting house has had people who have come from India, Pakistan, France, England, Poland, Serbia, Russia, Switzerland, England. Germany, Reunion, Colombia, Argentina, Ecuador, Panama, Nicaragua, New Zealand, Canada, the U.S., and others. We just never know who might show up! Sometimes we have eight countries represented at the table, and yet, often there are unexpected and interesting connections. It is a house filled with blessings!

I hope you will join us and continue the adventure!
Languages:
English
Response rate:
100%
Response time:
within an hour
Explore other options in and around Escazu
More places to stay in Escazu: