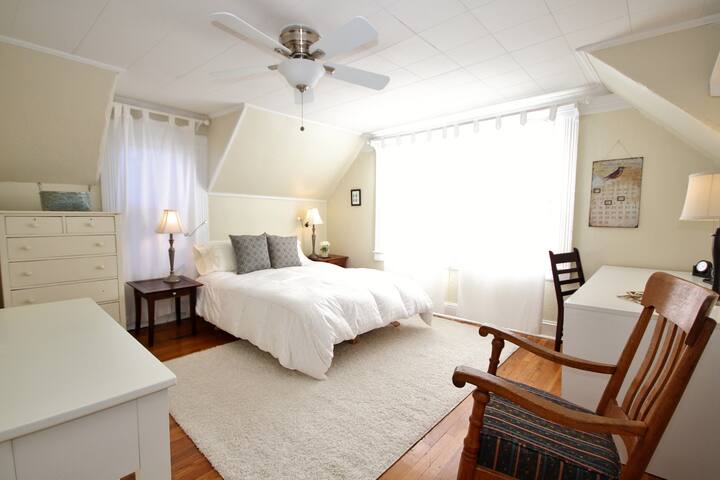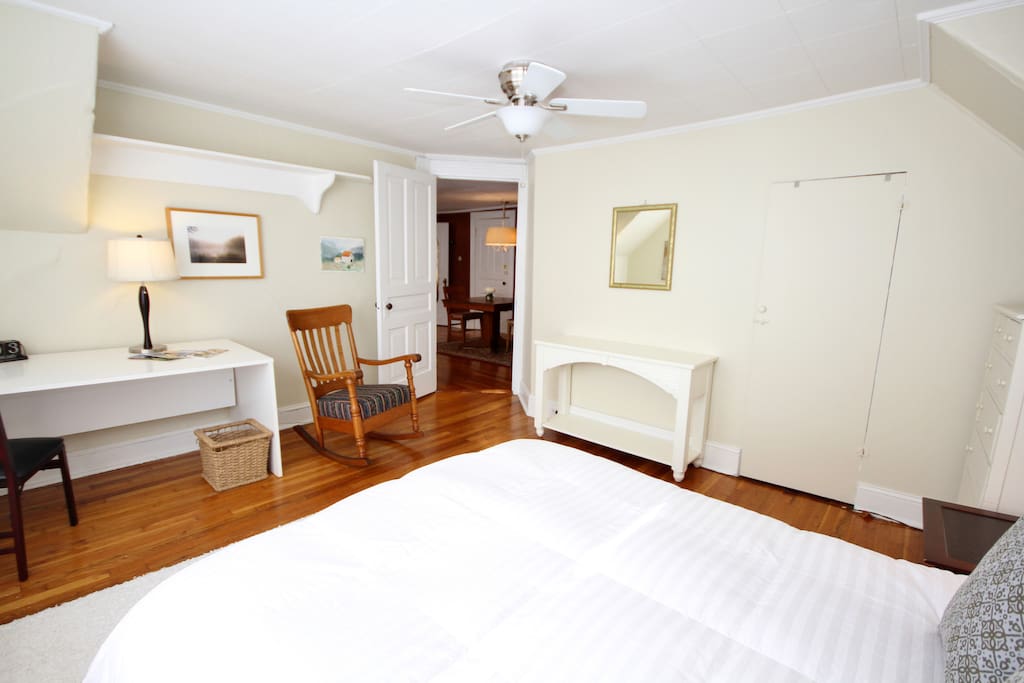 Entire home/apt
3 Guests
1 Bedroom
2 Beds
About this listing
Kathie is a 5th year airbnb host with over 525 combined EXCELLENT REVIEWS. All four units have queen beds & are completely private with separate entrances, air conditioned, with full kitchens and in close proximity to town. Arrivals after 9 p.m., with permission. Apartments not suitable for wee ones, smoking, or pets. 25 yrs or older & have two airbnb reviews.
MONTFORD-walk to downtown
Apt 2 and Apt 3
no tv
WEST ASHEVILLE-mini downtown
Apt 5 and Apt 6 cable tv and ROKU
Uber to town $7
---
Accommodates: 3
Bathrooms: 1
Bedrooms: 1
Beds: 2
Check In: 4PM - 9PM
Check Out: 11AM
Room type: Entire home/apt
---
---
Extra people: $30 / night after 2 guests
Cleaning Fee: $50
Security Deposit: $200
Weekly Discount: 15%
Weekend Price: $115 / night
---
The space
"Imagine a quiet and stately neighborhood, easy access to one of the top destinations in the country for fantastic food and breweries, and a host who can't be beat in her hospitality or her lovely disposition. This was our experience for the four days we stayed at Kathie's beautiful home. Every little detail one could want was provided in Cathy's home - coffee, juices, organic free-range eggs in the fridge, luxurious towels and bed linens, etc. There was great conversation, as Cathy is just a really good person (also loved meeting one of her personal friends). Cathy respected our time and afforded us plenty of privacy as well, which we spent in our lovely apartment and Cathy's back yard. Would definitely stay with Cathy again. She's like a friend you didn't know you had. Cathy's communication could not have been beat. She was very responsive and communicated in whichever way worked for us. I highly recommend staying with Cathy if you travel to Asheville." Elizabeth, August 2016
"There are THREE completely PRIVATE guest apartments in the a turn-of-the-century historic home. The back yard easily accommodates large gatherings for family dinners and lawn games or private late afternoon lounging. I have been an enthusiastic AirBnb renter for three years and Cathy is by far the most generous and accommodating host I've met. The neighborhood is hilly and beautiful with lovely mature trees. Downtown is a quick drive or a good walk and the bike path is right down at the bottom of the hill. The apartment is charming and quintessentially Asheville with lots of quirky, adorable character. Kitchen is small but provides everything a traveler would need with the added bonus of fresh eggs from the ladies who live out back. Bedroom is airy and comfortable and the bathroom has an inviting claw foot tub that makes me wish I would have had time for a soak. Everything is clean and well appointed, and the selection of books and magazines is terrific. Cathy is so warm and friendly. I had such a nice chat while she watered the garden. I really cannot say enough good things about my visit and I'm already looking forward to coming back!-Mary
Bathe in APARTMENT #2's CLAW FOOT TUB. Sleep on a top-quality QUEEN-size bed with HIGH THREAD COUNT COTTON linens. Cook your own breakfast in a fully equipped modern kitchen with separate dining area. Relax in SOFT COMFY FURNITURE and enjoy reading with GOOD READING LAMPS. All apartments offer bath toiletries: Trader Joe's Citrus Spa shampoo, conditioner and body wash. If you have skin sensitivities guests are welcome to bring your favorites.
Experience Asheville's premiere Montford Historic District in a completely PRIVATE, QUIET, SPACIOUS guest apartment. Located in a beautiful two story, owner-occupied home, the apartment is on the second floor on the left hand side of the house. The home is on a quiet side street and offers off-street parking and a SAFE and FRIENDLY neighborhood. There are THREE airbnb apartments. Each apartment is unique and can be rented together for a two couple get away weekend. Each apartment comfortably sleeps two to three adults.
Enjoy the LOVELY BACKYARD GARDENS.
On site ECO-CONSIDERATIONS: rain barrels for water catchment, organic vegetable gardens, composting, and vermiculture (worms eat my garbage and provide me with their nutrient rich castings).
"What a great first experience with AirBnB! Cathy was so helpful and available for anything we needed. She always responded within minutes of receiving a text from us. She guided us to great restaurants and sites to visit. The apartment was adorable and so clean and well equipped. We loved the old claw foot bathtub! The bed was so comfortable with very high quality soft sheets and an assortment of pillows to choose from. The location is the best! Close to Downtown, River Arts District, and easy to get to everything. The backyard is so nice with lounge chairs and places to gather. Although it was just the two of us, the apartment would have easily fit 3 people. The 3 apartments together would be great for a group of people. All of the apartments are lovely! Cathy showed them all to me before we left. I just can't say enough positives about this experience. A Quiet, restful retreat. We feel like we went away with a new found friend in Cathy and can't wait to go back" ~ Sandy
Come see for yourself why Asheville has been called "The Paris of the South".
"We had a delightful stay with Cathy and the "girls" this past weekend. The apartment is so peaceful, quiet and relaxing, we found ourselves just laying in bed in the morning listening to the light breezes and birds chirping. Cathy is a wonderful host and made us feel right at home and provided several nice recommendations on things to see and do. The apartment is clean and as described on the website. Her house is about 1 mile from downtown so it's an easy walk and enjoyable as you walk past some beautiful homes in the Montford historic district. We would definitely stay here again should we return to Asheville! ~ Mark
After booking, guests receive a long list of Kathy's favorite places to eat, to see and fun things to do! Asheville has been her home for thirty years.
Imagine a quiet and stately neighborhood, easy access to one of the top destinations in the country for fantastic food and breweries, and a host who can't be beat in her hospitality or her lovely disposition. This was our experience for the four days we stayed at Cathy's beautiful home. Every little detail one could want was provided in Cathy's home - coffee, juices, organic free-range eggs in the fridge, luxurious towels and bed linens, etc. There was great conversation, as Cathy is just a really good person (also loved meeting one of her personal friends). Cathy respected our time and afforded us plenty of privacy as well, which we spent in our lovely apartment and Cathy's back yard. Would definitely stay with Cathy again. She's like a friend you didn't know you had. Cathy's communication could not have been beat. She was very responsive and communicated in whichever way worked for us. I highly recommend staying with Cathy if you travel to Asheville." Elizabeth, August 2016
Guest access
There are beautiful mature trees and shrubs on the property: tall hemlocks, a large Japanese maple, white pine, rose of sharon, walnut, serviceberry, native shrubs like laurel, rhododendron, native fern, hydrangea as well as over 500 flowering spring bulbs.The LARGE BACK YARD has organic raised beds for veggies, herbs and flowers which guests are welcome to share. Relax and enjoy a book or afternoon nap in the back yard hammock. Make yourself at home.
Make yourself at home.
Interaction with guests
As Kathy lives below in the downstairs apartment she is around when needed or only a text away. If she is traveling, she will always have someone living on the premises who can assist you. She makes a special effort to not be intrusive but close in touch if something is needed. Guests might see her working in the garden. There are times even though she's on site, guests may not necessarily run into each other...just the way the apartments are situated. She will check in periodically but won't intrude on your privacy. For those looking to possibly move to Asheville, she has 30 years of experience living in Asheville and would be happy to provide a recommended builders and/or real estate agents.
The neighborhood
The neighborhood was named an Historical District in 2000 and in the early 1900's, Montford was home to the upper class of high society dignitaries, doctors, and prominent businessmen. Notice the wide main thoroughfare that is now Montford Avenue. Arriving late and want an easy dinner? Perhaps you'll walk to one of our neighborhood cafe/pubs all on Montford Avenue toward town. Tod's Tasties has a great omlette, and is about four blocks away. Chiesa, three blocks away is a classic Italian and Nine Mile Cafe, which is just two blocks from your apartment is a real local favorite with great micro brews and reasonably priced menu.
Within walking distance from your apartment: The Botanical Gardens of Asheville, the University of North Carolina campus, downtown is a mile-20 minute walk or 5 minute car ride. Montford Park is half a block away and has a basketball court, tennis courts and park benches. Riverside Cemetery is one of the coolest places to view Civil War and Spanish American War grave sites. The Biltmore Estate and Village is approximately 3 miles away. Everything is casual dress and easy access.
Recommendations and resources
Sightseeing tours
- Gray Line Trolley: "hop-on/hop-off" trolley tours with 10 stops around town
- La Zoom Tours: comedy bus tours offering a uniquely "Asheville" experience!
- History @ Hand Tours-A People's Memory-(URL HIDDEN) friend Sharon is the owner and has tours Downtown, Biltmore Village, Riverside Cemetery, and Historic Montford
- Brewery Tours, Food Tours, Segue Way Tours
Grocery stores
- Greenlife/Whole Foods (North Asheville, on Merrimon)
- Trader Joe's (North Asheville, on Merrimon) -- ALL OF THESE ARE CLOSE BY AND within a block of one another.
- Harris Teeter (North Asheville, on Merrimon)
- Earthfare, Westgate Shopping Mall (W AVL)
- West Village Co-Op Market (W AVL, on Haywood Road)
- Ingles, big box chain store (W AVL, on Haywood Road)
Local Farmer's/Tailgate Markets
- Saturday
N. Asheville Tailgate, best one, music, coffee, pastries (@UNCAsheville) 9-2 pm
City Market, music, coffee, pastries (downtown-Martin Luther King Blvd.) 9-2 pm
- Tuesday
West Asheville Tailgate, across the street from Ingles Market 2-6 pm
- Wednesday
River Arts District Farmer's Market (River Arts-pkg lot of All Soul's Pizza) 2-6 pm
Upscale Dinner and So Worth It Restaurant
- Smoky Park Supper Club – urban chic, outdoor seating (River Arts)
- Limones – beautiful interior, California/Mex, crazy good, small bar in the back to have
cocktail and snack (Downtown)*
- Bull and Beggar – upscale, small plates, great food (River Arts)
- The Junction – great food, focus on fresh/local ingredients (River Arts)
- Mela – Indian food, excellent lunch buffet every day (downtown)
- Curate – amazing tapas, fine atmosphere, pricey but delicious (downtown)*
- Posana – beautiful décor, high quality brunch, gluten free items
- The Admiral—one of the most sought after reservations. Foodie Heaven*
Easy Lunch/Dinner (some not open for dinner-check first)
- King Daddy's – hip chicken and waffles joint, outdoor patio, great cocktails (West AVL)*
- White Duck Taco – creative tacos, outdoor seating, one block away (River Arts)
- All Souls Pizza – casual but classy, brick-oven pizza and Italian (River Arts)
- Gan Shan Station – Pan Asian, funky, cool décor, sake outside patio(Charlotte Street)*
- Asheville Brewing Company – $3 movies, great beer & food (North AVL)
- 12 Bones – fantastic BBQ, outdoor seating, open for lunch Mon-Fri (River Arts)*
Easy Lunch/Dinner-CONTINUED
- Sunny Point Café – great local spot for brunch, lunch, or dinner, outside patio (West AVL)*
-Luella's Barbeque – good meat menu & beer--good homemade side dishes (N AVL)
-Homegrown – very local and open breakfast, lunch, & dinner (N AVL)
-Avenue M – mostly locals, fern bar menu, outside patio. (N AVL)
-Salsa's – one of four outstanding restaurants owned by Hector Diaz. Very inventive Latin.
Coffee cafes:
- Clingman Café (River Arts, on Clingman)
- Vortex Doughnuts - cool interior, worth a trip!(downtown, on Banks Avenue)*
- City Bakery (downtown, on Biltmore)
- French Broad Chocolate Lounge (downtown, Pack Square)
- Liberty House Coffee Café (Liberty Street-yoga studio next door-N AVL)*
- High Five (Broadway Avenue-near Greenlife/Whole Foods)
- Malaprop's Bookstore (downtown)
- High Five (Downtown-Broadway, a block from Greenlife)
- Old Europe (Downtown)
- Double D Double Decker Coffee Bus (Downtown)
- Battlecat Coffee Bar (W AVL) – hipster central
- Trade & Lore Coffee (Downtown)—great to people watch on Wall Street. Cool interior
- Sovereign Remedies (Downtown)—serves 1000 Faces coffee-the most primo of primo
Breakfast/Brunch (check days/hours)
- Sunny Point Café – mother/daughter owned, great menu & crowded (West AVL)
- King Daddy's – hip chicken and waffles joint, great cocktails (West AVL)*
- Biscuit Head – ginormous biscuits (gluten free option) with jam and butter bar*
- Battle Kat – hipster, great coffee, funky, small menu but great hang out (W AVL)
- Five Points – typical diner food w/ Greek lunch menu. Booths or counter (N AVL)
- Sovereign Remedies (Downtown)-I haven't tried this one yet but want to.
- Limones (Downtown)*-one of my very favorites for brunch. Arrive 10:30am or prepare to wait.
- Posana (Downtown)-very nice, gluten free menu but you would never know it.
- Chestnut (Downtown)*-very nice
Brew Pubs, Breweries – just a tiny list
- The Wedge – great outdoor bar (River Arts District)*
- Wicked Weed – amazing beer selection, outdoor patio, food menu (downtown)*
- Funkatorium – Wicked Weed's 'funky and sour' beer bar (downtown)
- Hi Wire – great local brewery, open air bar (downtown)
- Burial Beer Co – local brewery, lots of outdoor seating (downtown)
- Urban Orchard – cider brewery (West Asheville)
- Sierra Nevada – tours, tasting room, and restaurant (Fletcher, NC)
- The Bywater—sit feet from the French Broad River, watch folks on the river, drink beer.*
Wine and Great Cocktails
- Sovereign Remedies – late night cocktails
- 5 Walnut Wine Bar – lovely spot locals love w/ music
- Sante Wine Bar – (Downtown)-sit outdoors
- Chestnut – (Downtown) beautiful hand made locally harvested chestnut bar
- Top of the Monk (Downtown) – funky & super cashz
- STORM Rhum Bar & Bistro – cocktails and great food (Downtown)
- Nightbell-owned by Curate (Downtown below Curate)
Desserts
- Karen Donetelli's – European pastries, best in town (downtown)*
- Well Bred Bakery – very High quality (Biltmore Village)*
- French Broad Chocolate Lounge – wildly popular, always lines (downtown)
- Old Europe Café – tiny café with European pastries (downtown)
- The Hop Ice Cream – really amazing flavor combos, vegan & no sugar items (N & W AVL)
- The Ultimate Ice Cream – best deal is a pint and eat at home- (N AVL)*
- The Rhu – sister to Rhubarb restaurant upstairs. Sandwiches also
- Whitt's Frozen Custard – two flavors a day w/ more in their freezer. Omg (N AVL)
Indoor Things to Do
-Moog Museum (Downtown)
-Asheville Art Museum (Downtown)
-Grove Arcade Shops (Downtown)
-Grove Park Inn-cocktails on the Terrace (N AVL)
-Fine Arts Movie Theater (Downtown)-$5 night on Tuesday's-first run movies, artsy-formerly a burlesque house but transformed into a theater by owner of New Morning Gallery & Blue Spiral.
-Grail Movie House (Downtown)-funky and fun movie selections $9/pp. with beer and snacks
-The Screen Door-antiques/funky garden art/great discount bookstore/eclectic furnishings
Let's order in tonight
-Valet Gourmet – order at least an hour before you want to eat
-Asheville Pizza and Brew (N AVL) delivers
ON LINE RESOURCES
- (URL HIDDEN) It's a fantastic resource with tons of recommendations for great hikes, scenic drives, best swimming holes and other things to do.
- Weekly local magazine, (URL HIDDEN) provides a weekly lineup of all happenings. Great resource for music events, festivals, etc.
- On (SENSITIVE CONTENTS HIDDEN), Ashevegas, is a great site, mostly local interest, but cool and often Hollywood actor sightings. This summer Peter Dinklage (Game of Thrones), Ethan Coen & Frances McDormand, and Woody Harrelson have been in town shooting a movie. Woody likes to play chess in Pritchard Park. Rumor is he bought a house here. Andie McDowell lives here. Harry Anderson (Nightcourt) lives here.
Getting around
Enjoy a lovely walk to town through wide boulevards of the historic district with turn of the century mansions on both sides of the street. Drive five minutes to town and park in any one of several parking decks where the first hour is always free! Many guests who want to enjoy the benefits of Asheville's distinction as "Beer City USA" for four years, opt to walk to downtown and or take an UBER taxi home for around $6-$7.
Other things to note
When one imagines a partying scene, this house would not be in that picture. Kathy places a high value on a guest's tranquility and chooses not to dampen the enthusiasm of little ones, so apartments are not well suited for children.
---
May not be safe or suitable for children (0-12 years)
Check-in time is 4PM - 9PM.
All properties are LGBT & Straight-Not-Narrow friendly.
Some guests must provide proof of 25 years of age or older with copy of valid driver's license. This is a no pet property and no smoking is permitted. Since long term co-residents share a common green space guests are asked to use quiet voices when outside. This is more about sanctuary and is best suited for guests without children. Arrivals no later than 9 p.m. Other times, 9 p.m. and 9 a.m., emergencies only.
---
---
Asheville, North Carolina, United States
·
Joined in August 2011
I have travel in my blood and meeting folks from all over the world is a passion. Some favorites places include: Lagos de Atitlan, Uxmal, Merida, San Cristobal, Antigua, Ambergris Caye, Chichicastengo, Amsterdam, Vancouver, Cologne, Berlin, Reykjvik, Prague, Dingle Peninsula, and Tortola. I prefer to travel off the "gringo trail". In the fall of 2016 I will sell the property in the historic district of Montford. I will create a home base at the other property I own, in west Asheville, where there are three other airbnbs. Either place, I hope to see you!

I am a passionate student of compassionate communication (NVC). Two important things I've learned is that other people's behavior rarely has anything to do with me and that with patience and compassion, most all our needs can be met.

For fun around here I have ridden a hot air balloon over our mountains, taken a mountain top zip line tour nearby, seen our ancient mountains during a flying lesson, rented a scooter and rode the blue ridge parkway, took a few archery lessons so I could pretend to be like Katniss from The Hunger Games, which was filmed nearby. What do you like to do for fun? Let me share more fun things to do in our beautiful mountains. After booking I'll send you a long list of some of my favorites.

Response rate:

100%(past 30 days)
Response time:
within an hour
Explore other options in and around Asheville
More places to stay in Asheville: