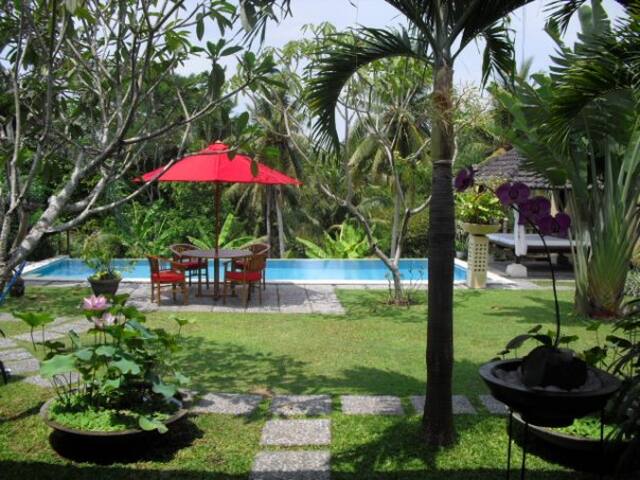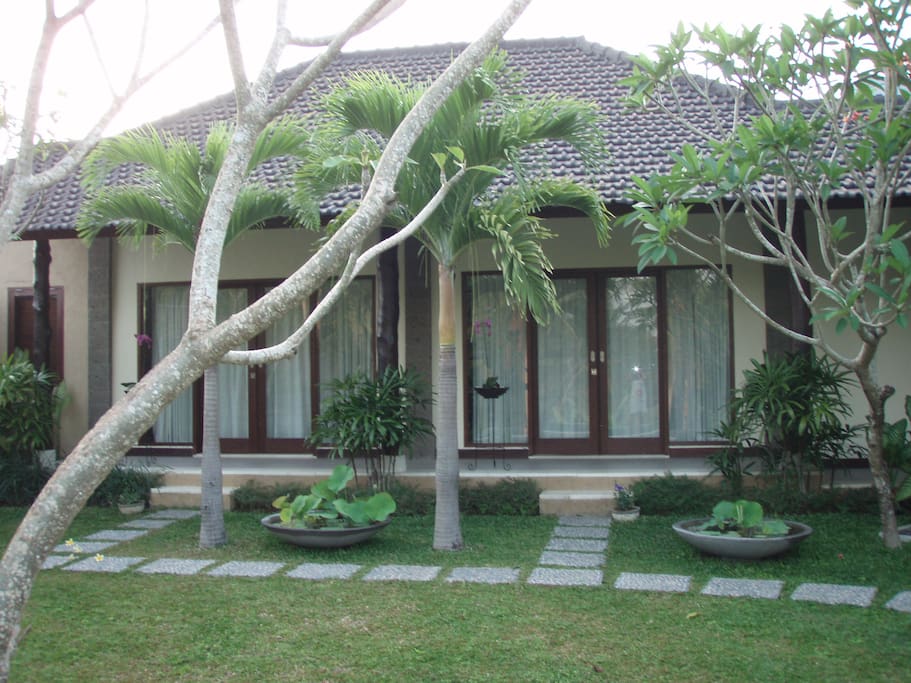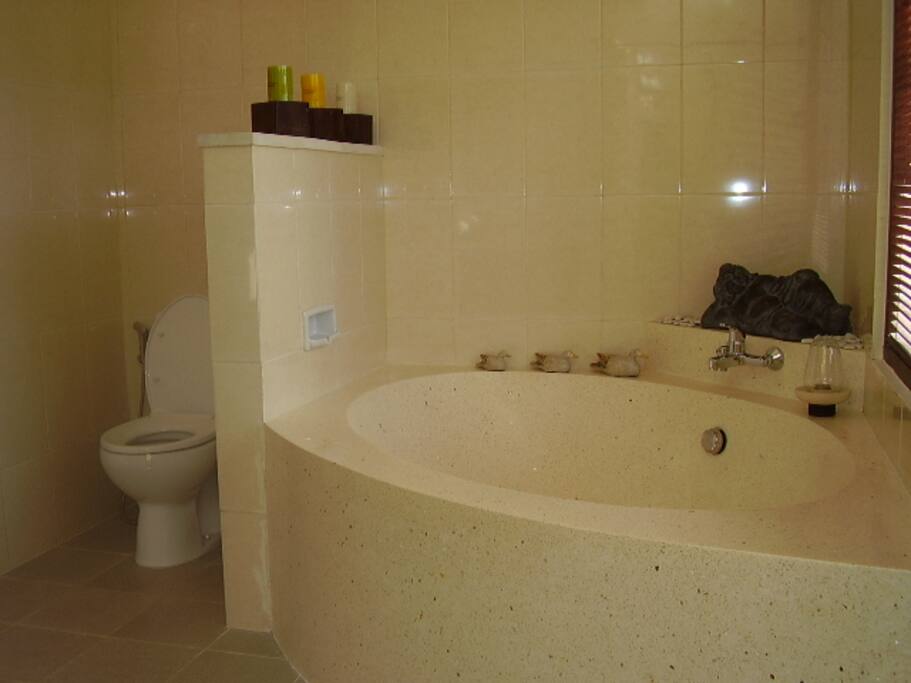 The space
The villa is located in the tranquil Tumbak Bayuh Village - Canggu, about 40 minutes from the airport, 20 minutes from Seminyak , only 10 minutes drive to the famous surf beach ,Echo Beach and 15 minutes drive to the best Golf Course in Bali, Nirwana Bali Golf Course. The villa has 2 bedrooms. Each bedroom has air conditioning, a Queen Size bed, built in wardrobe and adjoining to the en-suite bathtub made from Terrazzo. The room is further equipped with TV and DVD Player.
The high ceiling living and dining room is air conditioned, equipped with TV (international channels), DVD and Karaoke and connects to the full equipped kitchen.The guest toilet is only steps away.
All rooms overlook the swimming pool with gazebo and garden.This villa is offering you a truly peace, relax and tranquility.
Each bedroom can only accomodate 2 people
The rate for 2 bedrooms is USD 84/night
We will give a great deal of discount on long rental period ( Minimum 1 month rental )
Check in tim(URL HIDDEN)pm
Check out tume : 12pm
Inclusive in the room rate
- Internet WiFI
- Housekeeping
- Laundry and Ironing
Services & Facilities:
* Fully furnished.
* Fully equipped linen, towels and drinking water.
* Air conditioned in all bedrooms.
* Hot & cold water in all bedrooms.
* Ceiling fan and air conditioning at the living & dining room.
* TV, DVD and audio in the living room and bedrooms
* Satellite with Parabola.
* Fully equipped kitchen.
Massage upon request.
Car Rental upon request
Villa Staff:
There are 2 staffs in charge in the villa:
1. Martina is a lady from Flores Island, she is responsible for housekeeping . She works from 9am - 5pm and off on Saturday. Live in staff
2. Irma is a lady from Flores Island, she is responsible for housekeeping, laundry, Ironing. She works from 9am - 5pm and off on Sunday
* Staff's room in a separate servants quarter.
---
Check In: Anytime after 2PM
---
---
Always communicate through Airbnb
To protect your payment, never transfer money or communicate outside of the Airbnb website or app.
Learn more
---
Check in is anytime after 2PM
RULES & REGULATIONS
1. Guest must complete and sign a register slip
2. Guest must show relevant document before checking in the villa
- Identification card
- Or Passport
3. The room key is kept by the guest. Any damage and loss will be subject to a fine.
4. Keep the Hotel Premises clean. No article billed on the wall is allowed.
5. Guests must take good care of their own belongings. The Management will not be held responsible for any loss or damage incurred.
6. Guests are prohibited take in to the villa narcotics, weapons, explosive, inflammable articles, commercial goods and prostitutes
7. If any abandoned luggage or lost and found items are not claimed by the guest after a maximum storage period of 90 calendar days, the Management has the right to dispose of these items.
8. No pets are allowed on the villa premises. No plants are allowed in the room.
9. No gambling of any kind or unlawful behavior is permitted.
11. Keep silence on the villa premises
12. No Party. Should you wish to have any party or celebration inside the premisis, please ask the management for possibility.
13. Unregistered guests or visitors are not allowed to stay overnight in the villa
14. No changing of rooms or transfer of rooms is allowed without the permission of the villa management
15. Guests are held responsible for any damage done to the furniture / decoration or other facilities insides the villa.
16. All electric appliances should be switched off and the windows should be closed when guests go out, even for short period of time. Villa staff will check the rooms from time to time to make sure that all electric appliances are switch off when guest s leaves the room.
17. No smoking is allowed inside the rooms
18. No electric appliance and furniture is to be installed inside the room without the permission of the
(website hidden) or any ignition is not allowed in the room.
20. For hospital information or ambulance service, please contact the management .
21. Our staff may check the room from time to time.
22. Please do not take away the guest room items as souvenirs. Otherwise, the charge will be added onto your bill.
23. In case of violation of the above regulations or any misconduct as deemed to cause others' inconvenience or discomfort, the Management reserves the right to ask the guest to leave.
24. The Management reserves the right to alter or amend the above regulations without any notice. In case of any query, please contact the management.

---
Strict
Cancel up to 7 days before your trip and get a 50% refund. Cancel within 7 days of your trip and the reservation is non-refundable.
---
---
The host was not present but a housekeeper, Made, was there to receive us. The villa was pretty far in from the main area of Canggu and our airport taxi took about 1.5 hours to get to the place as it was so difficult to find. Because the villa is so secluded, Made tried to get us to hire him to drive us around Bali, to the Kuta/Legian area for about 75,000 rupiah an hour which is a total rip off from the "350,000 rupiah for 10 hours" deal as written on the villa's guide book. On our 2 nights there, we had to walk out to find cabs and on the last day, we had to hire Made as we were unable to walk out with our luggages. He charged us 150,000 which I bargained down to 120,000 to get to Kuta, while a typical metered cab ride would cost us about 50,000 tops. We felt like Made was constantly trying to squeeze money out of us which was discomforting. He even refused to lend us a calling phone to get a cab, and it was amazing how there is no single working phone in the villa to help us. The villa is beautiful and all but if you are seeking to get out of the villa for food or activities, make sure you have your own driver or be prepared to get lost around the area if you don't know how to get home or do not have a GPS. Having a phone with an internet connection was useful as we could guide taxi drivers to send us back, otherwise we would not have been able to find our way back to the villa especially at night.
Response from Nenita Yolanda:
Dear Debby, First of all, As I informed you on the e-mail that I can't be there to welcome you because I am in Sweden. I hope that you fully aware off that. As you see comments from our guest who stay in our villa before none of them complaining about the transportation to or from the villa. None of the complaining about the location.They choose our villa because of the location, they choose for peaceful & quite place, they know what they want. About the villa location, As written in the description, the location of the villa is in the tranquil Tumbak Bayuh village. So, the villa is far from hustling and bustling of city. That's why all of our guests decided to stay in our villa for the reason that the villa is quite and peacefully. If you, Debby, wanted to stay close to city, you should have chosen something else not our villa. You could have done your "homework" better before you choose to stay in our villa About the transportation/taxi As I remember very clearly, well, I have on the e-Mail my conversation with you about getting the Taxi. On my e-Mail I told you to ask my staff to call a Taxi if you want to go out. My staff will call a Taxi for you. I don't understand why now you Said that my staff was not being helpful about calling the taxi. My staff help you, drove you to the phone shop so you can buy a local mobile phone chip but unfortunately as you said your phone is incompatible with sim card in Indonesia. Because you can't use your own phone, Why didn't you ask my staff to call a taxi for you ??? I don't understand. Because, again, I said on the email that you can ask my staff to do so. I have 3 staff in the villa who has their own phone and more than willing to help you to call for a taxi . We call for taxi, call to order food in, call for massage, etc for our guests before and WE NEVER HAVE PROBLEM About the car rental, In the brochure it says that the car can be rented for around Bali tour only. And to go the city you can take a taxi or like many of my guests before they rent a motorbike or a car during their stay in Bali. About my staff Made who you said trying to squeeze money out of you, well, this is the first time I heard negative comment about him and there is always two side of the story. He didn't mean to make you feel that way. All of my staff are there to help and to make guests feel as comfortable as possible. I know Made, he's been working for me for years. I know he won't doing such a thing that you accused him off I am sorry if you feel the opposite. By the way, the taxi fare from the villa to Kuta is NEVER Rp 50.000. Never in million years !!! I took taxi from the villa to Kuta hundreds of times and I paid minimum Rp 100.000 So, please don't say something that is not true. The transportation from and to villa Never a problem and will never be a problem. As you see comments from our guest before, not one of them complaining about the transportation to or from the villa. None of them complaining about the location. They choose our villa because of the location, they choose for peaceful & quite place, they know what they want. Thank you for saying that our villa is beautiful. I hope you enjoyed the beauty, peaceful and quite serenity of the villa Regards, Nenita Yolanda
---
Response from Nenita Yolanda:
Dear Angela & Amber, Thank you for your kind review, particularly for praising efforts of our staff. Thank you for complementing of our villa, service, and most off all our dedicated staff. On behalf off my staff I would like to say Thank You for being our guest and for sharing your positive experience with.
---
We had a wonderful stay at Yolanda's place when we travelled there for a wedding a couple of weeks ago. Prior to even arriving Yolanda was beyond helpful with information about transport and even arranging us a driver to collect us from our previous accommodation. On arrival to the villa we were provided with plenty of information and very handy eat-in services. Even though we didn't use the services in the end its handy if you want to laze about as you need to catch a taxi to echo beach for a restaurant meal. This is no real problem as taxis are so cheap and its a nice 10 minute drive into town. The villa has a picturesque backdrop with the rice patty fields beyond the swimming pool. The garden is wonderful to relax in and our 3 year old daughter loved running around and playing in the pool. In all we enjoyed our stay and were overwhelmed by how lovely Yolanda and her husband were.
---
This is a great place to stay at if you want to get away from the typical and touristic hotels, but still feel safe and have a relaxing holiday. All the staff is really kind and helpful, the Villa is situated close both to Echo Beach and Tanha Lot Temple, perfect for a couple or friend. Easy to travel around with a motorbike. We would love to come back! Carmen & Marlene
Response from Nenita Yolanda:
Hi Carmen and Marlene, thank you very much for your nice review, it was nice to have both of you here. Me and my staff are happy to be able to accomodate you during your stay in Canggu area. Hopefully, we can see other again in the future and and with more time spend. Good luck with everything and keep in touch. Thank you and Take care. Yolanda
---
The place was exactly what we expected to find.It was really a nice place to spend some relaxing time after beeing all day around.Absolutely quite place, wonderful view to the ricefields,clean swimming pool,very comfortablerooms. Staff is all the time present, if you need something. Great service. Excellent pick up service from the (URL HIDDEN) worked perfectly. We will staying here again.
---
This villa is fantastic, literally from the moment you walk in the front door: a glorious expanse of windows opposite gives onto an unusually-shaped garden, appropriately dappled, a long pool at the far edge of the property, and a swathe of jungle as backdrop. The backdrop was unusual in itself because you're looking at it from mid-height; there is no back wall to the garden but there is a big drop from the edge of the pool down to a rice field – hence the unusual perspective. And you would be forgiven for thinking this entire panorama is all yours because there's not another building in sight, left, right or face-on from the garden. This villa is fantastic, literally from the moment I tore my eyes away from the view to look around the large combination kitchen / dining / living area – in a glance I could see that it was tastefully, elegantly and very comfortably decorated. And spotless, shining, positively gleaming with obvious care and attention to detail. Oh joy! Especially just after 3 weeks in another rental in Bali that was decidedly unloved and unloving… Hailing from Flores, Adel and Martina are the daily custodians and they maintain everything beautifully without any fuss or bother. They were a very discreet presence and, despite the language barrier from my inability to speak the language, seemed to fully understand our desire for peace and tranquillity without a hovering service. So, a totally private location in a cleverly-designed house on an elevated site, and it ticked all the boxes for our last 10 days in Bali: awash with TVs / dvd players and dvds for all ages if you want; great, bright bathrooms with ginormous tubs and shower spaces; all rooms facing into the garden; grand lap pool and a grander bale at the end of it; all as you see it in the pictures, but better. It is a tad hard to find and the gang is only sign-posted once you are already well into it, so be sure to have a guide at the end of a telephone number when on your way. There is a taxi rank at the bottom of the road and I never saw it empty, so no problems there. There is an easy walk to the beach but at time of writing (August 2012) it hosted a large and loud digger. Still, it is easy to get to other beaches and it is a perfect base for a self-drive holiday that easily takes in mountains, lakes, beaches, urban sprawls and rural idylls, temples to gods and to mammon, activities sporting and spiritual, and all the other wonderful things Bali has to offer. I know we had loads of plans for that kind of thing but, somehow, it seemed to take an age to drag ourselves away from 'home'… All of which means we have to return, again and again.
---
Yolanda, your hospitality, your house and all your staff are absoulutely FABULOUS. Best value, I garantee. I don't speak good english, that's why I can't describe how good it was to be in your house. The reality is much better than the photos. We are swiss and appreciate when it's clean, and it was. Everything is well maintaind. Again thank you very much for everything. If we come back to Bali and you still rent your house, we'll for sure go back to your place. Many thanks for all Patricia & family
---
I love to travel and to meet new people. I have always loved the adventure of travel – the unknown, something different, something new. I have been extremely lucky to continuously feed my passion for travel.
I also rent out my house in Bali, Indonesia, when I am not there or sometime when I am there as well. It is a pleasure to host the guests from around the world and being able to share the beauty of the island of Bali.

Languages:
Bahasa Indonesia, English
Exact location information is provided after a booking is confirmed.
Explore other options in and around Mengwi
More places to stay in Mengwi: