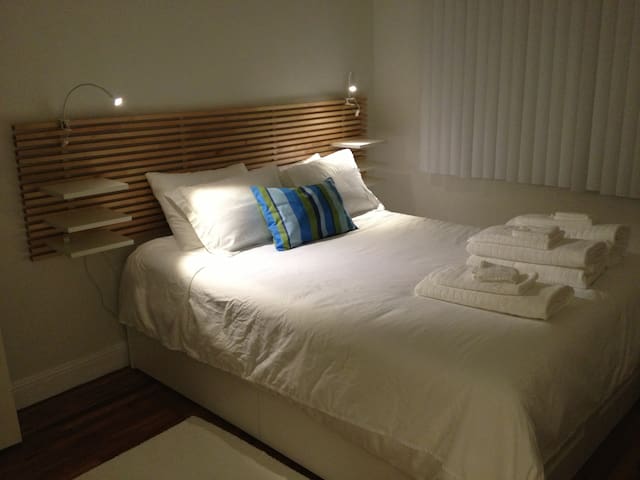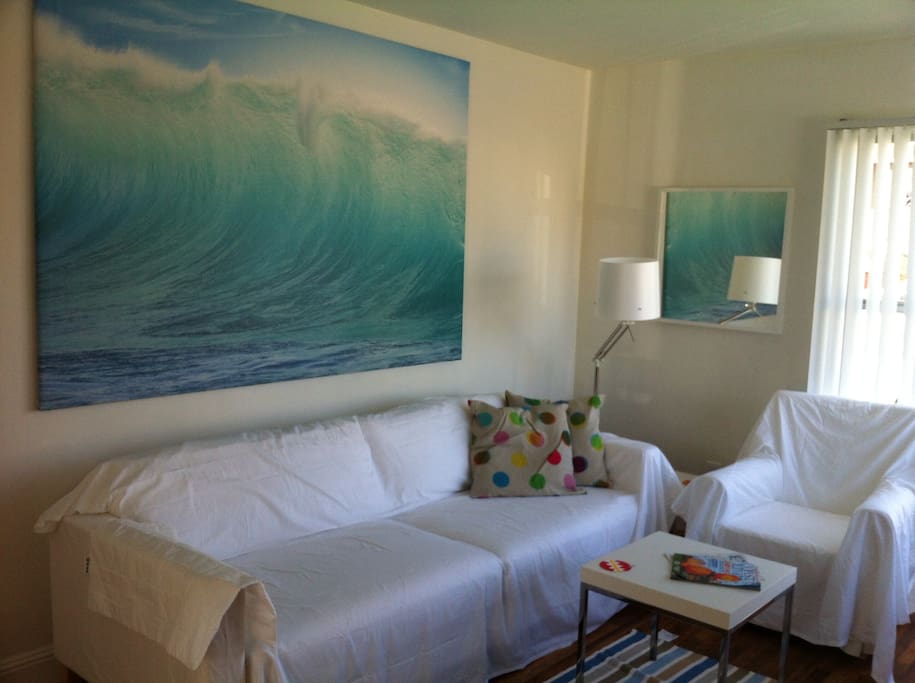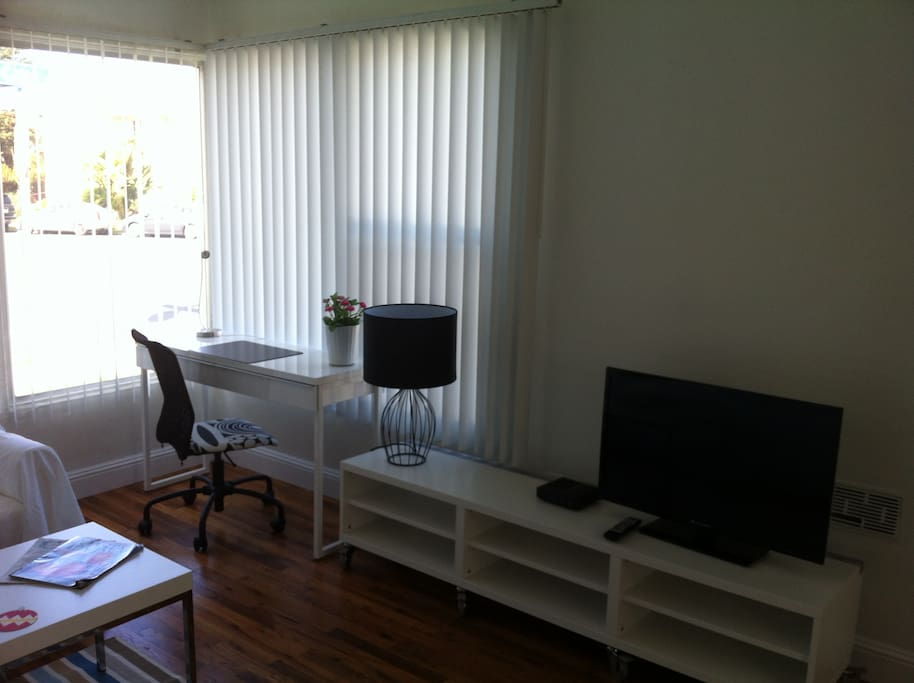 About this listing
DEAL ALERT: Come spend time by the beach in October and get our spacious and spotless cottage for $79/night. Come to Ocean Beach, endearingly just called OB, San Diego's eclectic and authentically bohemian beach town.
---
Check In:
Anytime after 4PM
Room type:
Entire home/apt
---
---
---
The space
Just minutes from the airport, OB is a lively and friendly community known for its OB Pier... the longest concrete pier on the west coast, local craft breweries, a wide variety of restaurants from casual to upscale, coffee houses, antique stores, boutiques and surf shops.
Our comfortable and breezy apartment is within walking distance to all OB has to offer, making it a perfect destination for families, couples, singles, surfers, boaters, explorers... people with active lifestyles or people who just want to relax on the beach.
Our beach-living inspired FourPlex is affectionately named RedFish. A freshly decorated one-bedroom apartment in white and coastal colors will greet you complete with full kitchen, towels for bathing and sunbathing, fans throughout to circulate the awesome cool winds, a desk in case you were forced to bring your work while on vacation, and a full sofa bed for friends or the kids. It is located on a first floor with private entrance. There is a flat screen TV, wireless internet service and garage parking.
RedFish Tower - 1 BEDROOM APARTMENT ALSO AVAILABLE: We have an additional 1 bedroom apartment for rent at RedFish if you are traveling with more people; Rent both for a discount! Or if RedFish Cottage is engaged with other guests, you may still be able to stay with us at Redfish Tower 21.
Here is the airBnb page for RedFish Tower.
https://www.airbnb.com/rooms/1462213
The neighborhood
***OCEAN BEACH LIVING***
All at walking distance... RedFish is surrounded by OB's "life makers".
FROM BREAKFAST TO DINNER - Want to have your first coffee enjoying the ocean winds of the early morning? Walk a few feet to the Tiki Port on the corner with Voltaire and get that soothing morning coffee or latte. From the beach or RedFish step by Te Mana, a newly remodeled cottage on Voltaire for a Hawaiian light lunch. Time for Happy Hour? The choices are innumerable!!! Lucy's Tavern on the corner, Mother's Saloon one block away on Bacon, or try one of our local beer breweries like Port Pizza and Raglan Public House. You'll love the environment, great beers and IPAs, as well as their famous Organic Burger. For dinner the packed and sought after OB Noodle House is just across the street. But don't wait in line. Put your name down on the waiting list, and return to the apartment. They'll call you when your table is available, and you can just walk down to sit and enjoy an awesome and tasty meal.
OUR PIECE OF THE PACIFIC - Ocean Beach is a strand of beach characterized by the activities that take place in its span along the Pacific. Surfing at Ocean Beach doesn't have a curfew. You can always join locals and visitors by the OB Pier catching the perfect wave, watching the sunset, competing with the Dolphins that occasionally come to play by the shore, or simply beating the cold waters of the evenings for the love of it. Not a surfer? Lay under the sun by the Lifeguard Station, don't be shy and join the volleyball games on the sand, or stroll up to where the San Diego river meets the ocean, Doggy Beach, and watch our canines enjoy the waters with the same carefree manner we do.
TIDE POOLS - Check for our daily low tides and walk south along our tide pools, starting under the OB Pier. Re-experience childhood and discover shore crabs, hermit crabs, sea anemones, and lots of small chitons. You'll even discover hidden beach coves along the way.
OCEAN BEACH PIER - Being an "OBcean" cannot be contained within our village. Our identity expands to the Pacific through our half-mile pier. One of the longest piers in Southern California our OB Pier reminds us that we are more than a beach town, we are also an ocean town. Just hang around during a heavy fog morning and experience the fog horn warning boaters of its presence... and wait to hear the ships close by answer back. Like fishing? The Pier is one of the few places in San Diego where you can fish without a valid California fishing license. Yes, you are expected to know and follow all the size and catch limits, but there is always a friendly pro near by to recite them to you. Things to watch out for are those sneaky seals that love to steal your bait, or that you don't hook a crazy surfer that has just decided to jump off the Pier to his board below to give more adventure to his surfing experience... yes, we have some of those too! Yet, one of our favorite reasons to visit are breakfasts at the Pier Cafe. Breakfast burritos and fluffy pancakes are the best!
OCEAN BEACH DOWNTOWN - Daylight shopping, nighttime drinking! Newport Avenue is the heart of downtown Ocean Beach reminiscent of traditional small town main streets with diagonal parking, colorful and diverse storefronts within a casual atmosphere. During the day stroll down our locally owned surf shops, smoothies and taco stands, and antique malls. At night be ready to hop from restaurant, to bar, to standup comedy shows, to clubs. We are characterized by our love for music, great beer... and partying! Be sure to bring your ID, or you will definitely miss out.
FARMERS MARKET - If you want a crash course on who we are, then you need to experience our Wednesday's Farmers Market. It has been voted San Diego's Best Farmers Market on a regular basis. By 2:00PM religiously each Wednesday of the year, a full block of Newport Avenue gets transformed with stands of the freshest and most delicious locally grown produce, art, flowers, food, jewelry, crafts, clowns having fun creating balloon characters and painting kids' faces, and live music until 8:00PM. Did I tell you we are not a shy community? You'll find us, our children, even our dogs dancing to the live music without shame in the middle of the street.
SUNSET CELEBRATION - Any occasion is a reason for celebration at Ocean Beach. We are grateful to have a daily reminder to celebrate life through our Sunsets; it has become a ceremony! An hour before Sunset, if you pay careful attention, you can surely notice how people start migrating towards the beach. It can be along the cliffs, towards the sand, on the Pier, looking for a place to sit along the beach wall, or with a glass of wine or beer sitting at the beachfront Shades or the hip Wonderland restaurants. 15 minutes before "touchdown" a deep silence captures the beach as we are all mesmerized watching the Sun in anticipation. And at that moment, when the Sun touches the horizon, a huge roar, clapping and even bell ringing from the Wonderland restaurant erupts in grateful celebration to one of the wonders of our coast.
FOR EXERCISE BUFFS - Trails, gyms, hills, biking lifestyle... all conspire to keep us healthy. A few yards towards any direction is exercise inspiration. Robb Field and Skateboard Parks are reached at walking distance. They are a public recreation complex with multiple tennis, basketball, softball and handball courts. It has a fitness gym, playground area for kids, and acres of wide open grass with picnic tables and shade trees. The skateboard park has been recently built... a 40 thousand square foot state-of-the-art skate park that alone speaks about our skateboarding culture. Just a few yards from RedFish, crossing Voltaire you can find private gyms. And if running is your passion, running along the beach, to the end of The Pier and up our 'lomas' (hills) are great and challenging paths. There is also a trail along the river starting at Dog Beach you cannot miss, which actually would take you all the way to Pacific Beach across the river!
A FIRST AT ANYTHING - Want to fit in? We'll teach you! Take a surfing, diving, skating, kayaking or even... a meditation class. There are several surf shops along Newport Avenue that offer surfing, skating, kayaking and stand-up paddleboarding. New at meditation? Then try the free meditation class on Wednesdays during the Farmers Market.
Other things to note
Check-in is any time after 4pm. Late check-ins after 8pm for a $40 fee, paid during check-in.
---
House Rules
By staying with us you agree to the following House Rules:
1. Check in is after 4pm and Check out no later than 11am. Late checkout may be possible for $40 as long as there isn't another guest checking in the same day. Late check-ins after 8pm is $40
2. No smoking inside the apartment. If you smoke you are required to pick up your butts and make sure they are out.
3. Must have Airbnb profile to book. Full names of all guests are required before booking is accepted; no unannounced guests.
4. You assume all risk of injury, accident or illness on the property. You assume responsibility for any and all damage in excess of normal wear and tear; payment of the security deposit does not relieve you of this liability. We assume no responsibility for your personal items.
5. The maximum number of adults is two (2). Contact us for additional adults
---
---
San Diego, California, United States
·
Member since July 2013
Ocean Beach ("OB") is my hometown, my Center of the Universe. Here the day is greeted by surfers who challenge all weathers to feel the Pacific against their faces each morning. Our reverence to the Sun is demonstrated each afternoon when we stand along the OB Pier boardwalk, hundreds in silence, until the sun touches the horizon to start clapping and whistling.... we have enjoyed another day in Paradise.
Response rate:
100%
Response time:
within a few hours
Explore other options in and around San Diego
More places to stay in San Diego: