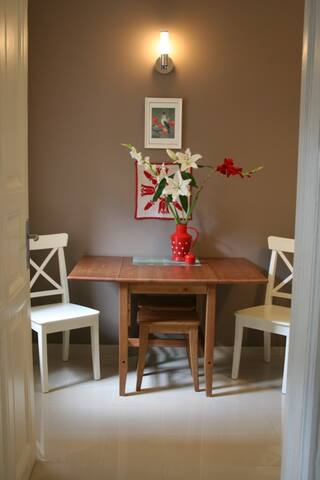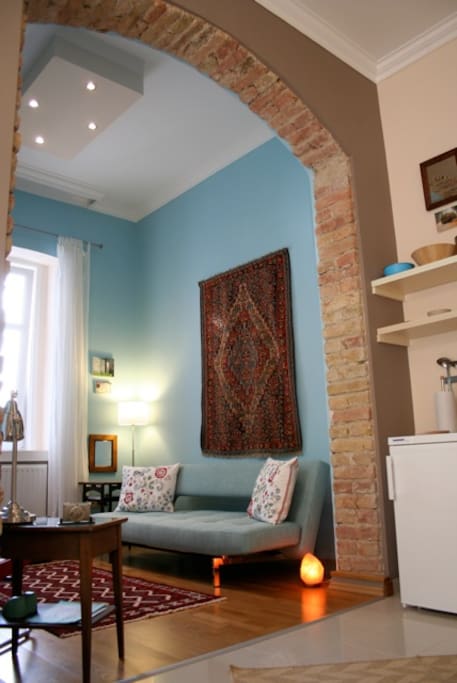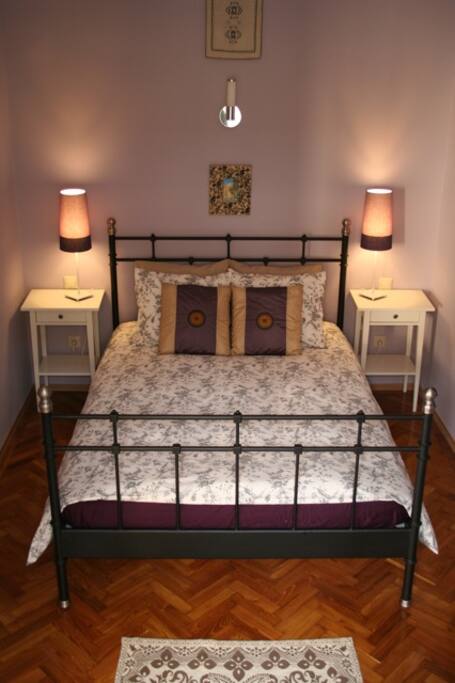 Smart, stylish & comfortable, 'Budapad' is a quiet and relaxing oasis in the heart of Budapest. Located in the beautiful District VI, home to the Opera House, Andrássy Blvd, Liszt Ferenc Square, Oktogon, it is a stone's throw from the Jewish Quarter.
The space
Smart, stylish and comfortable, Kichy Zichy is a quiet and relaxing oasis in the heart of Budapest. Situated in a prime location, this exclusive, bright and well-appointed apartment is housed in a building built between the late 1880's and the early 1900's.
It is the perfect blend between historical and modern.

Vintage objects from Hungary's recent past make up the décor at Kicsi Zichy. As you come up the stairs you may hear strains of a piano sonata emanating from the flat adjacent to the stairwell. This is not a recording: it is our neighbour, world-class concert pianist Fellegi Ádám.

Special Note and Consideration: This is a unique apartment, everything in it is handpicked for an exceptional experience and mindful guests. Please take good care of our lovely place so that others can enjoy it also.
We have several very nice neighbours within the building, many of whom are young people. But many work early in the mornings, so please be respectful of the noise level in the evening, particularly as you come up the stairs. No parties.
A supply of coffee, tea, spices and cooking oil is also provided, as is an ironing board and iron.
About the Owners
Rita Bozi is a Canadian-born Hungarian, whose father fled Hungary during the 1956 Revolution. Her mother followed in 1964 and Rita was born in Winnipeg a year later. She has been a Hungarian citizen since 2011 and speaks Hungarian fluently. She is a Consultant/Facilitator in Calgary Alberta, a writer and a retired dancer and actor. You can know more about her by going to her website at (URL HIDDEN)
Rita designed Kicsi Zichy.
Ken Cameron was born on a farm in Ontario but developed a taste for international travel as a boy. He is a playwright, director and all-around man of the theatre who has contributed to making Calgary one of Canada's cultural hubs: his work can be (EMAIL HIDDEN) Ken also uses his theatre and writing skills to help clients make better presentations in the business world: more can be found at (URL HIDDEN) Ken struggles to wrap his tongue around the Hungarian language, but has definitely fallen in love with the city.
About your Caretakers
Éva is Rita's fabulous Hungarian cousin who resides in Budapest with her jovial husband Karcsi and their English-speaking daughter Edina. They are lovely people who will come and help if something breaks down. Just call Edina on the emergency if you blow a fuse and Karcsi will come. Their numbers are programmed into the emergency phone.
Szilvi is Rita's second cousin. Her English is excellent. She is the one to call with a real emergency. Her number is programmed into the emergency phone.
(For more detailed inquiries about anything please email Rita or Ken, as we are the primary contacts) and we will be in touch as quickly and efficiently as we can. We welcome any and all of your questions! We love answering them and we love Budapest!

Guest access
Guests will have access to wifi, laundry, shower, washer, separate WC, very comfortable bed, and well-equipped kitchen.
Interaction with guests
While we do the bookings over AirB&B from our home in Canada, our cousin Eva will check you in. Sadly, it is unlikely that we will meet you in person. However, we will be able to offer some
Other things to note
Some of the things our guests have said:
"Thanks to the wonderful owners, Rita & Ken, we had a 5 star stay! From the initial contact throughout the entire stay they were extremely helpful and responded quickly to each and every question (and we had many)! We cannot express how grateful we are to both of them, as well as Agnes, our greeter, for making our anniversary so special. The apartment is fabulously decorated with absolutely everything you need right at hand. The Budapad ranks as the best apartment ever! We loved the apartment and truly felt like it was our home away from home for 4 glorious days and nights. We were told by Rita not to sleep before we left for Budapest, and she was right! We wished we had more time to enjoy this amazing city. The people, art, history and culture can't be beat! We will definitely be back and hope that we can stay at Rita and Ken's Budapad! Special thanks for making us feel so welcome and like family! We loved the gorgeous flower arrangement and sweet sentiment from Agnes in honor of our anniversary. How sweet! This shows how much you care about all of your guests! Kiss your brains for a job well done! Budapad here we come again-hopefully soon!"
-David & Susan Portesi
"The Budapad was everything we hoped for and more. It was in the perfect home base from which to explore the city, very close to downtown and right next to the Jewish Quarter. The place itself was inviting, spacious, and beautiful. The owners are very responsive and gave us all the info we needed to help us navigate the city. My wife and I would stay again in a heartbeat."
"This is a most charming getaway close to everywhere in Budapest--- a well appointed, extremely comfortable oasis that will calm your nerves and help you recharge your batteries. My sister and I loved our stay and are very grateful to have found it! Fantastic caretakers provided useful help and tips…thank you thank you!"
-Tirzah and David F.
No smoking
No pets
Please be respectful of our neighbours
Have fun exploring Budapest!

About the Owners Rita Bozi is a Canadian-born Hungarian, whose father fled Hungary during the 1956 Revolution. Her mother followed in 1964 and Rita was born in Winnipeg a year later. She has been a Hungarian citizen since 2011 and speaks Hungarian fluently. She is a Consultant…
Response rate:
100%
Response time:
within an hour
Explore other options in and around Budapest
More places to stay in Budapest: