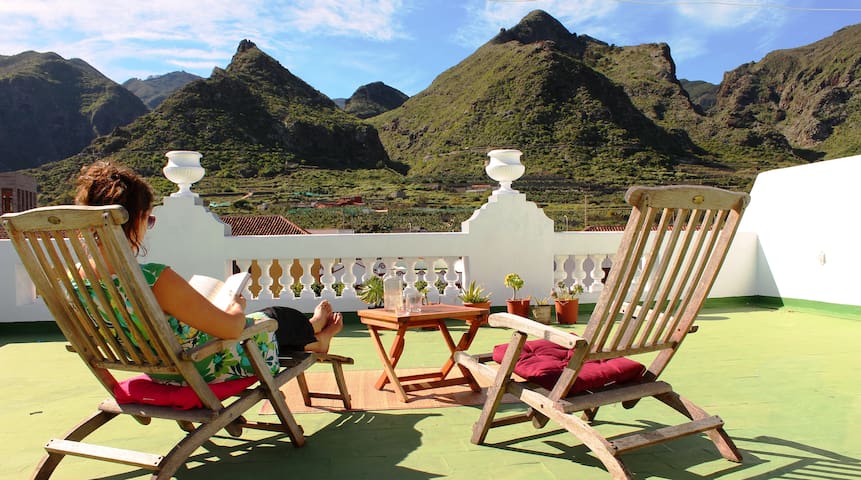 About this listing
Casa la Ranita is far away from the mass tourism areas of the island. Here you'll enjoy genuine holidays in the heart of Canarian life, not far away from the marvellous Monte de Agua mountain and 15 minutes walk for the ocean.
---
---
Washer
In the building, free or for a fee
Wireless Internet
Continuous access in the listing
Breakfast
Breakfast is provided.
+ More
---
---
Casa la Ranita is far away from the mass tourism areas of the island. Here you'll enjoy genuine holidays in the heart of Canarian life, not far away from the marvellous Monte de Agua mountain and 15 minutes walk for the ocean.
Casa la Ranita is nicely located on the main little square of Los Silos, heart of the village. It is a privileged location to enjoy the animated local life and be part of it. Los Silos is a lively village which has been preserved from the damages caused by mass tourism. All the generations still live together, a lot of children and young people are present but also many elderly people you'll meet on the benches of the square. Los Silos maintains an active social and cultural life made of traditions, religion, folklore and music, and throughout the year you'll have the opportunity to assist to some colourful festivities.
At Casa la Ranita we want to offer a different bed&breakfast experience, based on conviviality, quality, consciousness and simplicity ... Comfortable rooms with shared bathrooms (one bathroom to be shared between 2 rooms), organic and self-made breakfast, common spaces such as a living room, a dining room, and a huge terrace on the roof with wonderful view to the mountains. There's no kitchen available but our guests can use the dining room to have cold meals or prepare picnics. Also the few restaurants and bars of the village offer the possibility to eat at a very reasonable price, which is another way we promote to support the local economy.
A big highlight of this area are the numerous possibilities of hiking in the nearby Monte de Agua, Chinyero volcanic area and Teno massif. We love a lot our mountains and are passionate hikers, we walked nearly every path of this mountain, that's why we are very happy to inform our guests about all the possibilities of hiking in our region. No need to bring guides or maps with you, we have everything at your disposal.
We recommend a stay between 3 and 7 days... 3 is (according to us) the minimum stay to enjoy the place and start to visit the region, 7 the best option to explore our area and extend your visits to all the northern coast, easily reachable from Los Silos. From Casa la Ranita you can walk to the Monte de Agua, the mountains facing the village. In a few minutes walk you reach the green heart of the peaceful mountain were you only hear the birds and the wind. The near coast offers nice possibilities to enjoy a bath according to the season ; natural pools for a relax bath, though waves for a bodysurf experience, black sand beaches, when the sea is quieter, for a sunbath. Garachico, the very close historical town, is worth a visit. And the little hamlets of Teno rural park, such as Masca, Teno Alto or Los Carrizales, are just a few kilometers from here.
We personally are nature lovers, reason why we arrived 4 years ago to settle in this beautiful preserved region were we enjoy a mild climate. Beside the Casa la Ranita project we have a finca were we started a permaculture project. The idea is to plant an edible forest at two steps from the house, where we tend to get a wide range of tropical, subtropical and Mediterranean fruits with the aim of serving them at the breakfast. Our project is just starting, but we have other friends running organic fincas or vegetable gardens for a longer time, and we try to be connected with all those people working at a better way of producing our daily food.
We started with the project of Casa la Ranita nearly 3 years ago, with the simple idea of making of our house a guesthouse to host visitors and tourists. We quickly noticed that such a simple project was not so easy to start, above all at legal level. We spend a lot of energy to find the way to make this project real and legal, and at the end of a long and expensive path we finally were recognized as an official accommodation. Casa la Ranita is now an EcoHostal, recognized by the Canarian Government, which is a guarantee of quality, constancy and security for our guests.
The fact of being recognized as an official accommodation hasn't changed at all our philosophy and way of working to receive our guests. As on the very first day, we will welcome you personally and be present during all your stay, listening to your wishes and trying to give you the best advices for hiking, places to visit and to eat. As an EcoHostal we take our inspiration out of the three fundamental principles of permaculture: taking care of people, of the Earth and sharing. We work on a sustainable way and have a behaviour respectful towards the natural resources by avoiding the waste of water, food and energy. We expect our guests to share this same approach with us.
What makes of Casa la Ranita an EcoHostal?
*We work at a small scale, we can host a maximum of 9 guests. A small quantity for a better quality. *We try to respond everyone's needs and to avoid resources wastage.
*Every morning, we offer an organic breakfast made of local, fair trade and fresh products. That's the best way to start the day by taking care of ourselves and the environment.
*We encourage less contaminating ways to move around by the use of your legs, bicycle or local transports. Casa la Ranita is ideally situated in the heart of the village and the Isla Baja region, a few steps from the bus stops and the local hiking paths.
*We promote active tourism by informing about the numerous hiking paths our region has. We have detailed maps at your disposal to get to enter in the marvels of the surrounding nature.
*We try to rationalise the electricity and water consumption. The all house is equipped with low-energy bulbs, we collect rain water and save some used tap water for the plants.
*We only use environment-friendly cleaning products to ensure an healthy atmosphere in the house.
*The furniture of the house has been chosen with consciousness: most of them are second hands and some of them have been made with recycle pallets. We also invested in good quality beds and mattresses to be comfy and to insure a long life.
*We do recycle wastes and encourage to do so by the use of separated bins at guests disposal.
*Casa la Ranita has no garden. But we enjoy every corner of the house and the roof terrace to grow a wide range of plants like spices (vanilla, turmeric, cardamom, ginger, basil…), palms, passions fruits and other exotic marvels…
*We think our little hostel can contribute to stimulate the local economy. We buy in the village everything we need and we invite our guests to consume local products and to eat in the bars and restaurants of the village.
*Casa la Ranita is a nearly one century old historical house. We chose to give it a new life with all its charms and imperfections, instead of occupying a soulless new concrete building.
*We promote local artisans by showing to the guests quality creations.
*And finally, the well being of our guests matters. We take care of everyone as a person and we do our possible to make everyone feel all right and to enjoy the island at its best.
Welcoming guests is our daily activity and also our job. We do it with all our heart and much care, all year round. We enjoy to meet open and curious people, and like to exchange and communicate truly with everybody. Casa la Ranita is a place where people come to meet us, but also the other guests, and most of the time this leads to beautiful moments.
See you very soon.... Pascal, Béné and Luna
+ More
---
We expect our guests to have a clear communication with us... the only thing that really matter to enjoy good moments together!
As long as we are not always present in the house we need our guests to confirm their arrival time at least 24h before arriving. Check-in starts at 4 and closes at 9pm. Contact us previously if you may have different schedules.
+ More
---
---
Explore other options in and around Los Silos