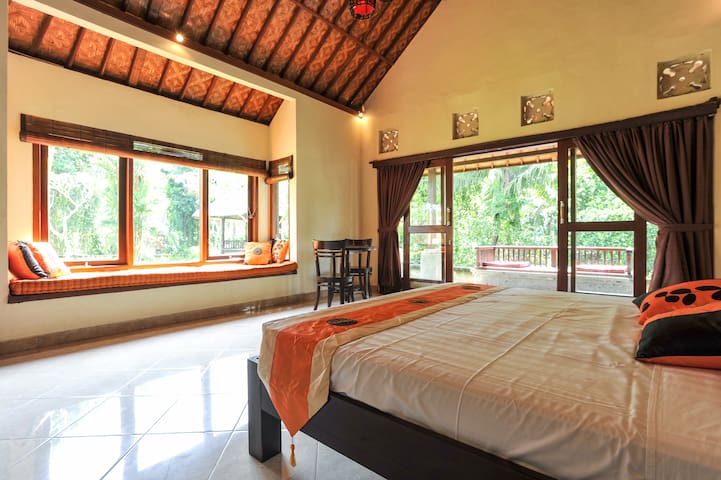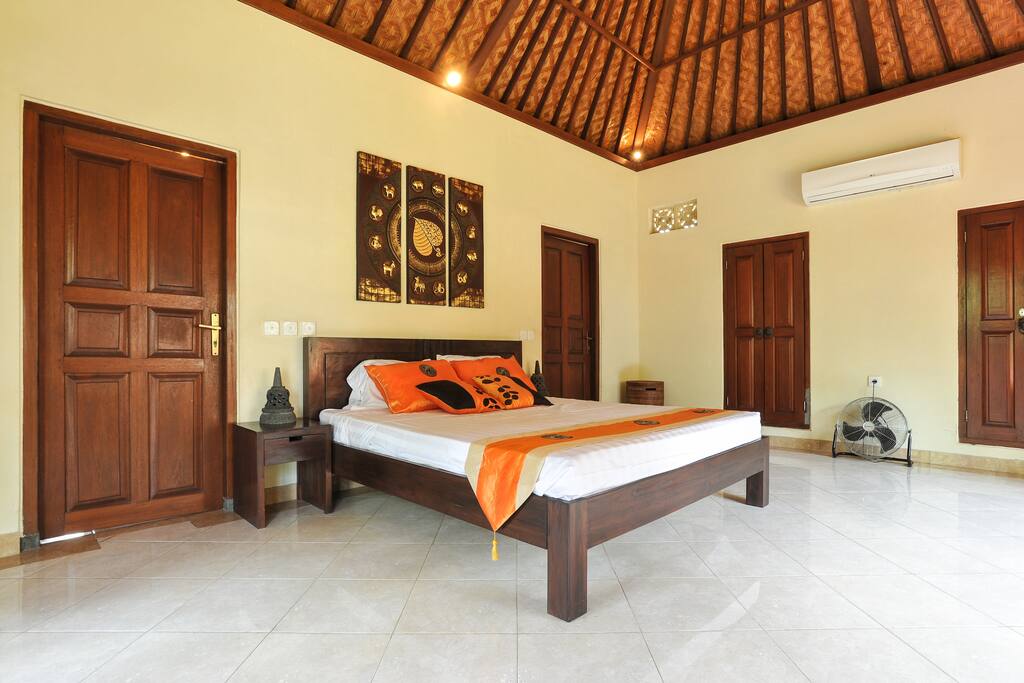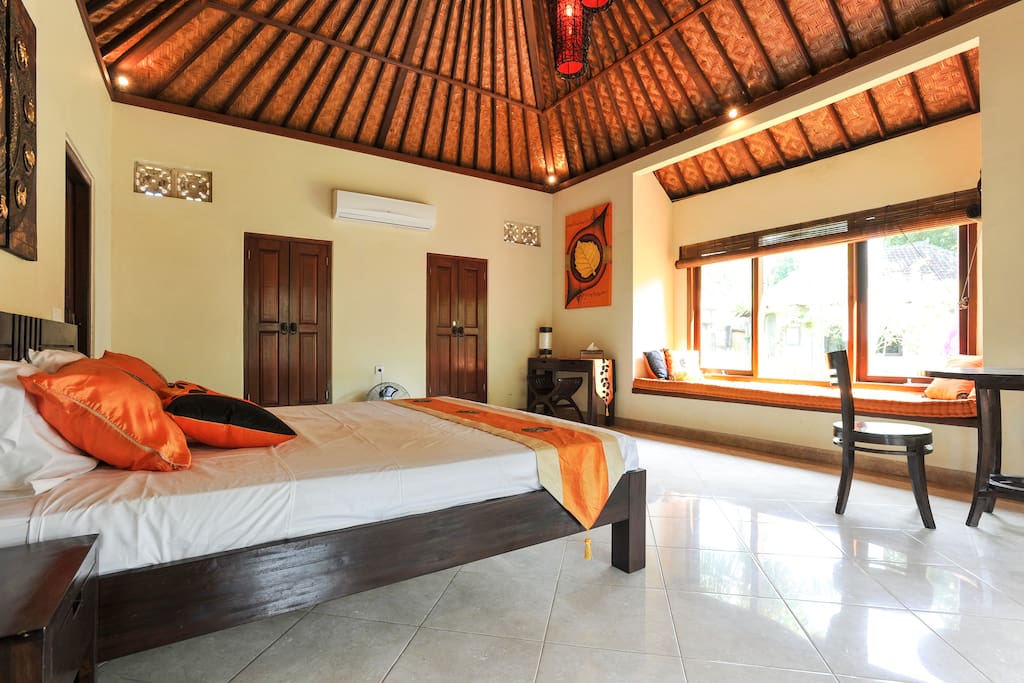 Entire home/apt
2 Guests
1 Bedroom
1 Bed
About this listing
Stay at the only property that actually borders the famous Ubud Monkey Forest...! Watch the monkeys play in the jungle right on your doorstep..!

---
Accommodates: 2
Bathrooms: 1
Bed type: Real Bed
Bedrooms: 1
Beds: 1
Room type: Entire home/apt
---
---
---
The space
Our cottages are quiet and secluded with no road running past your front door. All of the restaurants and conveniences of Ubud are only minutes away. You won't need a car or motorcycle...simply wander home from a delicious evening dinner and relax and take in the sounds of the jungle.
We have two self-contained cottages (Ganesha and Hanoman), each with their own kitchen; including a full sized fridge and cooking facilities.
With high speed WiFi and "bale bengongs" (Balinese gazebos), you can work, play, or stay in touch with family and friends without having to leave the garden. And our gardener will be more than happy to crack open a coconut for you should you develop a thirst..!
Other things to note
Living in Bali doesn't come without it's challenges; including poor infrastructure, high humidity, and wildlife that you might not have to contend with back home. Some of these challenges can be overcome by getting into a few simple habits.
Living close to the Jungle and having views of ricefields is great for relaxation, but no so great for the ants and other wildlife that come with it. Storing all food, plates, and cutlery in the fridge keeps it out of reach of pests and ensures that plates and cutlery are clean to eat off without having to rewash them first. Empty bottles and drink cans should be rinsed if they cannot be sealed with a cap before being placed in the recycle bin provided. The slightest sniff of sugar can bring the ants out. Washing up left laying in the sink will undoubtedly attract vermin. The only alternative is to wash used plates etc immediately. Any unused food should be sealed in a plastic bag and placed in the sealed garbage bin provided.
Another sight that you're bound to encounter in Bali are the chit-chaks and tokays. The chit-chaks are tiny geckos that seems to have found their way into every corner of South-East Asia. They're perfectly harmless and help to keep the mosquito population down. They do however tend to poop everywhere; please try not to take it personally. Their larger cousins, the tokay tend to be a little shy and you're more likely to see them at night. Again, they are harmless enough, though they can give you a start if you close a door to find one behind it. They eat the larger bugs including spiders and cockroaches, hence the reason why despite being so close to the jungle, we don't tend to suffer from those bugs.
Neighbouring the Monkey Forest brings with it the chance to watch the monkeys play, but also brings it's own challenges. The monkeys do on occasion break roof tiles, damage plants, and will given the chance play with any new toys left laying around for them. Mobile phones, keys, wallets, etc should not be left laying unattended outside. The monkey population has skyrocketed in recent years and you can help us to avoid being overrun by monkeys by not feeding them; rest assured, they are well catered for within the Monkey Forest.
Humidity can result in moldy clothes which is unpleasant and unsightly. Ensuring that clothes are perfectly dry before folding, and not leaving damp towels lying around can help. Our cupboard shelving was selected as it allows for air circulation.
Whilst we do everything in our power to provide you with first class services including internet, electricity and water; we are constrained by the infrastructure in Indonesia. Telephone cables are of poor quality, are poorly maintained, and can suffer from high contention ratios (number of users for the given infrastructure). All of our equipment is new and we have cultivated contacts with Telkom Indonesia to help us deal with problems swiftly. We cannot however guarantee the kind of service that you may be used to back home.
The electricity network whilst generally not subject to frequent blackouts, can suffer from voltage drops (or brown outs as they're known). We'd suggest not keeping electronic devices (laptops etc) plugged in beyond what is required to charge them. For your safety, all of our electrics use proper grade cabling and hot water heaters are properly earthed.
Town water is not available in much of Bali and our water is sourced from a well. We have a high capacity water pump that delivers great water pressure, but given that the pump is electric, any power outage will result in a subsequent loss of water. The water in waterways and ground water in Bali is not safe to drink. When used for washing up, plates and cutlery should be dried thoroughly before being stored. Bottled water should be used for drinking, brushing teeth, making ice, and washing fruit and vegetables.
---
Items from the house MUST NOT be left unattended outside. We have cushions available to be used outside, but when left unattended, they can be destroyed by rain and monkeys. Please bring all items back inside and close all windows before you leave the house.
---
Explore other options in and around Ubud
More places to stay in Ubud: