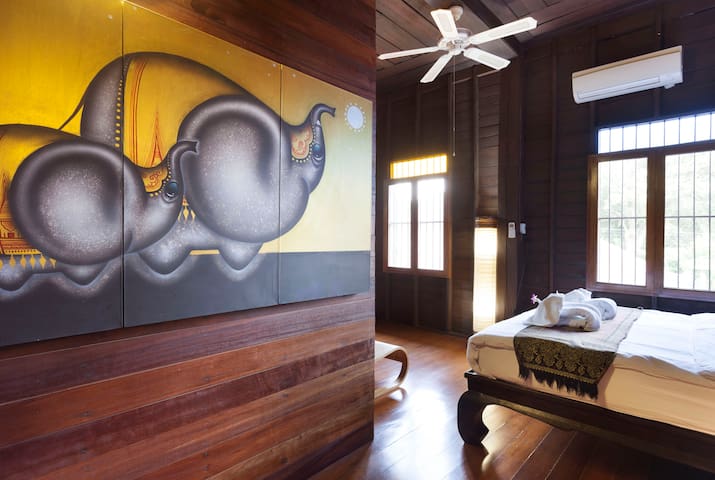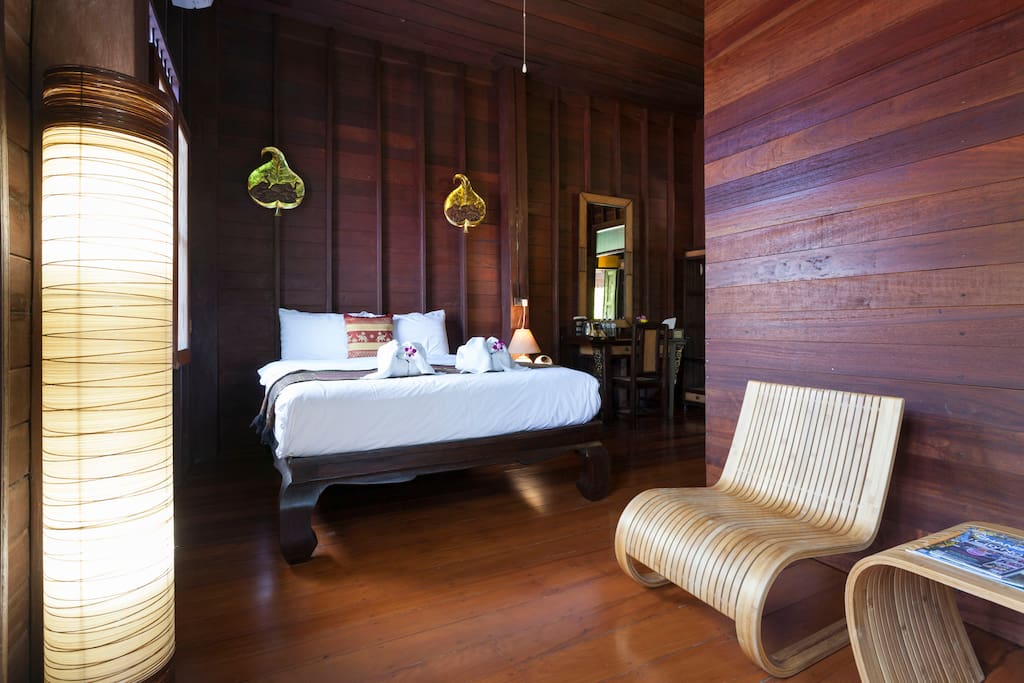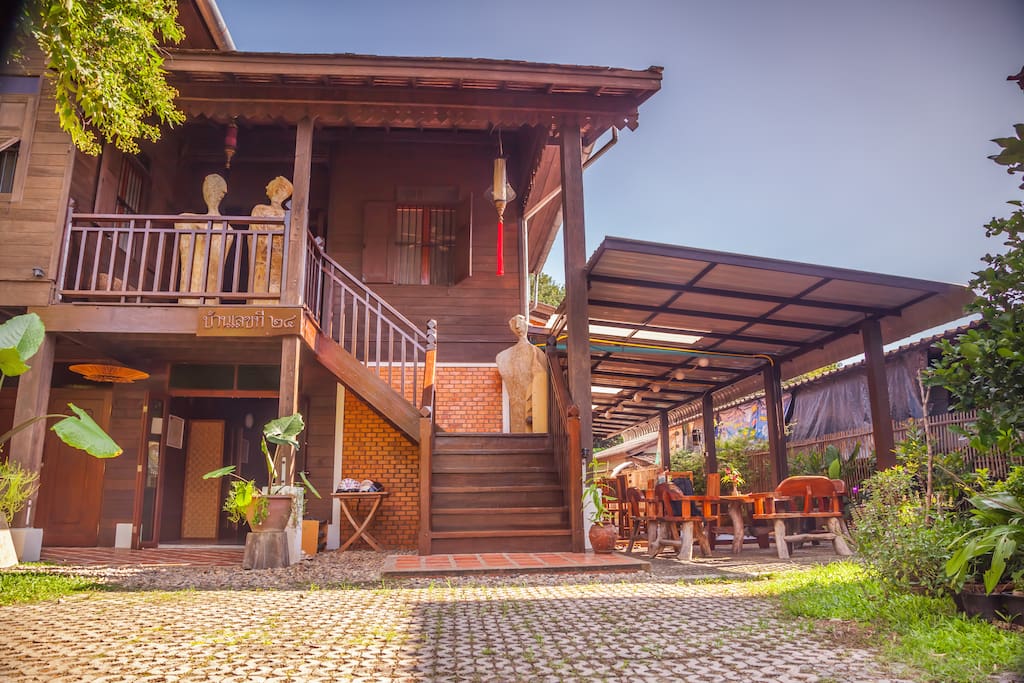 Swiss-Lanna Lodge – New guesthouse
The Elephants Room is very spacious and a gift for a couple wishing to enjoy a warm, luminous and well decorated, inexpensive queen size bedroom, entirely made out of wood. With aircon, lounge area, a desk & kettle
---
Check In: Anytime after 2PM
---
---
Always communicate through Airbnb
To protect your payment, never transfer money or communicate outside of the Airbnb website or app.
Learn more
---
No special rules other than those which are proper to guesthouses.
Opening hours: 8 am-8pm (inform us in advance in case of arrival outside these hours).
Non-smoking area.
---
---
---
---
I absolutely love Toto, the rest of the ladies, and their beautiful lodge. We stayed in the elephant room for two nights, and the room with the bunk bed the last night. The elephant room was very charming! The floors creak a lot, but obviously with any wooden floors there will be some creaking. The A/C worked just fine and there was hot water in the showers (shower and bathrooms are shared, but never once did we run into the other guests). The bunk bed room was very similar, however you get your own bathroom and shower which was an added bonus. Sound seems to travel a lot throughout the rooms, but if the rest of the guests have common courtesy it shouldn't be much of an issue. There's also a military base across the street that yells cadence every morning, but it's so distant that it shouldn't wake the average person up. Toto was extremely helpful with checking us in, recommending places to see, arranging transportation (it was always the same tuk-tuk driver who was very patient and never tried to over charge us), and letting us stay for an unplanned extra night. We were always greeted with a friendly "good morning" from the ladies that made us feel right at home. And can't forget, their breakfast is so good. I couldn't seem to stay away from the omelet and cappuccino! Overall this is the best host I have ever had and would stay here again any day!
---
Highly recommended. Toto and her staff were so accommodating and friendly. We felt very welcomed and taken care of here. Everything including the rooms, washrooms and food were amazing. We asked for our laundry to be done and to rent one of their motor bikes and they did so without hesitation. We would stay here again!
---
We loved our stay here. Toto was so friendly and helpful. We were in Chiang Mai for 5 days with basically no plans and Toto went out of her way to give us detailed suggestions that fit our interests and personalities. The staff at the lodge are so kind and willing to help. Easy to get to the old city.
---
One word... AWESOME! All host should be like Toto and the rest of the girls there. They were all extremely helpful and willing to answer any questions.They helped us find things to do, and contacted transportation for us. The place is very well kept and clean. Breakfast was also delicious. We felt very welcomed!
---
My name is Toto, a young thai girl, English and French-speaking. I will do everything to make the city I was born into, Chiang Mai, Northern Thailand, one of your best liked. I am running a new guesthouse, The Swiss-Lanna Lodge located in a Traditional Wooden House in a peaceful place. If the business of running the guesthouse gives me enough time off, I will be happy being your guide.

Je m'appelle Toto. Jeune Thaïe francophone et francophile, je saurai vous faire apprécier la ville qui m'a vu naître, Chiang Mai, au Nord de la Thaïlande. Je gère une nouvelle guesthouse, le Swiss-Lanna Lodge, sise dans une maison traditionnelle en bois, au calme. Si la gestion de cette maison d'hôte m'en laissera le temps, je pourrai vous servir de guide :-)

สวัสดีค่ะ
ดิฉันชื่อโตโต้ค่ะ ดิฉันสามารถพูดสื่อสารภาษาอังกฤษและภาษาฝรั่งเศสได้ มีความยินดี ต้อนรับทุกท่านและพร้อมอำนวยความสะดวก เพื่อที่ท่านจะได้สัมผัสความสวยงามพร้อมกับความประทับใจในถิ่นบ้านเกิดเชียงใหม่ ทางภาคเหนือของไทย
ดิฉันทำหน้าที่ดูแลและจัดการเกรสเฮ้าร์เปิดใหม่ สวิตซ์ บ้านนา ลอร์ด ในตัวเมืองเชียงใหม่ ซึ่งเป็นบ้านไม้เฮือนไทยโบราณ ซึ่งท่านจะได้พักผ่อนในบรรยากาศที่สงบ ปลอดภัย พร้อมทั้งใกล้สิ่งอำนวยความสะดวกต่างๆ
หากดิฉันมีเวลาพอนอกจากความรับผิดชอบงานและหน้าที่ในเกรสเฮ้าร์แล้วดิฉันยินดีที่จะให้บริการพาท่านท่องเที่ยวเพื่อสัมผัสความสวยงามและวัฒนธรรมในจังหวัดเชียงใหม่ค่ะ
ยินดี ต้อนรับ สู่เชียงใหม่ค่ะ

迎接您到来的是瑞士-蘭娜年轻的女管家Toto,Toto是清迈本地人,她喜欢法国,同样也说一口流利的法语,不仅如此,她了解当地的风土人情, 待人热情。她和她的团队会根据您的需要为您提供专门的旅游建议。瑞士-蘭娜的服务人员会以最热诚的服务带给你一个难忘的清迈之旅。

Меня зовут Тото. Я - молодая тайка, которая обожает французую культуру и язык, помогу вам оценить мой родной город Чиангмай, который находится на севере Тайланда. Я управляю новым пансионатом Swiss-Lanna Lodge, расположенном в тихом месте, в традиционном доме из дерева. Если дела по управлению пансионом позволят выделить время, я смогу выступть в качестве гида на английском языке.

Ich heisse Toto, eine junge frankophone Thai (ich spreche auch Ich spreche auch Englisch, und Thai natürlich). Ich weiss, wie ich Ihnen meine Geburtsstadt, Chiang Mai, im Norden Thailands vorstellen kann, damit sie Ihnen ans Herz wächst und Sie sie schätzen lernen. Ich betreibe ein neues Guesthouse, die Swiss-Lanna Lodge, es handelt sich um ein ruhig gelegenes, traditionelles Holzhaus. Wenn der Guesthouse-Betrieb es mir ermöglicht, kann ich Ihnen als Reiseführerin dienen.

Mi chiamo Toto, sono una giovane tailandese, parlo francese e inglese, oltre ovviamente la lingua tailandese. Vi mostrerò la città in cui sono nata, Chiang Mai, nel nord della Tailandia. Gestisco una nuova pensione, una casa tradizionale in legno, lo Swiss-Lanna Lodge, che si trova in un quartiere tranquillo. Mi renderò disponibile e sarò lieta di farVi da guida, nella lingua francese o inglese.

Mi nombre es Toto. Joven tailandes francófono y francófilo y puedo hacerlos disfrutar mucho de la ciudad en que nací Chiang Mai, norte de Tailandia.

Sou uma jovem Thailandesa que falo correctamente o francês, inglês e thaie (lamentavelmente nao falo português), faço a gestao da minha nova Guesthouse « le Swiss-Lanna Lodge » e farei todo o necessario de vos fazer descobrir e apreciar a terra e regiao que me viu nascer. O «management suiço», oferece-vos uma garantia de serviço e de qualidade com um acolhimento personalizado em francês, inglês, italiano e a minha equipe local, teremos o prazer de vos servir e proporcionar um ambiente de rara qualidade à ocasiao da vossa vizita a Chiang Mai, antiga capital do Lanna também chamada a «Rosa do Norte».

Merhaba, ben Toto. Chiang Mai da büyümüs olan genç bir taylandim. Size bu sehri sevdirmeye memnuniyet duyarim. Müsait oldugum sürece size 3 dilde (taylandca, fransizca ve ingilizce) rehberlik yaparim.
Languages:
English, Français, Italiano, ภาษาไทย
Response rate:
100%
Response time:
within an hour
Explore other options in and around Chiang Mai
More places to stay in Chiang Mai: