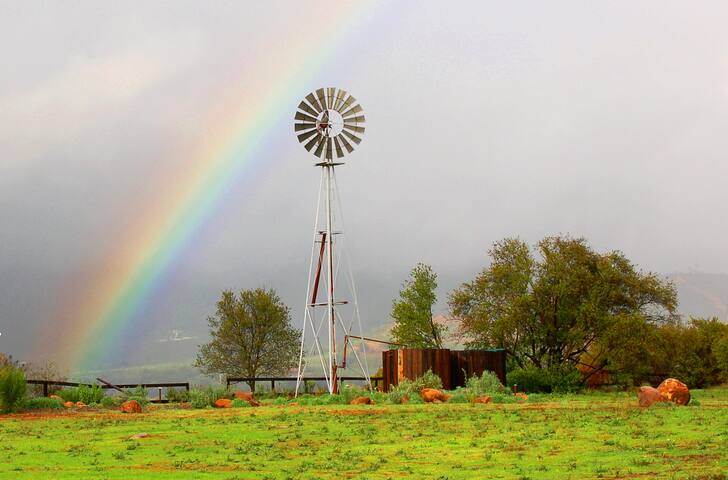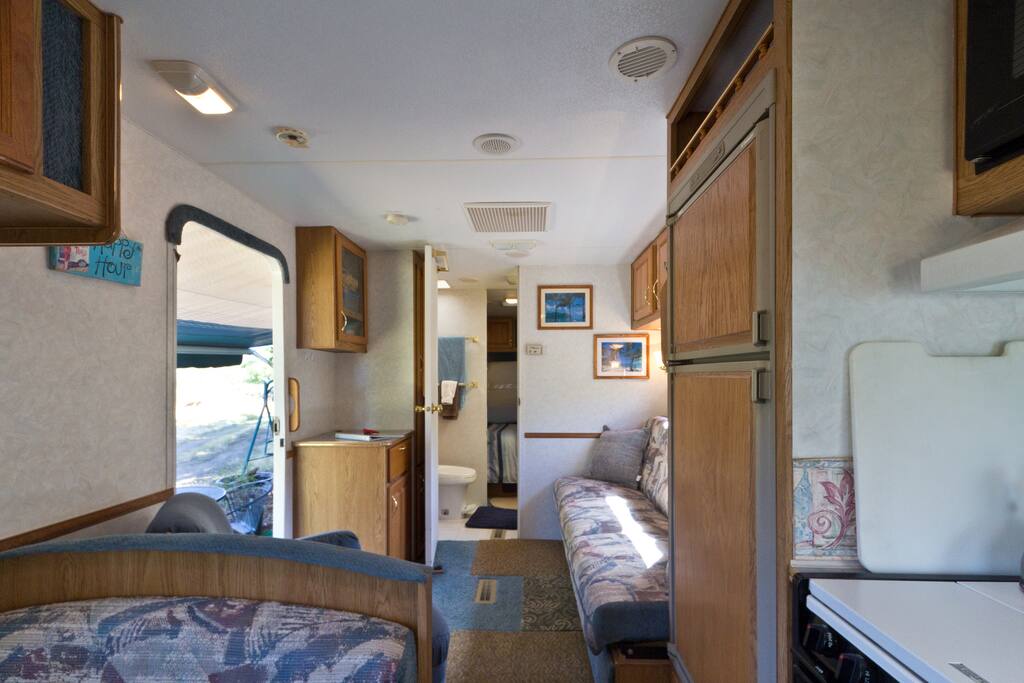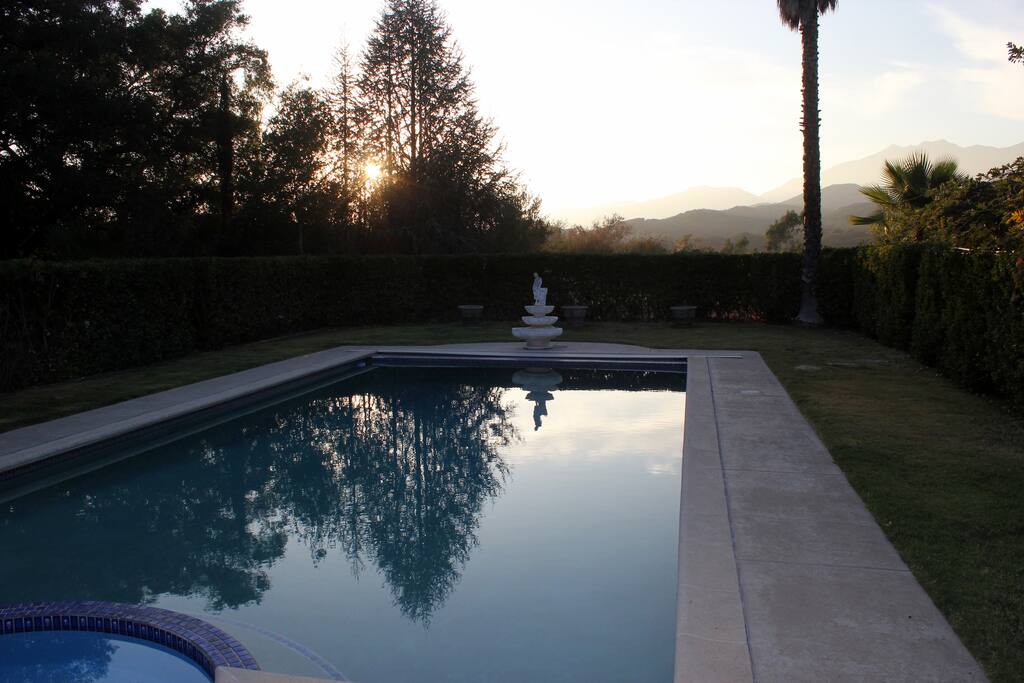 "The Prowler" Re-Creation Vehicle
Our guest house is so popular at our beautiful farm, that we're offering the beautiful travel trailer "Prowler" for even more-seclusion! Same unrivaled vistas, pool, and nature...but even closer to the source, on the bluffs overlooking the Ventura River Preserve and Los Padres National Forest.
The space
26' travel trailer, "The Prowler." Famous for one week of the year as the Black Rock City, Nevada Burning Man headquarters for the music camp, "Minstrel CAMP."
WARNING
If you hate animals and nature, you will hate it here.
If dark nights full of stars, or blinding full moons scare you, stay away!
If the sound of coyotes, owls, crickets, frogs...scare you, stay in the city!
This trailer is a complete home. Separate master "suite" with separate outside door, and bathroom door. The kitchen includes sink, stove, microwave, refrigerator, freezer, coffee maker, toaster, and full kitchen and dining service for up to four.
The dining area can fold into a bed. And the living room sofa folds into a bed.
Full walk-through bathroom has standup shower, and two (URL HIDDEN) to the master bedroom and one to the living room.
Central AC and Heat.
Located on a native plant farm property noted for its natural beauty by artists, Oscar-winning film artists, and music producers. One of a kind, and new to airbnb.
"The Prowler" at Euterpe Farms
General Safety
Euterpe Farms is a working farm and music studio. That means there are farm tools, farm work, and multiple hazards that you won't find in most "vacation spots." This is the beauty and uniqueness of this special place.
As a guest in the Prowler, you approach the trailer through a private driveway, and have use of the outdoor seating area, and non-exclusive use of the pool and hot tub. You may walk the grounds but please respect the privacy of the occupants of the main houses.
Besides being a native plant farm, any portion of the grounds and pool area may be in use for other purposes such as parties and music events, filming, music recording or rehearsal, photography, plein air painting, and private use by the owner, Smitty West. Please be respectful of the privacy and business of the other people enjoying the Farm.
The property requires regular land care, pool service, gardening, and farming that may be occurring at any time, so if you see our happy grounds manager, Urbano….say hola! Smitty also enjoys doing work around the farm, and he may offer you a tour.

WI-FI Internet
Probably not accessible from the trailer, but the signal does reach the pool area, 100 steps away.
Pool Area
Enjoy one of the great experiences of Ojai….the pool at Euterpe Farms with White Ledge Peak of the Transverse Ranges at sunset! Caution with children…no fence between house and pool. There are pool towels in the Prowler.
Wildlife
Euterpe Farms has a 1000' fenced border and 180 degree view of the beautiful Ojai Land Conservancy's Ventura River Preserve, and the two million acre Los Padres National Forest. This beautiful, diverse, and wild country is home to an amazing assortment of wildlife found no where else.
This is THEIR home, and WE are the visitors here on the edge of this wilderness. Be respectful of this fact and you will be rewarded with close-up view of an amazing assortment of plants and wildlife. Some of the larger animals you may see: deer, coyote, fox, snakes, bobcat, mountain lion, bear. Bird watchers will LOVE the diversity. We encourage raptors, and you may see or hear several types of owls, hawks, and other birds of pretty.
With big animals come small animals, so if you like lizards, spiders, and other crawlies, you'll love it as much as the animals that eat them. If you don't, well, you might have to live with them, because there's 2 million acres of their home right next door! We try to maintain a no-kill philosophy on the property, and we have yet to see a poisonous snake, although we know that the river bottom is home to several. Best advice: Enjoy the wildlife, but don't handle it!
Climate and Comfort
Ojai has a reputation in California for being blazing hot, but that isn't really true. Here at the Farm, during the summer months we are rewarded with a beautiful Pacific marine layer breeze every afternoon, and the average summer daytime temperature is 89 degrees.
That said, sometimes during Santa Ana wind conditions, it does get BLAZING HOT for several days at a time. If you are lucky enough to be visiting during one of these spells (we get maybe two or three of them per year and it can be over 100 degrees), remember that it does cool off at night, so open the windows and night and shut them in the morning as the day warms up. But the best solution is a dip in the beautiful swimming pool, and planning an evening poolside until the stars come out. All that said, the Prowler does have a strong central AC system.

Plumbing
Euterpe Farms is on a green septic system. If it didn't come out of your body or off the roll of supplied septic-safe tissue, it doesn't go in the toilet!
Solar and Wind and Water
All the water in The Prowler is delicious and "world famous" Euterpe Farms windmill water. This water is purchased by hundreds of fans at our roadside tienda (farm stand) as their exclusive drinking water. Delicious, untreated and pure mineral water. It is raised by the power of the wind from our 1926 Aeromotor windmill from an isolated aquifer under this portion of Meiners Oaks.
The farm is powered in part by 3000 kilowatt solar generating system, making power from Ojai's most precious asset, our sunshine.
Bees
We're doing our part to help sustain healthy communities of honeybees here at Euterpe Farms. Their hives are very obvious off to the cliff side near the windmill. No one has been bitten that wasn't messing around with their hives. No one HASN'T been bitten who WAS messing around with them. Your choice.
You'll see them on the wildflowers around the Farm. Tip your hat and say thank you (or "gracie" they are an Italian variety), and they won't bother you.
Hikes
We recommend the Ojai Valley Land Conservancy's beautiful Ventura River Preserve. Walk or drive the one-half mile north on Rice Rd. to the trailhead. You may walk the perimeter of the Farm, but we do not suggest trying to climb to the River bottom from the property.
Smitty West
The owner and caretaker of Euterpe Farms, is singer/songwriter Smitty West. If he's around, he's a very friendly fellow who might want to share a story or hike with you. (website hidden). If he is on the property, he loves meeting our guests and helping you enjoy your stay. You can hear him sing with his partner Julija Zonic at Il Giardino Restaurant in Ojai most Friday nights.
Dining
Some of our favorites for quick, local bites:
Meiners Oaks ( ½ mile north on Rice turn left on El Roblar Ave.)
Papa Lenon's – delicious, fresh food, counter service
Don LaLo's – Mexican, fresh, yummy
Farmer and the Cook: Grocery and counter restaurant…organic and local
Downtown Ojai
Il Giardino's – Italian….Smitty performs here every Friday –
Ojai Pizza – Yep….Pizza and families!
Oak View (5 miles back down the 33 toward Ventura)
Bocalli's Italian and Pizza
OHM Thai
Here's a further description of the water:
 
Have a drink of clean, pure windmill water, courtesy of Euterpe Farms!
This water is brought to you from a pure underground aquifer that underlies this area west of Krotona Hill. The reservoir is mapped by geologists to be fault-separated from the municipal wells in the Ventura River bottom, and in a completely different aquifer.
The well underlies the windmill you see in the field in front of you. Taste it, you'll love it. So will your dog or horse, so let them have some too!
This water has been lifted by the power of the wind!
Before you is a 1920s-vintage, restored Chicago Aermotor A602 windmill. It was salvaged from a farm near Santa Paula, and put back into service to lift the water that nurtures the young native plants here at Euterpe Farms.
This machine is a thing of mechanical beauty and simplicity. It slowly and deliberately lifts the water from the earth every afternoon in the ocean breezes that move up the Ventura River as the Ojai Valley heats up in the sunshine. The machine is self regulating, turning to catch light breezes, but folding her tail to take the sails out of the wind in heavy winds. Every stroke lifts about two cups of water six inches. It sounds slow, but if the wind blows all day, it will fill one of the tanks you see next to the tower.
There's a pond next to the well to catch the overflow on really windy days. Look closely forn wildlife around the pond, including deer and bobcat.
What about when there's no wind?
The farm has installed a solar photovoltaic grid on the south side of the farmhouse. Every sunny day, our electric meter runs backwards! The small pressure pumps that help the windmill during low wind, and pressurize the water in the irrigation system draw on this power. We also have a solar water heating system made from recycled equipment from the 70s and 80s. We try to keep a low carbon footprint here at Euterpe Farms!
Want more than a sip?
There's a tap for your larger water bottles next to the drinking fountain.
If you would like to fill water bottles, we would ask that you make a donation in the cash box to help keep Euterpe farms eco-friendly, organic and natural.
What is "Euterpe ?"
Actually, "WHO is Euterpe ("you-TER-pee")? In Greek mythology, she is one of the Muses, the daughters of Mnemosyne, fathered by Zeus. Called the "Giver of Pleasure", she was the muse of music.

The Muses are goddesses or spiritual guides who embody the arts and inspire the creative process with their graces through song and stage, writing, music and dance. They were water nymphs, associated with the springs of Helicon and Pieris.
Her sisters
• Calliope Chief of the muses and muse of epic poetry
• Euterpe muse of lyric song
• Clio muse of history
• Erato muse of erotic poetry
• Melpomene muse of tragedy
• Polyhymnia muse of sacred song
• Terpsichore muse of dance
• Thalia muse of comedy and bucolic poetry
• Urania muse of astronomy
Euterpe Music Company is the name of our music recording and publication company.
Pool privileges
Jacuzzi on request
Gardens and grounds and trails that connect to the largest national forest in the country.
As much or as little as you can stand! Owner is a musician and the farm caretaker, so permaculture native plant tours are available on request if he is around. Total privacy if you want it!
A birdwatcher's dream. A native plant enthusiast's Eden.
Right on the Ojai trolley route.
Interaction with guests
As much or as little as you can stand!
---
Check In: Anytime after 3PM
Room type: Entire home/apt
---
---
Extra people $20 / night after 2 guests
Weekend Price $175 / night
Always communicate through Airbnb
To protect your payment, never transfer money or communicate outside of the Airbnb website or app.
Learn more
---
Check in is anytime after 3PM
---
---
---
---
I am a singer songwriter musician and permaculture native plant farmer. I live on a beautiful piece of the Earth, and like to share it. People seem to want to stay after they come, so I apologize if the property is not available when you're ready. You can contact me if you are interested in another unit on the property, or are interested in holding an event here. We respect our communities' caution about un-regulated short term rentals, and we act lawfully and operate respectfully in that regard.

Languages:
English
Response rate:
100%
Response time:
within an hour
Explore other options in and around Ojai
More places to stay in Ojai: