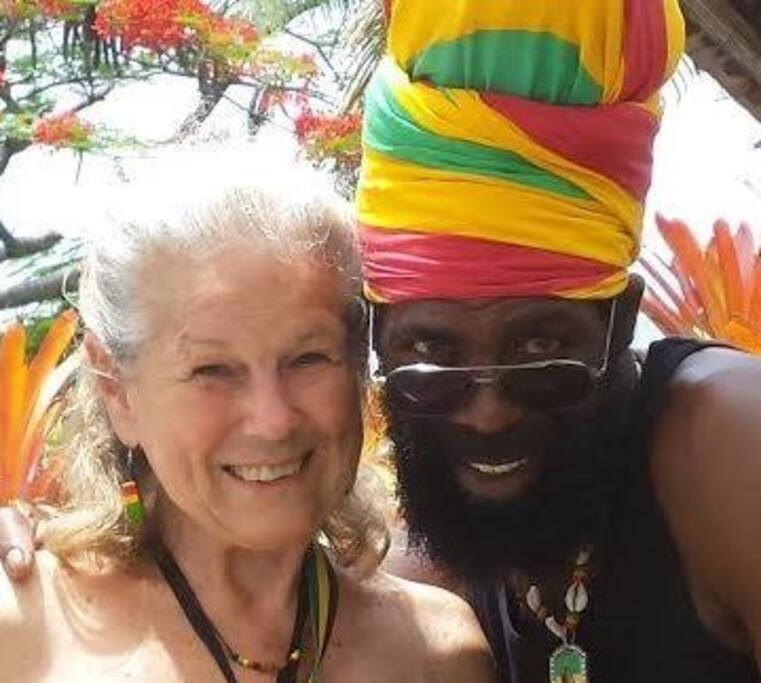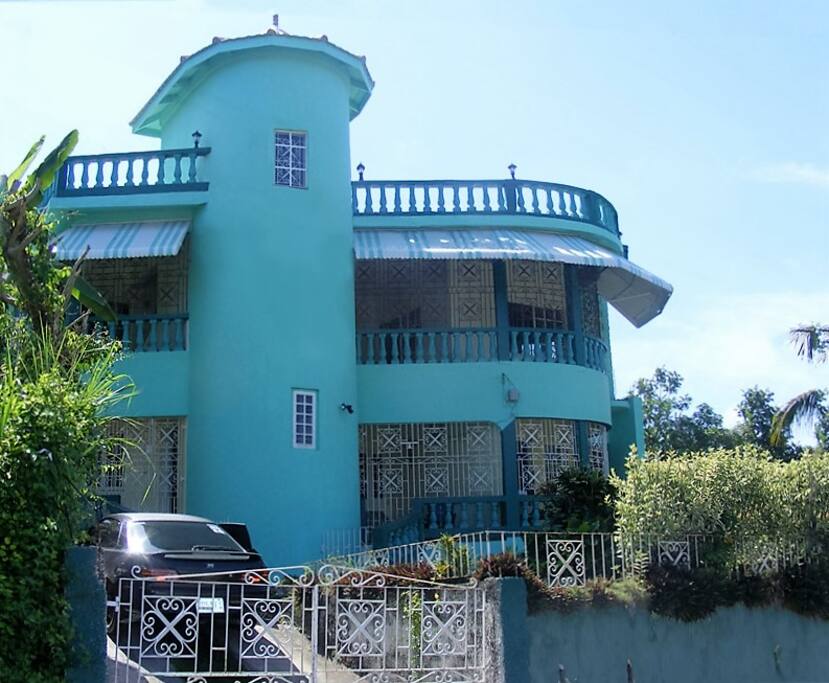 'Hummingbird' Queen Bedroom, Private Bath, Veranda
'Hummingbird' Queen Bedroom, Private Bath, Veranda
As resident hosts, we offer chef service/cooking lessons, health tips, transport, local culture/stories; near the airport, bus station, 'Hip Strip,' with music, casino, dance, shopping, beaches. 20 Crichton Drive.
Your bedroom and private bath is part of the Topaz Dream Palace in the 2nd floor Talawa Suite, where you can also enjoy kitchen, living and dining areas, verandas and roof deck with jacuzzi. breezes and views. Police retract bad news-confirm the area safe which we knew all along.
---
---
Extra people $25 / night after the first guest
Always communicate through Airbnb
To protect your payment, never transfer money or communicate outside of the Airbnb website or app.
Learn more
---
---
---
---
On Fridays and Saturdays the minimum stay is 1 night.
---
I needed a place last minute and Cheri was so great, she sent a car for me right away. I had no more Jamaican money and no place to get any and Cheri came through with cash which I reimbursed her through Airbnb. This was the greatest tip on how to help our guest. Who knew! Tony made the best pancakes ever for breakfast that again I paid for on the Airbnb app. They are putting a lot of thought on how to make their Airbnb the best value in Mobay. Oh, you will never be bored, Cheri has non stop colorful stories to share. Thanks Cheri and Tony for being such super host. Please visit me in Atlanta at my Airbnb Pure Spirit Urban Retreat.
Debra, I'm truly looking forward to staying at your colorful, pretty, peaceful Airbnb Pure Spirit Urban Retreat in Atlanta, surrounded by a lovely wooded area. Also looking forward to seeing what you offer in Oakland! Thanks for choosing us, a 'sister' super host like you. Loved sharing ideas and inspiration. Your jewelry is uniquely awesome too...I'll hope to wear some, someday...will be looking for your website. Do keep in touch. Jah Guide and Bless you, Cheri and Toney
---
First of all, Cheri & JahB always provided excellent transportation advice and support to go pretty much wherever you need to go in Jamaica. Take a stroll to the Open Farmer's Market, climb the Dunns Falls, and visit Nagril and Ocho Rios for some great experiences! Afterwards, travel to the Rastafari Village a few times to meet some talented hosts. Second, JahB, our resident chef and Cheri's better half, can cook Caribbean dishes like there's no tomorrow! The kitchen is a little small - but why would you want to spend time in the kitchen except to socialize him and Cheri, and learn how to make some special Caribbean dishes like Ackee & Saltfish or steamed Parrot fish & callaloo (yummy). Finally, the Sunfest (or when you attend any other wonderful festival in Montego Bay) Cheri & JahB remain great hosts for all their patrons. I felt safe, at ease, and like a special visitor (VIP-ish). There are many Pusey's in Jamaica, but now I have new additions to the family - JahB and Cheri Black in Montego Bay! Much love, bredren! Omotunde Cedric Pusey Phoenix, Arizona, USA
Omotunde, Thank you for choosing us and our Topaz Dream Palace and staying with us for a wonderful two weeks so you really felt like family. Jah B an I enjoyed getting to know you and your son Ross, listening to your stories and your drumming and appreciating your interest in all things Jamaican. We're more than ready for your next trip here, young man who is returning home to your father's land of wood and water. There are so many more experiences to share. Thanks for your detailed, thoughtful and positive review. Hugs to you, Ross and Sheila (for sharing you). We look forward to you both visiting the next time. One love, one heart, Jah B and Empress C
---
Cheri and JAH B are amazing host. We have been in communication for a few months prior to my arrival so it felt like I was visiting family. Their home is beautiful and huge!!!! My room was perfect there was a nice breeze blowing through. There was also a fan for those who need to be extra cool. This room had a private bathroom with hot hot water. Cheri was nice enough to stock it with a some toiletries like toothpaste, mouth wash, soap and a razor. JAH B made a delicious fish dinner and the presentation took my breath away. In addition he made breakfast which was the best Calaoo I ever had!!!!!. They can actually charge alot more for their food. The conversations I had with Cheri will forever be close to my heart. This lady is special in every way and I'm proud to say I have a friend for life. If I could give more than 5 stars I would because she goes above and beyond to make sure her guest are happy.
---
Our stay with Tony and Cheri was so nice. They are such helpful and caring people. They helped us plan our trip and gave us good advice. We also very much enjoyed Tony's food that learned us about Jamaican food. The room was nice and clean and the shower was great. We would highly recommend everyone going to Montego Bay to stay here. Thanks again Tony and Cheri for bring so helpful! It was a pleasure to meet you.
Anne and Lasse, Thank you so much for choosing us. It's so great to attract such pleasant and interesting people as you! We wish you the best experiences as you continue on your travels. We're so glad you tried 'new' food and liked it - Toney is such a great chef. Do keep in touch and let us know how your career plans are going. We hope to see you again. One love, Cheri and Toney
---
The house and bedrooms are great. The Hummingbird room is spacious, there is a lot of place if you ever want to store your clothes and belongings. The bed was really comfortable. In the bathroom towels, soap, toothpaste are available in case you didn't bring any. There is a good working fan on the ceiling which makes it easy to sleep despite the heat. The view on top of the guesthouse is amazing ! I didn't use it but there's also a jacuzzi. Besides this, you should all know that Cheri and Toney are really lovely. Toney will make you delicious Jamaican meals. Cheri is always available for a good talk and to give you advices and information. This guesthouse is the perfect place if you want to enjoy Montego Bay in a lovely and comfortable place. You will all feel welcome and appreciated. As you come and travel to discover Jamaica, Cheri gets to discover your way of life and culture through conversations and Toney's gets a taste of having clients before hopefully having his own restaurant. This guesthouse is really about sharing before earning money. It is one dream becoming true. It was my first airbnb experience, I came alone but it just made me want to get more of them. I will surely come back to see them and I know that by the time, the guesthouse will be a success. You won't regret coming there, all the others people who were really enjoyed their stay and all felt like being part of family. All the description given by Cheri is true, you can definitely rely on it.
Dear Nancy-Laure, You filled our hearts with joy. We love your essence--you definitely attract goodness. Thank you for such a wonderful, heartfelt review. Keep in touch and let us know how you're progressing. I submitted my book for the contest at 3 yesterday. I'll let you know when it's published - our 23 'fairy-tale' years together ....Loving to be WE, One Love, Cheri and Toney
---
Cheri and Toney are the best hosts you'll ever find! Cheri is such a happy and positive person, she loves to host and she was more than helpful with giving ideas of what to do and tell about the surrounding. Toney is a great cook, though quiet person but very warm and thoughtful and very helpful too and the two made sure we had an as comfortable stay as possible and helped us with anything there might have been. I traveled with my seven year old son Adrian, and we felt very welcomed, like staying with family. There are route taxis to take from the corner of the street to go to downtown (wich take about 10 mins) for a local cost, and the restaurant nearby serves great local food. The house is beautiful and clean, and feels warm and personal. The wifi is good and there's hot water (I love that!). The area is safe and calm. If you want to feel welcomed and comfortable, experience the local lifestyle with some great hosts, this is the place to be!
---
In 1979, I visioned I was to have a guest house in Jamaica for retirement. I came looking in 1994 and met Toney--we married in 1996 and raised two awesome sons in Philadelphia, then built the villa. I'm publishing a book about this 'fairy tale' called "Loving to be WE." I was raised on a farm in Kansas, was Deputy Director of Mental Health in Philadelphia, then co-founder and director of a university-based multicultural training and research institute. I now am a writer and Editor of FunTimes Magazine celebrating the African and Caribbean Diaspora. I'm a certified Holistic Cancer Education Counselor (having helped my body rebalance and overcome a stage 4 lung cancer diagnosis in three months!) I enjoy meeting people and showing them around Jamaica--talking about the culture and history; traveling; writing and keeping up on healthy living, politics and current events. I am blessed to have an amazing, loving husband, and to be living my dream life! I look forward to meeting you! Soon come....
Languages:
English
Response rate:
90%
Response time:
within an hour
Explore other options in and around Montego Bay
More places to stay in Montego Bay: