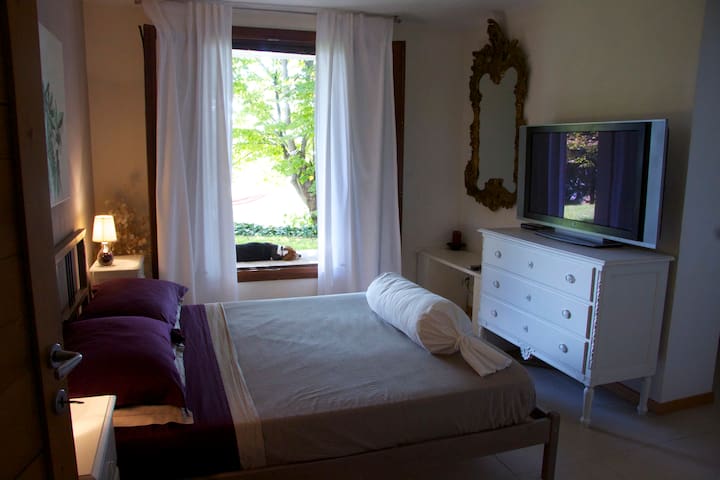 A double room with a view
The space
The double room price is 50 € and the single room is 30 €.
It is located in a ground-floor apartment of a large house in the countryside.The top floor of the house is inhabitated by me and my family,namely,my husband and two daughters who are never arond as they are studing away from home.
The living area of the ground-floor apartment is a working space,where I,an artist,work time to time.There is a large,convenient kitchen for the exclusive use of guest,where one man have breakfast and prepare meals.A healthy and delicious breakfast is available,with full attention paid to any vegan needs or special dietary requirements.
The guest room has a large en-suite bathroom,with a bath and shower.
The bedroom and bathroom windows look out over a large garden where one can relax in good weather,perhaps stretched out in a hammock and enjoying the landscape of field,vineyards and hills that stretch as far as the eye can see.In the summer the flight of a colony of beet-eaters that nest in the sandy slope below the house,fill the sky with colors and birdcalls,as they strive for possession of the air with a scones of swallows.
On a cold days,a great Nordic woodstove made of soapstone gives off immense comfort with its warmth and the regenerating view of fire.
The living area has a front facade made interely of glass,so that one may enjoy the view of the greenery and the countrysyde from inside the house as well.
The presence of my painting of flowers and plants,wich are my passion,makes a stay at our home particularly pleasant for those who loves art and nature,or simply,peace and silence.
The house is completely immersed in the greenery of a large property,with olive trees,vines,and much spontaneous vegetation.This makes one's stay especially relaxing and revitalizing.
We live in the hillside,but the house is in a reachable distance of the most interesting and beautiful areas of the province of Rimini,the city centre is 6 km away,and the beach another 2 km further.
It also in a very convenient position for anyone needing to go to Fiera (trade show center),wich is about 6 km away,thus avoiding the endeless queches waiting to go in and out the trade show center.
Additionally,the Valmarecchia area with its many charming villages is within arm's reach,as well as Verucchio,San Leo,Torriana and many more.
Not to mention the characteristic and dynamic Santarcangelo di Romagna wich one reaches in 10 minutes without the risk of being stuck in traffic.
The bus stop for the route going into town is 30 meters away from the gate of the house,and for cycling enthusiasts there is a very long cycle path that runs alongside the Marecchia river and reaches the city centre,or alternatively,stretches inland.
Guest access
Exclusive use of the kitchen and free access to the big garden.
---
---
---
Always communicate through Airbnb
To protect your payment, never transfer money or communicate outside of the Airbnb website or app.
Learn more
---
---
---
---
---
Giovanna is one of the kindest people we have ever met! She made us feel so welcome and her apartment is more beautiful than the pictures could ever show! We didn't even want to go out for dinner! We stayed and enjoyed the view, the tranquility and the homemade treats she made for us! This place is amazing! We had been non-stop traveling which is much fun but can also be stressful. This was the perfect place for my husband and I to recharge. It is a very peaceful, private and romantic setting. Giovanna went above to help us figure out any questions we had about traveling through Italy. She is amazing and so is her beautiful apartment.
---
Our stay with Giovanna couldn't have been better. From start to finish, she was the perfect host. Upon arrival, she showed us to our new home for two nights, and immediately upon entering, we wished we could stay longer. Everything is absolutely beautiful, from the warm living and kitchen area, with amazing light (and views) in the day, to the spacious master bath and bedroom. We were so comfortable and felt very much at ease in her gorgeous apartment, tucked away below the main floor. We took time to relax here and recuperate from travels, and take a quick trip to San Marino. The location is great - a little off the beaten path, which makes for peaceful and serene days, but still close enough to get where you need to go. Being surrounded by Giovanna's talent was also a pleasure; she is a truly talented painter, and we were fortunate to be introduced to her work firsthand. The scrumptious breakfast she provided was extremely generous and we loved enjoying her homemade treats with coffee and starting the day nice and easy. I hope to return someday to this area, and even more, to relax in this hidden gem. Highly recommended! Thank you, Giovnna, for your hospitality, expert fire starting skill, delicious cake, and for welcoming us... :)
---
Great and very private stay, we loved everything! The view is stunning, dogs friendly, Giovanna was the perfect host, she gave us positive surprises and we had the pool for ourselves. We had a big and entirely functional kitchen, very nice bedroom and the house is full of Giovannas art, she is a very talented artist! The neighborhood is so lovely, very quiet. Transportation to Rimini by bus is ok. Giovanna was very nice to give us a ride to the train station and helped us in every way, if needed. Would recommend highly.
---
5 stars for everything - Amazing home with gorgeous garden full of plants and big and great swimming pool with relaxing area and swimming gear. Moreover what a view from the house an a mountain and the room ! We were surprised with cake and fridge filled for us. Felt like at home and very private as well. Host is also amazing flower painter. Strongly recommend for romance seekers. It is also not so far with the car from Rimini beach and resort.
---
Giovanna gave us a warm feeling of welcome in her house, which was filled with an authentic sphere of art, space and quietness. A unique place and a unique owner. House "with soul" on the hill with a large terrace offers a magnificent view. When I had one small issue to be resolved (because the internet router stopped working) Giovanna could not have been more helpful, she gave another link. Besides every day she baked different cakes for us. Everyday we were enjoying fresh eggs, bread, milk, coffee and well-equipped kitchen, which was at our absolute disposal. Overall, I had an excellent time at Giovanna's house, and I wouldn't hesitate to recommend it to others, or to use it again in the future. I highly recommend staying at the "Double room with a view" and feel quiet certain you will too. Giovanna is definitely a Super host!
---
My wife and I found Giovanna's apartment exactly like the listing suggests. It is a beautiful home, close enough to San Marino and Rimini city center - tranquil, private and even the neighborhood is very peaceful. Giovanna, herself is a very kind, thoughtful and gracious host. She baked us a cake and made us some treats. In addition to this she had also provided us with foodstuff that we could use to prepare a quick bite. She had literally thought of everything that we would need on our vacation. In our books Giovanna is definitely a Superhost :)
---
Sono una pittrice appassionata di botanica,e proprio in ragione di questo i miei lavori degli ultimi anni rappresentano il mondo vegetale.
Raccolgo,conservo,trasformo tutto ciò che trovo in giardino o nelle mie scorribande fra campi e boschi,da ciò che si mangia a rami,bacche,foglie,capsule,semi che trovo curiosi e attirano la mia attenzione,quindi li distribuisco per casa,mi danno gioia e allegria.
Mi piace tutto ciò che ha a che fare con la terra e i suoi frutti,mi occupo personalmente di un grande giardino e adoro cucinare,i miei ingredienti preferiti ovviamente sono soprattutto verdura,cereali,frutta,semi,piante aromatiche.
Sono curiosa come una scimmia,quindi leggo molto.
Languages:
English
Response rate:
100%
Response time:
within a few hours
Explore other options in and around Rimini
More places to stay in Rimini: