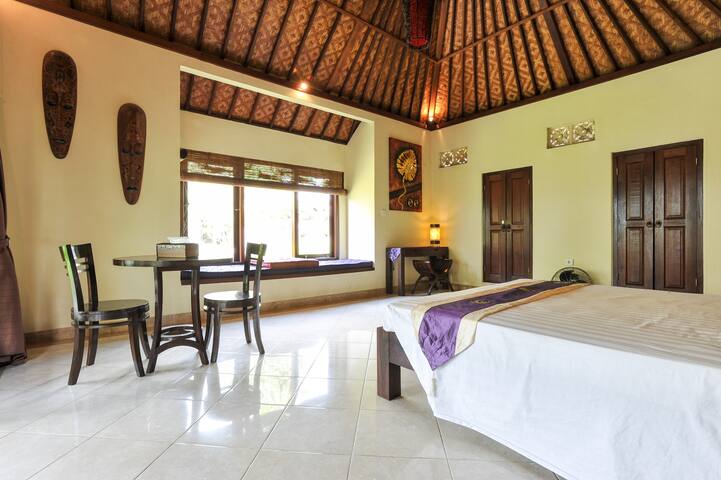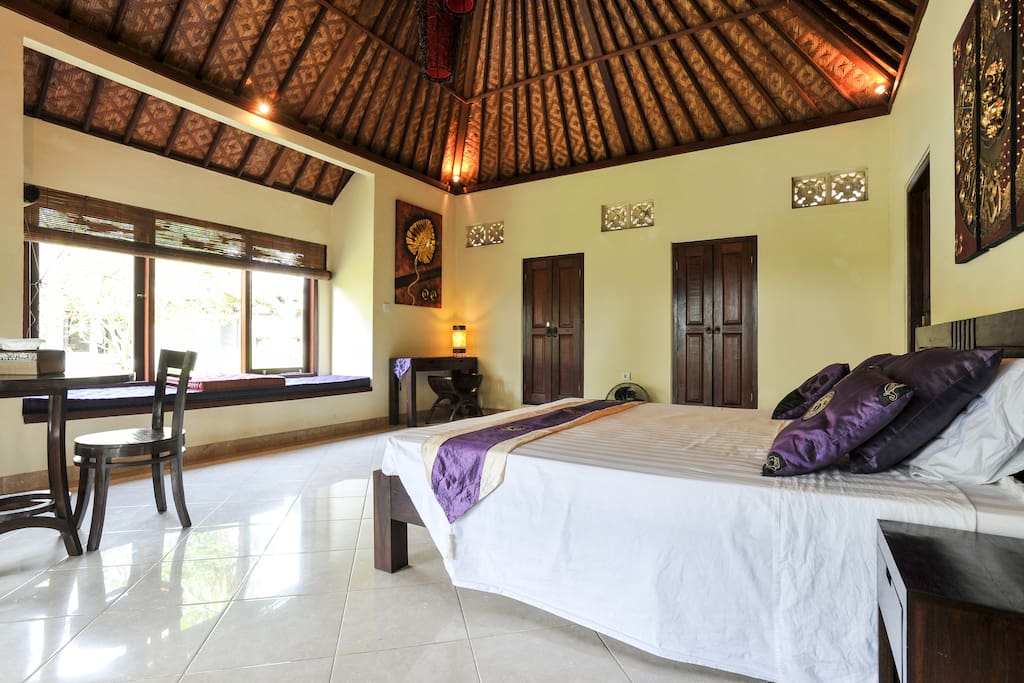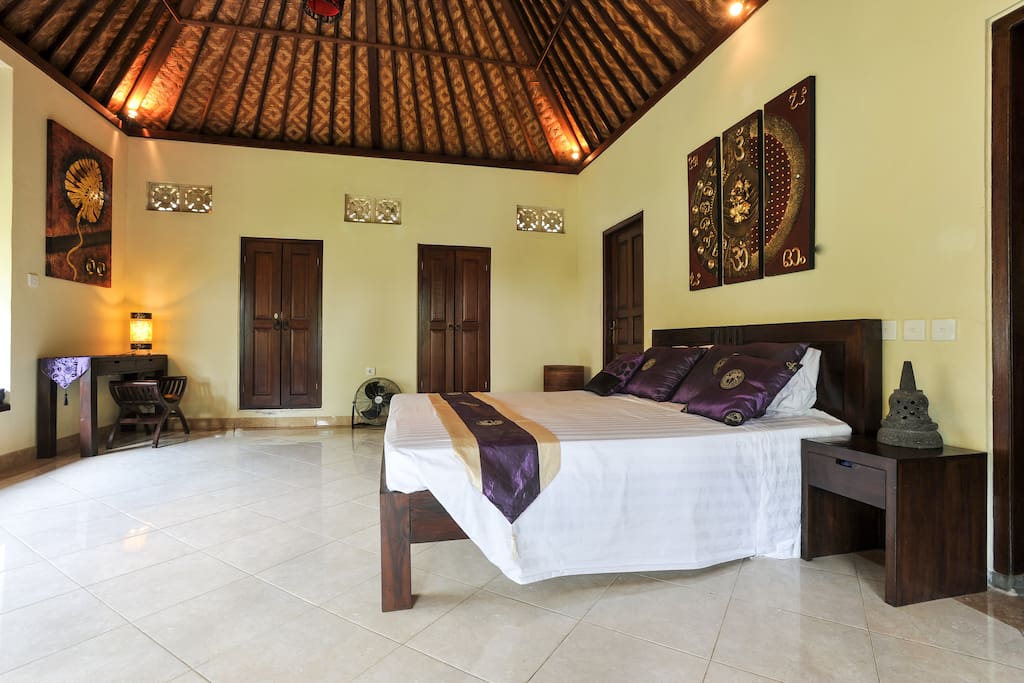 About this listing
Stay at the only property that actually borders the famous Ubud Monkey Forest...! Watch the monkeys play in the jungle right on your doorstep..!

---
---
---
The space
Our cottages are quiet and secluded with no road running past your front door. All of the restaurants and conveniences of Ubud are only minutes away. You won't need a car or motorcycle...simply wander home from a delicious evening dinner and relax and take in the sounds of the jungle.
We have two self-contained cottages (Ganesha and Hanoman), each with their own kitchen; including a full sized fridge and cooking facilities.
With high speed WiFi and "bale bengongs" (Balinese gazebos), you can work, play, or stay in touch with family and friends without having to leave the garden. And our gardener will be more than happy to crack open a coconut for you should you develop a thirst..!
Other things to note
Living in Bali doesn't come without it's challenges; including poor infrastructure, high humidity, and wildlife that you might not have to contend with back home. Some of these challenges can be overcome by getting into a few simple habits.
Living close to the Jungle and having views of ricefields is great for relaxation, but no so great for the ants and other wildlife that come with it. Storing all food, plates, and cutlery in the fridge keeps it out of reach of pests and ensures that plates and cutlery are clean to eat off without having to rewash them first. Empty bottles and drink cans should be rinsed if they cannot be sealed with a cap before being placed in the recycle bin provided. The slightest sniff of sugar can bring the ants out. Washing up left laying in the sink will undoubtedly attract vermin. The only alternative is to wash used plates etc immediately. Any unused food should be sealed in a plastic bag and placed in the sealed garbage bin provided.
Another sight that you're bound to encounter in Bali are the chit-chaks and tokays. The chit-chaks are tiny geckos that seems to have found their way into every corner of South-East Asia. They're perfectly harmless and help to keep the mosquito population down. They do however tend to poop everywhere; please try not to take it personally. Their larger cousins, the tokay tend to be a little shy and you're more likely to see them at night. Again, they are harmless enough, though they can give you a start if you close a door to find one behind it. They eat the larger bugs including spiders and cockroaches, hence the reason why despite being so close to the jungle, we don't tend to suffer from those bugs.
Neighbouring the Monkey Forest brings with it the chance to watch the monkeys play, but also brings it's own challenges. The monkeys do on occasion break roof tiles, damage plants, and will given the chance play with any new toys left laying around for them. Mobile phones, keys, wallets, etc should not be left laying unattended outside. The monkey population has skyrocketed in recent years and you can help us to avoid being overrun by monkeys by not feeding them; rest assured, they are well catered for within the Monkey Forest.
Humidity can result in moldy clothes which is unpleasant and unsightly. Ensuring that clothes are perfectly dry before folding, and not leaving damp towels lying around can help. Our cupboard shelving was selected as it allows for air circulation.
Whilst we do everything in our power to provide you with first class services including internet, electricity and water; we are constrained by the infrastructure in Indonesia. Telephone cables are of poor quality, are poorly maintained, and can suffer from high contention ratios (number of users for the given infrastructure). All of our equipment is new and we have cultivated contacts with Telkom Indonesia to help us deal with problems swiftly. We cannot however guarantee the kind of service that you may be used to back home.
The electricity network whilst generally not subject to frequent blackouts, can suffer from voltage drops (or brown outs as they're known). We'd suggest not keeping electronic devices (laptops etc) plugged in beyond what is required to charge them. For your safety, all of our electrics use proper grade cabling and hot water heaters are properly earthed.
Town water is not available in much of Bali and our water is sourced from a well. We have a high capacity water pump that delivers great water pressure, but given that the pump is electric, any power outage will result in a subsequent loss of water. The water in waterways and ground water in Bali is not safe to drink. When used for washing up, plates and cutlery should be dried thoroughly before being stored. Bottled water should be used for drinking, brushing teeth, making ice, and washing fruit and vegetables.
---
May not be safe or suitable for infants (Under 2 years)
Items from the house MUST NOT be left unattended outside. We have cushions available to be used outside, but when left unattended, they can be destroyed by rain and monkeys. Please bring all items back inside and close all windows before you leave the house.
---
Moderate
Cancel up to 5 days before your trip and get a full refund, including service fees.
---
---
Exact location information is provided after a booking is confirmed.
Great stay in Ubud! My girlfriend and I had a great stay here for just over a month from March into April. We found the house to be nicer than in the photos and with a bathroom and kitchen renovation underway, it will be even better in the future. There is a new, large and heavy duty safe in the villa which helped alleviate the security concerns in the area. There is no AC currently so it is hot in the daytime, but at night it would typically cool down and sleeping was not an issue with a fan. The new fiber optic internet line improved the wifi significantly. The villa is in a beautiful quiet setting away from the chaos, but just a short walk from the main streets of Ubud. There are also some great restaurants in the village area right around it if you want to avoid the busy downtown area. We found Michael to be a great host. He was in Ubud throughout our entire trip and was a great help. Clean water was provided. He was very responsive to anything we needed and he allowed us to extend our trip a few days despite the fact that he was trying to get his kitchen and bathroom renovation underway. We enjoyed having the monkeys around us. While they can be a nuisance every once in a while, generally if you keep your things inside they should not cause a problem.
---
Staying with Michael was a fantastic experience. The location of the villa was perfect for exploring Ubud, positioned directly within the monkey forest and the town. Michael was very accomodating, and helpful in providing local insight and suggestions for eating out etc.
---
The location for this listing is beautiful set in a forrest where you are actually living in the wild . Myself and my partner unfortunately had a negative experience . To keep it short : There was also a suspicious person running away from the apartment on returning from breakfast which left me very unsettled (especially in light that there was a previous break in and that we had expensive equipment with us) The temperature of the room was unbearable . I am used to heat - even with all the fans going the room was far hotter than it was outside (swell as all the windows being open - which forces you to wake up at 6 am as there are monkeys in your room (which bother us) We couldn't spend another night on the beds and both woke up with painful hips and backs . Our host was also not very hospitable nor forthcoming when we experience these difficulties.
This guest was a problem from the start. He arrived 3 days late without giving any warning. He then changed his mind about staying and demanded a refund. He was rude and argumentative the whole time and caused offense to our Balinese staff (really not cool). He was advised to cancel through AirBnB, but refused to do so. His review is vindictive and untrue. At no time were monkeys in his room, and everytime he recounts his story of a "suspicious person", the story changes. No other guests have ever complained about the quality of the beds (which are the best imported American matresses you can get) or the temperature. Please read the reviews prior to this one get an honest apprasial of the property.
---
Michaels place was big and roomy with a comfy bed. There is no air-con, however there are some serious fans that keep the air circulating and you cool during the night. It is close to nature and being very close to the monkey forest they climb the cottage and surrounds. They often arrive early in the morning approximately 6:30am, I had to rise early each day so this was not a problem for me. The monkeys are however very cheeky and they will try enter the place should you leave the door or windows open during daylight hours. Leaving the house with your slingshot handy is a good way to deter the monkeys if they get too close for comfort. The lovely locals who manage the joint in Michaels absence will provide the slingshot for you and the monkeys flee at the sight of it, rarely will you need to actually use it. I would recommend using it as little as possible as I found they appeared threatened when I did and were more aggressive. Michael is very quick to respond to any of your needs and also very open to feedback. Early during my stay I mentioned that a mosquito net would be a great improvement and he had one put in which was awesome. The locals who manage the place are also very helpful and available should you need anything - filtered water, a blocked drain unblocked, a random blackout in the area that has you confused in the dark. They were always available to help no matter what. Do be aware that this is close to nature and there will be VERY big geckos (who eat the bugs - they are your friends). The monkeys can be annoying and sneaky so keep this in mind if you do choose to stay here. The place has a functional little kitchen with a good size fridge should you want to cook and bathroom that is good with hot water. It's a very short 5min walk to Monkey Forest Rd and the centre of Ubud where all the action is, yet a nice distance from the hustle and bustle. The wifi can be good at times and then temperamental when you least expect it. I would recommend hitting up HUBUD which is a 5min walk away should you need internet that's fast. I stayed here for one whole month while studying Yoga, the place itself is great, the monkeys add an extra challenge to your stay and can be pretty annoying at times.
---
I'm an Australian guy, who after spending many years travelling and living in South-East Asia has finally got a place to call his own. And it's right where my journey in Asia began...Bali.
Explore other options in and around Ubud
More places to stay in Ubud: