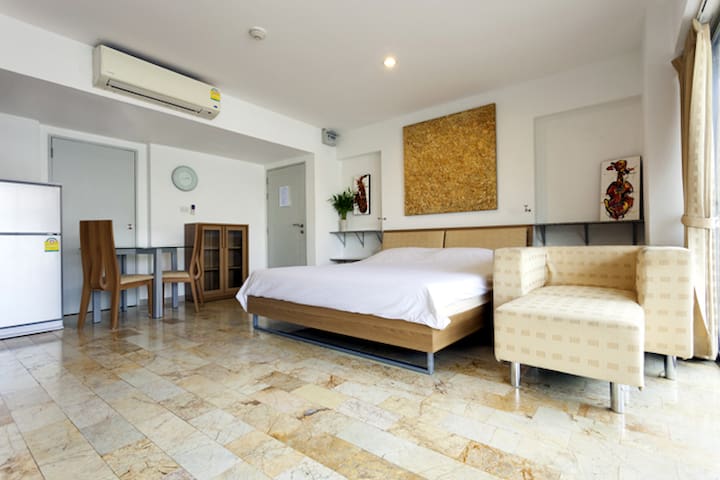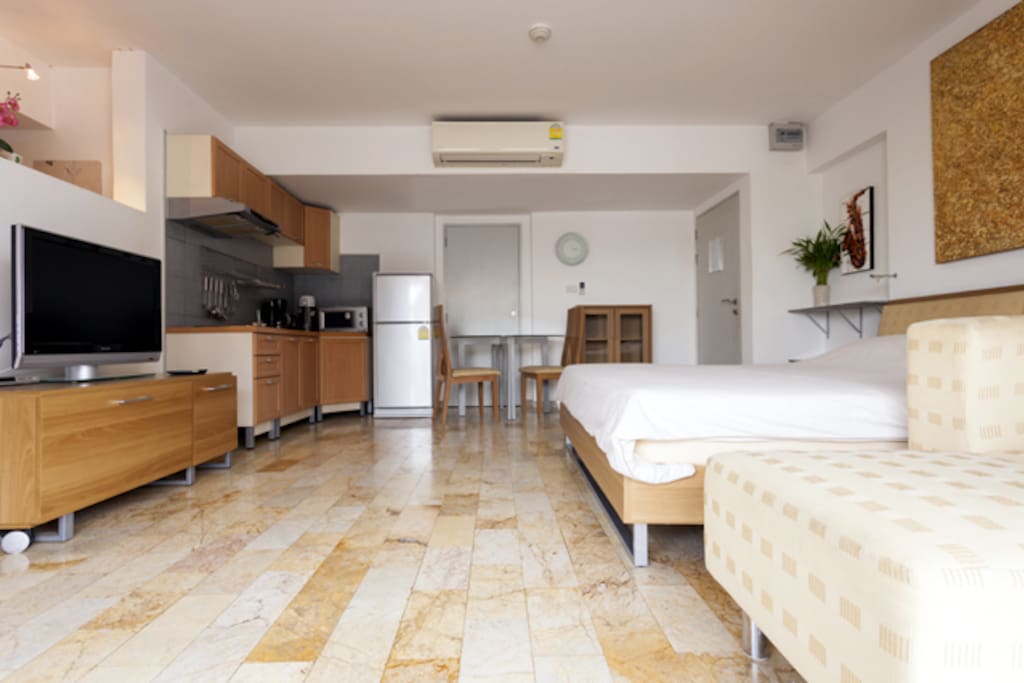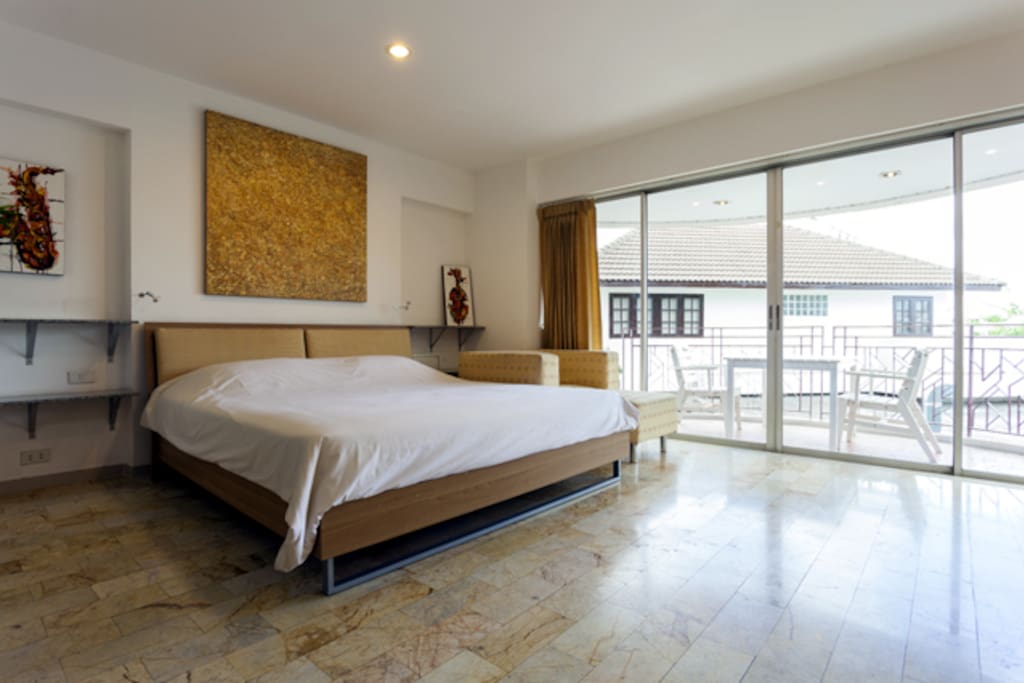 Apartment Galare Thong - SUPERIOR
Apartment Galare Thong - SUPERIOR
*** NO BREAKFAST INCLUDED IF DAILY RATE LOWER THAN $15 ***
Apartment 55 sq. m with with fully fitted kitchen. Fully furnished with widescreen flat TV, fridge, microwave oven. Coffee Machine. Electric Kettle. Rice Cooker. Dining Area/Dining Table. Safety Box. Working Desk. Large Balcony.
---
Check In: Anytime after 12PM (noon)
Room type: Entire home/apt
---
---
Weekend Price $24 / night
Always communicate through Airbnb
To protect your payment, never transfer money or communicate outside of the Airbnb website or app.
Learn more
---
HOUSE RULES

Please turn off the lights, air-conditioner and TV before leaving the room.

1. CHECK-OUT time: 11:00 AM

The CHECK-OUT time will be 11:00 AM on the date the rental agreement ends
(check-out date).
If the lessee does not vacate the room by 11:00 AM a penalty of THB 200 will be
deducted from their security bond for each additional hour they stay after 11:00 AM.

2. ROOM CLEANING and CHANGE OF LINEN

COMPULSORY ROOM CLEANING:

The lessee agrees that there will be a MONTHLY compulsory service of room
cleaning and linen change that is charged at THB 200.
(The charge includes a change of towels, bath mat, shower gel and toilet paper).

The service will be arranged every month on the initial check-in date. (Or on the
check-out date when the stay is for less than 1 month).

ADDITIONAL ROOM CLEANING:

Additional room cleaning and change of linen can be requested once a week when staying on monthly rate, 3 times a week when staying on weekly rate or daily when staying on daily rate.

Additional room cleaning must be arranged and paid for in advance.

Please NOTE that quality bed linen is provided with the rental and it is not permitted for the lessee to use an external laundry service or launder his own bed sheets.
(Should the lessee want to do his own bed sheets laundry, the lessee will have to
use his own bed sheets and return the provided bed sheets to the lessor).

ROOM CLEANING AND LINEN CHANGE SCHEDULE:

The dates and times of room cleaning and linen change are given upon check-in.
The lessee accepts that their room will be cleaned at these times and under normal circumstances will vacate the room during room cleaning.

3. ROOM and FURNITURE LAYOUT

The Lessee is NOT AUTHORIZED to modify the layout of the room/furniture.
Should any change(s) to the layout of the room / furniture be considered necessary, the lessor's agreement must be obtained before any changes are made.
---
---
---
---
This place is a scam. The pictures are probably 15 years old at least. The picture of the view is 1/3 of the actual view, the rest is a view of a poor subdivision with garbage around it. The smell was pretty bad from the balcony. There is water damaged on the ceiling above from the picture of the dinning table. The tiles in the bathroom are broken and there is mold around the shower. We walked out the same moment we arrived. We let the receptionist that we wanted a refund back and she told us airbnb will refund the money 3 days after, but we still have not received anything from anyone. Wanwisa was nowhere to be found, and when she was contacted by the receptionist and we asked to talk to her, she rejected the petition, she did not want to front the issue or even help us solve it. We sent an email to airbnb explaining the situation the moment we left the place and now I am receiving an email saying that the reservation is expired and they can not do anything about it. Be careful where you book your stay. This was not a pleasant situation.
Well. Outrageous comments. So we are a scam? With 350+ reviews 90% of which are positive. What about Jamie being an arrogant newbie who: (1) - Insisted on cash refund with our staff (against AIRBNB terms) and did not contact AIRBNB within 24 hours of check-in time? (2) Then sent a request through the resolution center asking for an amount higher than what was received by the host?(!) All the while writing an -evidently- nasty review? (An option that he will normally forfeit with a full refund). (3) - Likely had ridiculous expectations anyway. Incidentally: Can we really be held responsible for the "view of a poor subdivision with garbage around it" that is another property/land some 50 meters from the apartment?? Oh! And the pictures were taken 4 years ago - not 15. By an AIRBNB photographer! Answer by Eric @ Galare
---
We ended up having a good stay at Wanwisa's place at the Galare Thong Tower after some initial problems with the apartment. The particular apartment shown in this listing is quite different in real life than in the photos, and not in a good way. The photos were clearly taken some time ago, before water damage left a huge hole in the ceiling that was hastily, but only partially, replastered. Water damage and what may be heavy use also took their toll on a lot of the furniture, which was covered in stains and looked dangerously close to falling to pieces. The faucet in kitchen sink was falling apart and was secured to the counter using some rope and plastic bags. Light fixtures were non-functional in a section of the room. Tiles were missing in the bathroom and there were cockroaches in the bathroom as well. Our biggest issue with the apartment, though, was that it was separated from the neighboring apartment by only a thin metal door, so you could hear the neighbors clearly and smell what they were cooking and smoking, even late at night. Not everything in the apartment was bad; the air conditioning was quiet and very effective, the room was spacious, and the bed was clean and large. However, these good qualities weren't enough to make up for all the other issues we mentioned. We told all of this to Wanwisa and Eric and thankfully they were very responsive. We were moved to a different apartment the next day, which was in good condition. Because of availability issues, the day after that we were moved to a different, larger apartment, also in good condition. Both of these apartments were very nice and were what we expected the first one to be like based on the pictures and the description on airbnb. With some better maintenance, treatment for insects, and some soundproofing of the door, the apartment in this listing would probably be a great place to stay. After we were moved from the first apartment, we mostly enjoyed our stay at the Galare Thong Tower. Breakfast is provided every day except on Sundays and it's pretty good. Breakfast is served downstairs in the restaurant that catches a cool breeze from the outside and is very pleasant. Our minor qualms were that we were only provided 2 very small and thin bars of soap (good for 2-3 days) for our entire 10 day stay and no shampoo was ever provided so we had to purchase our own. The apartment is also a bit far from the city center (~30min walk to the southern moat), but there are some shops and restaurants along the way and the area generally feels safe. It's easy to grab a tuk-tuk if you don't feel like walking. Overall, if you don't mind the location being far from the city center, we recommend staying at the Galare Thong Tower, but not in this particular apartment until some changes are made.
---
My husband and I stayed 45 nights in June-July 2015. The following is information we wish we'd had prior to making the reservation. In retrospect, we would have searched harder to find an affordable place closer to the Old City or Nimman area instead. Location - If you will be spending most of your time near the Old City or Nimman, this is far and inconvenient. It's usually too hot to walk during the day, and a one-way, per-person songthaew ride will cost 20 to 40 baht depending on how far you go and how hard you bargain. Tuk tuks go from 50+ baht per one-way ride. It's a 30-40 minute walk to the Night Bazaar, and an hour+ walk to the Old City and Nimman. The closest cafe with good wifi is the Wawee Coffee in the Curve Plaza (15-min walk), and there is the awesome Nong Hoi wet market across the Mae Ping River (15-min walk) where food vendors set up at night. Building & unit - Our room was not properly cleaned when we arrived and we had to ask for it to be cleaned. The first cleaning we paid for was shoddy and the second was OK. There is an adjoining door to the next unit through which can come the neighbor's loud noises and smells. The balcony is nice, but can't be used for air or ventilation because there is no screen door. The furniture is old and stained, especially the armchair (we bought a sheet to cover it). The kitchen faucet is literally falling apart. The burners and pots/pans provided aren't really conducive to cooking, but we did use the toaster frequently. The bathroom sink had terrible flow, but the water pressure in the shower was good. Internet was OK. The electricity bill will be high, but that's typical of places like this that can charge inflated rates for it. The paid laundry service was good (although the turnaround time was 48 hours). The "bistro" downstairs is overpriced. There will likely be cockroaches in the unit, and the hosts will tell you to get products on your own to get rid of them.  Building management - Customer service ranged from fine to impossible, as many of the front desk staff cannot really communicate in English. They will ask you to contact the host or wait until the English-speaking manager is on duty during the day.  Hosts - Wanwisa and her English-speaking partner Eric handle the communication, but were never on site. They answer very quickly via e-mail, but Eric tended toward effusive and sometimes awkward responses when we just wanted issues resolved (i.e. cockroaches and shoddy cleaning).   If you are looking at the Galare Thong Tower units for the low price, be sure to factor in transport costs to see if it's as economical as you think. It's probably still reasonable for short stays or those who end up renting motorbikes, but for longer-term stays you can likely find comparable deals in better...
---
Exactly as shown. Nice location! Close to airport, central airport mall and theater, not far from old city and night market. There is a German and Thai restaurant on the street, along with a very convenient mini market and bistro at the ground floor. I would definitely recommend renting a scooter if you like to explore the city (3780 baht for 3 weeks), but tuk tuks and red songtao are very reasonable as well if you only plan on going out once a day. I thought the price was very good for the month, but they get you with the extras. It's 200 baht for room to be cleaned each time which is stated, Internet for one month was 500 baht, electricity was 3450 baht which seemed very high. We had the a/c on the entire time, and watched tv and cooked most every meal at home, but we did the same in Koh Sami the month before and the bill was around 500baht. They did surprise us with a 5000 baht deposit requirement that was not even mentioned on the airbnb site. I was going to talk to host about it, but forgot and then it seemed too late. No problems though! Staff is very nice. Wanwisa arranged a late check out for us and we kept our luggage behind the front desk for the rest of the day until our evening flight. Overall very good stay.
As informed prior to any confirmation/payment of reservation: (Including Shannon's) PLEASE KINDLY NOTE: -American breakfast is NOT included in monthly rate. -Electricity is NOT included in monthly rate. For electricity usage, charge of THB 5 per unit will be charged. (Approximately USD 20-100 per month depending on consumption) ---------------------------------------------------------------------- The DAILY and WEEKLY rates are ALL INCLUSIVE. The daily rates include daily American breakfast for 2 persons, daily linen change and room cleaning, Electricity. The weekly rates include daily American breakfast for 2 persons, linen change and room cleaning 3 times per week, Electricity.
---
The many people who work the front desk were all very friendly and helpful, and accommodating when needed. The location was a bit far from the city center, but it was quiet, which we liked, so it was a good trade off. The apartment itself, though, was not what we expected. The upholstery on the chair pictured was coming off, the fabric was dirty; the bathroom tub had quite a bit of mold around the caulking. In my opinion the apartment was not being regularly maintained.
---
Galare Thong Towers was much more than I expected. The room was huge for the two of us with lots of storage and privacy when needed. It is about 2km + from the tourist part of the city and markets. But like mentioned by someone before tuk tuks are your friend. Just be sure to ask the front desk how much it should cost to get places as tuk tuk drivers will try to hike up the price. Its nice that this place was a bit far out, makes for quiet relaxing nights. Another thing is the electricity went out randomly about 3 times during our stay but the front desk showed us how to reset the breaker. Im assuming rolling electrical outages are common in Chiang Mai. Also if your bed is directly under and air-conditioning unit I suggest you move it a bit to prevent the condensation from dripping on the bed. Other than that Galare Thong is a great place to stay. The free breakfast was good, wifi was cheap for the week and great connection and the convenience of a small store at the front desk is helpful. One last thing I would suggest is to have the front desk write out in Thai the address/location of Galare Thong as many drivers didnt know where we were asking to go as it is a bit further out than most tourist hotels. Thank you Galare Thong Towers for making our visit to Chiang Mai cozy and memorable.
---
Worked 10+ years in Thai travel industry booking hotel rooms and arranging tour packages for travelers from all around the world. I'm glad to welcome you to Galare Thong Tower where guests will find the facilities of an international class hotel for the cost of an apartment.
Response rate:
100%
Response time:
within an hour
Explore other options in and around Mueang Chiang Mai
More places to stay in Mueang Chiang Mai: