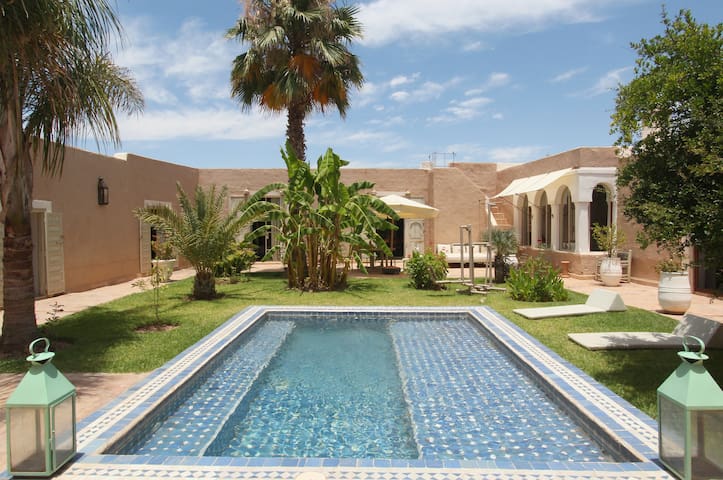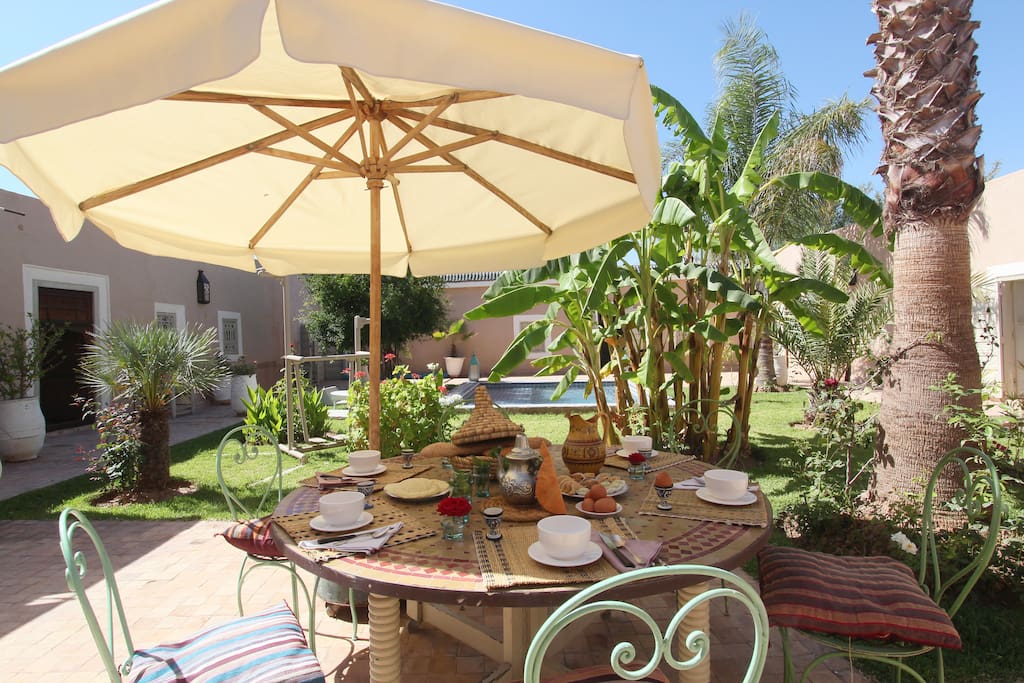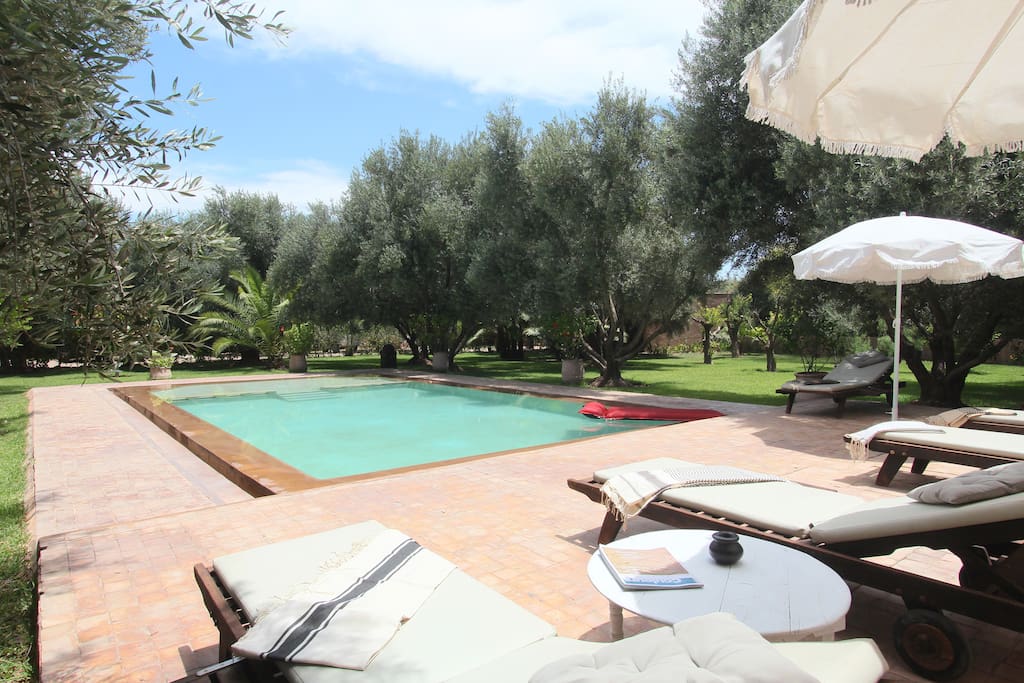 Adobe Pastoral Villa with 2 Pools
ADOBE PASTORAL VILLA WITH 2 POOLS, OPULENT GARDENS, & FULL STAFF 15 MIN. FROM MARRAKECH
The space
Gather a group of your favorite people and enjoy an exceptional vacation experience in an adobe farmhouse, called DAR BENFREDI, 15 minutes from Marrakech.
Eat, swim, dance, celebrate, chat, explore, and create memories in an authentic Moroccan paradise. Dar Benfredi sleeps up to 10 people.
IMAGINE MARRAKECH
Imagine a Moroccan feast, prepared by your own personal cook, Fatima, and shared at an outdoor table shaded by opulent gardens. While you spoon lamb tagine onto your plate, smell the tropical fragrance of cascading bougainvillea and listen to the breeze ruffling the palm fronds and the branches of olive trees.
Imagine TWO private swimming pools—one dappled by the garden's lush trees and foliage, the other protected from weather by a central courtyard (in the traditional Morrocan villa-riad architectural style). During the hazy, languid Moroccan afternoon, these pools are a perfectly-chilled refuge, kept immaculate and sparkling by the property's caretaker/gardener.
No eyes can see in while you swim, as the pool areas are completely secluded.
Imagine a cool evening in the chillier months, spent gathered around the fireplace hearth with wine in hand.
And imagine a luxurious night's sleep between silky sheets, in 6 bedrooms, each with distinct personalities, amenities, and color palates.

AUTHENTICITY BECKONS
If you search for an authentic Moroccan experience, Dar Benfredi is your answer.
The influence of Morroco's legendary design sensibilities is everywhere at this villa. Inside and out.
Soothing earth tones of white, cream and taupe highlight its distinctive architectural details—like arched windows, carved doors, and geometric art. Royal purples, rich reds and goldenrod add a vibrant accent.
And, of course, the clay that comprises the villa's exterior is in the authentic Moroccan style, and blends the villa into its beautiful natural surroundings.
The 5000 sq. m. gardens at Dar Benfredi, and its rural setting, make it feel worlds away from the bustle of the Red City. But in truth, it's just 15 minutes away by vehicle. Spend the day soaking up Marrakech's legendary energy, then return to relax with indulgent evenings at the villa.

WHAT PERKS ARE INCLUDED?
There are many! If you book Dar Benfredi, you receive, at no extra cost:
- Transfer to the airport
- Moroccan breakfast
- Housekeeper / Maid / Cook (meals made with products you purchase)
- Gardener
- Caretaker
- WIFI
- Multi-purpose outdoor fitness machine (in a totally private space near the pool)
- Personalized advice for your trips and excursions into Marrakech and beyond.

SO, WHEN IS THE BEST TIME TO VISIT?
Any time! The Dar Benfredi is beautiful across all seasons. In warm months, the pools are heavenly; in winter, the fireplace takes the chill out of the evenings.

WHEN IS THE BEST TIME TO BOOK?
Today. Our reservation calendar is filling up fast!
Get in touch with us soon to book your stay in authentic, vibrant Dar Benfredi!

---
---
Extra people $48 / night after 4 guests
Weekend Price $394 / night
Always communicate through Airbnb
To protect your payment, never transfer money or communicate outside of the Airbnb website or app.
Learn more
---
Bedroom 1
1 queen bed, 1 crib
---
Check in is anytime after 4PM
Un grand merci pour votre réservation !
Agnès et Philippe sont plus qu'heureux de vous accueillir et de vous aider à vivre le meilleur de Marrakech !
S'il vous plaît ne perdez pas de vue que vous allez séjourner dans notre demeure privée, que nous partageons avec vous lorsque nous ne l'occupons pas.
Nous y avons donc des affaires personnelles, auxquelles nous tenons.
C'est une démarche personnelle basée sur les relations humaines. Cette expérience peut vous paraître nouvelle, car très différente d'un hôtel ou même d'une maison d'hôtes; nous sommes dans une relation de partage et non dans une une relation marchande.
Nous faisons cela avant tout parce que nous aimons les gens et que nous aimons faire partager notre passion pour Marrakech et le Maroc.
Nous attendons donc un comportement identique à celui que vous auriez si l'un de vos amis, parent ou connaissance vous confiait sa propriété.
Abstenez-vous simplement de faire ce que vous ne feriez pas chez vous ou que vous n'aimeriez pas que quelqu'un fasse dans votre maison.
Pour une parfaite compréhension entre-nous voici quelques règles simples à respecter :

Une fois la réservation effectuée, nous vous adressons un récapitulatif ainsi que de nombreuses informations utiles à votre séjour. Nous avons besoin de connaitre l'identité de chacun des occupants, nous pouvons être amenés à vous demander la copie des passeports.
Seules les personnes nominativement déclarées sont autorisées à accéder au domaine. Sauf autorisation écrite - et sous conditions - aucun invité extérieur ne pourra être autorisé à entrer, même pour une courte visite.
Parce que l'assurance Airbnb ne couvre pas le Maroc, nous avons besoin de la copie de votre assurance responsabilité civile. Celle-ci est généralement déjà incluse de votre assurance habitation. Pensez à vérifier qu'elle vous couvre au Maroc. Si vous n'avez pas d'assurance ou si la votre ne couvre pas le Maroc, nous pouvons vous fournir les coordonnées d'une assurance ponctuelle, qui répond à ce type de besoin
En cas de retard sur l'heure d'arrivée prévue, vous vous engagez à nous tenir informés afin que nous convenions de la meilleure solution pour votre accueil. Comme nous n'avons pas un hôtel, nous n'avons pas non plus des réceptionnistes qui se relaient 24H/24 dans la maison pour vous attendre.
Nous souhaitons accueillir des personnes calmes et soigneuses.
Nous aimons les enfants et sommes nous-mêmes parents et grands-parents, toutefois une maison n'est pas un terrain de foot ni un dojo de karaté.
Nous avons de magnifiques jardins, où les enfants peuvent s'ébattre.
La maison est non-fumeur, vous pouvez en revanche fumer dans le jardin, patio et sur les terrasses
Les piscines ne comportent pas de barrière de sécurité et la baignade n'est pas surveillée. Nous recommandons aux parents de faire preuve de vigilance vis à vis de leurs jeunes enfants lors de l'utilisation des piscines.
Vous reconnaissez que vos enfants sont placés sous votre responsabilité exclusive, la nôtre n'étant en aucun cas engagée.
Vous vous engagez à respecter la législation Marocaine et les lois du pays, qui peuvent être différentes de celles du pays dans lequel vous vivez.
Gardez à l'esprit que vous êtes dans un pays musulman.
Toute personne ayant un comportement contraire au respect de la propriété et (ou) des bonnes mœurs, ou encore en contravention avec la législation marocaine pourra être exclue sans indemnité ni remboursement.
EN RÉSERVANT CETTE MAISON, VOUS COMPRENEZ ET ACCEPTEZ LE PRÉSENT RÈGLEMENT. EN CAS DE NON RESPECT, L'ACCÈS AU DOMAINE VOUS SERAIT REFUSE ET VOTRE CAUTION POURRAIT ETRE CONSERVÉE.
---
---
---
Agnes and Phillipe were the perfect hosts, ensuring from the moment that I began to look at the property that they could cater for all of my needs. I was travelling with 9 other friends and from the moment we entered the villa it took our breath away the photos really do not do it justice. For a villa that was only built 8 years ago you couldn't guess, it had an old rustic charm but with all of the modern features that you need. Plus it really was ideal that every room had its own ensuite. We were really well looked after by the house keeping staff and nothing was too much trouble. We had home cooked meals for breakfast lunch and dinner during our stay and all of the food was divine and we will miss the smiling faces of Estella and Adeel who made us feel very welcome. We are already discussing when we can go back - would highly recommend this property for anyone who wants to escape the hustle and bustle of the Marrakech medina.
---
The Adobe Pastoral villa was just a beautiful as it looked in the photographs. We were a group of 9 girls and we felt safe and were well looked after for the whole of our stay. The owners Agnes and Philippe were extremely helpful and answered all our questions very promptly. I would thoroughly recommend this villa and would definitely stay here again. I would advise planning meals with the cooks in advance to avoid any confusion and the couscous royal is an absolute must have!!
---
We had the most amazing time staying at Adobe Pastoral Villa for my best friends' hen weekend. The villa is absolutely stunning and exceed all of our expectations. Angnes and Phillipe were helpful from start to end and the staff at the villa were AMAZING! As 8 women travelling we never felt unsafe and everyone went out of their was to help us in anyway they could. I would recommend this villa to anyone wanting a piece of paradise in Marrakesh.
---
We had a truly wonderful experience all round staying in this beautiful villa. We had a warm and friendly welcome by all the staff on arrival. Despite it being late in the evening they even went out of their way to cook us a lovely dinner, and continued to help us in every way possible throughout the duration of our stay, offering advice, recommendations, booking us taxis etc. The villa not only matched the description on the listing but also exceeded all of our expectations and was kept in perfect condition by all of the staff. We felt extremely safe staying in the area and i would highly recommend this villa to anyone wanted a lovely break away.
Response from Agnès Et Philippe-Alexis:
So happy to hear your holiday experience in Marrakech was wonderful! Many past guests have praised our indispensible staff—and we couldn't agree more with the praise! We will be sure to pass along your kind words. We're glad to hear you felt safe at Dar Benefredi, as well. Some potential guests understandably question the safety of Marrakech and its surroundings, but many of those fears are eased once they visit. Dar Benefredi is very safe, and as you said, offers a wonderful chance to "break away" from everyday life in a sumptuous setting. Thank you again!
---
Nous avons vécu une expérience merveilleuse dans cette magnifique villa. La maison et le jardin sont parfaitement entretenus. Malgré sa situation en dehors de la ville, en 20 minutes de taxi, vous êtes dans le centre-ville de Marrakech. Nous avons eu un accueil chaleureux et convivial par tout le personnel dés notre arrivée. Ils nous ont aidés pendant toute la durée de notre séjour, nous aidant pour faire effectuer les courses, offrant des conseils, des recommandations, nous ont réservé des taxis, etc. La cuisinière Amel, nous a concocté tous les jours de magnifiques plats marocains, qu'elle a même su adaptés pour les enfants en bas âge. Une très bonne adresse, nous y retournerons pour sur.
---
Ich danke euch beiden das ich in eurer schönen Villa verweilen durfte. Die Einrichtung und die Energie in eurer Villa ist sehr schön und ich habe mich bei euch sehr geborgen gefühlt. Die Köchin von euch hat eine sehr angenehme Ausstrahlung und sie hat mich Exzellent bekocht, meinen Dank an sie. Beim Empfang und beim Abschied waren sowohl der Gärtner als auch eure Köchin sehr zuvorkommend und sie haben mir beides sehr leicht gemacht. Ich danke euch beiden auch für die beste Wegbeschreibung die ich jemals in Marokko erhalten habe, sie hat es mir ermöglicht auch bei finsterniss eure Villa zu finden. Des weiteren bin ich euch auch sehr dankbar das ich so spät auschecken durfte und ihr mir damit stundenlanges warten am Flughafen erspart habt. Ich konnte damit von eurem Dach aus, den herlichen Blick auf die Landschaft Marokkos und das Atlas Gebirge bis zum Sonnenuntergang auf mich wirken lassen, fantastisch bis zum letzten Moment. Das war großartig, tausend dank. Ihr habt euch dort eine Perle erschaffen und das Grundstück mit dem Garten, dem Pool und der Villa ist ein sehr schöner und erholsamer Ort. Für mich, absolut empehlenswert. Ich wünsche euch beiden und eurem Staff weiteres Glück und Gottes lächeln. Michael
---
We provide a collection of luxury city and country accommodations in and around Marrakech, Morocco, and want to share our tips for enjoying this remarkable city.

In our blog, LOCATION MARRAKECH INFO/EN our guests find tips and advice helping to prepare their trip.

We live in the South of France, between Provence, Camargue and the Mediterranean, we divide our time between their small picturesque village and Marrakech, which we fell in love with over 20 years ago.

Agnes is a former restaurateur. She has always been passionate about both cooking and customer service.

Philippe has been a company director for over 30 years.

In our apartments and villas in Marrakech, we wanted to provide holidaymakers staying with us, those services which they felt had often been missing during our own travel experiences. These include:

• A warm welcome
• Advice on the city and its surroundings
• Advice and assistance in the preparation of excursions off the beaten track.
• How to Discover AUTHENTIC Morocco
• Encouraging the use of local products and crafts.

We are very proud of our apartments and the confidence shown by the many visitors who rebook and return to stay with us. We hope that you too will come to enjoy the mild climate and lifestyle in Marrakech by booking one of our lovely apartments and villas-riads for a forthcoming stay.

----------------------------------------------

Nous proposons une jolie collection d'appartements et de villas, dans le centre-ville et à la périphérie de Marrakech et nous voulons partager notre expertise et nos conseils, pour profiter au maximum de cette fantastique ville !

Sur notre blog LOCATION MARRAKECH INFO, nos voyageurs peuvent trouver de nombreux conseils pour les aider à préparer un séjour personnalisé, loin des pièges à touristes.

Nous partageons notre temps entre Nîmes et Marrakech. Nos attaches familiales sont dans le Sud de la France et bien que nous soyons déjà privilégiés côté soleil, nous adorons aller nous ressourcer au Maroc, particulièrement Marrakech et le grand Sud.

Il y a quelques années, nous avons fait le choix d'investir au Maroc pour notre retraite.

Dans nos appartements et nos villas, nous souhaitons apporter à nos vacanciers ce qu'il manque si souvent en voyage :

- Un accueil chaleureux
- Des conseils sur la ville et ses environs (à visiter, à éviter)
- Une cuisine traditionnelle, avec des produits frais du marché
- Conseils et aide dans la préparation des excursions en dehors du circuit touristique
- Découvrir le VRAI Maroc
- Privilégier l'utilisation des produits locaux


Languages:
English, Français
Response rate:
100%
Response time:
within an hour
Explore other options in and around Marrakesh
More places to stay in Marrakesh: