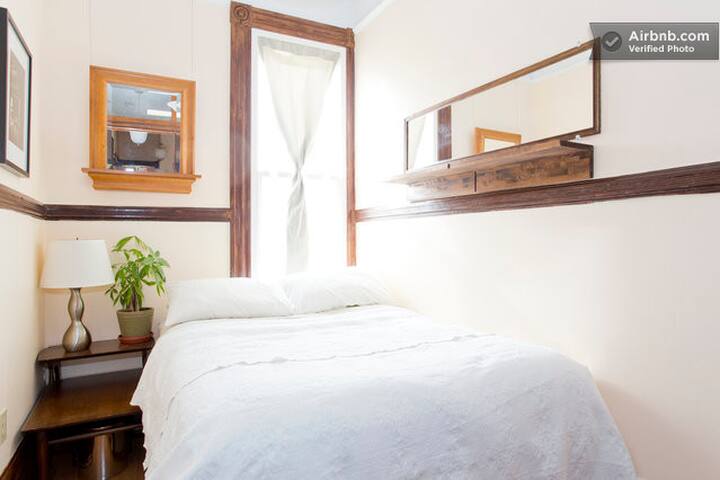 About this listing
The flat fee for a stay of up to one month is $2,050 including airbnb fees and local taxes. If you need help with locating this pricing, contact me for assistance.
---
---
Essentials
Towels, bed sheets, soap, and toilet paper
Heating
Central heating or a heater in the listing
Washer
In the building, free or for a fee
+ More
---
---
The Space
Share a 3-bedroom, 1-bath flat with the host and possibly one other guest. High ceilings and abundant natural light. In a safe, clean, quiet residential area yet walking distance to some of the Bay Area's top dining, coffee, and cultural attractions.
ENJOY a cush home-away-from-home setting with an experienced detail-oriented host who supports you in getting oriented to life in San Francisco. Please Click On Contact Host to Inquire and Introduce Yourself Before Initiating Your Reservation Request (Or, if time is of the essence, mention that you want expedited priority processing, Convenience Fee applies, see Terms below).
Expect four-star hotel comforts like down pillows and comforter and premium quality sheets along with high-speed WiFi internet connection.
THE ROOM is southward facing and gets plenty of direct sun throughout the day; Bernal Heights Hill is visible from the window. It includes a new full-size mattress premium bed. It is a compact space with a good-size walk-in closet and is equipped with a chest of drawers for your exclusive use.
MISSION MINI includes full access privileges to the common areas of my large, fully-furnished 3-bedroom apartment, which includes a living room, kitchen and dining nook, and a redwood sun deck with city skyline view.
WALK TO Dolores Park, Valencia Street shops and restaurants, or nearby gyms. BART is 15 min by foot and two bus lines to downtown are within a half block. Easy access to 101 and 280. General Hospital and the UCSF campus system shuttle stops are a five minute walk to the east. One block from SamTrans express buses to San Mateo Peninsula and Silicon Valley.
MY APPROACH TO HOSTING is what nowadays gets termed artisanal or small batch. Really, I'm just a hands-on guy who wants to be sure that your guest experience is a positive one. I do this by keeping my operation small with a single property that I reside in and by overseeing each step myself from preparing your room, to coordinating your check in, to meeting you to orient you and hand off the keys. There is no industrial-scale operation or service agent involved in my boutique guest experience.
I enjoy taking good care of my guests, so it's likely that while you're with me, I will feed you an evening meal or two or maybe homemade waffles on a Saturday morning. While you are always welcome to store your food in the refrigerator, I ask that you not cook and keep any food prep to a minimum.
When you reserve with me, you'll enjoy the peace of mind that comes with my five-year record of hosting at the highest guest satisfaction level. Also click on my Profile to view my exclusive Guests' Bill of Rights and Expectations policy meant to ensure that your stay is a positive experience.
See my Guidebook feature or click on the map to view my mapped summary of my top picks in the neighborhood.
*** How To BOOK
KINDLY fill out your profile, photo, etc. before contacting me. The more detailed your inquiry (days of stay, number in party, where you call home, what brings you to San Francisco and so on), the more likely I am to consider your stay.
If you don't see the dates you want, please send me a message to inquire about availability.
*** Contractual Disclosure Stuff:
Please do not ask me to arrange a preview of my home for you. I may, in some limited instances (long-term bookings that exceed 30 days of stay), be able to meet you prior to booking for an interview.
CHECK OUT is at 9 am if your date of departure is on a workday (M-F), or 11 am on a weekend day; CHECK IN is at 5:30 pm if your date of arrival is on a workday (M-F), or 3 pm on a weekend day. (I try to be flexible whenever I can be.) Late night check ins are allowed only by advanced written agreement. See more under House Rules.
FAQs
Q. How many people are staying at the flat and how many bathrooms are there?
A. The flat has one bathroom. I am single and live alone. All total, there will be no more two people at any one time in addition to you. Perhaps, just one -- me -- depending on whether I have a guest at the time you arrive.

Q. Do you accept reservations from couples?
A. No.
Q. Can my girlfriend/boyfriend come stay for a few nights during my stay? He/she is stoked to come to Cali and see Frisco.
A. Maybe. This depends of many things. But chances are very slim if your stay with me is for less than 30 days. In any case, if you negotiate this with me prior to booking, your chances improve.
Q. I sometimes like to hook up when out at bars. Would it be OK for me bring home my new friend to your apartment?
A. No.The posing of this question tells me that this guest is not a good fit for the home and would likely be better suited to a hotel.
A CONVENIENCE CHARGE of $150 will assessed on any accepted reservation booking request that is initiated prior to first receiving a greenlight from me.
*** About the Neighborhood
LOCATED on trendy 22nd Street on a quiet, safe, owner-occupied block of the happening Mission District neighborhood. Situated amongst the hottest restaurants in the Bay -- Flour & Water, Local's Corner, Central Kitchen, Universal Cafe, Heirloom, and many, many more.)
THE NEIGHBORHOOD is the cultural and culinary center of the city and the Bay Area. The Mission District, long known as the Bohemian and Latin Quarter, has seen an unprecedented influx of investment and activity that has resulted in the greatest concentration of arts, eateries, bars, shops, street life, and urban culture of any of San Francisco's residential neighborhoods. The Mission neighborhood of today is the Bay Area's countercultural crossroads and youth ground zero, akin to Haight Ashbury of the 1960s, if you were to add a tattoo rub with a well-provisioned offering of fairly-priced locally-sourced restaurants.
If you enjoy running or climbing hidden urban staircases, the apartment is 15 min by foot from the best scenic hilltop park in the city. And it's entirely possible and a fairly flat route to ride a bike from the apartment to the Golden Gate Bridge.
For those unfamiliar with San Francisco, the Mission neighborhood is the city's oldest recorded settlement, founded in 1776 with the arrival of the Spanish and the erection of the still existing Mission Dolores. The Mission's Latin flair remains and it is also known for its fair climate and as a culinary hotbed. As one of the few neighborhoods to be spared destruction in the Great Fire of 1906, the Mission boasts one of the city's highest concentrations of Victorian buildings.
I'M HAPPY TO HELP to orient you and give you tips for making the most of your stay.
Cheers and namaste.
+ More
---
When in Doubt, please Ask First;
Enjoy the peace of mind that comes with your host owning the unit (Translation: No risk to you of unpleasant landlord drama or last minute cancellation surprises due to the threat of eviction);
Please be a responsible adult and do your due diligence as to whether the Mission neighborhood is an appropriate fit for you.
I encourage an open-door household. This means that you will know I am at home sleeping if my bedroom door is closed. I strongly encourage guests to adopt the same practice. When doors are left the house is lighted by sunlight and this openness adds to the family atmosphere and eliminates doubt about the need to keep voices low. Please speak with me if you have any concerns about this approach;
Please be considerate and smart about any alarms or ringtones during sleeping hours. This room shares a wall with my room. If I am in my room sleeping please do not have a conversation by phone or device;

Outside Visitor/Guest privileges are not included. This means that all in your party must be disclosed, accounted for, and paid for. Any showing of your visitors into the house shall be done only with prior permission;
The airbnb listing described and offered here is for residential use and does not cover commercial or office use. Therefore, I ask that any "work-from-home" activities be kept to a level that is occasional and reasonable;
Please discuss with me prior to booking if you have any expectations about working from home or regular meal preparation or cooking; absent such a conversation these privileges are not available;
Please use the recycling bin for aluminum, plastic, and glass. Please rinse out your food and beverage containers when done. Food waste goes into the compost bin;
I encourage sustainable household practices including conserving water to pitch in with California's severe drought; please accumulate a sizable load of laundry before using the clothes washer; please limit your use of the clothes washer to two cycles per month; I prefer to wash all towels and lines I provide you; please do not start any laundry projects after 9 pm or within 24 hours of scheduled check out time;
Do not hang out or congregate on the front steps to wait for me or for any other reason;
The rear yard space at the bottom of the rear deck stairs is common area shared with the neighbors living in the unit below, and is therefore, not accessible to airbnb guests;
Non-smoking house; please do not burn anything that produces ash or melted wax. Smoking/vaping in the house will result in FORFEITURE of the security deposit;
Shoes off in house;
In the bathroom, please remove any accumulated hair from the bathtub drain screen after showering; please wipe up the sink basin and counter if you shave or splash water; if you regularly shed quantities of hair, please pitch in by sweeping up;
Please check with me first before using my computer, having your mail sent to my address, borrowing any of my things, or removing any of my belongings from the home;
Late night check ins are allowed only by advance written agreement. A face-to-face key hand off is the final step in the screening process and is therefore an expectation. A pre-agreed scheduled check-in time is required. Unless other arrangements have been agreed to, Check-in time window is from 5 pm to 9 pm, with a one-hour grace period;
A convenience charge for late-night check ins (to be made using the airbnb resolution tool) will be applied as follows: from 10:01 pm to 10:45 pm, $100; from 10:46 pm to 11:15 pm, $200, from 11:16 pm to midnight, $300. GUESTS not checked in by midnight will FORFEIT their first night of stay;
Policy regarding FAILURE TO HONOR PAYMENT COMMITMENTS: AIRBNB segments payment for stays of greater than 31 nights. Your reservation is accepted with the understanding that any payment installments, when due, are to be honored seamlessly and automatically with the credit card on file. If airbnb sends an automated notice that that there is a problem collecting payment, a convenience FEE of $300 will be deducted from the guest's security deposit. Upon receiving any such airbnb notice of payment collection problems, the host reserves the right to terminate the guest's stay beyond the dates covered by the initial payment installment(s) or to terminate the guest's stay immediately. Any paid-for unused nights of stay remaining will be refunded to the guest via airbnb at the prorated amount provided by airbnb to the host. If by noon on the day of the guest's final pre-paid night, airbnb has not reported successful resolution and payment, the guest's reservation dates beyond those covered by the initial pre-paid installment(s) will be considered a last-minute cancellation and the guest's security deposit ($800 or the amount of the deposit, whichever is greater) will be FORFEITED.
Policy regarding NO SHOWS: If by 1 pm of the second day of your scheduled stay as provided by your reservation, you have not checked in nor provided me written notice of your plans or whereabouts, you agree to FORFEIT your remaining nights of stay and allow me to direct airbnb to release the dates of stay on my reservation calendar. This means that acting as a NO SHOW as defined above triggers your initiating a cancellation;
Enjoy yourself but know that this is not a party house and any noise complaints received from neighbors will be cause for me having to ask you to leave;
The property is my home. Please treat it as such and pick up after yourself as you would in your own home;
Sorry, absolutely no pets are allowed on the property.
+ More
---
---
Explore other options in and around San Francisco