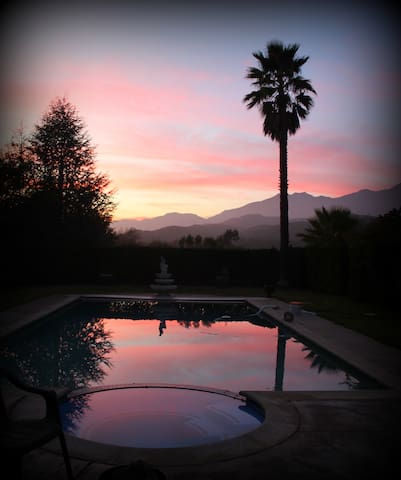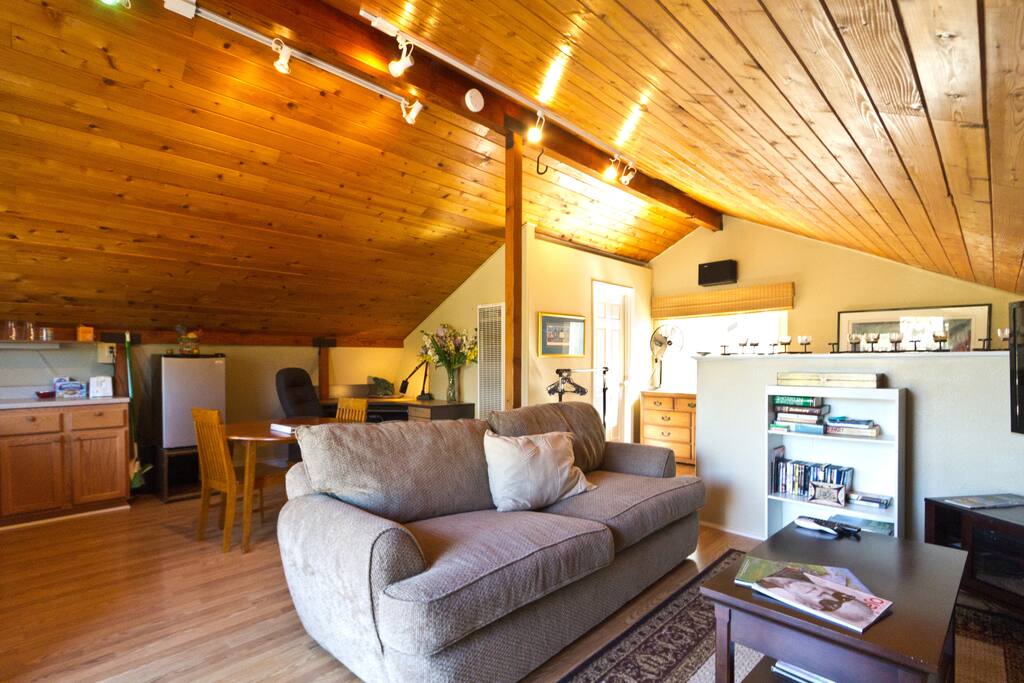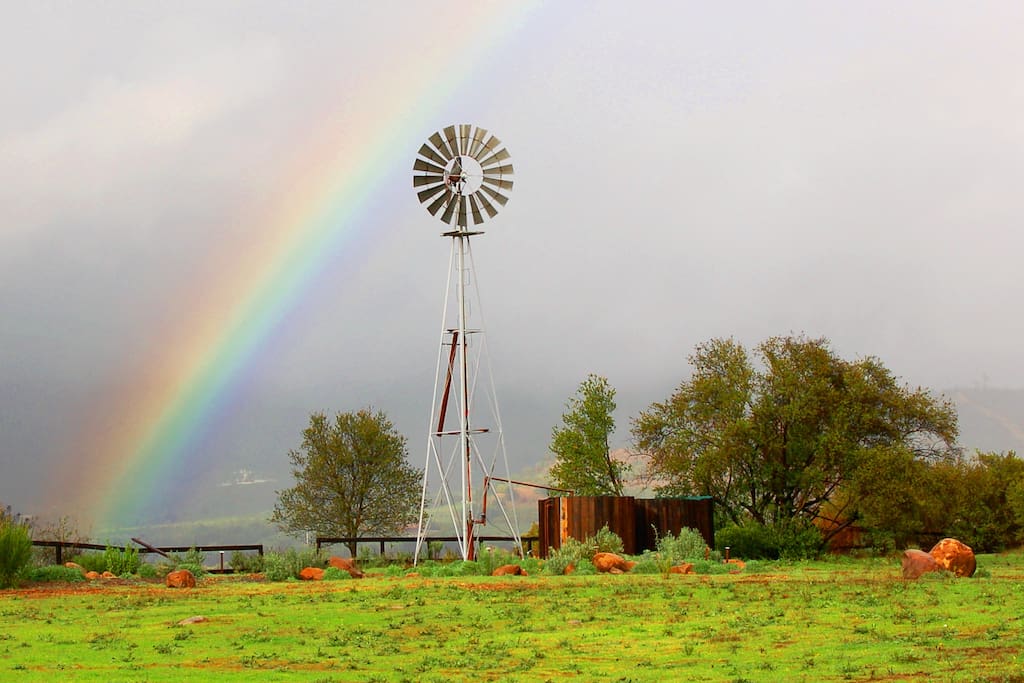 Studio apartment in separate building with stunning outdoor deck and pool views of the mountains and Ventura River Valley. Located on a permaculture native plant farm noted for its natural beauty by artists, photographers.
The space
Guest House at Euterpe Farms
Welcome! We hope you enjoy your stay in this beautiful part of the world. I'm so happy to be able to share this property with people of like mind...who care about natural beauty and the creative nature of people.

(URL HIDDEN)Smitty West
Here's some information and tips to help make your stay easier.
Pool Area
Enjoy one of the great experiences of Ojai….the pool at Euterpe Farms with White Ledge Peak of the Transverse Ranges at sunset! It's full of mineral water drawn from the earth at the windmill. Very lightly treated, your skin will feel great afterwards.
We'll show you how to use the hot tub on request! There's an icemaker and refrigerator on the terrace under the pergola on the way to the pool
There are pool towels for you, and just let us know if you need more.
Wildlife
Euterpe Farms has a 1000' fenced border and 180 degree view of the beautiful Ojai Land Conservancy's Ventura River Preserve, and the two million acre Los Padres National Forest. This beautiful, diverse, and wild country is home to an amazing assortment of wildlife found nowhere else.
This is THEIR home, and WE are the visitors here on the edge of this wilderness. Be respectful of this fact and you will be rewarded with close-up view of an amazing assortment of plants and wildlife. Some of the larger animals you may see: deer, coyote, fox, snakes, bobcat, mountain lion, bear. Bird watchers will LOVE the diversity. We encourage raptors, and you may see or hear several types of owls, hawks, and other birds of pretty. There is usually a resident barn owl in the brown owl house in the tree in the middle of the circle driveway. You can see her pellets on the ground below.
With big animals come small animals, so if you like lizards, spiders, snakes and other crawlies, you'll love it as much as the animals that eat them. If you don't, well, you might have to live with them, because there's 2 million acres of their home right next door! We try to maintain a no-kill philosophy on the property, and we have only seen one poisonous snake. Best advice: Enjoy the wildlife, but don't handle it!
Vegetable Garden and Orchard
There's a vegetable garden on the side yard along the driveway. It is protected from deer by an electric fence which can be unplugged where the extension cord meets the controller in the white bucket. All organic. Help yourself.
The orchard is seasonal, we have some type of fruit much of the year, but only a tree or two of each. Naval orange, plums, apricots, cherries, avocado, peaches, figs, blood oranges, grapefruit, white pomegranate.
Monarch Butterflies
We are a monarch butterfly sanctuary. What this really means is that we nurture and cultivate the Ojai native milkweed species, Asclepias fascicularis…the monarchs do the rest! You will see butterflies most of the spring, summer, and fall, and then they overwinter in groves along the California coast. While they enjoy nectar from the variety of wildflowers on the farm, they only lay their eggs on milkweed…so it is vital to their dwindling populations. Consider purchasing a milkweed while you are here to take home.
Norman
Speaking of animal life, our resident black lab, Norman, welcomes you as well. He is well-behaved, and may bark at you when you arrive, or at the coyotes if they come on the property, but is as kind and sweet as any canine you may meet. He loves the pool, so if you want him to join you, you won't have any problem. If not…a firm "no" will usually let him know who's boss.

Chickens
Our hens think they rule the roost. They kinda do. You are welcome to eggs. They lay during the warm months, usually late in the morning. We let them out sometimes in the late afternoon when Norman can watch them. There's no rooster so they shouldn't spoil your sleep. They are named for famous heroines and musical chicks, "Rox-Hen", "Re-Peck-ah", "Yolk-O Ono", "Lay-la", "Buffy" …you get the idea. You may change their names at your desire.
Climate and Comfort
Ojai has a reputation in California for being blazing hot, but that isn't really true, with a few exceptionally hot spells each year. Here at the Farm, during the summer months we are rewarded with a beautiful Pacific marine layer breeze every afternoon, and the average summer daytime temperature is 90 degrees.
The winters are mild, but sometimes chilly at night. The wall furnace has a thermostat under the access panel at the bottom. You'll be very comfortable with a setting between 1 and 3 (out of ten). There are two black marks to make these settings easier to see. If the pilot goes out, and you need help lighting it, let us know.
Sometimes during offshore wind conditions, it does get BLAZING HOT for several days at a time. If you are lucky enough to be visiting during one of these spells (we may get two or three of them per year and it can be over 100 degrees), remember that it does cool off at night, so open the windows and night and shut them in the morning as the day warms up. There is an attic fan that can add to your cross breeze, and a portable air conditioner that will take the edge off. But the best solution is a dip in the beautiful swimming pool, and planning an evening poolside until the stars come out.
That said, chances are that you will have fantastic weather, any time of the year, and use the windows to moderate your temperature, and enjoy the porch.
Indoor Living
Ojai is all about outdoors, but you'll find a lot of indoor conveniences here: Refrigerator, stove, oven, microwave, coffee pot, toaster, service for small groups, satellite TV with surround sound, wifi, a desk area, books….etc.
If you're here for more than a few days, and need anything (cooking utensils, iron and iron board, guitar) just text or ask Smitty.
Plumbing
Euterpe Farms is on a green septic system. If it didn't come out of your body or off the roll of supplied septic-safe tissue, it doesn't go in the toilet. Trust us…we will find out!
Solar and Wind and Water
The little faucet next to the sink delivers you unlimited delicious and "world famous" Euterpe Farms windmill mineral water. This water is purchased by thousands of fans at our roadside tienda (farm stand) as their exclusive drinking water. Delicious, untreated and pure mineral water. It is raised by the power of the wind from our 1926 Aeromotor windmill from an isolated aquifer under this portion of Meiners Oaks.
The farm has a 8500 kilowatt solar generating system, making power from Ojai's most precious asset, our sunshine.
Bees
We're doing our part to help sustain healthy communities of honeybees here at Euterpe Farms. Their hives are very obvious off to the cliff side near the windmill. No one has been bitten that wasn't messing around with their hives. No one HASN'T been bitten who WAS messing around with them. Your choice.
You'll see them on the wildflowers around the Farm. Tip your hat and say thank you (or "gracie"… they are an Italian variety), and they won't bother you.
Hikes
We recommend the Ojai Valley Land Conservancy's beautiful Ventura River Preserve. Walk or drive the one-half mile north on Rice Rd. to the trailhead. There is a private semi-improved trail that starts out near the windmill. It's a steep climb down steps carved into the hillside, and then you follow deer and coyote trails to the public trails…10 minutes away.
Another favorite is the Shelf Road Trail in Downtown Ojai, accessible by trailhead at the top of Signal Street.
Rose Valley Falls is about 30 minutes up the 33 in the beautiful mountains above Ojai.
There is a Forest Service Office in Ojai's East End with lots of maps, books, and information about the Los Padres National Forest.
General Safety
Euterpe Farms is a working farm. That means there are farm tools, farm work, and multiple hazards that you won't find in most "vacation spots." This is the beauty and uniqueness of this special place, but please use common sense and understanding.
As a guest here in the Guest House, you are welcome to the apartment and beautiful deck, and non-exclusive use of the pool. You may walk the grounds but please respect the privacy of the occupants of the main house.
Besides being a native plant farm, any portion of the grounds and pool area may be in use for other purposes such as parties and music events, filming, music recording or rehearsal, photography, plein air painting, and private use by the owner, Smitty West. Please be respectful of the privacy and business of the other people enjoying the Farm.
The property requires regular land care, pool service, gardening, and farming that may be occurring at any time, so if you see our happy grounds manager, Urbano….say hola! Smitty also enjoys doing work around the farm, and he may offer you a tour.
Parking
Please park on the dirt area at the bottom of the stairs. Do not block the garage doors or the paved circle so delivery and service vehicles can come and go. The beautiful 450-year old oak tree in the front of the main house will thank you as well!
Smitty West
The owner and caretaker of Euterpe Farms, is singer/songwriter Smitty West. If he's around, he's a very friendly fellow who might want to share a story or hike with you. (URL HIDDEN) If he is on the property, he loves meeting our guests and helping you enjoy your stay. You can hear him sing with his partner Julija Zonic at The Vine wine bar in downtown Ojai Saturdays from 5:00-7:00pm. Some of their CDs are on display in the room for purchase.
Dining
Some of our favorites for quick, local bites:
Meiners Oaks ( ½ mile north on Rice turn left on El Roblar Ave.)
Papa Lennon's – delicious, fresh food, pizza, pasta… counter service
Don LaLo's – Mexican, fresh, yummy
Ranch House – famous for gourmet fine dining
Farmer and the Cook: Grocery and counter restaurant…organic and local
Downtown Ojai
Suzanne's Cuisine…fine dining
Feast Bistro…fusion dishes by acclaimed chef Susan…say hi from Smitty
Ojai Pizza – Yep….Pizza and families!
The Vine – great wine and pretty yummy sandwiches, salads, pizzas
Mira Monte and Oak View (5 miles back down the 33 toward Ventura)
Spin – fresh pastas and comfort food
Bocalli's Italian and Pizza
OHM Thai
Massage, etc.
Ojai School of Massage (student massage)
619 El Roblar Dr.
(PHONE NUMBER HIDDEN)
The Oaks
122 E Ojai Ave
((PHONE NUMBER HIDDEN)
Ronelle Wood (myofacial release)
Ojai Healing Movement
(EMAIL HIDDEN)
(PHONE NUMBER HIDDEN) E. Matilija St. Suite K, Ojai,
Yoga, etc.
Arrowheart Yoga and Pilates
143 W. El Roblar Dr. Meiners Oaks (PHONE NUMBER HIDDEN)
LuLu Bandha's
306 E. Matilija St. Ojai (PHONE NUMBER HIDDEN)
Sacred Space Studio
410 Bryant Circle Ojai (PHONE NUMBER HIDDEN)

Have a drink of clean, pure windmill water, courtesy of Euterpe Farms!
This water is brought to you from a pure underground aquifer that underlies this area west of Krotona Hill. The reservoir is mapped by geologists to be fault-separated from the municipal wells in the Ventura River bottom, and in a completely different aquifer.
The well underlies the windmill you see in the field in front of you. Taste it, you'll love it. So will your dog or horse, so let them have some too!
This water has been lifted by the power of the wind!
Before you is a 1920s-vintage, restored Chicago Aermotor A602 windmill. It was salvaged from a farm near Santa Paula, and put back into service to lift the water that nurtures the young native plants here at Euterpe Farms.
This machine is a thing of mechanical beauty and simplicity. It slowly and deliberately lifts the water from the earth every afternoon in the ocean breezes that move up the Ventura River as the Ojai Valley heats up in the sunshine. The machine is self regulating, turning to catch light breezes, but folding her tail to take the sails out of the wind in heavy winds. Every stroke lifts about two cups of water six inches. It sounds slow, but if the wind blows all day, it will fill one of the tanks you see next to the tower.
There's a pond next to the well to catch the overflow on really windy days. Look closely for wildlife around the pond, including deer and bobcat.
What about when there's no wind?
The farm has installed a solar photovoltaic grid on the south side of the farmhouse. Every sunny day, our electric meter runs backwards! The small pressure pumps that help the windmill during low wind, and pressurize the water in the irrigation system draw on this power. We also have a solar water heating system made from recycled equipment from the 70s and 80s. We try to keep a low carbon footprint here at Euterpe Farms!
Want more than a sip?
There's a tap for your larger water bottles next to the drinking fountain.
If you would like to fill water bottles, we would ask that you make a donation in the cash box to help keep Euterpe farms eco-friendly, organic and natural.

What is "Euterpe ?"
Actually, "WHO is Euterpe ("you-TER-pee")? In Greek mythology, she is one of the Muses, the daughters of Mnemosyne, fathered by Zeus. Called the "Giver of Pleasure", she was the muse of music.


The Muses dancing with Apollo
The Muses are goddesses or spiritual guides who embody the arts and inspire the creative process with their graces through song and stage, writing, music and dance. They were water nymphs, associated with the springs of Helicon and Pieris.
Here she is in a list with her sisters
•Calliope Chief of the muses and muse of epic poetry
•Euterpe muse of lyric song
•Clio muse of history
•Erato muse of erotic poetry
•Melpomene muse of tragedy
•Polyhymnia muse of sacred song
•Terpsichore muse of dance
•Thalia muse of comedy and bucolic poetry
•Urania muse of astronomy
Euterpe Music Company is the name of our music recording and publication company.
Guest access
Private house, upstairs studio apartment. Downstairs is not a living space, but the studio for the owner.
Queen bed and a queen sleeper sofa. Cozy for four, but I accept up to four people. If you need more room, consider the RV on the property, also listed at airbnb "The Prowler Re-Creation Vehicle." The main house is also available for large groups or events.
Pool privileges
Hot Tub on request
Gardens and grounds and trails that connect to the largest national forest in the country.
Interaction with guests
As much or as little as you can stand! Owner is a musician and the farm caretaker, so permaculture native plant tours are available on request if he is around. Total privacy if you want it!
Other things to note
2 night minimum on weekends.
---
This listing has essential business travel amenities.
---
Check In: Anytime after 3PM
Room type: Entire home/apt
---
---
Extra people: 15 / night after 2 guests
Weekend Price: 285 / night
Always communicate through Airbnb
To protect your payment, never transfer money or communicate outside of the Airbnb website or app.
Learn more
---
Common spaces
1 queen bed, 1 sofa bed
---
Check in is anytime after 3PM
---
Moderate
Cancel up to 5 days before your trip and get a full refund. Cancel within 5 days of your trip and the first night is non-refundable, but 50% of the cost for the remaining nights will be refunded.
---
---
On Fridays and Saturdays the minimum stay is 2 nights.
---
Smitty's place is a wonderful, quiet, and comfortable accommodation close to both Ventura and Santa Barbara (and their local beaches), yet pleasantly removed from the conventional day to day pace of life. The mountain vistas off the back of the property (especially noticeable beyond the pool) are beautiful. Sunsets are spectacular. The pool and hot tub (mineral water sourced on the property) are wonderful facilities that make he stay even ore enjoyable. Smitty is a great host, most helpful with suggesions about the area and very informative as to his unique property and the surrending environment. Smitty is also very helpful in making sure you comfortable and pleasant stay. If I find my way back to Ojai or anywhere nearby, I will want to stay with Smitty again.
---
Our stay at Smitty's exceeded all of our expectations. This listing looked a little too good to be true--it was all you see online and more! Smitty and Julija were both lovely hosts. Smitty checked in via text throughout the weekend (helpful without being invasive or overbearing in any way), and the detached apartment felt private. Wifi and A/C worked great, and I really appreciated the hanging rack, hangers, and empty dresser so we could unpack and feel settled. It's California, so there were a few spiders around, but that's totally normal and can't be helped. OH! And the pool! It was absolutely heavenly! Also the hot tub at night looking up at the stars was magical. I would love to come back and stay again!
---
I went to celebrate a long Father's Day weekend with my son and he called it "the best place ever." Ojai is magical already, and this property captures its spirit perfectly. We were greeted by Smitty, Norman and a local family of owls. Our first night we cooked and relaxed. The next morning we explored the grounds, went surfing in Ventura, and returned to spend the afternoon and evening by the pool. We hope to be back very soon.
---
Smitty's property is beautiful and serene ... we had fresh veg from the garden and swam in the pool until all hours ... Smitty is very accommodating and a great host. we were doing a 3 day workout camp and had the owner of Vitality gym in town, Eric, come to the pool each day to do an hour class ... if you are interested in anything like that you should arrange with him! Smitty was totally cool about him coming to train us each day and there are many different spots on the property to do so. the view is spectacular from the house and the pool / jacuzzi and ojai is a great small town with awesome shopping and great food!
---
This was a great place. Secluded, yet close enough to drive to town and restaurants. Also, very quiet at night with some wildlife sounds, but we didn't mind. The view from the balcony is awesome, and the pool and spa very refreshing. There are numerous fruit trees with delicious fruit you pick and eat, and he even has a chicken coop! We only stayed one night this time, but we plan to go back and stay longer! Linda and Bill
---
I am a singer songwriter musician and permaculture native plant farmer. I live on a beautiful piece of the Earth, and like to share it. People seem to want to stay after they come, so I apologize if the property is not available when you're ready. You can contact me if you are interested in another unit on the property, or are interested in holding an event here. We respect our communities' caution about un-regulated short term rentals, and we act lawfully and operate respectfully in that regard.

Languages:
English
Response rate:
100%
Response time:
within a few hours
Exact location information is provided after a booking is confirmed.
Explore other options in and around Ojai
More places to stay in Ojai: