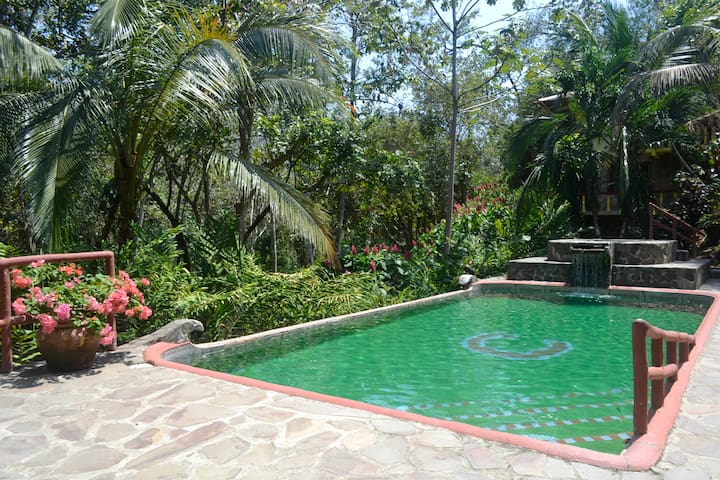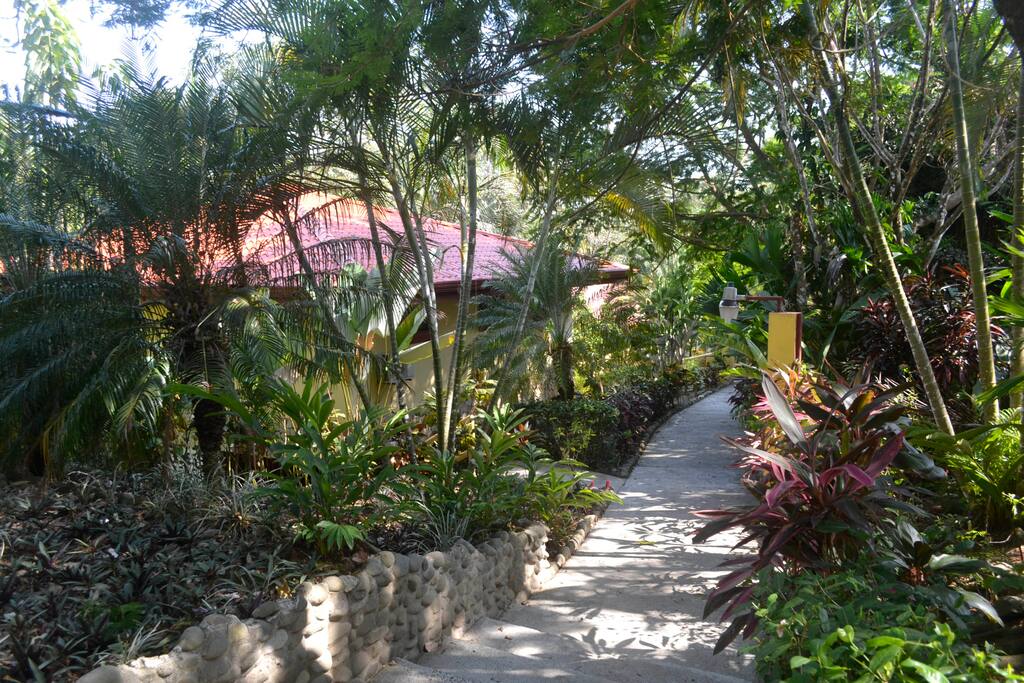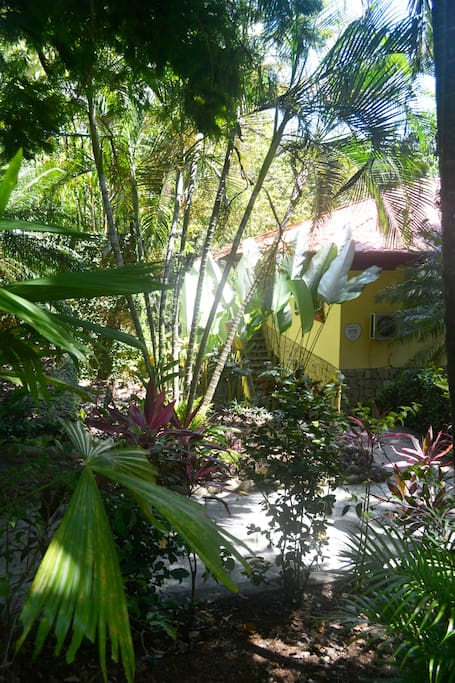 Artist's Home in Paradise
The space
This artistically decorated villa is both beautiful and comfortable with all amenities including cable, wifi, parking, swimming pool and an on-site manager to help you with all your needs. It affords privacy and comfort . . . all conveniently located . . . offering a scenic walk to town and easy access to public transportation and the gorgeous beaches of Manuel Antonio. It is in walking distance to restaurants and other activities, while giving you the peace and quiet of a jungle paradise. View abundant wild life, monkeys, sloths, tropical birds and much more from the terrace.
My husband and I discovered Manuel Antonio over 20 years ago and have been in love ever since. There ' s no better place to relax and enjoy nature. We have enjoyed traveling around the world, but always come home to Manuel Antonio! We are artists / designers, dancers of Argentine Tango, with adventurous spirits.
Guest access
Guests have use of the swimming pool that is shared by the seven homes of CHAMAN, our small community. Outdoor private terrace and jungle view. There is a washer/dryer, located in the shade garden and shared by the two units of our Villa.
Interaction with guests
I am always available by phone or email, but our manager has most of the interaction with our Guests.
Other things to note
Please note that the Villa includes a safety box ($100 refundable key deposit necessary), full alarm system, air conditioning in each bedroom and ceiling fans in every other room. Use of the shared swimming pool...for guests of Chaman only.
There is also a land line that allows free local calls (anywhere in Costa Rica). You can receive international calls, but you will need a phone card to dial out all international calls. Our manager is on premises and always available to help.
---
---
Always communicate through Airbnb
To protect your payment, never transfer money or communicate outside of the Airbnb website or app.
Learn more
---
No pets, no smoking indoors.
---
---
This is a great little property. In a great location. It's right between Mannuel Antonio and Quepos. The pictures are pretty accurate. The pool is nice . It could use some minor upgrades. The elecrical system is kinda a hassle. You can't run the stove and ac, at the same time or it blows a breaker. Or the stove, oven and lights in bedrooms or it blows a breaker. There are 4 key locks to go through to get in AND out. They could update that. It was a bit of a hassle and actually lead to finding out the hard way that the owner has terrible customer service etiquette. One of the keys broke as we were leaving the apartment and trapped us inside. I called the on site property manager and tried to explain through the language barrier what was going on. Long story short. The property manager kept $60 of the $200 cash I gave her as deposit when we got there. Obviously blaming me for the broken key or somehow assuming its my responsibility. We were told they had to "leave dinner" and come home to deal with this and had to call a locksmith and he had to be paid. Which is all true I'm sure. However, everything the property manager had to do was simply "doing their job". I didn't make a big deal about it at all. When the lady just TOOK the money. My wife offered to split the bill. Which was far beyond fair. She didn't accept, which was fine. I figured, I'll mention it to the owner and they'll take care of it. Its a no brainier. The key just broke. From normal use. The worst part to this whole thing is. The owner, really tried to sweep this under the rug and keep the $60. I couldn't believe it. We had to go back and forth, and she brought up a tour deposit situation (which was nothing). And tried to insinuate that it wss somehow my fault that the key broke. I'm sure the property manager insisted it was my fault. That I had somehow brutalized the key, and was unqualified to use a lock. Thats fine, I get that. I just didn't expect the owner to buy it. Its an obvious lie! She wasn't there. I expected for her to have some customer service acumen and at least apologize for the situation (her "employee" wrongfully kept my money). And assure me that it would be straightened out. That never happened . I did eventually get the $60. But after a fight. Here's the bottom line. My wife and kids ages 5&8 and I got trapped (literally) in her apartment. Using the key she provided as we were leaving to go to dinner. We had to stay in and cook (the stove blows breakers)! While trying to work with her people to get it fixed over the phone. And for that they ALL tried to charge me $60 ....Nice!
Again, here's what Carlos had first written to me: Hi Anne! This place is amazing! I've been meaning to message you and just say that. Thanks! We have been very busy . We went on 2 excursion and enjoyed the pool. Pia and Eddie were great!" We have owned and been renting our beautiful home for 10 years. We never had anyone "break" a key so I don't think this was normal wear and tear. Our manager responded immediately to the problem (and by the way although the family could not exit, they had full access to the deck and the rest of the house. Although it was dinner time, our managers were quick to respond to the problem and arranged for a locksmith to come by immediately...even erupting his own dinner to do so. The client never offered me to pay 50% of the cost of the key, which I would have gladly accepted. Instead, he was so nasty and threatening that I refunded his money in total. Despite this and the enjoyment that he seemed to experience by his first email, he is writing his bad review and seems like a person who becomes very angry and aggressive when he thinks he has been crossed. I very much regret that Carlos was so upset and remained untouched by the beauty and peace in which he was surrounded.
---
My boyfriend and I stayed here with another couple at the end of our 2 month Costa Rica trip. I can't recommend it enough! It was perfect for 2 couples. The location couldn't be more convenient - pretty much in the middle between Quepos and MA. The bus was cheap and extremely easy to use, and the stop was at the end of the street. The bedrooms have air conditioning, the kitchen is stocked with cooking supplies (meaning we spent less than $100 total on food between 4 people!), and the place is spacious. The pool was a nice touch too, though we did wish the hot tub was hot! It got a little chilly after dark. Not a big deal, though. All in all: for 2 couples (or 4 people who don't mind sharing beds), I can't imagine a better deal in the area. We loved it.
---
The house is pretty much like the photos. The pool has a great view to the jungle and we were blessed to see not only one, but two sloths in the trees right in front. We were very well welcomed by the management and felt like home right from the beginning. The location is very good, just a few minutes by car from the entrance of the National Park, the city of Quepos, the beach and from a load of good restaurants. This place is a must go for nature lovers who also like comfort.
---
My husband and I discovered Manuel Antonio over 20 years ago and have been in love ever since. There's no better place to relax and enjoy nature. We have enjoyed travelling around the world, but always come home to Manuel Antonio! We are artists/designers, dancers of Argentine Tango, with adventurous spirits.

We enjoy hanging with our friends and dining together. Willy is French by birth so cooking is in his DNA (I had to work at it!). There's an open market on the boardwalk in Quepos on the weekends and you will find a wide array of fresh fish, fruits and vegetables. It's just lovely to have your pick. Quepos also has a great selection of restaurants from typical Costa Rica, Italian, Mexican, Japanese and Middle Eastern. Most are open breakfast through late dinner.

Movies is another passion. Although our area only has one movie theatre at Si Como No Hotel, television offers movies in Spanish, English, French and German...most with sub titles. It's nice to relax with a good movie after a day at the beach, sunset drinks and a good meal.

Our life motto, "Try to experience the present moment!"
Languages:
English, Français
Response rate:
100%
Response time:
within a few hours
Explore other options in and around Quepos
More places to stay in Quepos: