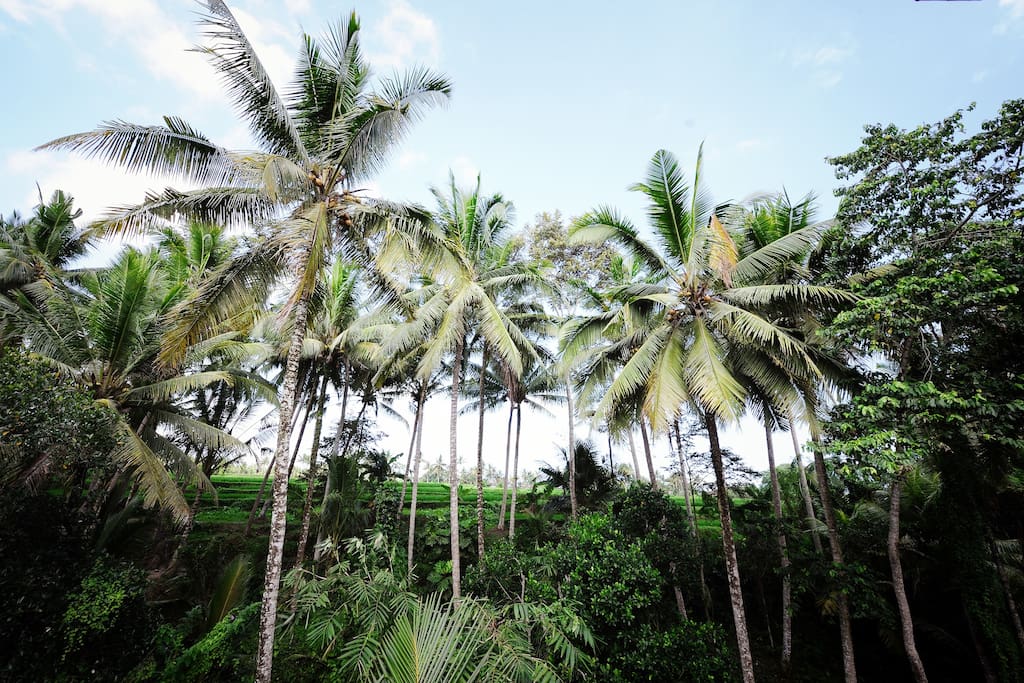 Our Beautifully decorated Guest House is Hidden in the banks of Tjampuhan,Ubud and built along the ravine. You will enjoy smiles and heavenly pandan pancakes. We are off of the main road but, only a 10-15min. walk to all attractions.
The space
We welcome you to the Terrace View room #2 at Mulawarman which was built in 2012 and is Located in the banks of the rice paddy fields of Tjampuhan Ubud. When you enter Mulawarman you are greeted with a Welcome drink and a smile. Mulawarman offers a view of a river valley and rice paddies. The Mulawarman Guest House is within a 10 minute walk to Ubud's best local Indonesian, organic/vegan (Famous Sari-Organic restaurant set in the rice fields-12minute walk)and raw-food restaurants, the main shopping area, museums, galleries, performing arts theaters and the Ubud Royal Palace. The famous Tjampuhan river is just located 300 meters from the Guest House.
Mulawarman provides 8 exclusive rooms. We have 2 upstairs large Terrace View rooms,2 downstairs large Garden View rooms and 4 smaller Jungle View rooms. We also have a shared upstairs reading room. If you would like to book the smaller rooms please View listing as
Secret Hideaway #5 Mulawarman .Please enjoy our warm hospitality,clean comfy rooms and heart filled breakfast made by our owner Ibu Wayan, all for a reasonable price.
The Terrace View room is bright,airy and spacious equipped with , free wi-fi, mosquito net,Air conditioner , hot & cold water, Bathtub and shower, Balcony.We have umbrellas and flashlights (flashlights are great for those late nights, walking along the enchanted pathway to your home away from home) if you need. You also have a balcony off of your room and let me tell you, you will love the morning view of the rice fields, lush surroundings and evening sky the colors are beautiful. We have a shared upstairs reading room for your relaxation. When it comes to smoking, we would like it done outside on your balcony and not in your room.
If you are traveling with small children please be aware that we are located on the edge of a High Ravine. We have had guest with children many times before but, please watch your children.Breakfast is included which consist of a beautifully cut fruit plate,a traditional Pancake naturally colored with Pandan leaves and local bananas, juice, and Tea or Coffee. Lunch and Dinner can be provided at your leisure for a small fee depending on your menu. We have a small shared dining area overlooking the rice fields and Ravine.
We can arrange a peaceful Massage in your room or direct you to many wonderful locations outside. Airport Pick-up or drop off can be arranged for rp.350,000 each way/ 400,000 after 9pm. We also can help you rent a bicycle or motor scooter if you would like. We have laundry service/dry cleaning available to keep you fresh and clean. If you would like to arrange a day tour that is wonderful , we can easily arrange a memorable day of organic food, natural hot springs,bicycle down the volcano, cooking class, shopping, or visiting the most beautiful temples. Please don't hesitate to ask us for assistance we are happy and eager to make your stay relaxing, peaceful,happy and of course memorable.
Mulawarman Ubud is arguably the best place to use as a base if you're visiting Bali; if you are looking for culture, comfort, nature and inspiration. Mulawarman is surrounded by most of the things that bring people to Bali - scenic rice fields, small villages, ancient temples, palaces, and amazing restaurants (cheap local Indonesian, raw food, vegan, organic etc.). Our central location in Ubud makes it easy to get to the mountains, beaches, and major towns.
For those who want to discover an "Authentically Balinese" luxury guest-house still preserved from the "tourist invasion" and which, according to the guidebooks, is one of the best places in town, come to Mulawarman. Situated 25 kilometers northeast of Denpasar, Ubud is nestled in the green folds of countryside carpeted with terraced rice fields and carved by deep river gorges. Despite the increase in tourism Ubud conforms the image of being an example of the place where tourism development is harmoniously integrated into the village life.
Guest access
Guest will have access to the shared reading room upstairs in the main building and a shared eating area. There are no refrigerator in the rooms, but if you need to leave something in the fridge you can use the kitchen fridge.
Interaction with guests
Ibu Wayan will be at the guest house to greet you or one of her staff. She will also make a delicious breakfast in the morning too for you. So yes, Ibu will be around to help you with anything you might need. Though I should tell you Bali has many Ceremonies all year round, so if Ibu Wayan is gone . She is either preparing for a Ceremony or going to one.
Other things to note
We have internet, but do to our location setting -lush greens. It is hit and miss. The best connection is in breakfast area. Saying that on good days it does work in your room. :)
---
---
Always communicate through Airbnb
To protect your payment, never transfer money or communicate outside of the Airbnb website or app.
Learn more
---
Check in is anytime after 2PM
The only house rules we have are to be mindful to us, to other guests , to the environment , and to yourself. Please be aware we have Wifi but, can be hit and miss on some days. But, don't worry there are many cafes near by with wifi. I also would like to let you know we are in the middle of construction on a second building next door to our rooms, where we will have a restaurant and a couple of new rooms. At this time construction has STOPPED for the time being, so NO NOISE , but there is a building half done. Because of this we have taken 10% off of our normal prices for rooms at this time.
When it comes to smoking, we would like it done outside on your Balcony and not in your room.
If you are traveling with small children please be aware that we are located on the edge of a High Ravine. You are responsible for your children , please watch over them :)
We hope that all guests can truly relax and enjoy themselves while staying with us in Bali.
---
---
Ibu Wayan is an amazing host and really cares about her guests. She makes you feel as though you are a part of her family. The breakfast is great and if you are up for a traditional dinner I suggest trying hers. The location is so central to everything in Ubud, and because it is set back from the main road you also get a little bit of peace and quiet. Ibu makes sure you have a wonderful experience and provides lost of affordable tourism options. I would highly recommend but I must mention a few things; wifi is not strong, and communication is a bit difficult. Make sure you are clear about the cost of things, there were a few instances where we were lead to believe that meals/experience were complementary but later money was demanded from us. Over the experience was great, thank you Ibu for your hospitality.
---
Ibu Wayan was very sweet and welcoming, showing us around the garden (which is really beautiful!) as well as offering us tea when we arrived, which was amazing. The building is off the beaten path, you had to walk along a small canal to get back to the area which was cool and took you away from the street noise which was great. The room wasn't as clean, the toilet and shower was a bit dirty and the bed linens were a bit stained, the canopy also had a big stain on it. It was a comfortable place, but wish it was a bit cleaner! Ibu Wayan also offered breakfast in the morning, which was really sweet, however we did not have the time to stay for breakfast.
---
The description didn't really fit my experience. Having a good breakfast was nice and my room was cleaned daily. The location was somewhat secluded which was relaxing although it was tough to find. The wifi never worked and there were a good amount of bugs during my stay. Overall I'd say it was average and the air bnb rating wasn't accurate in my opinion.
---
This is a very good location. It is hidden from the Main Street so you don't hear any street noises. It's accessible to anything in Ubud. The price that the host chargers you for airport travel was a little high. I found a taxi driver that was willing to charge cheaper and include a full day tour. Overall very nice place!
Dear Brianne, Thank you so much for leaving a review. Sorry that you didn't get hand soap , we must have been out. opps! We charge the standard airport pick up/drop off fee. If you go out on the road you can always bargain bargain to get a better price. please come back anytime. happy traveling ,Ibu Wayan and family
---
i will start by saying that all the other reviews about how wonderful and welcoming the host is are accurate. the view from the room at sunrise is beautiful, and the AC works well. we booked for three nights and only stayed one. other rooms may not be like this, but we booked #2 because so many said it was the best. it is on the second floor with room #1. the ceilings are very tall but the walls do not reach all the way to the top between the rooms or the bathrooms. as a result, you can hear everything from the other room as well as both bathrooms, which is rather unpleasant. in addition, all the sheets were stained, and the mosquito netting, while well intentioned, was filthy on top and had many holes. i understand it's a homestay, and i've had plenty of good experiences elsewhere in the past, but given the premium price of this room compared to the others, i had higher expectations. though we had already paid in full via airbnb, i was just not comfortable enough to stay past the first night and felt the need to acquire other accommodations.
---
I recently stayed at Mulawarman for an entire month while completing a yoga teacher training and can honestly say it was a WONDERFUL home away from home experience! Wayan and her staff were warm, accommodating, generous and truly like family! They always greeted me with a smile and kind word...and often on my late night returns from class, offered to bring me fruit and/or ginger tea to my room. I was very fortunate to have had such a lovely, above and beyond experience in Ubud! My room proved to be a true sanctuary from the hustle and bustle of the city. Beautiful marble floors, antique furniture, a cozy bathroom with tub and an AMAZING view of the rice fields via my terrace. The lighting was perfect, with so much sunlight streaming in, but at night perfectly dark...with only the sounds of tranquility filtering in. The banana pancakes are a must try! I also took Wayan up on her offer for laundry service and was pleasantly surprised by how superbly clean and fresh they arrived all 3 times! A wonderful standard at a truly good price! Internet was a bit off and on, so this was probably the most challenging part of my stay. Most people wouldn't have a problem or need it at all, but since I was needing to email in course work, it was a little tricky. Overall, my stay was wonderful and I would highly recommend Mulawarman to anyone visiting Ubud! The location near the edge of town (away from all the traffic mid city) was most welcoming and relaxing, offering easy walks to the rice fields....and Wayan's hospitality truly make this a "must stay" location!
---
I LOVED my stay at Mulawarman. This room (#2) had an incredible view of palm trees & rice fields. Some days I would sit on the private balcony and watch the trees & birds for an hour or so and journal. It is so overwhelming beautiful that a few times I cried tears of joy! Photographs cannot capture the beauty of the view (I tried..) I stayed in the room for a month (!!) lucky me :) It felt like home right away. Wayan, the host, was more like a mother. She is warm-hearted, generous and loving. She makes the best pancakes for brekky & I learned to slow down & connect instead of rush off each day. We had some in-depth conversations and became very close, as did the other travelers staying there. I was there over Nyepi (Balinese new year which is a full day where you have to stay inside!). Wayan prepared us food the entire day and shared a lot of her culture with us. It was a very special day. The room looks the same as the pictures. A/C works great. You get a great view of the sunrising through the mosquito netting in the morning ;) Each day I was offered complimentary coffee, tea or water when I came back "home." Wayan also arranged for a driver to take me around including to Tampak Siring (the holy water temple which is a must see!). I hired a driver to take me to the airport (not through Mulawarman, someone I met in town) and Wayan joined me on my drive the the airport to send me off!! If you're looking for a beautiful place to stay that is a bit quieter (nestled away in nature) with a loving host, this is your place!! I will be back for sure :)
---
My name is Wayan Londri and I am Balinese , I am dedicated to my Temple, Husband, Children, and Community. I am Married and have two young adult boys that are in College. I love to cook , so while you stay with me you will probably enjoy some of my pandan pancakes or have me cook a special balinese dinner for you. I have had a passion for antiques for years and have my own antique shop too. You will also find many Antiques through out my Guest house.
Response rate:
100%
Response time:
within an hour
Explore other options in and around Ubud
More places to stay in Ubud: