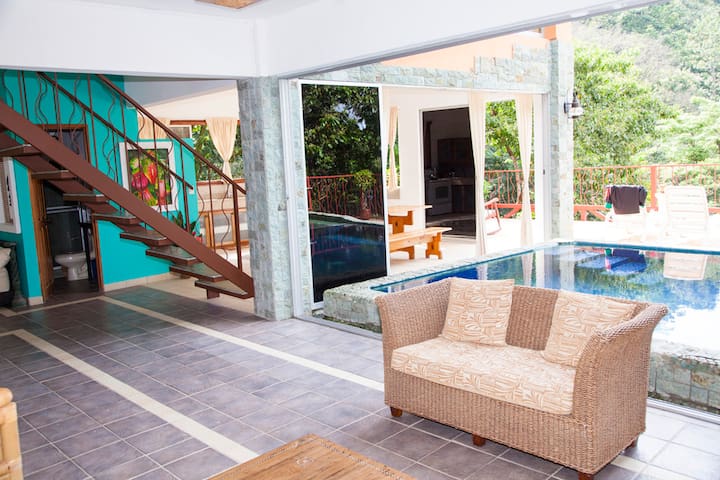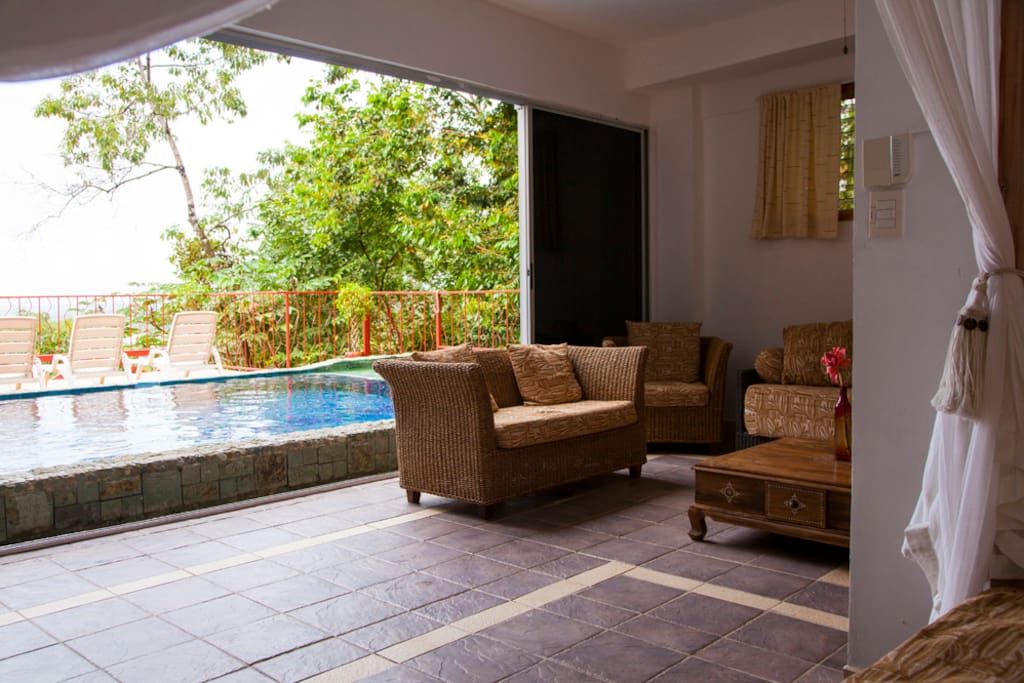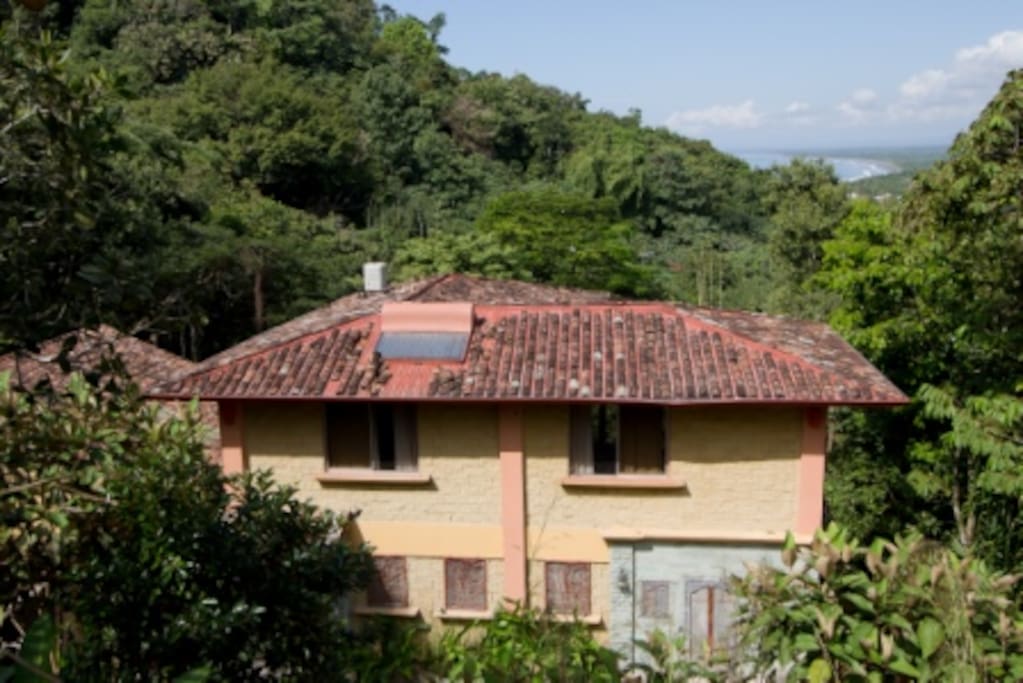 About this listing
Happy Jacana Villa is a stunning rainforest retreat this is part of the small and stunning Coravida resort. The property is situated at rainforest canopy level with breathtaking views of Quepos and the Pacific.
The Villa Accommodates 4 people in a very spacious and open environment that includes a large kitchen and outdoor dining area with simply stunning views. The property has a private pool & the grounds are visited by monkeys regularly. Gated community, maid service included.
The space
Panoramic views of the ocean and coastline from the two main master King bedrooms. A Jacuzzi spa tub with sumptuous views of the forest canopy and pacific ocean below. A wall of glass doors opens up completely in both the living room and the kitchen revealing the gorgeous pool framed in artistic stone detail. There's not many places you could stay in Manuel Antonio where you can jump from the living room and land in your private pool! Detailed stone & tile work around and through the house, make for a truly unique space.
The huge balcony has been expanded to make room for more outside activities like barbecuing or entertaining a large number of guests for a moonlight dinner. And when you go inside, you get that rare feeling that you're still outside with the fresh breezes blowing in through the two walls of open doors by the pool and the many open windows throughout the house. You'll also appreciate there's a slight temperature drop even when you're just a couple hundred feet higher up.
Nestled inside a well maintained gated community and home to the Rain Drop Spa, Manuel Antonio Estates sits on the main road to world famous Manuel Antonio national park and its beaches. A true sanctuary when you're home, yet very easy access to everything Quepos and Manuel Antonio has to offer! From zip lining tours, massages, surfing (yes!), fishing, golf, hiking, gym, horseback riding, sight seeing, snorkeling/diving, boating, jet skis, swimming, wildlife viewing, tennis, biking, yoga, shopping, white water rafting and more!
It seems you'll never run out of new foods to experience, from some of our favorite restaurants in Quepos (with healthy options too!) to the long row of restaurants and hotels in Manuel Antonio. Plus if you are taking advantage of our all-inclusive paradise service option which includes your very own gourmet chef and ONSITE massage therapist, you can take your daily experience of Manuel Antonio to a whole new level! And when the day is done you can retire to your castle, sip your favorite drink by the pool and watch the city light up from below.
Whether you just want to give your family or friends an experience of a lifetime or you're looking for an amazing place to stay before you continue on your journey through Costa Rica, you won't want to miss an opportunity to stay at Happy Jacana and if your budget allows, go for the FULL experience with chef and massage therapy, you'll be glad you did!
ABOUT THE LOCATION
Costa Rica is often referred to as the gem of central america, and Manuel Antonio, the gem of Costa Rica. The property is uniquely situated at the start of Manuel Antonio , just after Quepos, so you get the best of both worlds. 5 minutes from Quepos airport, a 15 min. drive to Dominical, 45 minutes away from world class waves in Hermosa and the buzz of Jaco Beach. Plus there's many places just a short drive away if you want to actively explore the are awhile you're here.
Excellent WIFI, work while you play, we've got you covered with fast wifi connection onsite.
Guest access
Access to the entire self contained villa with 2 x bedrooms, 2 x balconies & Private pool, AC is provided in the (There is no AC in the common areas)
Interaction with guests
Before, during and after your stay you will have contact with either me or our onsite concierge to assist or point you in the right direction for reservations, tours, bird watching or simply helping in finding the best beach or view.
Other things to note
We have a range of services on site including our beautifully presented vegan, vegetarian breakfast, lunch and dinner options.
The Coravida Resort Has the following services onsite.
Masseuse (All Techniques)
York Workshops
Body Healing
Meditation & Heart Healing clinics held by world renowned experts
---
Check In: Anytime after 4PM
Room type: Entire home/apt
---
---
Weekend Price: $618 / night
Always communicate through Airbnb
To protect your payment, never transfer money or communicate outside of the Airbnb website or app.
Learn more
---
Check in is anytime after 4PM
---
Strict
Cancel up to 7 days before your trip and get a 50% refund plus service fees back.
---
---
We were a group of 10 and the place easily fit all of us comfortably. It could have slept way more people. We had a residential sloth and monkeys great us almost everyday. The house was beautiful and the pool was amazing. I would highly recommend this place for any large group of people wanting a fun relaxing getaway.
---
We had a lovely time. The house is unique but served our needs. Kids loved the pool and the group of monkeys that came by around lunch each day were delightful. Just keep in mind that you are in Costa Rica and not some resort and you will enjoy it too. The property manager was excellent and addressed our few concerns immediately.
---
Our stay at the villa was very delightful! The location is within 15 minutes of the Manuel Antonio National Park and all the beaches in the area. Although we didn't work with James, we communicated through his wife, Ana for our needs. Ana was extremely helpful in coordinating events, times, and travel for the group. With 13 of us in the villa, this was not an easy task, but one that was done professionally. I cannot emphasize enough how helpful she was with rapid responses and assistance to our questions and needs. I would 100% rent from Ana again!
---
This house was amazing. We had a group of 16 and there was more than enough room for everyone. The manager was very flexible as we had odd times for check in and check out but she was more than accommodating. She was also very easy to get in touch with via email about questions we had and would reply within minutes. At one point the propane ran out for the stove. I emailed her and a new tank was installed in 30 minutes. The only thing I would have changed would have been a formal greeting and a run down of the place as we had minor questions later in our stay that could have been answered in a walk through prior to settling in (ex: supplies, sound system etc.) Also, on the map it is hard to discern where the house is in relation to the National Park and other beaches which I though could easily be addressed in the description. We ended up needing to take taxis to and from the park. When we expected to be able to walk in 10 minutes. This is not really anyone's fault but ours but a note of the distance would have been helpful in the house description. Overall our stay was great! I was very impressed with the service, cleanliness, and just the overall beauty of this house and crew. Would recommend this house to anyone! Especially those needing a place for large groups. Thank you again Villa Jacana!
Hi Olivia, We're so glad you guys had a great time and we thank you so much for the great feedback. That's a really good idea about adding the exact distance to the park, we normally do tell clients we're a 7 minute drive from Manuel Antonio but we'll be more clear on the directions/general information sheet for future guests and we have added better instructions to the welcome sheet regarding the use of the SONOS sound system as well. We hope you get to come back again in the near future. Ana
---
This house was the best part of our trip to Manuel Antonio. It's located in a secure neighborhood and is very convenient to Quepos and Manuel Antonio. There is a main house with two rooms above the pool, and several 1 bedroom units surrounding the house. The bedrooms are air conditioned and most have a balcony or great view. The property manager, Ana, is very responsive and made coordinating the trip easy. Only thing we would have changed, would have been to stay a few more days.
---
IF IT WAS NOT PRE PAID IN FULL WE WOULD HAVE BEEN GONE WITHIN 5 MINUTES! NASTY AS! NO A/C IN THE LIVING AREAS!!! SWEATY HOT BITTEN BY BED BUGS + MOSQUITOS! NO WAY TO CLOSE UP HOUSE IN A/C TO SPEND COMFORTABLE TIME AFTER DARK WITH THE LARGE GROUP/FAMILY! OR ANYTIME FOR THAT MATTER. HOT STICKY FILTHY BROKEN DOWN. CHEAP PLASTIC CHAIRS, CHEAP PLASTIC LOUNGES, CHEAP PLASTIC FOLDING DINING TABLES. SO SO FAR IN DISREPAIR + FILTHY POOL-- UNUSABLE cloudy the whole week "GROSS". Cloudy when we arrived, no pool man the whole week, so no pool. Manuel Antonio is 15 minutes each way. SO NO POOL ALL WEEK. KITCHEN-- FILTHY, BROKEN FRIDGE had to throw away a lot of chef prepared food, RANGE RAN OUT OF GAS MID MEAL + there was no replacement tank, flatware mismatched + of the lowest quality. mismatched scratched up pans. YEARS OF FILTH AROUND THE OVEN FEET + in every nook and cranny. nasty old items on top of the cabinets and fridge. FURNITURE interior BROKEN down, patio hot plastic w/ NO CUSHIONS w/ a PILE of broken chairs, lounges + surfboard piled in the corner of the deck. NO COMFORTABLE AIR CONDITIONED COMMONS AREA WITH FURNITURE ANYWHERE ON THE PROPERTY. FRONT DOOR-- frame broken + drags on tile opening and closing as does the main floor bathroom with the broken shower. SLIDING GLASS DOORS-- Large glass doors super dirty + hard as to slide open and closed, FRAMES BROKEN unable to close completely, secure or lock. Many of the floor safes are broken/ unusable. BATHROOMS DIRTY-- showers almost NO FLOW. Long term hard water neglect on all of the shower tile and glass. TUB-- no key to the jungle view window + windows dirty. Bedroom-- ceiling fan missing (pole/dangling wires) BED BUGS, CURTAINS- rods heat warped plastic tubing DIFFICULT. BROKEN-- FRIDGE, POOL, FRONT DOOR FRAME, door and latch to room 3, interior wicker furniture arms, many, kitchen floor tiles, many stair tiles, fans, doors, windows, curtain rods, plastic exterior furniture, large plate glass windows, many and missing broken roof tiles in view. BROKEN POOL TILES ALL THE WAY AROUND. DEAD-- Potted plants all around the property, broken plastic furniture piled in a plastic grave on the the deck( lounges, chairs, surfboards. INTERIOR LIGHTING-- broken with mismatched unfiltered fluorescent coil exposed or missing. KITCHEN-- has a side what not folding plastic table with 2 moldy/mildewy broken down baskets. IT IS SO SAD BECAUSE THE PICTURES MAKE IT LOOK GREAT AND IT IS SEVERAL HUNDRED THOUSAND AWAY FROM BEING WORTH THE RATE. We have stayed in many homes over the last couple years and 2 just 6 weeks before in Costa Rica and they were all clean and as described or better. OMG 2 WEEKS LATER AND WE ARE STILL DEALING W/ BUGS AND BUG BITES. UTTER DISREPAIR!
Well well well where do we begin. Firstly lets begin with the FACTS on our side: 1 - We always clean and walk through the unit prior to guest arrival 2 - Our last guests report everything was in good working order.. and our maintenance man confirmed this as well 3 - Costa Rica IS a jungle and does have mosquitoes. We are fortunate in our location that we significantly less than the country as a whole. But notice their exaggeration on this bit as its important in a moment. 4 - Beds are cleaned regularly and pristine when guest arrived, my guess is they are lumping their mosquito bites together and calling them bug bites. But beds are definitely CLEAN. 5 - Airbnb has a policy that if you aren't happy with a place, let them know UP front and you can get a credit. So if its true he wanted a refund, he could have asked up front when he checked in. Now here's where it gets important and makes everything he claims suspect.. A - He checked in and like always, we are in close communication with all our guests. He was not very responsive and claimed that he did not want anyone in the house.. we asked about cleaning etc. and again communication was not that consistent. B - He stayed the entire duration and waited until he got back home before requesting a full refund .. when Airbnb denied the refund he tried to get whatever he could. C - Then he wrote this over-the-top negative post that in contrast to the other positive feedback we've gotten either proves that: A - Our other guests have been blind to the wretched conditions of the house B - This guest is a competitor or C -raised in a sterile palace with gold toilets and has no business coming to Costa Rica. ~~ All of that said .. lets move onto points that they mentioned that do have some merit: 1 - All of the rooms have AC . The common area (downstairs kitchen, pool and living room) does NOT have AC on purpose. We have two walls of doors that open up and make the whole place breezy, especially if you open all the windows. We encourage all of our guests to make use of the wall of doors and windows for a nice cross breeze and a feeling like you are immersed in nature! Its beautiful! And at night when I live in the house I leave the doors open and the bugs are very very minimal honestly. If you want to seclude yourself inside with an AC you should stay in a nice hotel in your city. 2 - Plastic chairs - yes we do use plastic chairs and we do have an extra dining table that is to be used when you have large groups as an EXTENSION if you want to eat outside with it. At this point I think his rant was already in full motion so he didn't really stop and think about the utility of this. 3 - The wall of glass doors can be challenging to PULL shut, but if you push them shut from the back they close easier. We will add a sign to the doors to make this more clear. 4 - Water pressure - Because the house sits on the hill.. at peak usage time (middle of the day) pressure can slow down but we have a water pump under the house that compensates for loss of pressure, but if multiple people are using the water (taking showers in more than one bathroom at a time) yes it can be lower pressure. 5 - We just had the pool retiled and grouted and because of how they are done if people stand on the edge of the tiles they can break off. We will have them looked at and fixed. This goes for all tiles. 6 - Potted plants or rubbish again we'll look at this and fix, its a quick fix. This is quite exaggerated. We will consider any feedback that we can improve on as constructive feedback and work on it asap. Wish he would have simply shared it with us when he was at the house and we could have done something ASAP. Most everything he mentioned is a QUICK fix and we are very responsive. There was definitely some miscommunication here and then how things played out afterwards make us a bit suspicious of the real intent here. Bottom line -- look at our other reviews, we have happy customers. We offer a satisfaction guarantee if you aren't happy when you arrive and we aren't able to resolve it in a timely manner we'll refund you back. We pride ourselves on our 5 star feedback.. and many people have told us for a 7 bedroom house in Manuel Antonio that's just a quick 7 min ride to the MA beach, the Happy Jacana is one of the best values for the money.
---
The Happy Jacana was a nice place for our group to settle in for the week. When we arrived, there were a few things that were not functioning properly. The house manager made sure that these things were promptly addressed. The house itself was spacious and welcoming. The pool was nice and cool. Would recommend for large groups. We were able to sleep 15 people comfortably without any issues.
Hi Amber, We're so glad you enjoyed your stay. Regarding the ACs we certainly never meant to mislead anyone - which is why all our pics of the living room/kitchen area are all shown with all the doors and windows open. Even so, we've added to our detailed description that the ACs are in the 7 bedrooms. We appreciate your feedback as we always strive to improve and make sure our clients have nothing short of a perfect stay! Ana
---
San Diego, California, United States

·

Joined in March 2012
Living in Costa Rica helping people create effective systems to free themselves and live a life in alignment with their purpose.
Response rate:
100%
Response time:
within an hour
Exact location information is provided after a booking is confirmed.
Explore other options in and around Manuel Antonio
More places to stay in Manuel Antonio: