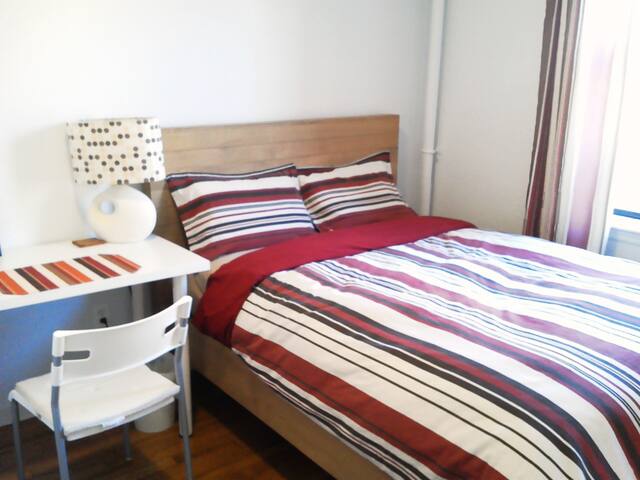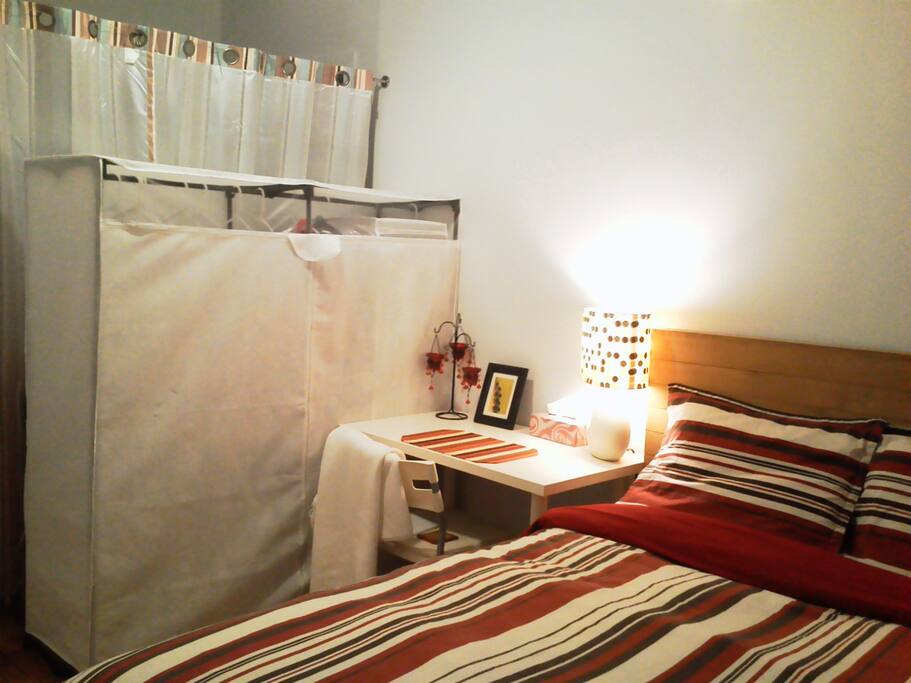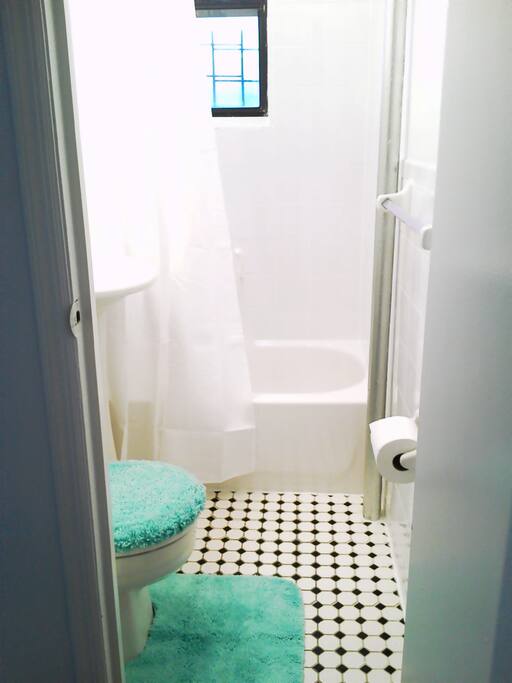 Lady only Curtain-divided room
This ex-living room is a CURTAIN-divided space (check all PHOTOS).
Only FEMALE guest.
Renewed Airbnb system might lead you to jump into "Booking Request". However, please don't. Before you inquire, please 1) READ my pages & CHECK HOUSE RULES thoroughly, 2) INTRODUCE yourself enough in English with answers to my questions that I asked there, 3) VERIFY +3-4 IDs &photos 4) CHECK your commute ( work/school) by yourself (Apt, 7min walk from 46th St-bliss St sta.), then 5) find "CONTACT HOST" button.
---
---
Always communicate through Airbnb
To protect your payment, never transfer money or communicate outside of the Airbnb website or app.
Learn more
---
House Rules
Dear my potential guests, This is the most important part.
Please read all house rules and make sure if they work for you or not, before you send your first inquiry to me, because it will save your time in the end.
I would like to clarify my expectation, which are just common sense things for me and my previous guests.
And then in your first inquiry, please let me know if you have read all and can follow these rules as a responsible guest or not. Please understand that if you are disrespectful for rules, you will be kicked out.
You might be surprised at many rules. I hope my potential guests find these things are normal for her.
On the other hand, because of these house rules, my guests are only nice, well mannered, responsible, and considerable ladies/girls. You can share this apartment with these nice people. Is it really great, isn't it?
As many of my 5-star reviews say, these rules really helps happy sharing for all.
It looks very long to see from a smart-phone. Please access my pages from your laptop. Sorry. Since it is very important, I cannot make it too compact because your appropriate expectation is important for your happy stay.
If you feel they are too many, please follow your instinct and find another host. It would be better for both of us.
********************************************
Highlights
-Must come back to apt before 12:00am
-Keep clean and organized after you use kitchen and bathroom
-Take off your shoes at the entrance
-Be considerable for noise, No party, No loud music
-No shower after 12:00am
-No visitor/ No extra guest is allowed
-Not allowed to use my address
-Bring a laptop/smart-phone/tablet
-Be responsible for cancel policy
-No smoking, No drug and No candle
Sounds reasonable? Here are details.
# This place is only for a female guest.
# I hope guests to be...
CLEAN(seriously), neat and tidy, considerable for others' quietness, friendly to others, Non-smoker and responsible for following house rules and be able to communicate in English.
# CHECK COMMUTE BY YOURSELF
Please check location and commute by yourself in the internet. When you type "Sunnyside, New York", in a map, my nearest station (46th st-Bliss st station) will be the starting point.(+7min walk to my apt).
Feeling close or far is totally subjective, depending on you. I can't answer it.
# COME BACK TO an APT BEFORE 12:00
This is the most important house rule.
Please do not try to negotiate after you book. Whatever your age is, I do ask my guests to come back to my apt before midnight (for safety and noise etc.) I don't want you to bring any concern/trouble at all to my apartment. If you bring it, it will bother other guest's stay and my life too.
Especially weekday, other guests might need to go to work or school.
Subway might change schedule in the midnight, and finding a cab might take time more than you think. Please plan ahead when you go out and have to come back late at night.
Thank you for your understanding!
If you are a person who would like to come back "often" after midnight ("often" more than two times per month, never later than 1am. Not taking cab is out of question.), I seriously ask that person will find another place soon. Especially long term guests, please promise to keep this rules until end of your stay.
( "Since this is my last week" cannot be an excuse for coming back midnight every day. What about book another place for your last week, if you would like to go crazy?)
# "CLEAN" means:
- Please never put your bags or coat on your bed.
- Please do not keep your foods (even they are not opened) in your room. They will attract roaches.
- Please never eat foods or drink anything on the bed.
- Please take off your shoes at the entrance and wear slippers
- Please do not walk around with bare foot, which will make bedding get very dirty
- Please do not keep your shoes in your room, please put all shoes at the shoe rack at the entrance.
- Please pick up your hair after shower.
- Please wipe counter and stove top with a kitchen cloth and make sure it is clean as it was.
- Please vacuum the floor in your room at least once per two weeks.
- Please do not use strong perfume in my apt, never spray it in a bathroom, hopefully not in a red room which doesn't have a wall to hallway. I don't like it at all.
# NOTE: NO SHOES INSIDE OF THIS APT
You might not be used to, however, at the entrance, please take off your shoes.
- Please wear slipper all time.
You can use my extra washable rubber slippers for guests which were washed every after check out. Otherwise, bring your own slippers.
(You cannot use shoes for outside. please avoid slippers with hard sole, which causes noise.)
- Please do not walk around with bare foot or socks. Comforter and sheets will get very dirty.
# FOR QUIETNESS:
- Please do not take a shower in a midnight, after 12:00 am.
- Please do not cook after midnight.
- Please close a door of your room, entrance and bathroom quietly. (Red room doesn't have wall)
- Please be considerable for noise (when you enjoy movie, music or phone calling).
- Please do not make phone calling/(SENSITIVE CONTENTS HIDDEN) in the midnight (after 1am(in the green/blue room, after 12:00 in the red room, which is in front of my room.) except for an urgent case.
- Please use earphone mic always, please do not use speaker when you do (SENSITIVE CONTENTS HIDDEN) call anytime in the red room, since it is quite noisy.
# FOR PRIVACY
- Unfortunately you cannot bring any visitor/ friend/ family inside of building.
(Viewing by family/family is NOT accepted. This is not a public space, but my own private place.)
- Please do not use my address ( not for a social security card, resume, bank or visa etc.).
(Exception: For an international guest, you can use it only once when you fill the form on the airplane.)
- For receiving packages, the UPS store in Sunnyside, in front of the station is convenient. They will receive you package just at $3. No need to register. No worry about missing delivery and no need to open our door to unknown person. (I explained at a section of "Location". I will explain details after you arrive.)
# FOR SAFETY:
- No candle and other flammable things will be allowed in your room.
- Please be responsible for your belongings.
- Please remain in the kitchen while you are cooking, even though it takes time or hours. Please bring laptop or smart-phone there if necessary.
- Please make sure that you turn off hair iron, air conditioner or a heater without fail before you go out (even just for 20 min walk) for safety and energy saving. (Only for a radiator in your room, you do not need to close a knob.)
- When you damage something in my apt, please let me know it as soon as possible.
# NON SMOKER IS PREFERRED
For smoking, I don't want to say NO, NO again and again, so I really prefer non-smoker as a guest. Smoking in this building is strictly prohibited. I definitely request that my guest will not smoke even in front of the building (outstanding among neighbors) and not smoke on the rooftop (It is prohibited to access.)
# BE ON TIME ON YOUR CHECK OUT DAY (9-10AM)
Check out time is at 10am or before. Please get ready on time.
Whenever your flight is, basically I cannot allow you to leave your luggage, without an optional fee. Please do not try to ask it in a last minutes. It might be OK only when you paid late checkout fee in advance and my schedule is okay.
(Late check out option costs$20, if available. You will see details in House Manual section of reservation page)
# BRING YOUR LAPTOP, SMART-PHONE or TABLET
- Please bring your laptop (smart-phone or iPad) with you, regardless length of your stay.
- Please research by yourself in the internet at first. There were a few guests who did not bring their own laptop and asked me to research many things. It was their choice but irresponsibly they complains for these inconvenience, caused directly or indirectly by bringing no laptop.
I do not accept the person who do not bring laptop (smart-phone), as a guest.
# BE RESPONSIBLE FOR YOUR RESERVATION
Please be responsible for following cancel policy.
Even though you do not use a room one night or week for a reason or by an accident, once you blocks my reservation calendar, you have to take responsibility for rent of your reservation. Your excuse would not be accepted by my landlord.
# PLEASE TELL ME ABOUT YOUR CHOICES
for special check in and regular cleaning (details are below), when you send your first inquiry.
--
Thank you for taking time of yours to read my house rules and thank you for your understanding!
I hope they are normal things for you.
I am looking forward to meeting you.
******************
Other Things to Note
NOTE for optional fee:
In addition to total rent, there are two types of optional fee.
For a precise quotation, I would like to know your preference about it, when you send your first inquiry, could you please tell me about followings. Do you need or not?
1. Regular cleaning fee
2. Special check in /check out fee (early check in or later check out)
#1. Regular cleaning fee ($20/ two weeks)
I do cleaning of guests' rooms, such as vacuuming floor, wash bedding, and making beds as well as cleaning common areas. However it is optional, up to each guest.
You can avoid this fee, if you can promise me to vacuum your room by yourself and wash your bedding at least one time per two weeks, that cleaning fee is waived because your cooperation saves my time and effort too.
(Especially for the first time, even if it is not exact 14th day from your check in, please do it on the second weekend. If you have a plan in the weekend, please do it before that weekend.)
For vacuuming, ideally it would be better to be done every week, since you will eat meals at your room.
* Check out cleaning fee $35 is different from this regular cleaning.
Ex) 5 weeks stay >> two times regular cleaning($20*2=40) and one time check out cleaning($35)
If she can do the regular cleaning by herself, $40 is waived. It costs only ($35).
Will you do it by yourself or prefer me to do it? Please tell me.
#2. Special check in /check out fee ($20 for each)
These are options for a person who prefers to do check in before 6pm or check out after 10am due to her flight schedule. To save your money, you can kill time at café or airport, too. It will depend on my schedule.
Check in time
Morning: $40 (Super early check in)
*Please book from the previous night, since I cannot accept a guest from a previous night.)
2pm- 6pm : $20 (Special early check in)
6pm-10pm : none (Regular check in)
10pm-12pm : $20 (Special midnight check in)
* You will arrive here after 10pm, with arrival at JFK airport after 8pm due to custom and waiting line for taxi. We have to consider flight delay too.
Check out time
6am- 8am : $20 (Special early check out)
8am-10am : none (Regular check out)
After 10am : $20 (Special late check in, including a case of leaving only luggage after 10am.)
*It depends on my schedule and the next reservation. You might be able to stay a bit later, like 2pm.
After 4 pm : $40 (Super late check out. Please book until that night, since I cannot accept a guest from this night.)
Since I have three guests at one time, I need cooperation of my guests.
I am not a housewife who stay at 24hours at home.
For check in, I might need to come back early from Manhattan.
For check out, I might need to rush into a laundry for another guest who arrive on a same day of your check out.
I would like to accept this special options for check in/out from only a guest who needs even though she pays extra fee for it.
On the other hand, please be noted that I might not be able to accept these special options if my schedule doesn't work or if it is too last minutes. (At least 2 days in advance, not previous day of your check out.)
Even you prefer to check in regular time like 6pm, please be noted there is a possibility that I might need to ask you to check in a bit later due to my schedule. (We can use starbucks in Sunnyside as our waiting lounge. I might be able to pick you up on the way from Manhattan to help you carry your luggage.)
Especially for a late check out, please pay it as soon as you figure out that you need to check out late.
If it is really last minute request, it won't accept it. (It should be asked at least 2 days in advance not previous day check out.)
Alternative choice:
To save your money, you can use my nearest Starbucks, you can spend time there with free wifi and air conditioner until your check in time/leaving time for airport.
It is just in front of the nearest station and 7 min walk from station.
---
---
---
---
I stayed at Lucy's place for 2.5 months. Lucy is a host that will often check on you to see what you might need or how you might be doing. She had a lot of experience with having guest that she knows what to do. Supplies were provided to me at all times. However, the place does have extra rules apart from the ones listed such as shower times. While this makes things more organized there are times I had trouble showering because I had to be rushing. I felt that Lucy was not always constant with the guest rules with everyone. I often received text about little things I had missed about the rules but I did not feel that the rules applied to everyone the same. Staying at Lucy's place often made me not feel at home and miss my family much more. If you are having people over be aware that you cannot do that. Even if your parents come to visit they are not allowed inside. This became a problem because I felt that for the price I paid I could of gotten something else. There are other places that are cheaper and have more freedom so feel free to look around before making your final decisions. While Lucy was always available for anything she also has way too many rules that make the stay a little hard to deal with.
Thank you for your feedback. I wish she would tell me how she felt during her stay without pretending everything is fine, when I asked several times. I wish she could keep responsible for her commitment as she said " I understand your house rules" in her inquiry. Overall, her low satisfaction comes from wrong expectation and misunderstanding of house rules and lack of understanding the difference between airbnb and local apartment sharing market. It was disappointing that she could not understand them well and blame for the host without appreciating the convenience airbnb system provides. However, I also appreciate this. I would like my potential guests to make her misunderstanding as a good resource to make sure whether expectation is appropriate. Dear my potential guest,below are message for you. If you can not keep being responsible for what you committed, please find another listing. 1)If there is any inconvenience, it is smarter to speak up constructively with a host immediately, instead of pretending "everything is fine" and later stabbing from the back. Complaining here doesn't improve your stay. (ex. She said "fine" when always asked. Bathroom schedule is not a rule but just a tool for guest's convenience since several of my previous guests were not familiar with sharing bathroom.) 2)Stay responsible and accept the consequence of your choice, not blaming for others. All important rules are clearly written, such as "no visitor is allowed". ( If I were a guest who stays in a curtain divided room which doesn't have a door with keys, I would feel uncomfortable when another guest can bring unknown visitors like her boyfriend anytime. This is for safety, privacy and silence. It might be inconvenient for a person who wants to save money for a hotel for a friend's visit. If so, please don't the same mistake like her. Just plan ahead and wisely. Please find another host who can accept additional visitors.) 3) Be open to receive feedback. If 5 times is "often" for a potential guest, I think I can not accept a person who cannot receive a feedback/encouragement constructively. (I asked her cooperation just 5 times via text during 70night stay because she forgot to turn off A/C constantly and her loud phone call after midnight was disturbing.) If the person is not forgetful, it is helpful for me too. 4) Know what you want/need/afford well. Know the price difference between international Airbnb market for short term travelers and the apartment sharing market for local people who can commit more than 6months or more. It is not a smart that judging a value of rent just because of size without considering other aspects of Airbnb system provides. In that local market, even your stay for 2.5 months, you will be asked to pay for three months and one-month-rent as a deposit. Poor young students, you should book a place only for a week and find a place by viewing local advertisement on your feet after you arrive in NYC, so that you might find a good deal although usually a person who cannot commit long term is not welcomed by the lease holders. 5) Each guest is different. I treat them differently according their types. If you always avoid interaction with hosts and other guests and seldom join conversations or rarely come to kitchen or the area where you have a chance to chat with others, it is not smart to complain of your isolation. This is not a kinder garden.
---
My stay was for 3 months in the red room. I lived with Lucy and two other guests who were friendly and fun to be around. Lucy's apartment offered everything I could have needed from kitchen appliances and spices to hair products to extra comforters, you name it! Lucy is brilliant, organized, and thoughtful - she goes out of her way to make sure you are comfortable. She's also an incredible resource for places to see, restaurants to try, and things to do in the city and in the immediate area! Location is great too - only a short walk to the subway and situated in a quiet neighborhood. I really enjoyed my time here.
---
The list description is very accurate: very comfy private room for single lady who does not party much. And you get bnb mates with similar personality. There are many restaurants, grocery stores and pharmacies close by. Lucy is very meticulous with house maintenance and tries her best to heed requests from her guests. It will be a bless if you cook since Lucy shares so many different kinds of spices and also provides the most complete set of cooking tools and silver wares that I have ever seen. However, be aware that despite all great amenities, it's queens so do not have too much expectation of the neighborhood tho fair for the price.
---
I stayed at Lucy's place for a month. It was a comfortable stay in the Red room. Lucy cooks very well and taught me too. The house rules were a lot to keep up with for a forgetful person like me so if you are irresponsible and forgetful, I suggest you do not choose to stay at Lucy's place because it annoys her and might end up being rude if you keep repeating the same mistakes (which i did). But if you are what Lucy's "ideal guest" requirements demand, then please do go ahead and book a stay at her place because its worthwhile. Also, the apt is on the fourth floor without any lift. However, this is the only con about her building when weighed with other pros. She is also a very caring person and will make sure that you are comfortable all the time. It was a great experience.
---
This room and Lucy was great. I felt the room was a little bigger than the picture. It took only 5 minutes to the nearest station by walking, so it was not hard for me to commute to Manhattan everyday. I stayed 1 and half month. I enjoyed the conversations with Lucy and other people who stayed in the other rooms. The place was very convenience to live because there are many shop like a supermarket and a pharmacy, some vegetable stores near the house. I recommend this room to all of you who are thinking of long stay in NY.
---
If you are looking a safe, fully equipped and convenient place like home for a long visit in NYC, this is it! Lucy is an amazing host and a friend definitely worth to meet. She is so caring and always open to help you. I spend almost 3 months in the RED room. It's in the living room and divided from the aisle by curtains, no need to worry, you can still enjoy enough space, privacy and quietness. Lucy even provided me blankets and an extra small heater for those chilly nights. Everything in her place is organized and well prepared for guests' needs. (You even can use a rice cooker in the kitchen.) Surroundings are safe. You can easily reach grocery stores, laundry(1 min) and station (around 7 mins for me). House rules are easy to follow, as long as you have self-discipline. It makes the house clean and very comfortable to live in. It also makes sure all the roommates are respectful toward each other. My experience was wonderful in Lucy's place. Highly recommend! You probably can't find anyother better deal with such a great host & space. :)
---
I was very satisfied with my stay! Lucy was patient, considerate, and kind; and prepared- she had everything that a guest might need already prepared far in advance. I highly recommend her if you are looking to stay in Woodside, Queens.
---
Hi, Thank you for your interest in my place.

I am a middle-aged female Asian.
I am Non-smoker.
I like neat &tidy and responsible people.
I have been an Airbnb host more than six years and welcomed more than 100 female guests here.

Please be noted, to abide NYC law, I have been accepting only mid or long term person who can stay for more than 30days. Sorry for very short term travelers.:)

I have 3 bed rooms for you, two of them are private key-entry rooms, and the other one is a private ex-living room which is divided by curtain and walls, but more spacious than other rooms and it has a better bed.

I live here too.

"Green room" (Female Friendly,Clean15min2Mnhttn!)
http://www.airbnb.com/rooms/152520

"Blue room" (Just Rnvt'd,Sunny,Pvt Rm15min2Mhttn)
http://www.airbnb.com/rooms/161366

"Red room" (CLEAN,NicePrivateLvg15min2Manhattan)
http://www.airbnb.com/rooms/165824

When one of my rooms which you are interested in seems not available to your schedule, please check calendars of my other listings too. Another room in same apartment might be available.

The thing that I like about NY is that I can meet people from all over the world everyday.


My place is located in Sunnyside/Woodside area in Queens.

46th St-Bliss St station of subway #7 line is the nearest station.
It is just 15minites from Grand Central station of Manhattan to the nearest station, and 20 minutes from Times square. I feel here is very convenient location.


Please read my pages thoroughly in advance.

You will see my character in description of rooms and house rules.
When you have any question, please feel free to ask me.
Basically I keep calendar of each room updated.

The building was build long time ago but currently my place has been renovated in 2011. It is new, clean, quiet and cozy.

Have a nice travel in NY!


P.S. I am sorry , i do not have a account, because i am too busy and lazy to do these SNS things. I don' t know the reason why we need to report everyday life or tiny events of each second and every meal:).

Languages:
English
Response rate:
100%
Response time:
within an hour
Explore other options in and around Woodside
More places to stay in Woodside: