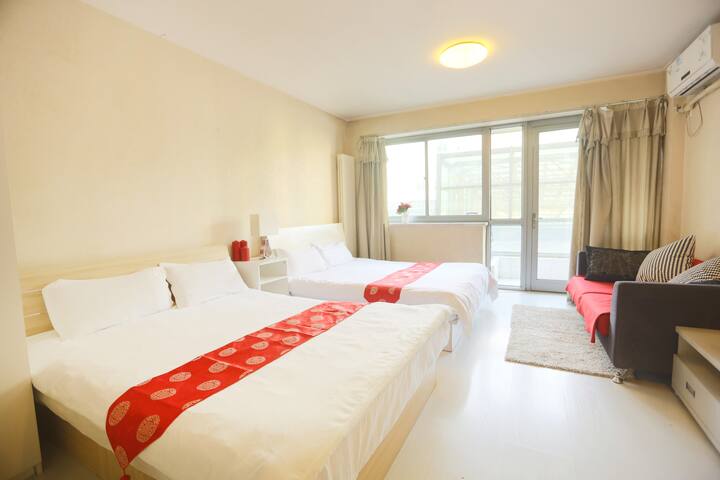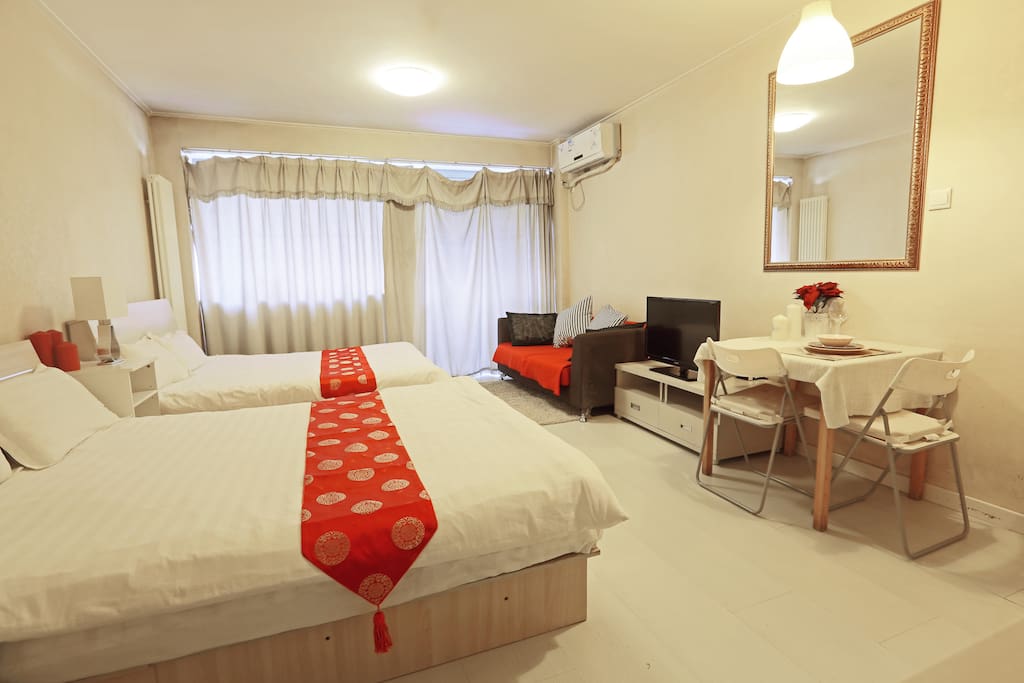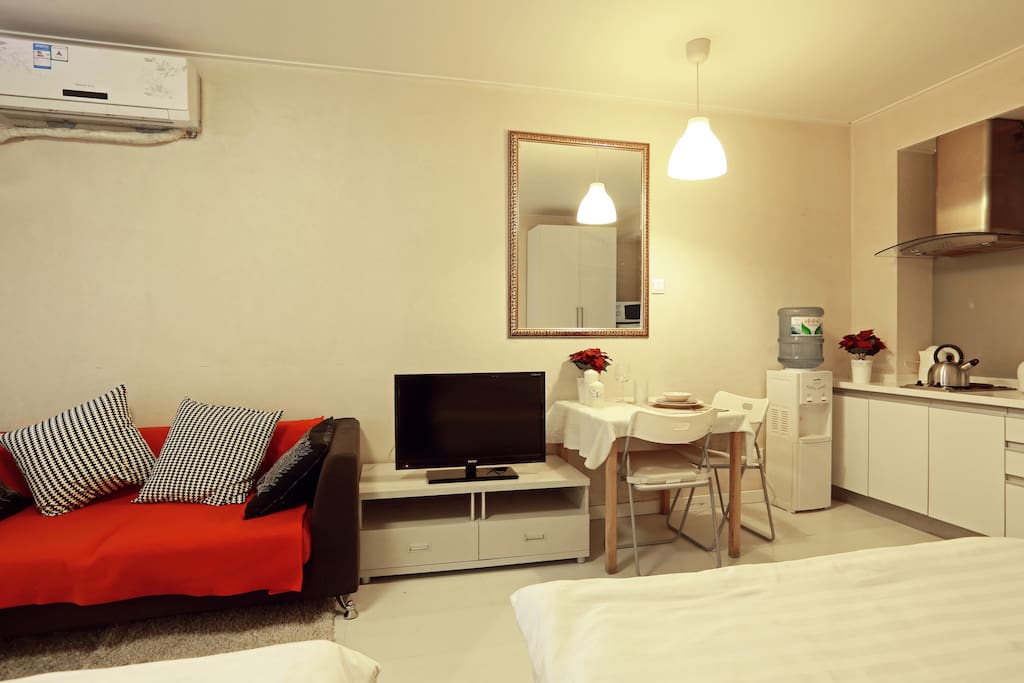 nice studio near subway, sleep 4
The space
Extended stay self-catering studio apartments in central Beijing for daily / short term term lease as vacation rental for back packers tour, business or budget traveling, cheaper than renting discount hotel rooms and more convenient than subletting youth hostels in Beijing. Studio room with kitchenette, refrigerator, washing machine, dryer, electric cooker, sheets and linen, private bath room with 24-hour hot water, wireless internet access, Microwave,24-hr security, air-conditioning, English speaking landlord.
perfect location: No. 40 of Dongzhongjie Street, South of the Oriental Kenzo Plaza. 5 minutes walking to Dongzhimen subway station, 20 minutes to Embassy area and sanlitun bar street. Dongzhimen and dongsishitiao subway station within 5 minutes walking distance and numerous of bus stations.
Convenient for living: within 5-minute walking, there are many supermarkets such subway, starburks, coffee shops, Chinese and western restaurants such as Pizza Hut, snake bar, banks and shopping malls.
Professional Service: English speaking landlord, professional, honest and very friendly. Beside the accommodation, I also offer airport pick-up and tour service. I already get good comments from all over the world. My service will make your stay easy and comfortable like home.

Other things to note
Important tips
I have 6 apartments in one building, they are exactly the same with layout, size and facilities, slightly difference with furniture.
---
Robert was great and extremely helpful. He was very nice and communicated well. He also helped store our bags for us when we wanted a late checkout. The place wasn't as nice as what the picture showed, but we appreciated the drinking water, washer/dryer, safe quarters, and also there were a lot of outlets which was great. I would definitely stay at this place again if I come to Beijing again!
---
The best thing going for this studio flat - as advertised and commented by many - is the location. It is right near two subway stops (10 min walk), easy access to the old historic part (inside 2nd ring), as well as near the trendy east sanlitun area (places to go out, western or fancy food), plus right near the airport expressway train (15 min walk). The building and studio itself are nothing to write home about. They are reasonable enough, but the building a bit run down and the flat somewhat close to the picture, although a bit worn. Think of it as a 3 star Chinese hotel and your expectations will be in line. Price is also good value. Robert is a good guy - quiet and not super outgoing, but responsive. We had a mix-up on the driver picking us up from the airport (driver did not show), so Robert picked up our cab fare. Luckily I speak Mandarin, as arriving 11:30 at night with 3 kids may be daunting for many expats. We also had a bad shower head, which he replaced in 1 day; and we needed more folding chairs, which he got to right away. The only issue was the flat was not clean when we first arrived. The maids did a minimal job on the exposed areas, but the closets and drawers were very dirty. Again, Robert offered to re-send the maids with us overseeing them, but my wife and I just preferred to roll up our sleeves and do it ourselves, as we have seen enough Chinese maids to know this isn't Japan or Spain levels of cleanliness. We also stayed a month (kids went to a camp, I did a work project), and the fact everyone was happy and no one got sick, well I leave very happy. We also had 2/4 weeks with blue sky in Beijing, so that also colored my experience in a positive way.
---
Robert was a very helpful host. He also offered to drive us to see the Great Wall and gave us very reasonable rates (a lot cheaper than any tour company we spoke with) and took the time to drive us all the way out to the less crowded section farther from Beijing (2.5 hrs). The apartment we stayed at was a bit difficult to find--for future renters of that unit: be advised that you have to go through the lobby to the outside/back of the building and make an immediate left where you will see a security desk. The neighborhood is fine and you'll be near some local shops. There is a bank and ATM across the street to exchange money and a casual restaurant at the lobby of the apartment complex.
---
Mr. Sun is very nice and responsive to our arrival and needs in the room. We stayed for 5 nights, the washer and dryer are really great for the hot sticky Beijing weather. The area is okay, convenient to subway and taxi and few local restaurants for breakfast, lunch and dinner. The fruit store at the back street of the bldg. is good, since we love all kinds of fruits. The hallway going into the room is dark and unpleasant, but once you are inside the room, its OK, (not as nice as the picture). Its clean enough, equipped with cup and dished and some utensils. There is little leak from toilet, we notify Mr. Sun and he tried fixing it immediately, the leak is still there, but not enough to bother us. Overall, we had a good stay.
---
We are a couple from Sweden who during our travels prefer to live in an apartment and travel by public transpoty. For this purpose, was Robert´s apartment absolutely perfect! We rented one of the apartments, about 50 sqm, with two large beds. We felt very safe in the area and in the house. The view from the apartment is nothing special, but it does not matter because it meant that it was so increadibly quiet. The apartment was adequately equipped so that we could make our own breakfast. We also estimated the availability of washer and dryer. After two nights we asked if we could get two reading-lamps and as the kind and service-minded man Robert is, he arranged it immediately. Robert is a wonderful landlord, and it seemed like a great comfort. We knew that if we encounter a problem, he would do everything to help us. We ate often at the restaurant on the ground floor. It was nice staff, good food, menus with pictures, cheap and close to home! We recommend the dessert with sesame paste, yummy! We have some tips for your trip to Beijing; Take with you a phrasebook, it is an invaluable help when almost no one speaks english, a guidebook in which all names and adresses are also in Chinese. Then you can always stop someone and show the Chinese text. Bring a compass. This makes it tremendously more easier to navigate. Leave the camera and purse at home if you will look at Mao, otherwise you will not be admitted. Visit the Tempel of Heavens park early in the morning and look at everything that happens. Walk in the hutongs, say Nihao! and try to make contact. Robert was easy to communicate with and very concerned about his guests. If you know you have problems with your backs, tell Robert, and he will arranges thicker mattresses. If you do not want to travel independently, you can hire Robert as a guide. We know that Robert is a very good driver, as he picked us up at the airport. We think it was absolutely perfect for us to hire Robert´s apartment and will definitely rent it again when we return to Beijing!
---
Pros: Clean and decent sized room for four adults. Great location for walking and subway access. Plenty of restaurants, banks, shopping, and convenience stores within walking distance. Tv with plenty of channels and free wi-fi. A/C, washer, and dryer is a nice bonus. Robert is a good host who is friendly, responsive, and offers reasonably priced tours. Cons: Shower could use a door or curtain. Would have been nice if the refrigerator worked. Beds are super firm, which I enjoyed but others did not. Summary: A good place to stay if you want to live outside of the touristy areas to experience how locals really live, yet still be close enough to visit all of the attractions in Beijing.
---
Hi I'm robert, a real Beijinger and would like to meet people from other part of the world.
Response rate:
100%
Response time:
within an hour
Explore other options in and around Beijing
More places to stay in Beijing: