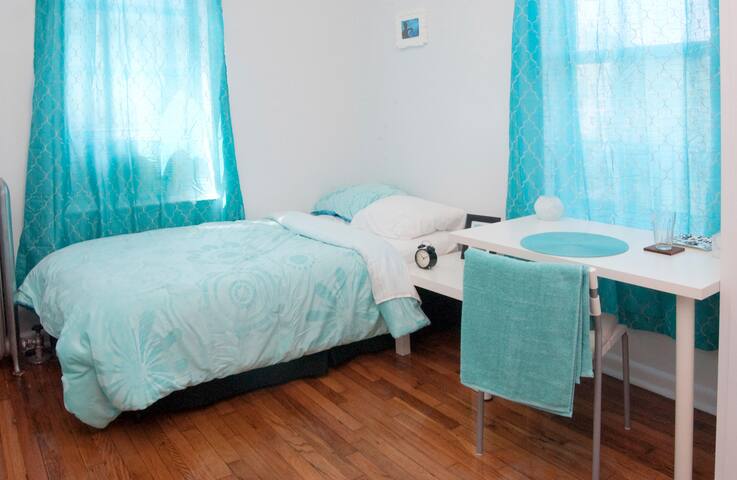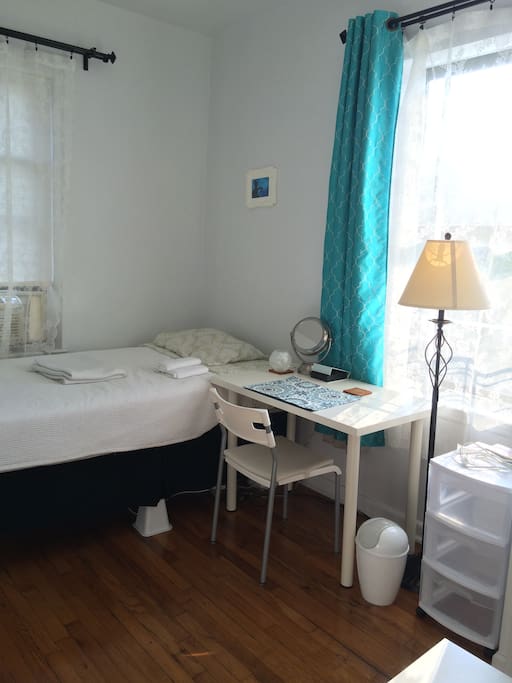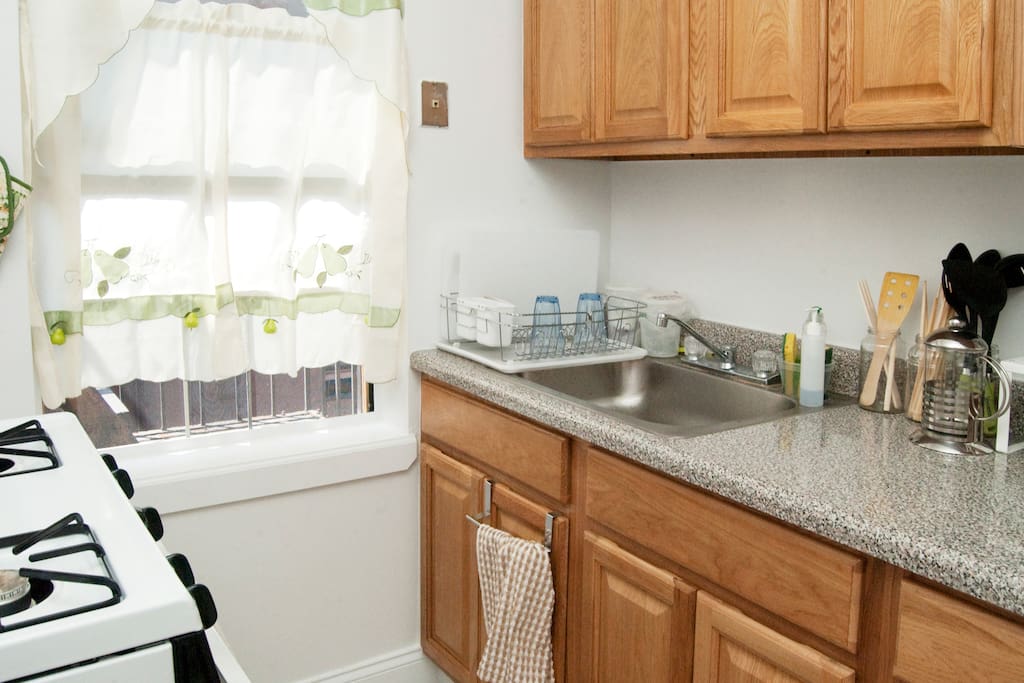 Renewed Airbnb website might lead you to jump into "Booking Request". However, please never jump. Please 1) read my pages & house rules thoroughly at first,2) introduce yourself a lot in English (+3verification&photos) 3) find "CONTACT HOST" button.
The space
The Space
This is a sunny, renovated, private room with a key in Sunnyside.
(I have 3 bed rooms for airbnb. Please check them from my profile page, another room might fit better for your schedule or budget.)
+++ BEFORE YOU CONTACT ME FOR AN INQUIRY, PLEASE COMPLETE 3 THINGS. +++
Please finish
A) Three ID verification
B) Writing your self-introduction on your profile page & upload your photos
C) Reading all house rules and description about a room and a neighborhood thoroughly.
Details:
+++ A) PLEASE COMPLETE THREE VERIFICATION AT FIRST
I would like to ask you to complete your verification, at least three verification, including offline ID, before you contact me. As a host, I need to accept an unknown person, without meeting, who often has no review.
+++ B) PLEASE INTRODUCE YOURSELF AT YOUR PROFILE PAGE AND IN THE FIRST INQUIRY
Could please use your imagination what information a host wants to know for her potential guest? I prefer considerable people.
So that hosts can see if she is trustworthy, responsible, clean, considerable or not.
+++ C) PLEASE READ MY HOUSE RULES & OTHER PAGES THOROUGHLY +++
CANCEL POLICY: strict
Regular time to Check in (6pm-9pm)/ Check out (9am-10am)
++++++++++++++++++++++++++++++++++++

+++ THIS PLACE IS FEMALE ONLY. NO EXCEPTION. +++
GUYS, thank you for your interest, but absolutely NO exception. Sorry.
Ladies, if you try to negotiate about a permission of your boyfriend's visit and stay at this apartment during your stay, it will be a deal breaker. It will make me disappointed and waste of time since I write it is not acceptable in my house rules. My guests prefer this female-only environment. He should reserve another airbnb place for that week for you and him.
**************************
LADIES, thank you for your interest!
WHEN YOU SEND YOUR FIRST INQUIRY,
PLEASE ANSWER THESE 5 THINGS.
Q0:
Did you complete your profile page at first at least five to ten sentences? Please upload your photo.
Q1:
Please INTRODUCE YOURSELF very well
First impression is important. The more you provide, the faster you will be accepted.
(Saying just name, country, your plan, age, needs, school name doesn't help me understand WHO YOU ARE, please describe about yourself in your profile page and inquiry so that I can see if you, other guests and I can share a same apt comfortably together.)
Ex)
-Smoker or non-smoker?
-Light sleeper or sound sleeper?
-Has lived with other people (not a family) before or not?
-Good at keeping your room and kitchen clean and organized or messy?
-Outgoing or spending time at home, chatty or quiet?
-What is your internship/working schedule? Has night shifts?
-Has been to NYC before?
- Needs a special early check in?
- Has any allergies?
PLEASE TELL ME about Q2,3,4 and 5
Q2 : about understating of house rules
Whether you understand HOUSE RULES and CANCEL POLICIES and they are OK with you or not.
For those who are not sure with this standard, you should find more easy-going place, please follow your instinct honestly. It is a key for your happy long term stay.
Q3 : about flight tickets
Have you bought your flight tickets to NY already or not?
If not, when you will buy it?
(I prefer a person who has her flight tickets already, so that we can arrange your reservation soon after we talk about details and we don't need to waste of our time by changing your mind and reservation schedule in a last min.
If you haven't, I might ask you to contact me again after you buy tickets, since I cannot accept change or cancel of your reservation schedule according a strict cancel policy once it is booked. If you can book without booking flight tickets in advance and promise me not to change your schedule, it is fine to talk about your reservation. For room availability, please check my calendar at the time.)
(I wrote details about Q4 and Q5 at the bottom of house rules, please check them later.)
Q4 : about your preference of a regular cleaning service
Q5 : about your preference of a special check in /out option

NOTE 1:
If you do not provide answers to these questions, before replying your questions, I have to ask these things again, like "could you please introduce yourself? Could you please read my pages including house rules thoroughly at first?"
While you are wasting time, another potential guest might be accepted by communicating more appropriately.

NOTE 2:
Basically my reservation calendar is the LATEST.
Preferred stay is more than 30 days, (required length of stay might vary depending on season, average 2-3months).
Ideally the gap between a check out day of your previous guest and your own check in day is less than 3 days. If there is a gap of more than two weeks, to avoid a risk of opportunity loss by vacancy, I might ask her to contact me later, after I accept another reservation before her schedule, or I might ask to check calendars of other two rooms.
ANY QUESTIONS:
For basic questions about my apartment, I have described as much as detail below. They will save your time to wait for my response and will save my time too. Please try to find answers at first here and a list of amenities. Thanks!
+++Monthly price and Daily rent vary depending on season+++
Please put your schedule in a calendar so that you can get approximate quotation according to your schedule.
Usually I set a promotional price for winter season between Dec and Mar.
ex) Daily rent varies between $35-$48
May-Aug from USD1100 to USD1280
Sep-Nov from USD1200 to USD1080
This "Rent" does NOT include any following fee, so please take it into consideration.
- check-out cleaning fee
- other optional fee ( early-check-in fee, late-check-out fee)
- Airbnb service fee (you pay this to Airbnb platform not to the host.)
- Security deposit $300 ( it is released two days after your check out unless you damage anything.)

*Recently due to a change of airbnb website in 2014, I found the price calculation often shows wrong price (It doesn't reflect customized setting that hosts set). After we talked details and I will estimate it properly and then attach an offer when you are ready to book.
Please be noted that airbnb website shows sometime "average monthly price" instead of "total price", so please don't misunderstand it.
* "Monthly discounted price" is applied only for a case that a guest stay for more than 28nights at each month. Otherwise, your rent will be a total of daily rent or weekly rent of each season.
* Estimation takes time. I will do after you have read my house rules and are almost ready to decide after we exchanged messages.
*****************************
For Air BnB system itself, such as payment and deposit process etc, please learn from FAQ pages of Air bnb as my all guests did. (95% of my guests are the first time users though.)
THANK YOU FOR YOUR COOPERATION!
+++++++++++++++++++++++++++++++++++++++++++++++
It is a sunny, renovated, clean, quiet, private room.
Bedding, kitchen and bathroom are relatively new and clean!!!
"46th St-Bliss St" Station of Subway #7 line, which we call as "Sunnyside station" is just 15min away from Grand Central station in Manhattan.
Your room is located in just 6-7 min walk from the station.
In this area, you can find many variety of restaurants such as Mexican, Peruvian, Thai, Japanese, Korean, Chinese, Romanian, Turkish and Middle Eastern etc. It reflects diversified ethnicity.
It is convenient to live. There are laundromat, banks, grocery stores (24H), drugstores, deli, nail salons, 99c stores, Starbucks and mobile phone operators (you can buy SIM at T-mobile.).
Only FEMALE (non-smoker) guests are welcomed. I would like to provide female travelers with safe and reasonably priced space. Ladies, please make yourself at home and enjoy your stay in NY.
Originally breakfast is not included in this rent. If you are lucky, sometimes breakfast such as bagels, donuts or fruits might be available for free.
Difference between BLUE room (twin sized bed and GREEN room (full sized bed) are the size of beds and bedding color. Other features and room size are same. (Due to smaller bed, the blue room looks more spacious than the green).
+++++++++++++++
Does B&B style work with you?
Please make sure whether such a B&B style works for you or not!
Bathroom will be shared with others.
Please remember, here is NY and this is BnB style sharing, not Hotel! : )
I wish I could help you whenever you need, however, since I am working at daytime, It is impossible to be in apartment 24h/7 days for you.
If you are not an independent type and you expect some kind of hotel like service, you should stay at a real-hotel so that you can ask concierge at any time and have private bath instead of staying at reasonable price.
Please make sure whether such a B&B style works for you or not!
Too much expectation tend to result in disappointment, if you stay is sad, it makes me sad too. : )
Thank you for your reading, please check house rules and guest's access below, if you can't find answers to your question, please contact me.
I hope your travel in NY will be fine!
Cheers,
Lucy

Please check " Gest access" section and House rules section too!
Guest access
Guest Access
(A green room and a blue room have a key at its door and a red room doesn't have a key.)
Kitchen
*You can cook anytime except for midnight. Please always keep super clean.
- Refrigerator, stove, toaster, blender, rice cooker, microwave and kitchen cabinet
- Oil, condiments, spices, jam, tea and coffee etc. are provided at free
Bath room (shower with hot tub)
- Shampoo, conditioner and soap
- Hair dryer/ hair Iron
*Bath room is shared with myself and other two guests when all rooms are booked. Your roommate might be an intern, traveler, student or working professional. Since everyone has different schedule and communicates preferable shower time well with each other, we manage well to share one bathroom.
These are available too.
-Bedding, bath towel and small towel
-Air Conditioner (from Mid-June to end of Sep) /Radiator (heater)
-Wireless internet
-Desk, chair, lamp and closet with many hungers
-Sunny windows
-Clean washable rubber slippers for guest's use (Washed and disinfected every check out.)
-Filtered water
-Vacuum
-Iron
Interaction with guests
It depends how busy I am and each guest's preference. When I am not busy, I really enjoy chatting with my guests in a kitchen. I sometimes give advice for their apartment search.
Other things to note
Other Things to Note
NOTE for optional fee
In addition to total rent,there are two types of optional fee.
I would like to know your preference about it, when you send an inquiry, please tell me. For details, I wrote at the end of house rules section. Please check them out.
1. regular cleaning fee
2. special check in /check out fee ( early check in or later check out)
#1. Regular cleaning fee
$20/ two weeks
* Check out cleaning fee $35 is not included in this regular cleaning.
If you can do this regular cleaning by yourself, these additional cleaning fee will be waived.
#2. Special check in /out fee($20 for each)
-Early check in( before 6pm),
-Midnight check in(arrive here after 10pm, airport after 8pm)
-Late check out (after 10AM, Including a case of leaving luggage after 10am check out)
Alternative choice:
To save your expense, you can use my nearest Starbucks, you can spend time there until your check in time so that you can avoid that special check in/out fee.
Please tell me if you need to special check in or not when you send inquiry.
* NOTE: As I asked in my house rules, please do not use my address without my permission in advance.
You would like to receive a package?
Sunnyside UPS store provides a very convenient "doorman service".
You can use a UPS store in sunnyside for your shipping address.
(You can find their address is in the internet too, by "Sunnyside UPS")
Your name
Care of doorman (c/o doorman)
45-06 Queens Blvd, Sunnyside, NY 11104
-You do not need to register or call them in advance.
-They will hold your package for several days and if it is more than a week, they might charge a bit extra though.
-You bring your ID for pick up.
-It costs just $3 per package, which is really valuable. Due to this you do not need to wait for your package for a whole day and you are free from stress regarding missing delivery.
-This UPS store is just in front of the station. You can pick up on your way back from Manhattan. They usually open until 8pm on weekday.
-They have computers for internet and printer too.
-FYI: If you expect lots of mails and packages per month, like more than seven, they have individual mail box service too. ($20/Month, no additional fee for doorman service)
---
Bathrooms: 1 (Shared bathroom)
Check In: Anytime after 6PM
---
---
Always communicate through Airbnb
To protect your payment, never transfer money or communicate outside of the Airbnb website or app.
Learn more
---
---
Not safe or suitable for children (0-12 years)
Check in is anytime after 6PM
House Rules
Dear my potential guests, This is the most important part.
Please read all house rules and make sure if they work for you or not, before you send your first inquiry to me, because it will save your time in the end.
I would like to clarify my expectation, which are just common sense things for me and my previous guests.
And then in your first inquiry, please let me know if you have read all and can follow these rules as a responsible guest or not. Please understand that if you are disrespectful for rules, you will be kicked out.
You might be surprised at many rules. I hope my potential guests find these things are normal for her.
On the other hand, because of these house rules, my guests are only nice, well mannered, responsible, and considerable ladies/girls. You can share this apartment with these nice people. Is it really great, isn't it?
As many of my 5-star reviews say, these rules really helps happy sharing for all.
It looks very long to see from a smart-phone. Please access my pages from your laptop. Sorry. Since it is very important, I cannot make it too compact because your appropriate expectation is important for your happy stay.
If you feel they are too many, please follow your instinct and find another host. It would be better for both of us.
********************************************
Highlights
-Must come back to apt before 12:00am
-Keep clean and organized after you use kitchen and bathroom
-Take off your shoes at the entrance
-Be considerable for noise, No party, No loud music
-No shower after 12:00am
-No visitor/ No extra guest is allowed
-Not allowed to use my address
-Bring a laptop/smart-phone/tablet
-Be responsible for cancel policy
-No smoking, No drug and No candle
Sounds reasonable? Here are details.
# This place is only for a female guest.
# I hope guests to be...
CLEAN(seriously), neat and tidy, considerable for others' quietness, friendly to others, Non-smoker and responsible for following house rules and be able to communicate in English.
# CHECK COMMUTE BY YOURSELF
Please check location and commute by yourself in the internet. When you type "Sunnyside, New York", in a map, my nearest station (46th st-Bliss st station) will be the starting point.(+7min walk to my apt).
Feeling close or far is totally subjective, depending on you. I can't answer it.
# COME BACK TO an APT BEFORE 12:00
This is the most important house rule.
Please do not try to negotiate after you book. Whatever your age is, I do ask my guests to come back to my apt before midnight (for safety and noise etc.) I don't want you to bring any concern/trouble at all to my apartment. If you bring it, it will bother other guest's stay and my life too.
Especially weekday, other guests might need to go to work or school.
Subway might change schedule in the midnight, and finding a cab might take time more than you think. Please plan ahead when you go out and have to come back late at night.
Thank you for your understanding!
If you are a person who would like to come back "often" after midnight ("often" more than two times per month, never later than 1am. Not taking cab is out of question.), I seriously ask that person will find another place soon. Especially long term guests, please promise to keep this rules until end of your stay.
( "Since this is my last week" cannot be an excuse for coming back midnight every day. What about book another place for your last week, if you would like to go crazy?)
# "CLEAN" means:
- Please never put your bags or coat on your bed.
- Please do not keep your foods (even they are not opened) in your room. They will attract roaches.
- Please never eat foods or drink anything on the bed.
- Please take off your shoes at the entrance and wear slippers
- Please do not walk around with bare foot, which will make bedding get very dirty
- Please do not keep your shoes in your room, please put all shoes at the shoe rack at the entrance.
- Please pick up your hair after shower.
- Please wipe counter and stove top with a kitchen cloth and make sure it is clean as it was.
- Please vacuum the floor in your room at least once per two weeks.
- Please do not use strong perfume in my apt, never spray it in a bathroom, hopefully not in a red room which doesn't have a wall to hallway. I don't like it at all.
# NOTE: NO SHOES INSIDE OF THIS APT
You might not be used to, however, at the entrance, please take off your shoes.
- Please wear slipper all time.
You can use my extra washable rubber slippers for guests which were washed every after check out. Otherwise, bring your own slippers.
(You cannot use shoes for outside. please avoid slippers with hard sole, which causes noise.)
- Please do not walk around with bare foot or socks. Comforter and sheets will get very dirty.
# FOR QUIETNESS:
- Please do not take a shower in a midnight, after 12:00 am.
- Please do not cook after midnight.
- Please close a door of your room, entrance and bathroom quietly. (Red room doesn't have wall)
- Please be considerable for noise (when you enjoy movie, music or phone calling).
- Please do not make phone calling/(website hidden) in the midnight (after 1am(in a green/blue room, after 12am in a red room, which is in front of my room.) except for an urgent case.
# FOR PRIVACY
- Unfortunately you cannot bring any visitor/ friend/ family inside of building.
(Viewing by family/family is not accepted. This is not a public space, but my own private place.)
- Please do not use my address ( not for a social security card, resume, bank or visa etc.).
(Exception: For an international guest, you can use it only once when you fill the form on the airplane.)
- For receiving packages, the UPS store in Sunnyside, in front of the station is convenient. They will receive you package just at $3. No need to register. No worry about missing delivery and no need to open our door to unknown person. (I explained at a section of "Location". I will explain details after you arrive.)
# FOR SAFETY:
- No candle and other flammable things will be allowed in your room.
- Please be responsible for your belongings.
- Please remain in the kitchen while you are cooking, even though it takes time or hours. Please bring laptop or smart-phone there if necessary.
- Please make sure that you turn off hair iron, air conditioner or a heater without fail before you go out (even just for 20 min walk) for safety and energy saving. (Only for a radiator in your room, you do not need to close a knob.)
- When you damage something in my apt, please let me know it as soon as possible.
# NON SMOKER IS PREFERRED
For smoking, I don't want to say NO, NO again and again, so I really prefer non-smoker as a guest. Smoking in this building is strictly prohibited. I definitely request that my guest will not smoke even in front of the building (outstanding among neighbors) and not smoke on the rooftop (It is prohibited to access.)
# BE ON TIME ON YOUR CHECK OUT DAY (9-10AM)
Check out time is at 10am or before. Please get ready on time.
Whenever your flight is, basically I cannot allow you to leave your luggage, without an optional fee. Please do not try to ask it in a last minutes. It might be OK only when you paid late checkout fee in advance and my schedule is okay.
(Late check out option costs$20, if available. You will see details in House Manual section of reservation page)
# BRING YOUR LAPTOP, SMART-PHONE or TABLET
- Please bring your laptop (smart-phone or iPad) with you, regardless length of your stay.
- Please research by yourself in the internet at first. There were a few guests who did not bring their own laptop and asked me to research many things. It was their choice but irresponsibly they complains for these inconvenience, caused directly or indirectly by bringing no laptop.
I do not accept the person who do not bring laptop (smart-phone), as a guest.
# BE RESPONSIBLE FOR YOUR RESERVATION
Please be responsible for following cancel policy.
Even though you do not use a room one night or week for a reason or by an accident, once you blocks my reservation calendar, you have to take responsibility for rent of your reservation. Your excuse would not be accepted by my landlord.
# PLEASE TELL ME ABOUT YOUR CHOICES
for special check in and regular cleaning (details are below), when you send your first inquiry.
--
Thank you for taking time of yours to read my house rules and thank you for your understanding!
I hope they are normal things for you.
I am looking forward to meeting you.
******************
Other Things to Note
NOTE for optional fee:
In addition to total rent, there are two types of optional fee.
For a precise quotation, I would like to know your preference about it, when you send your first inquiry, could you please tell me about followings. Do you need or not?
1. Regular cleaning fee
2. Special check in /check out fee (early check in or later check out)
#1. Regular cleaning fee ($20/ two weeks)
I do cleaning of guests' rooms, such as vacuuming floor, wash bedding, and making beds as well as cleaning common areas. However it is optional, up to each guest.
You can avoid this fee, if you can promise me to vacuum your room by yourself and wash your bedding at least one time per two weeks, that cleaning fee is waived because your cooperation saves my time and effort too.
(Especially for the first time, even if it is not exact 14th day from your check in, please do it on the second weekend. If you have a plan in the weekend, please do it before that weekend.)
For vacuuming, ideally it would be better to be done every week, since you will eat meals at your room.
* Check out cleaning fee $35 is different from this regular cleaning.
Ex) 5 weeks stay >> two times regular cleaning($20*2=40) and one time check out cleaning($35)
If she can do the regular cleaning by herself, $40 is waived. It costs only ($35).
Will you do it by yourself or prefer me to do it? Please tell me.
#2. Special check in /check out fee ($20 for each)
These are options for a person who prefers to do check in before 6pm or check out after 10am due to her flight schedule. To save your money, you can kill time at café or airport, too. It will depend on my schedule.
Check in time
Morning: $40 (Super early check in)
*Please book from the previous night, since I cannot accept a guest from a previous night.)
2pm- 6pm : $20 (Special early check in)
6pm-10pm : none (Regular check in)
10pm-12pm : $20 (Special midnight check in)
* You will arrive here after 10pm, with arrival at JFK airport after 8pm due to custom and waiting line for taxi. We have to consider flight delay too.
Check out time
6am- 8am : $20 (Special early check out)
8am-10am : none (Regular check out)
After 10am : $20 (Special late check in, including a case of leaving only luggage after 10am.)
*It depends on my schedule and the next reservation. You might be able to stay a bit later, like 2pm.
After 4 pm : $40 (Super late check out. Please book until that night, since I cannot accept a guest from this night.)
Since I have three guests at one time, I need cooperation of my guests.
I am not a housewife who stay at 24hours at home.
For check in, I might need to come back early from Manhattan.
For check out, I might need to rush into a laundry for another guest who arrive on a same day of your check out.
I would like to accept this special options for check in/out from only a guest who needs even though she pays extra fee for it.
On the other hand, please be noted that I might not be able to accept these special options if my schedule doesn't work or if it is too last minutes. (At least 2 days in advance, not previous day of your check out.)
Even you prefer to check in regular time like 6pm, please be noted there is a possibility that I might need to ask you to check in a bit later due to my schedule. (We can use starbucks in Sunnyside as our waiting lounge. I might be able to pick you up on the way from Manhattan to help you carry your luggage.)
Especially for a late check out, please pay it as soon as you figure out that you need to check out late.
If it is really last minute request, it won't accept it. (It should be asked at least 2 days in advance not previous day check out.)
Alternative choice:
To save your money, you can use my nearest Starbucks, you can spend time there with free wifi and air conditioner until your check in time/leaving time for airport.
It is just in front of the nearest station and 7 min walk from station.
---
Strict
Cancel up to 7 days before your trip and get a 50% refund. Cancel within 7 days of your trip and the reservation is non-refundable.
---
---
Stayed in the pretty blue room for a month. Lucy is a delightful person who knows how to conduct herself and handle people from all walks of life at the same time. She is well versed with many cultures from hosting different types of people over a span of 7+ years. Being a professional, I was looking for a quiet place that was affordable, safe & with good access to the subway. The area is well fitted with a variety of grocery stores and restaurants for those who cook or don't. On the same note, the apartment has a kitchen that's got all the utensils you require to cook a meal. More on the blue room, it is neat, furnished & parts a warm touch of a loving home, made with care. Lucy takes pride in maintaining a certain standard of hygiene amongst each room & the apartment in general. Traits about Lucy as a host, are that she's helpful, respectful & a joy to be around. Many guests refer to Lucy's rules in diplomatic context, however she runs her apartment and quite frankly her life in a very efficient manner, to minimise disappointment and problems to almost nil. If someone can't appreciate that then I feel they have not portrayed this honest host in good light. Furthermore, her apartment is depicted perfectly in the listing which only solidifies a lot of her what you see is what you get nature, which is personally appreciated by me. I hope to stay with Lucy in the future. Honestly, I would recommend her and her cozy apartment to my family and friends, so why not the public ;)
---
This is my first time using Airbnb, and it has been a very good experience. My stay was 3 months, I am from Chile. The neighborhood where it is located is super safe, there are many people who speak Spanish and have close trade, the subway is a 5 minute walk. The room I stayed in (baby blue room) It is the same as the picture, it is a super clean room, spacious, with closet and two extra spaces to store clothes. With regards to the host, upon arrival he helped me with my bags, and was very friendly throughout the stay. In addition to the host there are two other people sharing the apartment, during my stay I got along very well with them. It was a very pleasant experience staying at this accommodation in Queens away from the noise of the city. I never had a problem and the host went out of his way to help me when I needed it. For my part I recommend it 100%. Greetings.
---
I stayed with Lucy for about 2 and a half months over the summer. She was such a great host! Very quick to respond to any question I had at any time. She was very nice, friendly, and respectful. The house rules may seem long and tedious, but they really contribute to a positive and comfortable living situation among people in a small apartment. They neighborhood is ok - I never felt unsafe. But, there's not a lot to do in the actual neighborhood - I went to Manhattan basically every day, which took about 30-40 minutes (not too bad). It's a comfortable room and Lucy is a great host. I would recommend staying here!
---
I stayed at Lucy's for about 4 months and had a very nice stay! The apartment and room were both very clean and well-organized, as well as equipped to suit one's personal needs- the bathroom had shampoo/conditioner and the kitchen had lots of pots, pans, etc. The neighborhood is nice, with a market and laundromat nearby, as well as a short walk to the subway. The other people who stay at her place are all very nice people, easy to get along with! I highly recommend Lucy to anyone wishing to stay in Queens! :)
---
I stayed at Lucy's for about 4 months, and in those 4 months I was very comfortable being at her place and with her as my host. Lucy was always very patient and courteous to me- as well as her other guests- which I greatly appreciated. Her home was clean and tidy, and she was attentive to her guests personal needs. All in all, I highly recommend Lucy to future guests looking for a place to stay in Queens. :)
---
I had a great two-month stay in the blue room this summer (July and August 2015)!! Lucy's place was clean, sunny, and quiet. It was a short walking distance from the 7 train, and just a few stops from Manhattan. It is also very close to anything you might need: supermarkets, restaurants, pharmacies, laundromats, and more. The rules may seem like a lot at first, but you'll get used to them in no time and quickly see that they help make sure that every guest has a pleasant stay! Lucy was extremely reliable and very friendly. She will make sure that you are comfortable and taken care of. I highly recommend her space to any female guests traveling in New York. You would be lucky to stay with Lucy!
---
Hi, Thank you for your interest in my place.

I am a middle-aged female Asian.
I am Non-smoker.
I like neat &tidy and responsible people.
I have been an Airbnb host more than six years and welcomed more than 100 female guests here.

Please be noted, to abide NYC law, I have been accepting only mid or long term person who can stay for more than 30days. Sorry for very short term travelers.:)

I have 3 bed rooms for you, two of them are private key-entry rooms, and the other one is a private ex-living room which is divided by curtain and walls, but more spacious than other rooms and it has a better bed.

I live here too.

"Green room" (Female Friendly,Clean15min2Mnhttn!)
http://www.airbnb.com/rooms/152520

"Blue room" (Just Rnvt'd,Sunny,Pvt Rm15min2Mhttn)
http://www.airbnb.com/rooms/161366

"Red room" (CLEAN,NicePrivateLvg15min2Manhattan)
http://www.airbnb.com/rooms/165824

When one of my rooms which you are interested in seems not available to your schedule, please check calendars of my other listings too. Another room in same apartment might be available.

The thing that I like about NY is that I can meet people from all over the world everyday.


My place is located in Sunnyside/Woodside area in Queens.

46th St-Bliss St station of subway #7 line is the nearest station.
It is just 15minites from Grand Central station of Manhattan to the nearest station, and 20 minutes from Times square. I feel here is very convenient location.


Please read my pages thoroughly in advance.

You will see my character in description of rooms and house rules.
When you have any question, please feel free to ask me.
Basically I keep calendar of each room updated.

The building was build long time ago but currently my place has been renovated in 2011. It is new, clean, quiet and cozy.

Have a nice travel in NY!


P.S. I am sorry , i do not have a account, because i am too busy and lazy to do these SNS things. I don' t know the reason why we need to report everyday life or tiny events of each second and every meal:).

Languages:
English
Response rate:
100%
Response time:
within an hour
Exact location information is provided after a booking is confirmed.
Explore other options in and around Queens
More places to stay in Queens: