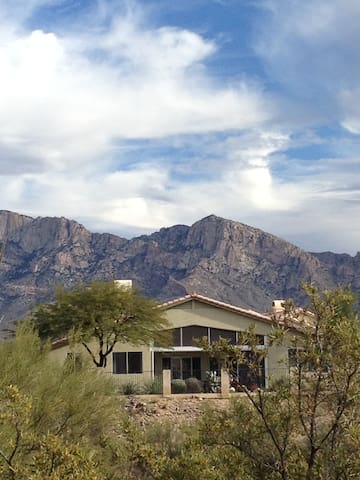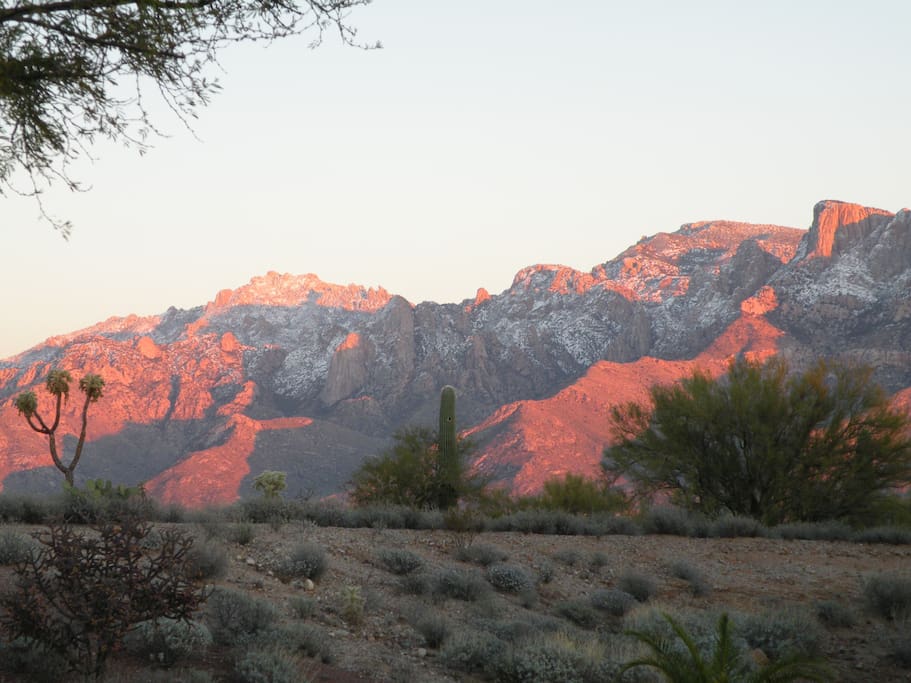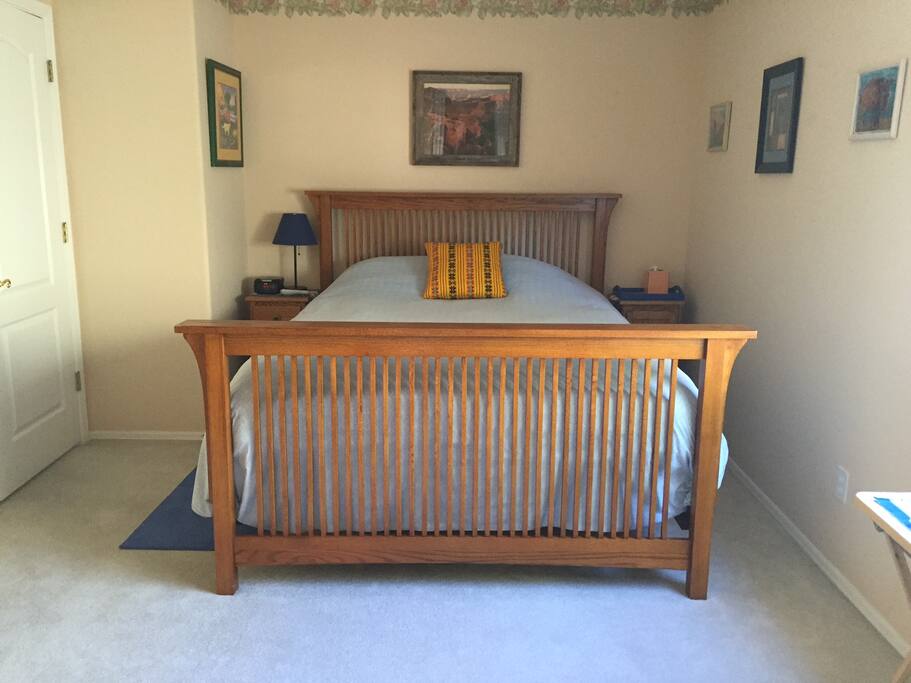 Awesome Queen Bed-Sunsets-Peaceful
Our Oro Valley home (North Tucson) has beautiful views. Private room and bath. Sleep Number Bed. Our kitchen is vegan. If you would like to cook, please only use plant-based ingredients. Quiet neighborhood with walking/biking paths. Nearby lovely hiking in Catalina State Park. We are LGBT Allies.
The space
Our home has beautiful views both front and back, yet we are not in a remote location. Our neighborhood has plenty of stores and services including a wonderful library minutes away. Trader Joe's is less than a 15 minute drive from my home.
As our kitchen is plant-based, we ask that you not bring into our home any animal-based food that may be leftovers from dinner or in your car cooler. Thanks for you cooperation.
Interaction with guests
I would highlight both circles above, but I don't have that option. So...
We follow your lead. We are happy to interact with you if you enjoy socializing. If you are a more quiet person and like your privacy, we are good with that too. We just want you to be happy while you stay with us.
Other things to note
Here's how we do breakfast. If we are cooking our breakfast and you are around, we are happy to make enough for you. If we are not home, or you leave before we are up and around, we welcome you to help yourself to coffee/tea and any of the plant-based food we have on hand. We will always have on hand oatmeal, healthy bread, nut butters, and fruit.
---
---
Not safe or suitable for children (0-12 years)
No smoking or pets. Treat our home with respect and all is cool. If using kitchen (plant-based meals only), please clean up after yourself.
---
---
---
---
I had a wonderful time staying at Denise and George's place. Everything was as described and much beyond! The check in process was very easy and received a warm welcome from the hosts.They have a beautiful and well maintained house,located in a peaceful neighborhood. Also learned more about their passion, which is Vegan lifestyle and plant based nutrition(not only healthy but dishes were delicious as well!). Thank you for hosting me.
---
Denise and George are the best hosts ever. Their house is lovely and immaculate, and they are friendly, kind and generous. George is a great cook and they are both fun to talk with. The room is in a separate section of the house with it's own bathroom so there is privacy if you want it. You won't go wrong booking at their house!
---
Our stay with Denise and George was wonderful. The room was comfortable and well-appointed, and Denise and George have a beautiful, peaceful home in the Oro Valley. Aside from our lovely and very comfortable accommodations, George and Denise went out of their way to make us feel comfortable. They advised us on local hikes and bike rides and were happy to chat when we had questions. One of their suggestions, a hike at local Catalina State Park, ended up being one of the highlights of our trip. If we go back to the Tucson area we'd definitely stay here again. The home has great energy and Denise and George are both warm and kind.
Response from Denise And George:
Thank you Jisel and Jason for your outstanding review of your stay with us. We are so happy to know you had such a great time here. We'd be happy to host you again should you revisit Tucson. Have a wonderful life and best to you on your subsequent travels, especially when Jason accomplishes his goal as a travel nurse.
---
Denise and Georgie are the most wonderful, generous, warmhearted hosts imaginable, and their home is beautiful and spotless. At the same time, it's so comfortable that we truly felt we were coming home in the evenings. We were sad about a recent family loss, and they were so kind to us: they went way above and beyond. We really enjoyed our visits with them. Georgie made us beautiful breakfasts – including a wonderful oatmeal filled with delicious fruit and superfoods, and great oat pancakes. And Denise taught us some new and valuable information about vegan life. We loved sitting out on the porch with our tea and watching the birds. They spoiled us wonderfully. So grateful to have stayed with them. We look forward to the next time!
---
Are you are a practicing vegan or vegan/health curious? Do you want the privacy of separate/quiet bedroom with a comfortable bed, walk in closet, your own bathroom with great shower, robe? Access to yummy vegan food (best oatmeal and squash soup I've ever tasted) and information about a healthy plant based lifestyle? Then Denise and George's is the place for you. They are kind and generous and want you to feel at home--Hosts with a spacious home in a lovely setting. In a peaceful neighborhood with a stunning view of the Catalina Mountains with easy car access to hiking, shopping. A most restful yet fruitful visits to Tucson...
Response from Denise And George:
Marna, Georgie and I are so very happy that your experience with us was so fulfilling. We love to make our guests feel welcome and special. And thank you for the plug about our sharing our whole foods, plant-based nutrition knowledge with our guests. Although we do a little of this with airbnb guests, we do a more immersion experience too over a weekend or a couple days during the week. This is for people who want an intense immersion in plant-based nutrition so they can go back home and be successful with it. We have a video on our Immersion Retreat on our Happy Vegan Couple YouTube channel. Please tell folks you know whom might be interested. Thanks again and it was such a pleasure to host and get to know you.
---
Beautiful home and friendly hosts. Great value for the wonderful accommodations. We enjoyed learning more about vegan cooking and sampled some great healthy foods (an unexpected treat -- while traveling).
---
Like many folks in Tucson, Denise and George are in love with the Sonoran desert, beautiful open sky, and sunny weather. Denise is from Oak Park, IL, a suburb of Chicago, and George is a Tucson native. Both of us have had previous long-term marriages with wonderful people and now in our 6th decade of life, we happily find ourselves in a new domestic partnership that is very fulfilling.

Denise's life has always revolved around her desire to engage in projects that promote social justice. She is an educator and social activist at heart and has been engaged in a variety of venues and social issues throughout her life. In her mid-50s, Denise earned a Ph.D. in Sociology. Since moving to Tucson, she has been engaged in public speaking on issues pertaining to the LGBT community and as a whole food, plant-based educator. She loves to play her African djembe at Global Chant and enjoys hiking and biking.

George's life has revolved around the core issues of work and family. He's had experience with many types of jobs with an emphasis on trucking, construction, and landscaping. As a Tucson native, he has family ties to both horseracing and mariachi music. George loves to pursue outdoor physical activities with Denise and also is learning to play the Djembe, an African drum. He also loves cooking up delicious dishes and enjoys creating cooking videos that are posted on-line on our Happy Vegan Couple sites.

Denise and Georgie are very passionate about the wonderful benefits of enjoying a whole food, plant-based (WFPB) lifestyle and they promote this lifestyle as WFPB educators in Tucson and on-line through internet sites such as YouTube under the name Happy Vegan Couple. For folks wanting to become successful WFPB eaters, Denise and Georgie offer a Happy Vegan Couple Immersion Retreat where guests can get immersed in learning all the basics for getting started on this lifestyle. See our Immersion Retreat Video on our Happy Vegan Couple YouTube page if that should interest you.

Both George and Denise engage in a wonderful Tucson experience called Global Chant and we are both LGBT allies.

Denise and George are happy to invite airbnb guests to their beautiful home. All visitors are welcome that bring a positive spirit and a caring heart toward all groups of people.

Explore other options in and around Oro Valley
More places to stay in Oro Valley: