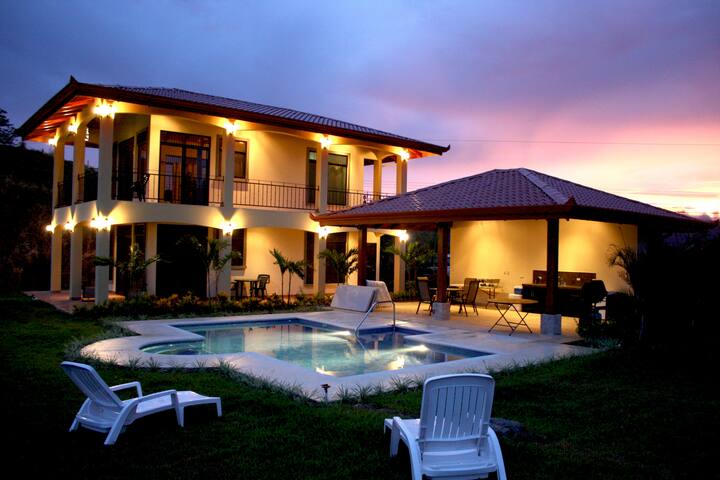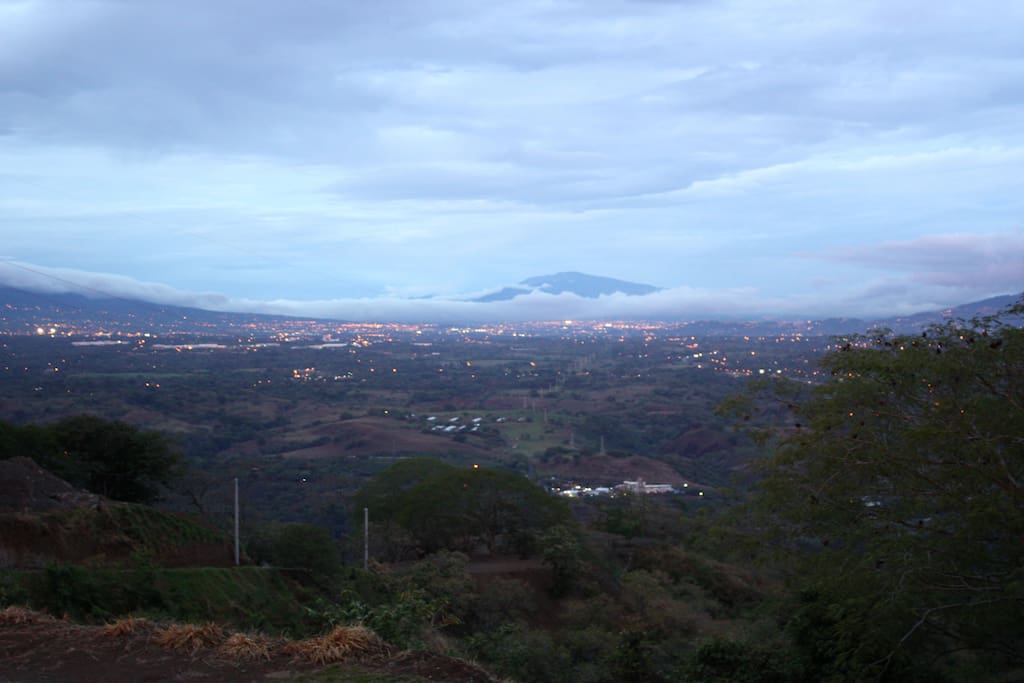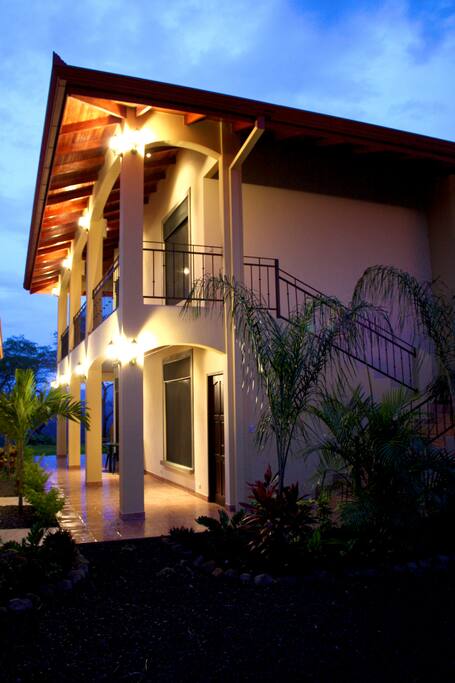 The space
Nestled in the lush mountains of Costa Rica's Central Valley, Casa de Bell is an unforgettable vacation rental property located in the quaint village of Atenas, along the historic road to Jaco Beach, just 26 miles west of the capitol city of San Jose.

With its mango, coffee and sugar cane plantations, the fertile Central Valley is home to two of Costa Rica's six active volcanos: Irazú, the largest and highest in the country, and Poás, whose ash and shadow are responsible for the country's most delicious coffee. Perched atop a breathtaking bluff in the heart of the Roca Verde gated community, Casa de Bell offers 360-degree panoramic views of the entire Central Valley, while being less than an hour away from both the beach and the buzzing metropolis of San Jose.

Casa de Bell is only a ten-minute walk from the bustling farmers' markets, boutiques, gardens and cafés of Aténas. With less than 5,000 year-round inhabitants, the town of Atenas (Spanish for "Athens") provides a calm, peaceful, pastoral ambiance--the quintessential slice of Costa Rican life. Atenas is globally recognized for having one of the best climates in the world. The words "el mejor clima del mundo" are emblazened on every local bus--a valid claim, as daily temeratures hover around 80 degress, dipping into the 60s at night. The temperate climate and friendly atmosphere of Atenas attract those in search of tranqil, small-town life.

For more information, please visit (URL HIDDEN)
Always communicate through Airbnb
To protect your payment, never transfer money or communicate outside of the Airbnb website or app.
Both apartments have same specs above. Upper and Lower, Independent from each other. You can rent either or both. We continue improving landscaping, and just added automatic gate entry.
Our time at Casa de Bell was pure joy. We stayed on the second floor apartment that overlooked the nightlights of San Jose, and the rancho and pool. The weather was excellent with warm breezes most days and cool breezes in the evenings. We stayed for the month of April, which had some very windy days/nights, some afternoon rain at times, and excellent daytime and sleeping temperatures. Sunrises and sunsets over the mountains were beautiful. The place itself has a kitchen with everything you need, a comfortable bed, excellent internet service (we had to continue our writing work while in Costa Rica), plus the pool for a daily break from our work. The only complaint about the furnishings is the couch is not as comfy as we'd like, but we put a couple of pillows on it and all was well. The water in the pool was maintained at an excellent balance so that the only thing required of us was to skim the leaves and flowers that would blow in every day from the breezes that kept us so comfortable. We enjoyed swims in the morning, afternoon, and evenings; it was delightful. We also enjoyed working on our computers (when necessary) and then relaxing and reading by the pool on the lounges in the shade of the rancho. We delighted in our wildlife "neighbors" that included iguanas, geckos, nesting birds in the rancho and palm trees (we saw some of the babies hatch and grow), and a variety of hawks and other birds that dance across the sky. The privacy, quiet, proximity to town for when we wanted or needed anything made for a perfect place to relax and unwind while maintaining our US work schedule as we began to explore Costa Rica. One of the best bonuses for Casa de Bell is Pete, the manager of the property. Any issue we came across was quickly and effectively handled. He is a wealth of information about the country, the community of Atenas, and the process of relocating here (something we came here to discern). He's very friendly, very helpful, and a nice guy to be around. All the workers Pete uses (gardeners, handymen, and maid) and networking contacts he recommends are as nice as Pete and excellent sources for Spanish practice (though most speak English too). We highly recommend Casa de Bell as a place to stay. Barbara & Keene Little, Seattle Washington, April 2016
---
My wife and I really enjoyed staying at the Casa de Bell! Upon arrival, we were greeted by Keith and his wife Maria as well as his property manager Pete and Stef. They welcomed us to the apartment and took the time to show us around the property. The apartment is very spacious, clean and open. The view is absolutely breathtaking and is very enjoyable in the mornings on the balcony with a hot fresh cup of coffee. There was also a complimentary cleaning service that cleaned the apartment once a week. We spent a month at this apartment with no issues or complaints. Instead, we spent the time relaxing and enjoying the benefits of living in Atenas, Costa Rica.
---
After a little rocky start at the apartment (broken internet router and a horrible smell) we had a great stay at Casa de Bell. We loved the fact that it very light and that we had a whole view of the valley. In fact, if you walk around the balcony, it provides almost a 360 degree view. At this time of the year (late December and January) it is a bit windy so if you don't like wind, I would pick the lower apartment. Both apartments are identical so it is a matter of taste whether you like more view, more wind (when it is blowing), more light, few stairs, next to the pool, etc. The bed is extremely comfortable and the woman who cleans makes the place sparkle (she comes in once a week but with the wind and for only about $10 we had her clean another day a week). There is also a TV which we watched infrequently (unless you like news there isn't much to watch) but the internet connection was excellent so we were able to download movies, etc. I was also working while I was there so good internet was critical for me. It is a great location but be prepared - walking into town can be a challenge unless you are physically fit. Or are prepared to get fit. You are obviously at the top of a ridge so it is a long way down (hence the great view) and a long way up. But taxi's are very inexpensive $3-$5 to and from town. Overall a great experience. A few short comings that may get corrected (there was no workable grill for instance) but we will definitely be back.
---
gorgeous home, perfect place and awesome vistas! if you are looking at staying in San Jose you wont go wrong staying here. the place is absolutely gorgeous and well kept. Pete, the property manager, was pleasant and easy to get a hold of for anything. I would highly recommend staying here!
---
Casa de Bell is only a ten-minute walk from the bustling farmers' markets, boutiques, gardens and cafés of Atenas.
Languages:
English, Español
Response rate:
100%
Response time:
within a few hours
Explore other options in and around Atenas
More places to stay in Atenas: