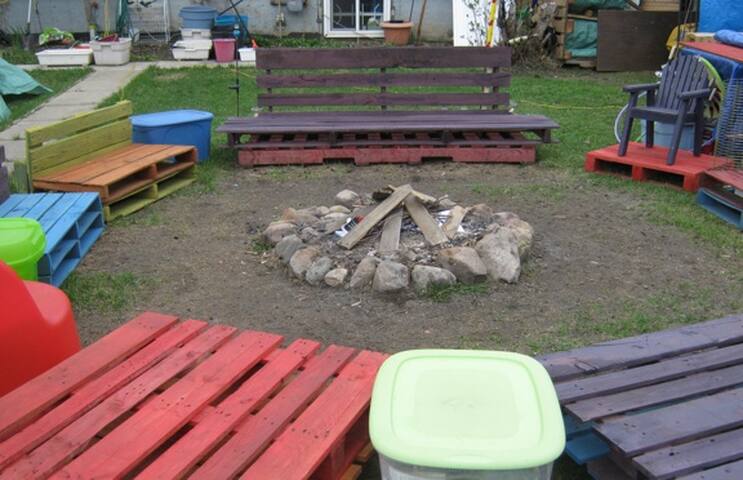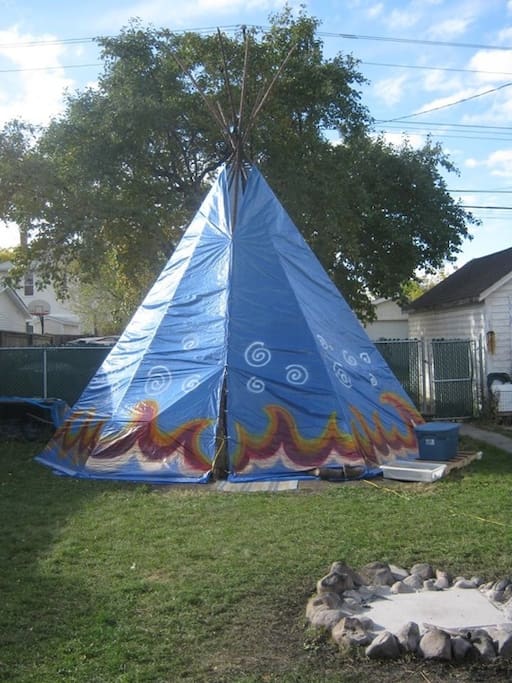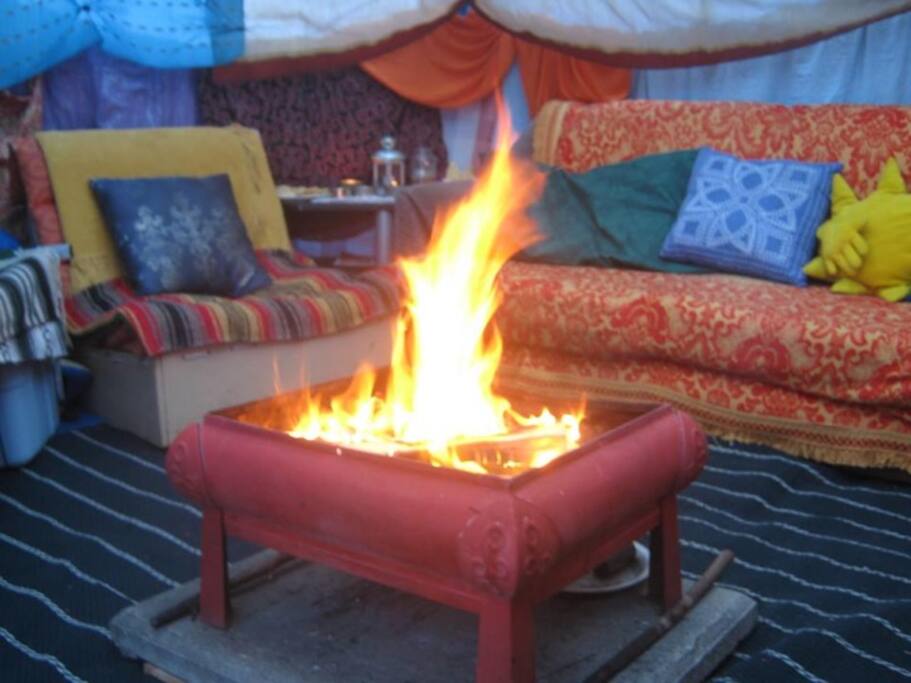 About this listing
**NOTE this listing is for CAMPING (not a private, indoor room), and assumes you have your own tent(s) & gear.** (If you're looking for a private room, please see our other listings!)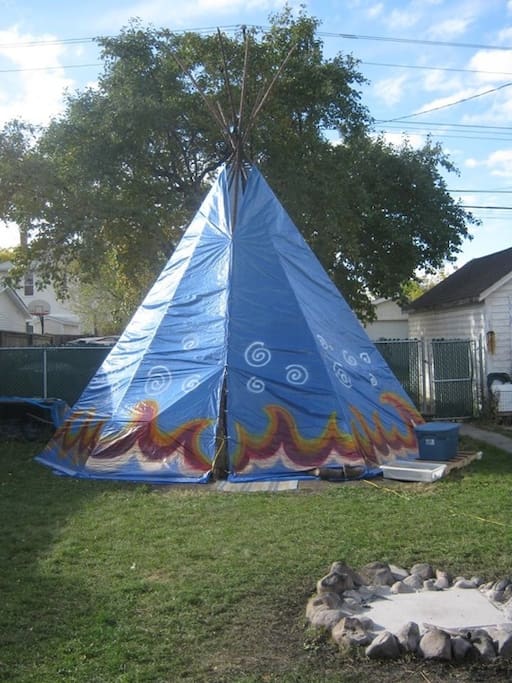 The tipi, erected in October 2013 so we could have warm fires all winter - woo hoo! (Sadly, wind blew off most of the paint over the winter - time to re-decorate!)
---
Check In:
Anytime after 2PM
---
Kitchen
Space where guests can cook their own meals
Washer
In the building, free or for a fee
Dryer
In the building, free or for a fee
+ More
---
Extra people:
$16 / night after the first guest
---
The Space
========
This is another duplicate camping listing, because we have lots of space for multiple tents, but AirBnB blocks multiple people from booking on the same listing. ***This listing also assumes you have your own tent(s) & gear. (Ignore the "private room" and/or "real bed" tags at right - the site won't let me delete/change it, sorry!)
========
GREAT space for luxury urban camping now available at the eclectic & bohemian ArtHaus, located in the heart of downtown Edmonton. Perfect for backpackers & communal hostelers who appreciate a laid-back, earthy atmosphere, beautiful eye-candy, and plenty of warm & diverse living spaces to relax & socialize.
Please read the following info in full before sending booking inquiries, as it contains many FAQs & may help to avoid any confusion about the space. Please also see our "Other Listings" (on my profile page) as we also have private indoor rooms available.
ESPA is a multiple award-winning non-profit activist-arts organization incorporated in 1998. The ESPA ArtHaus is our new downtown location which hosts an 'underground' Library & Archive, a few private/furnished guestrooms (listed separately on AirBnB), and a home for our permanent collection. Renting out our extra space subsidizes the maintenance of our library/archive and other non-profit activities.
CAMPING at the ESPA ArtHaus gives you access to:
• Shared kitchen facilities & dining areas
• Shared casual 'living' space in the main floor Library/Archive, or chilling out on a hot day on the lovely, umbrella'd side-deck or in the huge yard (seasonal usage), which includes 2 firepits, several lawn chairs, canopies, chemical-free lawn & flower gardens, and plenty of extra yard space for camping out, volleying badminton birdies, yoga and more. As of October 2013 we also have a furnished backyard tipi with firepit (unsupervised usage by guests is conditional).  
• Shared upper 4-pc bath/shower & a 2-pc basement washroom
• Free Wi-Fi internet connection
• Plenty of free, on-site vehicle & bike parking
• On-site laundry facilities ($5 charge per wash/dry load)
• Free firewood! If we're running low on wood we'd appreciate a hand gathering more from nearby construction sites (guests can also buy bags of seasoned/split wood at the gas station up the street).
*** NEW CAMPING RATES ARE AS FOLLOWS:
• $25/night per first person, $20 for extra people
• There is still a $100 security/damage deposit per each booking (one deposit would cover multiple people camping together, pre-authorized on your credit card when you confirm a booking here).
• A house key will be provided to all primary (booking) guests upon arrival. We no longer require a cash key deposit, but note that guests who don't return their keys upon check-out are subject to a $50 charge from your deposit.
*NOTE camping approval is subject to weather forecast & number of people requesting (large groups may not be approved if inclement weather is forecasted, and/or may be required to reserve an indoor room for back-up).
Guest Access
In addition to the ArtHaus, guests also have access to:
• Walking distance to Kingsway Mall, Chinatown, Little Italy, NAIT, Royal Alex & Glenrose hospitals, City Hall/Churchill Square, Downtown Arts District, Alberta Avenue Arts District, City Centre Mall, supermarkets, and all other amenities
• On good bus & LRT routes for quick & easy access to the River Valley, Old Strathcona, Fringe Festival, Folk Festival (Edmonton Ski Club) & University of Alberta. Also close to major sports & recreation facilities.
• Brand new children's playground 2 blocks from back-alley (at Spruce Avenue School & Community League)
Interaction with Guests
Your live-in caretakers are ESPA's Artistic Director (an easy-going but somewhat introverted freelance artist/graphic designer who works from home) and her 6th grade bookish son, but we are very accommodating hosts, so expect a tour of the facilities and otherwise free-reign to enjoy what our very unique space has to offer. We're a vegetarian household but can accommodate carnivores, with some restrictions (see House Rules). If the fire's burnin' we're up for chatting, music & socializing; otherwise feel free to light your own and otherwise make yourself at home!
Getting Around
Very easily-accessible location just north of the downtown core, only a short cab ride from the Greyhound Bus Terminal & Airport shuttle stops (Sutton Place Hotel is 10 blocks south). The #151, #134 and #12 buses stop right out front (Buslink #1369). Buslinks #1348 and #1434 are also within our block. Visit Edmonton Transit's "ETS Trip Planner" on the web for bus schedules & route plans; visit Edmonton Sky Shuttle for shuttle rates from the International Airport (costs more, but much easier than coming by bus/LRT); Edmonton Bicycle Commuters' (EBC) BikeWorks North is also within walking distance - visit their website for details about affordable bike & trailer rentals from their south location.
Other Things to Note
• When inquiring about booking, please provide us with some info about yourselves, and your reason for visiting/seeking accommodation. We will not approve bookings by individuals without completed profile info or I.D. verifications, for general security purposes.
• A house key will be provided to all primary/booking guests upon arrival. We no longer require a key deposit, but note: lost keys will result in a $50 claim on your security deposit (so don't lose your key). ;)
• Food for cooking & personal toiletries (e.g. shampoo & laundry detergent) are the responsibility of the guest(s). However, we provide kitchen basics like coffee/tea, sugar/cream, cooking oil, spices & condiments as an extra convenience.
• We are a vegetarian household. If you must cook meat multiple times per day, especially high-temperature frying (lots of grease), we are not a good fit for you.
• Pets are negotiable (we have one friendly/elderly cat on-site).
• Our rooms will accommodate more than 2 people if using an extra cot (which can be provided), however, you may not be able to enter more than 2 guests per room when booking, so feel free to send us a note/special request with more info and we can adjust the fees accordingly.
• Likewise, we're willing to consider reduced rates for students and newcomers who are still hunting for a permanent place, so send us a note with more info and we can discuss further.
Any additional questions, please feel free to ask!
*ESPA is recipient of the Edmonton Social Planning Council's 2010 "Award of Merit for Advocacy of Social Justice"; a 2011 "Award of Excellence" by the Edmonton Urban Design Awards; and a Medal in the 2012 National Urban Design Awards (Royal Architectural Institute of Canada).
+ More
---
ESPA ArtHaus Rules are pretty basic, so don't let the length of this section scare you: respect others, keep common areas clean & tidy (especially kitchen & washrooms), and replace anything you use where you found it (in Library, in kitchen, etc.). Buy your own groceries. We are a vegetarian household but will accommodate carnivores, with some restrictions (e.g. use meat-dedicated containers & cutting-mat, which are provided; if you eat a LOT of meat we suggest you buy cold-cuts or pre-cooked options that require little energy or time to re-heat in the microwave). We compost & recycle, and (reasonably) expect our guests to as well. We're energy-conscious enviros, and ask guests to be mindful of reasonable energy & utilities usage (for example, please re-heat meals in the toaster-oven or microwave, instead of the full-size oven; don't leave windows wide open in cold weather; keep showers under 10 minutes, especially if others are waiting to use the facilities [no baths, sorry]). Eating in your room is fine, but never leave food/take-out containers lying around. Absolutely no BitTorrenting via our wifi network. Supply your own personal toiletries like shampoo & laundry detergent. Cold water laundry only. No unregistered overnight guests (visitors are fine, but please introduce/notify us as a common courtesy). Please remember to LOCK DOORS & close/lock gates. Guests using the firepits are expected to adhere to general fire safety rules & late-night respect for neighbours; we can usually provide firewood, but in the event we're out, guests can buy firewood at the gas station up the street or even scavenge good wood from neighbourhood construction sites. Responsible drinking is permitted (BYOB and clean up after yourself). Smoking in permitted areas only (pool-room or outside only, and never in bedrooms). Unsupervised tipi usage is conditional (ask me for more info). We are intersectional social-justice activists & artists fostering an inclusive, diverse & multi-cultural atmosphere. We are easy-going, open-minded, a little eccentric, and will do our best to accommodate a great stay for our equally-interesting guests here. Please also read my profile in full (much easier for me to add house-updates there - a.k.a. "rants for rule-breakers" - than on our several individual listings). Thanks for your interest in our space! :)
+ More
---
---
Your Host
---
Edmonton, Canada
·
Member since October 2012
Artist, activist, founding director of a multiple-award-winning non-profit arts org, single mom of a great kid & friendly old feline. Lived in the Canadian Arctic, Northern Manitoba, Southern Ontario & Québec before bartending my way out west in my early 20s. Musically, we love all roots, R&B, Motown, Creole/Cajun, old-school funk & hip-hop, old RnR, African, South American & Middle Eastern music the most (did I mention we have a biggish vinyl LP collection too?)! Big fans of sci-fi & fantasy films, social-justice documentaries, underground comix & zines, political posters, beautiful artwork, good books, exotic instruments, drums & percussion, nice rugs, candles, incense, canopies, tents & tipis, nightlights, great firepits & Rasquachification! Vegetarian, organic gardening & Fair-Trade advocates. Avid recyclers & composters. Responsible/social drinkers & smokers. "People Before Profits!" is a main motto.

We've had great guests here from across Canada & the U.S., Mexico, New Zealand, France, England, Scotland, Ireland, Germany, Brazil, China, Korea, India, Vietnam, the Philippines, Saudi Arabia, Iran, Bosnia, Poland, Somalia, Namibia, Jamaica, Japan, Egypt, Switzerland, Greece, Belarus, Norway, Australia, Uruguay, Syria, Togo, Romania, Taiwan, Russia & Benin... so far! Amongst the travellers & vacationers we've also had several guests stay here while searching for work or a permanent place in the city, camp workers in town on their days off, professionals visiting for work-related functions, tradespeople here for training, students, starving artists, cool babies, teens and friendly pets! Life's too short to accommodate grotty punks & takers, so we're givers—bring on the matchers & makers! Together we can build a better world! :)

This website has made some changes recently so if you're looking for a room (or summer camping) at the ESPA ArtHaus but it comes up as unavailable, please see our other rooms/listings on the left side of this profile page (under my photo & verifications) - click on "view all listings", and ignore the weird map - all of our rooms/camping spaces are on one property!

**** HOUSE-UPDATES (a.k.a. "Rants for Rule-Breakers") ****

THE RED HEN RANT: Seriously folks, we are not our guests' maidservants. Good guests don't leave us their weeks of travel-junk, or empties, or fast-food to clean-up after. The reason hotels cost a lot is because they have paid staff to take care of all that stuff. We are not the Hilton, and our rooms are not $160+ night. The sheets & plates & chairs (and, well, pretty much everything) don't match but they're clean and shared with love. We're willing to offer rooms for so low because we're volunteers, but we won't be able to offer cheap rooms if our guests treat us like paid staff with nothing else to do. Tin cans & take-out containers take 2 minutes to empty, rinse & put in the recycling bin. The recycling gods (and our garbage-bag budget) will shower you with good karma. We believe in a "sharing economy" but it only works if everyone (willingly) participates. REVOLUTION BEGINS IN THE SINK! :)

ALLERGY ALERT: It appears some guests haven't read our "Amenities" section before requesting space here. If you have allergies or asthma we are probably not a good fit for you. We have a cat & permit other pets! We have hardwood floors with many rugs that collect pet hair despite our ongoing maintenance. The house is very nice & loaded with character but it's also 100 yrs old with a million tiny nooks & crannies. We currently permit smoking in one room only, and while our house is not "smoky" we do also often burn candles & incense to keep it smelling pleasant. We're still doing light reno & mural/painting work when time permits. Come warmer weather doors & windows are wide-open, but in June the caragana bushes send out a lot of pollen. All things combined, we're not a good match if you suffer from allergies.

WI-FI NOTICE: We ask that guests who game, use Netflix or other streaming services to change their playback settings so we don't use as much bandwidth and/or slow down service (details on how to change settings are included in our Guest Manual). If guests BitTorrent (illegal downloading/distributing of copyrighted material) via our wifi, we will keep 100% of their security deposit. We expect guests to fully disable torrents while on our property, so we don't get surprise abuse-notices from our ISP and risk having our internet accounts disabled, or being sued for enabling copyright-infringement. Okey dokes?

LAUNDRY/ENERGY NOTICE: Our laundry* & kitchen facilities are a privilege, not a right. People who repeatedly violate the laundry rules risk losing a portion of their security deposit. That means cold water & appropriate load-size. Guests who launder *a single t-shirt and one pair of socks* with a full-load of hot water? Nooo! (They can use the laundromat 5 blocks up the street.) Guy who had the oven on 350° for 2 hours to roast a *single bulb of garlic*? Nooo. (People who don't like it can spend a fortune eating out instead.) Woman who repeatedly had 'full baths' despite us not even having a bath-plug? Nooo. Sing in the shower instead please. Our awesome-cheap rooms won't be cheap if our utilities skyrocket due to unmindful behaviour. (Oh, so many stories...)

*Laundry used to be free but it's now $5 per load (wash/dry), unless previous arrangements have been made.

ON ISMs: After a year of hosting I have zero tolerance for guests who practice any kind of classism, racism or sexism. People who think they're born entitled to treat others as servants or lesser-humans are intellectually-lazy bigots and bullies. People who believe in any kind of caste or economic class system are no longer welcome here.

HOUSE-KEYS: Do not give our house-keys to friends or family members to return at some random or unspecified time after you've left town! If our house-key is not returned by the time of your official check-out, we will file a $50 claim on your security deposit. (Dec 2014)

MEAT-EATERS: We are a vegetarian household, and while we do try to accommodate meat-eaters, we can no longer accommodate heavy meat-eaters who fry meat on high temperatures with every single meal/multiple times per day. I am tired of cleaning up the meat/grease spattered all over the kitchen, and decontaminating the sink so full of grease that everything needs to be re-washed. If you must eat meat with every meal we suggest you buy cold-cuts or pre-cooked options that require little energy or time to re-heat in the microwave. We respect you by allowing you to eat meat here, please respect us by not making us suffer through it for days or weeks. (March 2015)

PET-OWNERS: are expected to be 100% upfront about any behavioral issues their pets have *before* we approve your request to stay here, and are are expected to be 100% responsible for them once here, informing us about any items of ours that become damaged, and cleaning up after their messes (including general maintenance, like vacuuming any spaces your pet frequents) , or risk losing your security deposit. Please do not ask to stay here if you insist on crating/isolating them for most of the day, if they will require we displace our cat, or if there is any risk of damage to our property. (April 2015)

KEEP THE LINES OF COMMUNICATION OPEN: We ask/expect that guests here keep your AirBnB notifications turned ON, and simply send an acknowledgement if I need to send a house-update (e.g. new guests arriving, any water/power disruptions, etc. - it's infrequent, but it happens occasionally, so we just want everyone to feel in the loop and comfortable, including ourselves!)

Please also be sure to preview the "House Rules" and "Amenities" tabs before booking so we can avoid expanding the above rant-section. :D Thanks in advance for your consideration!
+ More
Response rate:
100%
(
past 90 days
)
Response time:
within a day
Explore other options in and around Edmonton