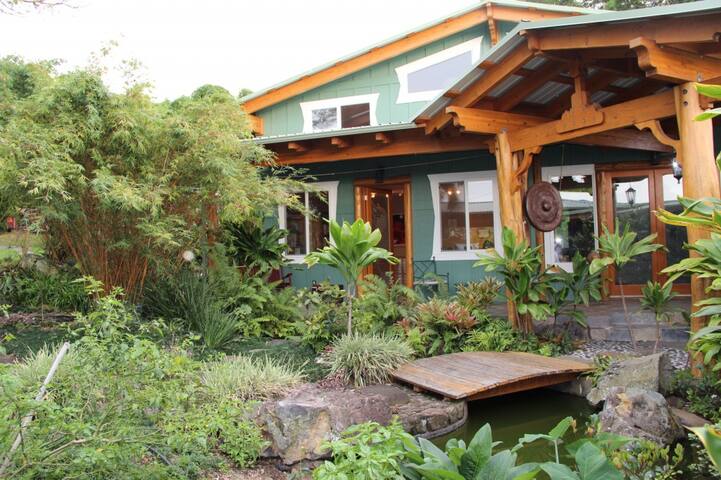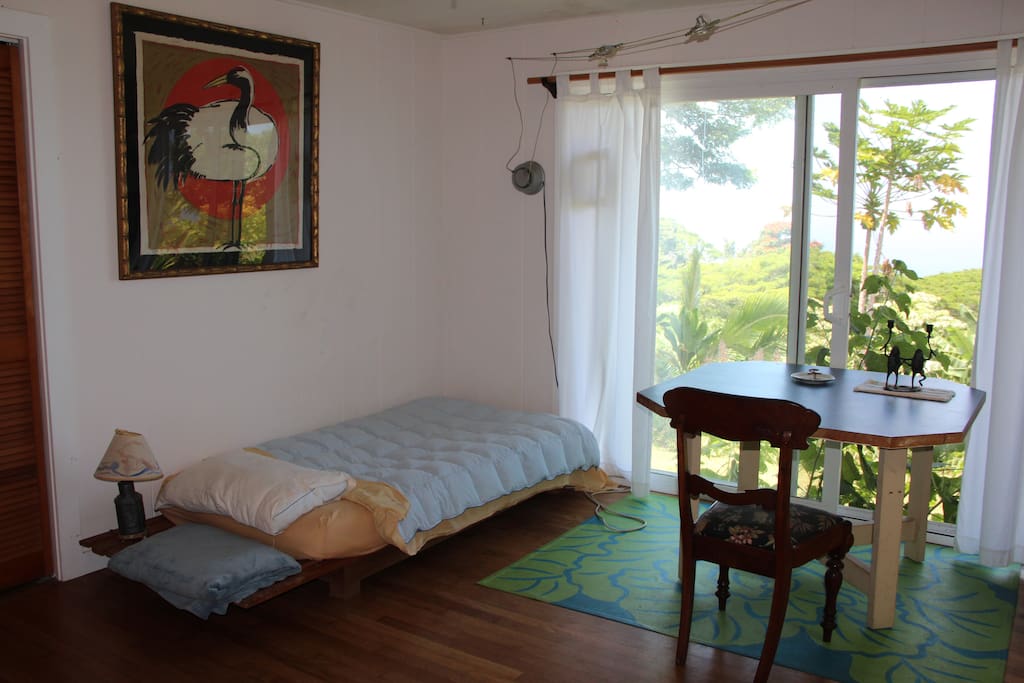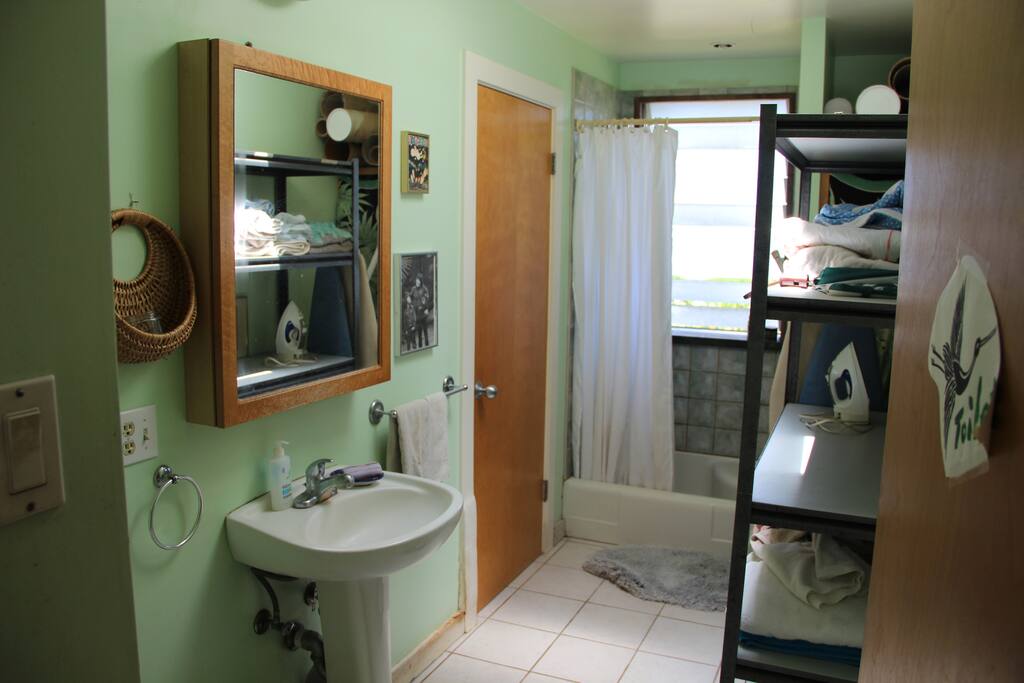 Healing Room with Ocean View
Gingerhill Farm welcomes you to five acres of organic orchards and lush gardens nestled just above famous Kealakekua Bay. We offer beauty and serenity mere minutes away from local restaurants, cafes and shops. Incredible ocean and sunset views!
---
---
Always communicate through Airbnb
To protect your payment, never transfer money or communicate outside of the Airbnb website or app.
Learn more
---
Gingerhill Farm Operations Manual

GINGERHILL FARM

We are a working farm and intentional community. This means we live and work and practice together. We are committed to:

Growing our own Food.
Sustainable Living.
Spiritual Practice.
Stewardship of the Land.

GUIDELINES OF CONDUCT

Our aim is to deepen our spiritual practice through clean living. We do not encourage the regular use of stimulants, alcohol or drugs. We generally go to bed and rise early. We commit to maintaining a tidy appearance both with our bodies and our surroundings. We will monitor our noise levels and discourage aimless talk. Our wish is to live in elevated, honest and amicable relation with one another and the larger community.

PERSONAL HYGIENE

In respect of the other members at Gingerhill Farm, and in order to foster a sanitary and healthy living environment, we will strive to maintain reasonable levels of hygiene about our clothes and person. This includes: Regular showering and use of natural soaps and or deodorants where necessary. Daily brushing and flossing of teeth, paying special attention to the freshness of our breath. Regular laundering of both work and social clothes so that they smell clean even if stained in appearance. Additional washing of hands and or feet as needed throughout the day. Restrained use of perfumes or strong-smelling beauty products.


MEDITATION

Meditation begins promptly at 6am Monday through Friday. Meditation is not mandatory but is highly encouraged. Those who are not given to a group dynamic can pursue a private practice or ask with assistance in setting up one for themselves. In order not to disrupt the group, we ask that you arrive on-time. After the bell chimes, please do not enter the meditation hall.

GREEN DRINK

Pre-Breakfast chores may include but are not limited to the following: Making the Green Drink. Harvesting fruit and greens. Sweeping the main hall, veranda, kitchen or garage. Breakfast preparation.

BREAKFAST 6:50am – 7:20am

Breakfast always consists of our medicinal Green Drink and may or may not also include toast or other baked goods and jams. Coffee is served as an occasional treat. Make sure Breakfast dishes including Vita-mix are washed and put away.

FARMING 7:30am – 10:00am

Appropriate clothing including sunhat and shoes recommended. Be warned – Farming may stain or otherwise ruin clothes. Show up hydrated, with gloves if necessary and ready to work. You will be asked to perform a variety of chores and tasks. Basic tenets:

Use your body wisely. Watch your posture and lift with your legs and not your back. Move slowly and deliberately. Be aware. Use your senses.

Recycle and conserve resources. Water thoughtfully and at the right times of day. Use inputs sparingly. Remember that waste is simply unutilized resources.

Pay attention to the weeds you pull. Are you sure they are weeds? Ask. Dispose of weeds thoughtfully. Always pull weeds before mulching.

Mulch, mulch, mulch. Try not to leave bare ground uncovered. The sun kills beneficial microorganisms.

Always work tidy. Clean as you go when possible.

Before breaking, make sure water is turned off and tools are cleaned and put away. Leaving tools out promotes rust and loss.

YOGA

Practitioners should arrive to class hydrated, on time, appropriately dressed, fresh smelling with clean hands and feet. Class can get crowded and we share communal yoga mats. Talking is limited and phones should be silenced or left in your room. If you must leave early, advise the instructor. Watch the clock and make sure you leave yourself 10 minutes to practice Svasana before exiting.

LUNCH / COOKING

Everyone helps with lunch prep and clean up unless otherwise instructed. Wash hands. Clean pots, pans and dishes as you go to expedite after-lunch clean up. Leave all prep surfaces clean and dry.

AFTERNOON CHORES

Unless otherwise instructed, interns will be expected to perform an hour and a half of chores around the farm in the afternoon. Afternoon chores are performed unsupervised on an honor system model. Available tasks will be updated and posted on a weekly TO DO list. Clarifying questions are encouraged. Suggestions are usually appreciated.

CONSERVATION PRACTICES

In our commitment to leave a lighter footprint, we ask all residents and visitors to observe sound conservation practices. Basic tenets may include but are not limited to:

Turning off lights when exiting a room. Unplugging unused appliances. Awareness of running water.
Efficient laundry practice: Choosing the right size load and temperature. Hanging clothes to dry in the sun when possible.

Watering plants in the evening or early morning to minimize evaporation.

Recycle and reuse everything. Makes sure recyclables are disposed of in the appropriate bins.

TOXIC SUBSTANCES

We try to use mostly plant-based or otherwise innocuous products here at the farm. Biodegradable soaps, shampoos, conditioners and detergents are recommended.

Avoid: Chlorine Bleach, SLS (Sodium Laurel Sulfate) and other heavy detergents.

Be super-conscious about what you pour down the drain or flush down the toilet. If in doubt, ask.

Hosting Visitors

Residents may host overnight visitors. This is a privilege and should not be abused. Remember that your visitors are a reflection of yourself here at the farm. Residents will generally be given favor over visitors. If your visitors are disturbing other residents, they will be asked to leave and your visiting privileges will be reconsidered.

Multiple night visitors must be cleared through management. Visitors may not join in meals or classes without prior notice and clearance. Work/trade options may be available.

Paying guests should clear all visitors with management.

WORK/TRADE

Residents are asked to perform 20 hours of work per week. This is in exchange for room and two meals, breakfast and lunch, Monday through Friday. Residents are welcome to harvest dinner from our gardens, with the exception of certain commercial or higher value crops. (exotic fruits, heirloom tomatoes etc. )

In some instances, special skills may be compensated at a higher rate of hourly trade or pay. This is subject to the discretion of management.

Gingerhill Farm Events are designed as a means to offset Farm expenses. Residents and guests should not expect to receive payment for events unless otherwise notified. Residents may be given time off during the work week to make up for event hours worked on the weekend.

DINNER

Dinner is offered for a fee to paying guests. Advance notice is required. Otherwise there are a number of decent eateries in the neighborhood. Feel free to ask for recommendations

Residents and guests are asked not to hang around the main house kitchen at dinnertime unless they have bought into the meal. This is so that main house residents and guests may comfortably enjoy their suppers without disturbance.

TOILETS
We welcome your fertility here at Gingerhill Farm. Feel free to urinate discreetly on the grounds. Try not to urinate near edible or directly on tender or edible plants or too many times in the same area. Avoid well-populated areas or main paths of egress.

We have flush and compost toilets here at the Farm. Be kind to our septic systems and dispose of lightly -soiled papers in the wastepaper basket. Try not to urinate in composting toilets and always cover up wastes with provided dry mulch material after each use.

PAYING GUESTS
Are asked to treat this farm as if they were residing members of the community here. We ask that you enter harmoniously into our communal rhythm and leave your surroundings as you found them upon your arrival, or better. Paying monies does not excuse one from work on the farm or chores in and around the main house. We believe that no task is so small, so insignificant that it doesn't allow for an opportunity to practice mindfulness, concentration, gratitude, correct posture, etc.

---
---
---
I had the most incredible few days at Gingerhill and was made to really feel part of the community there. If you stay I would recommend taking time out of your itinerary to make sure you experience a slice of farm life. Incredible food, both peaceful and picturesque surroundings with very warm and generous people; a perfect stay and one which I will treasure. Mahola!
---
Kealakekua, Hawaii, United States
Joined in July 2013
Iris and Zach, met on Iris' native island of "Magic" in Brazil. Their passion is to live sustainably in community, a return to the village model. As co directors of Gingerhill Farm on the Big Island, they host retreats for guests from all over the world who come to learn how to grow and cook the healthiest foods and participate in physical training, yoga and meditation. Come try the Gingerhill Farm lifestyle and see if it doesn't agree with you. Namastê.
Languages:
English, Español, Português, 日本語
Response rate:
100%
Response time:
within an hour
Explore other options in and around Kealakekua
More places to stay in Kealakekua: