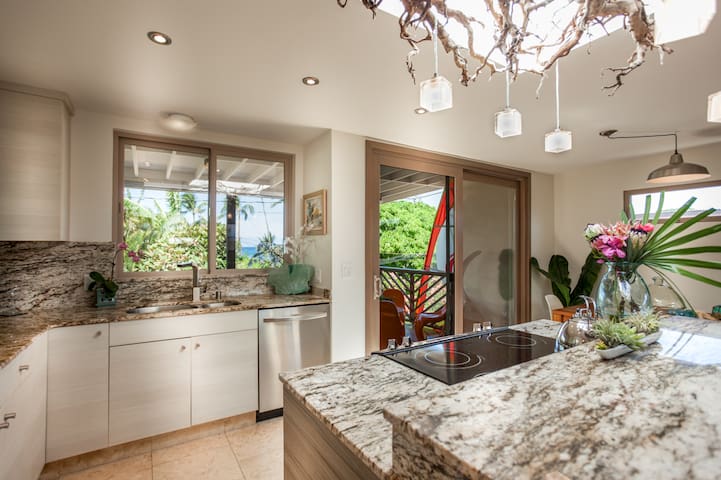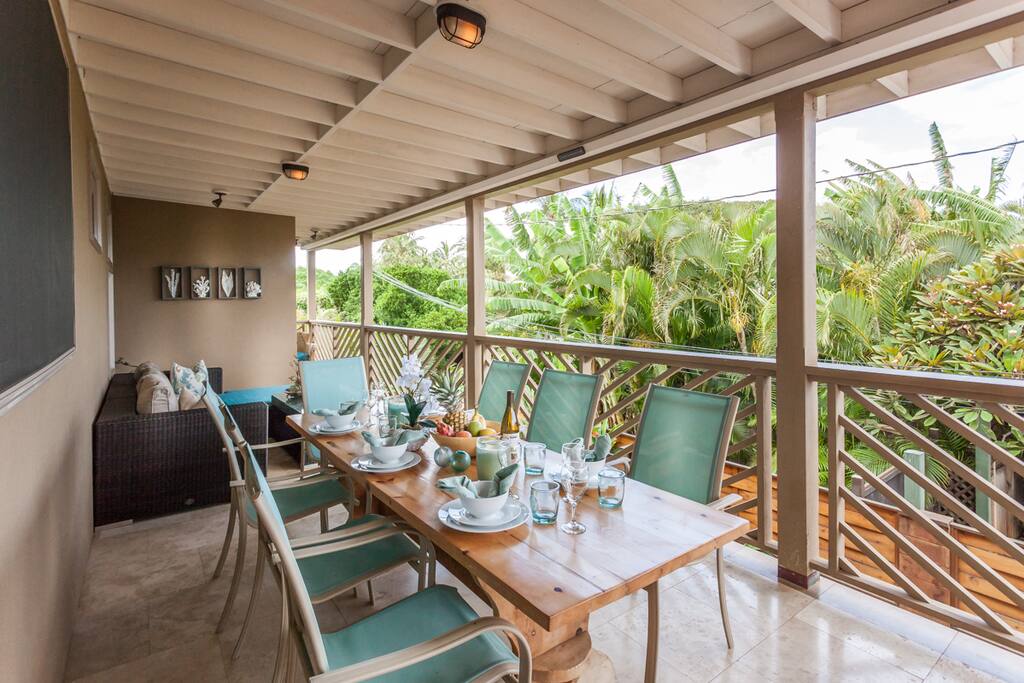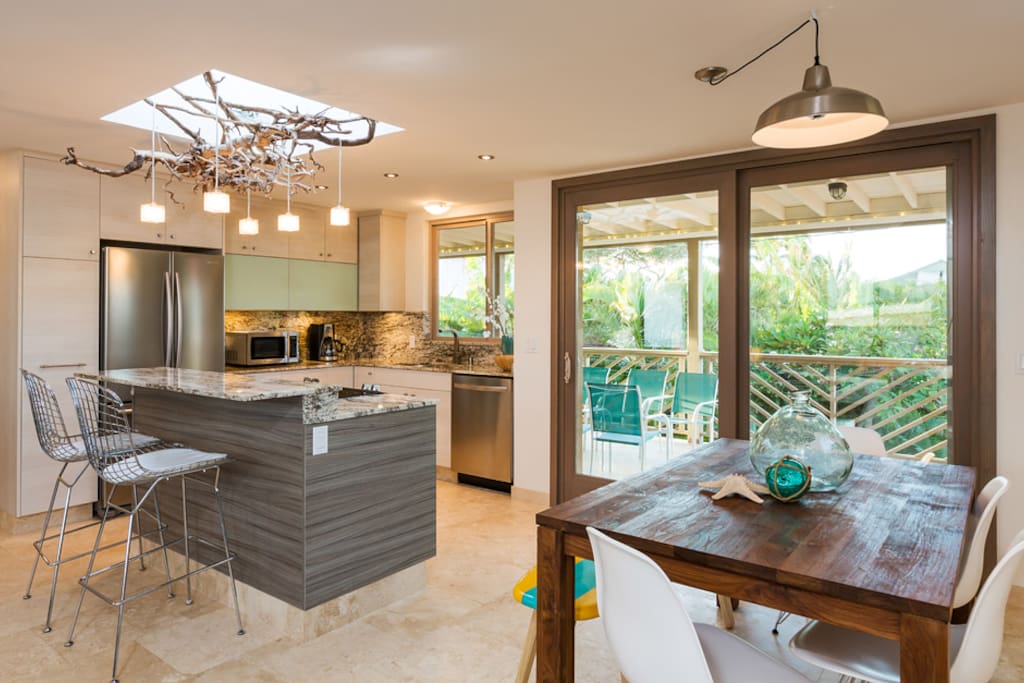 Experience the ultimate vacation spot on one of the jewels of the Hawaiian island chain from the comfort of a newly-remodeled house on Maui's famed north shore. Your Paia Surf vacation can be a memorable romantic getaway, or the ultimate family trip.
The space
Welcome to the newly remodeled Paia Surf vacation home, which easily accommodates parties of 5-9 (unused parts of the house can be closed off, saving $$$) – or splurge and make it all just a honeymoon palace for two. When you're at Paia Surf, you can stash the car keys for days on end if you want – and walk everywhere! How cool is that? (Driving is SO overrated.) Shops/restaurants/cafes/galleries and, yes, the beach, are all out the front door, no further than a couple blocks. And Paia is a gem of a coastal village, right beside the mighty blue Pacific's open waters. You're guaranteed to feel the ocean's power, one way or another.
Whether you're part of a multi-generational family gathering, or an intimate romantic escapade, this luxury house is all yours while you're there. And the house works great in different ways. Designed to be enjoyed communally, it also has plenty of little hideaway features that allow for privacy; places to get away from it all – the LANAI, for one, and some outdoor/backyard grotto space. Very versatile, with an extreme 'Oh WOW!' factor the moment you step inside.
Paia Surf has five bedrooms and four full bathrooms - all newly remodeled. Its all double-walled construction, with NEW insulation - windows - doors - stone tile floors - plumbing - electrical. The theme throughout? Driftwood. Sea glass. Sand. Every room has it's own quiet solar electric AC unit. There are 4 parking stalls on the property. Paia Surf can be rented as a whole, or with portions closed off, making it potentially a one-two-three-four- or five-bedroom rental. THE RATE ESTIMATE ON THIS SITE STARTS WITH THE UPPER LEVEL 3 BEDROOMS, 2 BATH. THIS IS A 5 BEDROOM, 4 BATH HOME AND YOU CAN RENT LESS BEDROOMS FOR A SMALLER RATE so please contact the owner about price variation for more bedrooms. Maui County regulation allows two guests per bedroom and only one rental group, on the same rental agreement, staying at the home at any one period of time. With this in mind, parts of Paia Surf can easily be locked off for smaller rental groups, that way guests are not charged for all of the existing bedrooms. For vacation homes in Maui these regulations ensure that guests have the ultimate private experience and Paia Surf really does feel like your home away from home!
The second story has a small ocean view, gourmet kitchen and large lanai complete with comfortable outdoor furnishings. The ground level potentially has 2 bedrooms each with their own full bathroom; one with king bed and a kitchenette (wet bar) and outdoor BBQ with cooking element, the other bedroom has a queen bed, fridge and microwave. The lower bedrooms each have their own private lanais and can either be connected or separated. The house feels light and bright, insulated and quiet, even though it is located in the heart of Paia. The house is just off the road thru town, three houses from the shore. Beach access is around the block and about a five-minute walk. Check in is at 3pm. Check out at 10am. There is a seven-night minimum stay.
Folks who come to Paia love "the coolest little town in Maui" – one of the island's most charming hideaways. Escaping the tourist sprawl of steel and glass rising high, Paia is a nod to the remnants of Hawaii's past, when it was a sugar cane plantation village. You can almost imagine the company store on Main Street. And what better way to experience its timeless, laid back essence than residing in this charming, almost-at-the-beach/in-the-heart-of-the-village house. You're not just a visitor, you live there, mixing with the locals! Turn one way outside your door, and you're strolling by some of the island's best restaurants, earthy little cafes, places to get a holistic massage or tribal tattoo, or a tasty cocktail while enjoying live music, historical sites, surf shops ... all just a stroll out the door. Turn the other way and it's a short walk to the beach and all its glories of sun/sea/sand. Never been to Shangri La? Hey - you live in Paia - and that's even better.
As a local family and business owners on this island, we feel privileged and proud to be able to contribute to our community by providing a service that benefits our town and the visitors who make long journeys from distant lands to experience the island of Maui. The north shore is the heart and soul of Maui. In Paia, you will be part of a community that feels more 'local' than touristy, more homegrown and friendly than fussy - quite different from the south, and west, shores, jammed with high rise mega-resorts from one end to the other.
Experience the essence of old and new (EMAIL HIDDEN)e visit our home. We've lived here - and loved it - a long time.
Aloha and All The BEST,
Annie, Chris, Dylan and Evan McNeil
Guest access
Guests have access to whole house. The location is the best. You're in the little Paia town, but scarcely more than a stone's toss away from the water. And if you want upcountry adventure, the road leads up the side of the volcano, or take the road to Hana for the ultimate day trip exploration.
Interaction with guests
We check on guests with phone calls or via text to see if they need anything at all.
Other things to note
Chris & I are a small mom and pop operation that takes great pride in the service we provide for visitors from around the world, as well as, to our community, by stimulating the economy and providing jobs and promoting local businesses. Our children were raised here and because of the beauty of Maui, have been able to immerse themselves in nature and create the greatest memories together. There is no value that can be placed on the moments spent on this island because quality of life has no price. We go above and beyond ourselves to make sure that a guest's visit is the very best. We believe that sharing our dreams is a wonderful gesture. Welcome and enjoy our home while you enjoy this beautiful island. With Much Aloha, The McNeil Family
Always communicate through Airbnb
To protect your payment, never transfer money or communicate outside of the Airbnb website or app.
Check-in is anytime after 3PM
PAIA SURF HOUSE RULES

Welcome to Paia Surf House. We hope your vacation is all you dreamed of – and that you make memories that last a lifetime!

Quiet Hours: from 9:00 p.m. to 8:00 a.m., during which time the noise from the short-term rental home shall not unreasonably disturb adjacent neighbors. Sound that isaudible beyond the property boundaries during non-quiet hours shall not be moreexcessive than would be otherwise associated with a residential area. Please respect ourneighbors. U.S. Mainland and global visitors often arrive from different time zones so if awakened early be conscious of the time. Be aware that loud conversation and slamming car doors is a disturbance and loud music is never allowed.

Amplified sound that is audible beyond the property boundaries of the short-term rental home is prohibited. Our neighbors specifically asked for a 9:30pm curfew from noise on outdoor lanais.

Parking: Vehicles shall be parked in the designated onsite parking area and shall not be parked on the street. If 1 bedroom is rented then 1 parking space is available, if 3 bedrooms are rented then 2 spaces are provided, if 4-5 bedrooms are rented then 3 parking spaces are provided. There will always be 1-2 spaces reserved for the owners use.

No parties or group gatherings other than registered guests shall occur.

In Maui it is customary to leave your shoes ("slippahs") outside of the house. There is a spigot in the front to rinse off sand before entering the house. Be aware that the initial water flowing from the spigot is very HOT and can burn so allow it to run for a while before rinsing hands or feet. We ask guests to please treat Paia Surf like it was their own home.

ACs: The ACs are brand new and very efficient. We ask you to keep the AC temperature set at 72 degrees, no lower, and just be patient for them to cool the room after turning them on. Please close all doors and windows when the ACs are in use because the coils will freeze and the ACs will stop working. In that case, a repair service will have to be contacted and response on Maui can be slow. This might cause your vacation in Maui to be air conditionless! When turning off ACs sometimes it takes a few pushes on the remote control button to ensure that the power is off.

Gates, Outdoor Showers and Outside Lights: We suggest keeping gates and the outdoor shower locked. Keep outside lights on at night. Close and lock all windows and doors when leaving the house. In addition, there is a security camera system located on the roof of the Paia Surf that has view of the parking and perimeter of the property.

NO SMOKING INSIDE THE HOUSE, ON THE LANAIS OR ANYWHERE ON THE PROPERTY AT ANY TIME

Restrictions: This is strictly a "NO SMOKING" rental. No smoking is allowed inside the home, on the lanais or in the yard at any time. No pets are allowed.

Plumbing: Absolutely nothing besides toilet paper flushed down toilets. That means NO sanitary napkins, dental floss, paper towels, baby wipes, condoms, or diapers are to be flushed or put down the drains. Plus, sand and mud must be rinsed off of feet and body before entering indoor showers.

Security: For your own security lock the doors, gates, outdoor shower and windows at all times and when leaving for the day. Do not leave valuables in your vehicle or the Paia Surf bikes out in the front. Take normal precautions for protection of your personal belongings. Paia Surf management is not liable for loss or theft.

Trash: Trash pick up is along the road on Mondays. If you would like to recycle, we ask that you rinse all recyclables and kindly remove all lids. The owners will take care of the garbage at time of pick up by the county so no need to worry, you are on vacation. Maui bugs will enjoy any food items left out or not sealed tightly.

Laundry: There's a washer/dryer located on the ground level on the town side of the house and there are racks provided for air-drying, too. Use only the provided laundry detergent which is "HE" or the machine may stop working. Please clean out the lint trap before and after drying clothes. Be aware that the laundry facilities and sand don't mix well. There are clothes drying racks provided in order to air dry and shake out sandy clothing and towels before putting them in the washer, please.

Supplies: Paia Surf will initially be stocked with supplies (e.g. hand soap, dishwasher soap, and toilet paper). Extra supplies are guests' responsibility and may be obtained in the town of Paia or Kahului.

Kitchen Sink Dispose-all: The dispose-all will not crush larger food items like onionskins or large amounts of pasta, etc.
Instead, the sink will become clogged and require a plumber's attention.

Refrigerator: The ice maker has a personality of it's own and if the freezer is left open for an extended length of time it may stop producing ice, and in some cases, the ice maker may be turned off completely by the owners. In that case, bags of ice are available at Minute Stop a few shops away.

Damages: Please notify us if anything is broken or you notice something is not working properly so we may repair or replace the problem promptly. Please call Annie at (PHONE NUMBER HIDDEN) immediately, or Chris at (PHONE NUMBER HIDDEN).

Tsunami: As are most beach towns in Hawaii, Paia is located in a tsunami zone. If you feel the earth shake do not wait for an alarm to sound, immediately head to higher ground. If you hear the tsunami sirens, which sound like a sustained blast, head to higher ground. If a tsunami is detected, you've been instructed to evacuate use the designated evacuation route, which is up Baldwin Ave (left on Hana Hwy, and right at the stoplight). NOTE: the siren system is tested on the first weekday of the month at 11:45 a.m. for about one minute, if the alarm sustains a tsunami alert has been issued. Please refer to (URL HIDDEN) for more information.

Grocery Stores: In the town of Kahului about 10 minutes away, there is a Costco, Safeway, Foodland, Wholefoods, Alive and Well, Down to Earth and Cash N Carry. Paia has an excellent organic grocery called Mana Foods within walking distance up Baldwin Ave.

The Beach: The closest sandy beach is Paia Bay. Simply walk out to Hana Hwy and turn right, past about 10 shops, three small houses and take a right at the basketball courts. It's about a 5minute walk. BEWARE that when the waves are large, so are the currents. Watch out for sub-merged rocks just under the surface of the water. Refrain from diving in headfirst! There is no lifeguard on duty and the shore break can be dangerous. If it's windy, head to the far right hand side of the beach where it is sheltered.

TVs- they are SMART: The house has 4 flatscreens with Smart TV (via internet) so guests can watch instant view TV shows and movies through Netflix, Amazon, order movies through Zulu, etc. Upper level family room TV has Web browsing, too. For upper level TVs simply turn on the TV power and you will see a blank screen, or a warning of weak signal, ignore that and push the SMART TV hub button (colorful button – or says "smart hub" near center of controller). It always takes a while for the TV to connect to the Internet so be patient, connecting is not unlike a computer. Once the smart hub is showing on the screen you can choose from many options: Netflix, Amazon, MLB baseball, ESPN, Family, Zulu, News, (SENSITIVE CONTENTS HIDDEN), etc. Our username and password is already set up for viewing Netflix, and you also have an option to put your own personal username and password but BE SURE TO LOGOUT BEFORE you leave the house!! If a small blank screen shows within the large screen during viewing, simply press the D button to remove it (only for upper level family room TV). For lower level TVs press Netflix and wait, after a few seconds Netflix will appear.

If there is no success in connecting it might be the router and you can troubleshoot: unplugging the wireless router for 10 seconds and then plugging it back in, wait for the wireless router to reboot and the lights to stabilize, then reboot/turn off the TV and try to access your program again. Ask, or text, Annie and Chris about how to reboot the rout(PHONE NUMBER HIDDEN) or (PHONE NUMBER HIDDEN). If troubleshooting fails then contact Oceanic Time Warn(PHONE NUMBER HIDDEN) and/or notify the owners ((PHONE NUMBER HIDDEN)).


Check Out Procedure

Keys: Please leave keys inside lock boxes by the entrance or gate of your unit upon final departure with the door locked, windows closed, lights and AC off. There is a $25 charge for missing keys.

CHECK-OUT CLEANING AND VISITS LONGER THAN ONE WEEK: Visits for up to 7 nights will not have a cleaning charge if the house is left how it was found. It is not necessary to wash linens or towels, but please wash dishes, put dirty towels in a pile on the bathroom floors and empty all garbage cans and recycles. Visits longer than 8 days are required to have a cleaning midway into the visit. Out Cleaning Charges: Any extraordinary cleaning or laundry resulting from Guest's visit will be charged to the credit card authorized below as damage/security deposit. Guest agrees to keep the premises in a clean and sanitary condition, to exercise care regarding all furnishings and household items and to make no alterations. Linens and towel laundering is included in the out cleaning fee.


Unique Characteristics of Paia Surf: The upper level has mirrored glass on the master bedroom clear light window, sliding doors and master bath. This allows guests to have their privacy with curtains left open during the day. Mirrored glass does not block vision through glass at night.

Check in is at 3pm or later and check out is promptly at 10am regardless of departure flight times. House cleaners and maintenance crew will arrive at 10am to prepare for the next guests! Any delays in check out costs the owner time and money. If guest plans on staying beyond check out then another days rent is required.

Contact: Please contact us if you have any additional questions. Annie (PHONE NUMBER HIDDEN) or Chris (for emergencies only) (PHONE NUMBER HIDDEN) Mahalo! ~~ Annie and Chris
Chris and Annie have a beautiful home. They have decorated their home with beautiful furniture. Their beds, linens and towels stylish and very comfortable. Everything about their home is of great quality. We felt very welcome and appreciated all of the attention to details, special touches and a book with the answer to any questions that we might have. They stayed in touch with us without being intrusive. If we are ever in Maui again and Paia Surf is available, it will be the first place we would reserve. Thank you again for everything!
---
Annie was the best host we have had in an airbnb. We have stayed all around the world but this was the best! Surf Paia is perfectly located in Maui's sweetest town, Paia. We wondered what it would be like since it couldn't possibly be as nice as the photos. But it exceeded our hopes. The beach is about a block away, and the restaurants and grocery are within one or two blocks. It doesn't feel touristy. The kitchen is stocked with nice cookware and it has a huge fridge. We are our meals on the deck while listening to waves or music from a Zen Buddhist festival on our final night. It was perfect! Thank you Annie for everything. ❤️
---
This place is awesome. Great place and the location is absolutely perfect. Beautifully decorated. Downstairs and Upstairs have separate entrances which is great when some folks are on different sleep schedules. Right on the beach side of Hana Hwy where it meets Baldwin Ave in Paia. You just couldn't ask for better location. Everything is within walking distances - beach, restaurants, grocery store, bars, shops. Owners are great. Very friendly and helpful. Just can't say enough about what great value this was.
---
We just came back from a trip in Maui staying at the Paia surf. Let's just say that we're experiencing a serious case of relaxation withdrawal. I've been to many Airbnb experiences and this one is by far one of the best experiences I've ever had. Paia Surf is extremely well decorated and readily stocked with every single item you could possibly need on vacation. We stayed a week with 4 couples and a toddler. Kitchen very stocked with basic needs and utensils. Our favorite thing to do was to enjoymorning breakfast on the terrace. Several people loved taking naps throughout the day on the second floor outdoor terrace. Hearing the waves crashing in with the gentle breeze of the ocean always guaranteed for a very comfortable nap. The home was VERY nicely decorated, beach towels, chairs, umbrella were all available for use. Super conveniently located right in the heart of Paia town. We also brought bikes over and were very happy to learn that Maui Cyclery was literally 5 seconds away. The host was very gracious and extremely responsive. Loved her place. Loved her taste in decor. Also various attractions and highly rated restaurants were walking distance or a short drive away. My only complaint was we didn't stay long enough!! I am most definitely hoping to return in the near future!
---
Hobbies include kiteboarding, windsurfing, surfing, stand up paddling, hiking, biking and running on the beach. My favorite kind of vacation is a staycation! I love Maui.
Response rate:
100%
Response time:
within an hour
Explore other options in and around Paia
More places to stay in Paia: